I AM RELEASING MY PREMIUM EDITION WEEKEND REPORT TO THE PUBLIC, IT IS MORE OF A BIG PICTURE VIEW OF THE MARKETS, ENJOY!
 In baseball, the simple call that this is " The Bottom of the Ninth' means that the game has entered the  second part of the ninth and final inning.  Unless there is another rally that extends the game, we reach The end of that game.  For the team worried about going home with losses, it is the beginning of the end, unless this final opportunity provides a winning rally ( or  at least extends the game into extra innings).
  Could the General Markets be nearing that time? I'm not necessarily talking about THE TOP, but maybe the end of this winning run and a consolidation period would follow?  Maybe, lets discuss this further.
 .
 In my last  'Weekend Report' we took a deeper look at the 'Big Picture', because we had additional views to examine at the end of March.  This gave us not only a weekly view , but also the end of the months Monthly view, and also a Quarterly view. I went over that report today and it did point out that behind the beauty, cracks appeared.  This week the cracks continued, and though I do not think that necessarily signals  The End of the Bull Markets season, We could be in the Bottom of the Ninth for this run.  Let's look at our Big Picture View...
SPX DAILY

- This is our daily cycle count, with the most recent low of the SPX still at day 34, and it looks like we have a dcl when it closed over the 10sma.  Could that change? Unless buyers step in on Monday, I'd say that another 'shake out' dip below the 200sma is not out of the question into day 40 + and here is why I say that...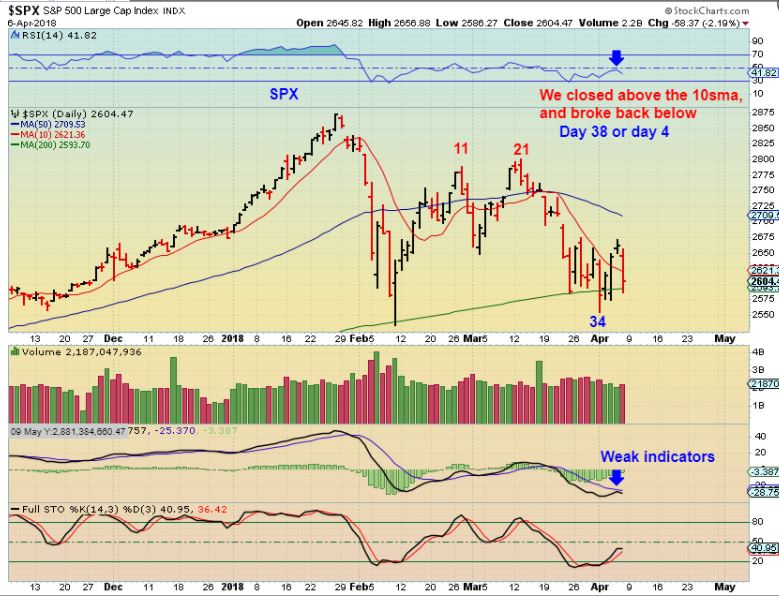 Read More
https://chartfreak.com/wp-content/uploads/sites/18/2018/04/nineth.jpg
506
1273
Alex - Chart Freak
https://chartfreak.com/wp-content/uploads/sites/6/2013/04/black_logo.png
Alex - Chart Freak
2018-04-09 13:46:58
2018-04-09 14:56:58
Weekend of April 8th- Bottom Of The Ninth?