I want to open my recent Big Picture Review report to the Public. The following is a partial report of what I showed my readers a few days ago. Enjoy!
.
Well, getting to the good news first shouldn't be very difficult this week:  It was ALL good news.  🙂
SPX WEEKLY

  – The move out of the last dcl has been fairly straight up. After breaking out of a 2 year sideways consolidation, that makes it look like it could do a 'melt up' or a run into a 'parabolic blow off top' like we have discussed in past weekend reports.  That is 1 real possibility, however, that being said…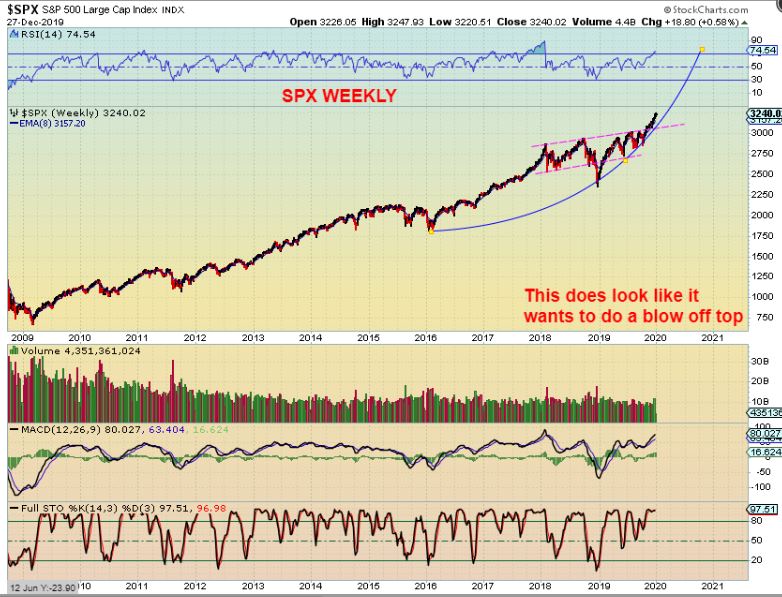 .
SPX WEEKLY

  – We did also see a steeper curved run recently that crashed in early 2018. In fact,
1. That steep peak shown here was also '
a year end rally of 2017

' that ran straight up into January 2018-
2, And then it crashed in the New year when sellers locked in profits.
 3.  We'll look for clues going forward in the daily reports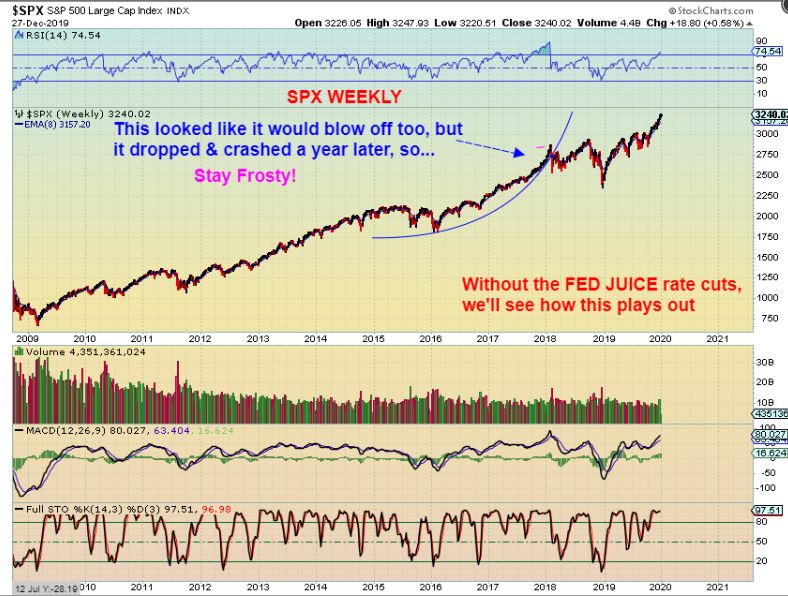 ,
SOX WEEKLY

 – The SOX actually looks like it is experiencing a steeper than normal incline too, so I would say that this still indicates that a blow off top may be in the works.  Time will tell.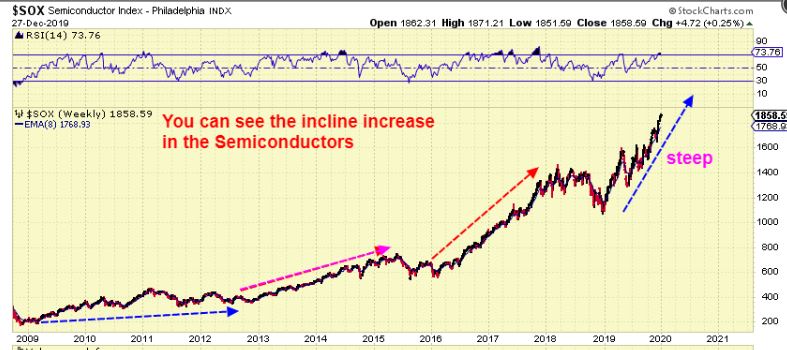 ,
WTIC  WEEKLY

– After months of sideways chop it looks like Oil finally broke out from a downtrend. I had been discussing how similar the recent Choppy sideways action was to the 1.5 yr chop of 2016-2017. THAT Triangle broke out after 1 year too, but it didn't just rocket higher from there, so even though Energy Stocks have bottomed and look great, we will proceed  with this information in mind.   What do Energy Stocks look like now? …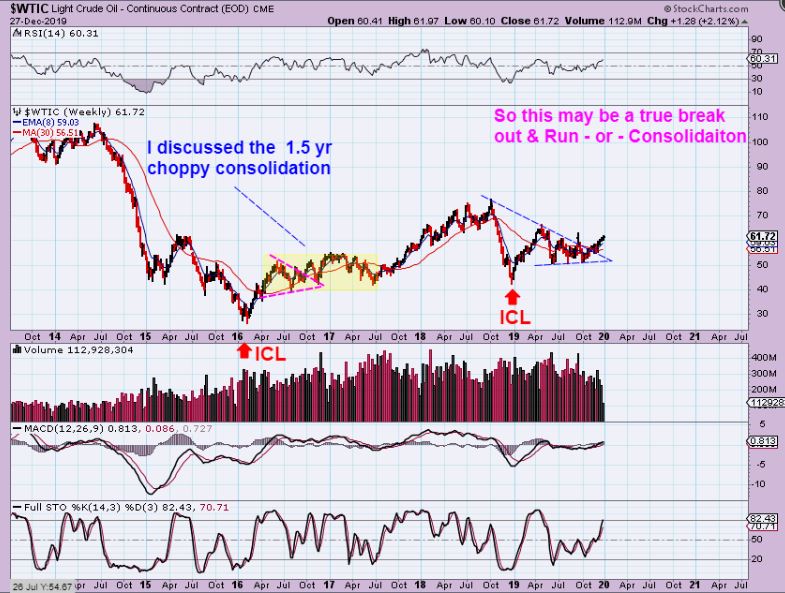 .
XLE WEEKLY

–  In my opinion, The XLE broke the downtrend and should rally higher. This has been choppy with Oils chop, but this looks Bullish on its own.  The weekly MACD & RSI have divergence for example.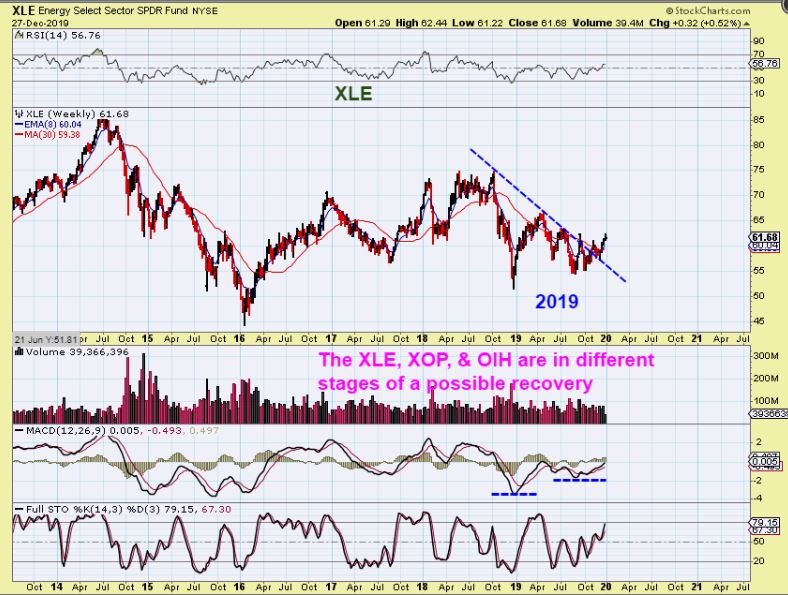 .
XOP  WEEKLY– The XOP looks very different than the XLE or OIH, but it also looks bullish on its own. I see a downtrend break and a small wedge.  With this, I still think that OIL & ENERGY Stocks are a Buy, though they may get  choppy at times.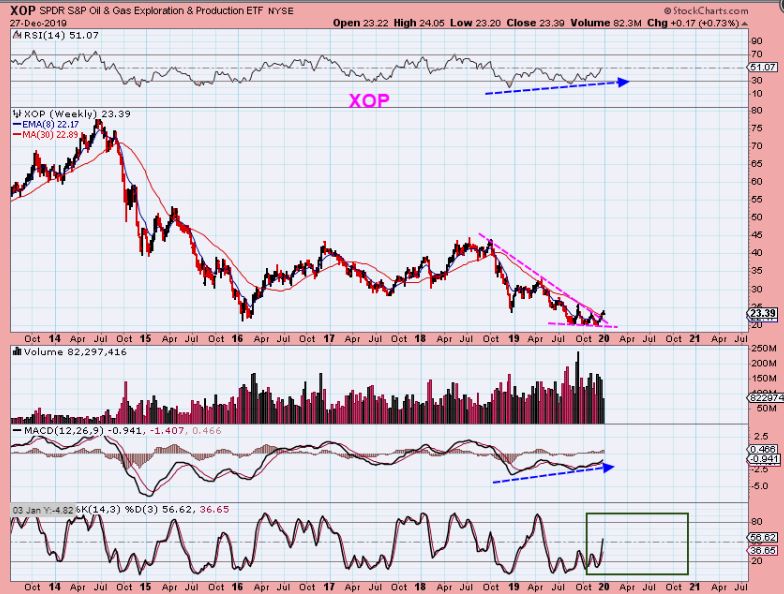 We have discussed many Oil / Energy stocks as having been bottoming and then became low risk buy opportunities like
WLL, DNR, BE, OAS, WTI, LPI

, etc.  I  will continue to monitor those in the daily reports.
.
USD  WEEKLY

– The USD dropped fairly sharply on Friday and that left it at the weekly low on a weekly chart.  Follow through selling from here next week would be a 'Break down'.  That would usually prove Bullish for Gold.  The uSD looks ready to break down.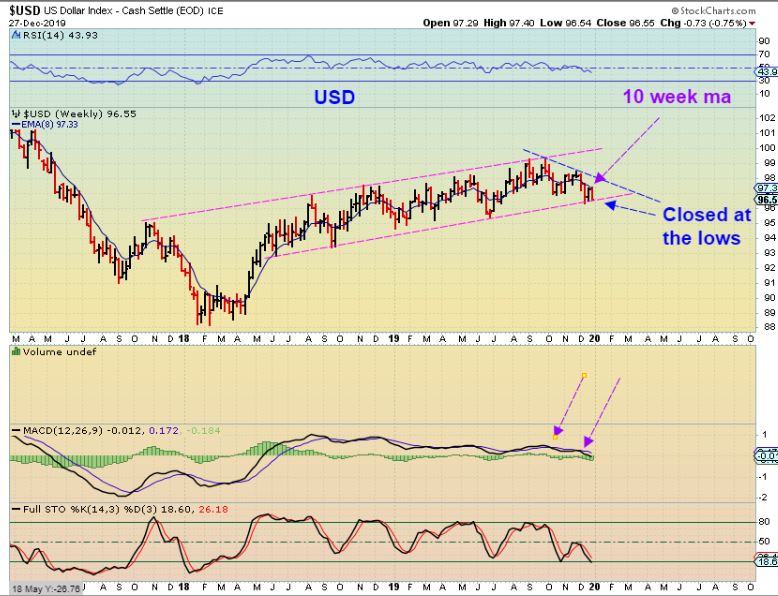 ,
GOLD WEEKLY

– Golds big Picture has been Very Constructive in continuing to form a large bullish bowl. This base is about a 6 year base and that can build the energy needed to launch price into the former highs over time. I am Bullish on Gold and will continue to cover it in detail in the daily  reports. 

LOOK AT THE STOCHASTICS- HIS IS NOT OVERBOUGHT, IT IS STILL CLOSER TO OVERSOLD.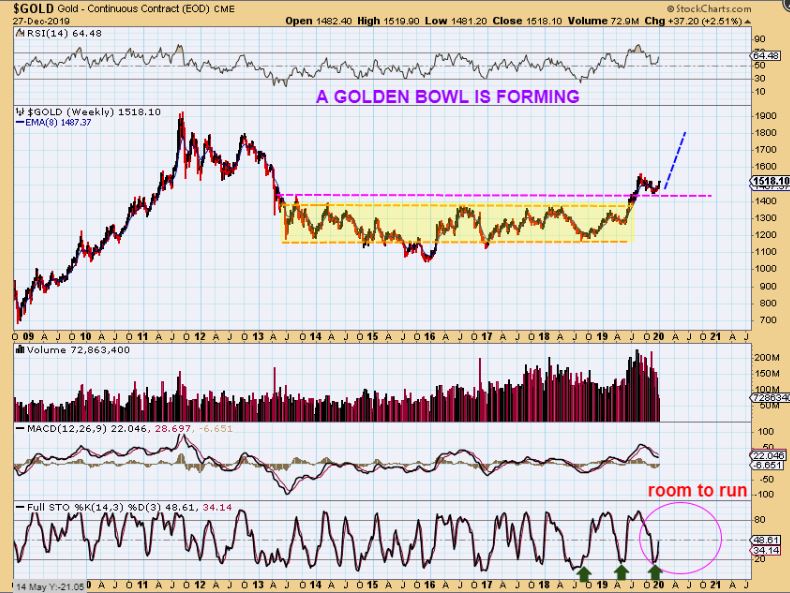 ,
SILVER WEEKLY 

– This is also a bullish consolidation after the 2011 parabolic blow off top. The last ICL was a higher low, and we look to be forming another higher low now. Read the chart, this is Bullish.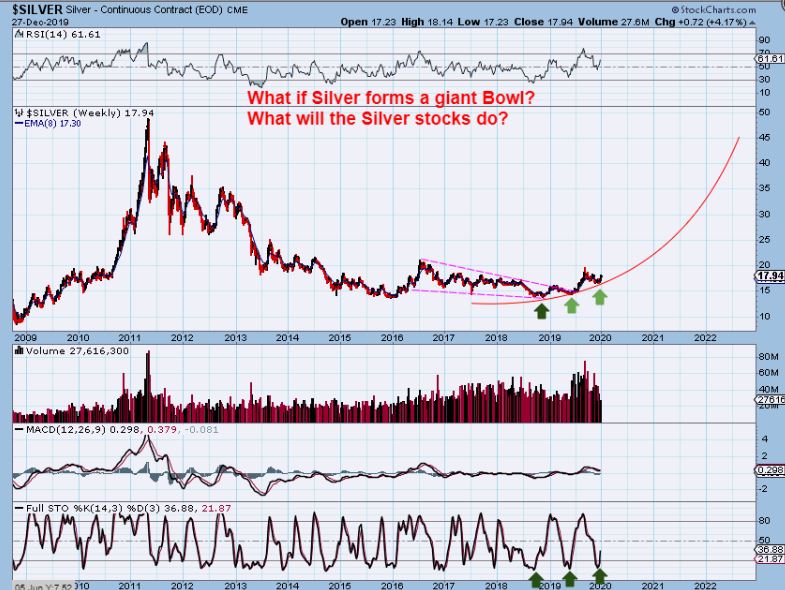 .
GDX WEEKLY

– The weekly chart shows a solid break from the flag like consolidation, and we were buying in Nov before the break out.This  is a strong looking Bull Set Up.  Individual Miners like

SVM, HL, CDE, PAAS,

etc are already giving us great gains since their October lows.  Things look very good for a strong run into 2020.  In fact…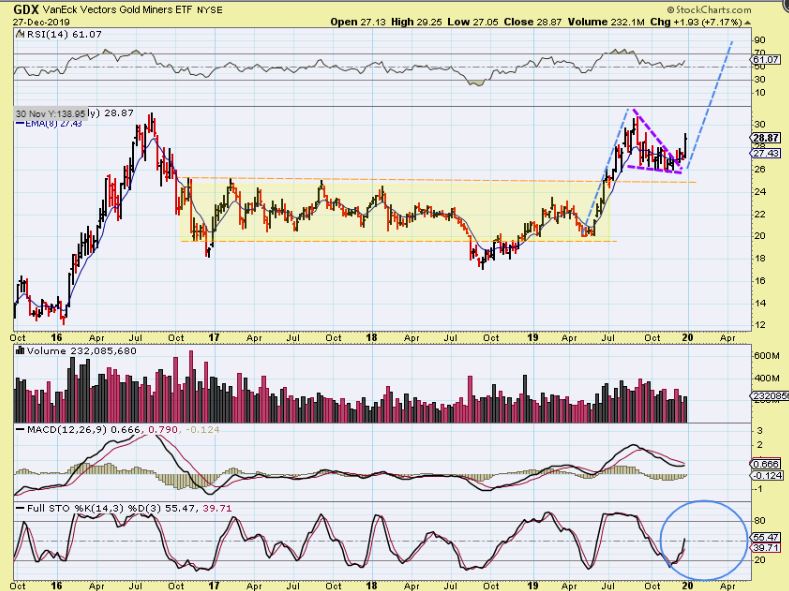 .
PAAS DAILY

– A strong run practically straight up  is what we are seeing in PAAS, SVM, CDE, etc.  The sector is bullish and I think that 2020 will be a great year to be trading Miners. Next? …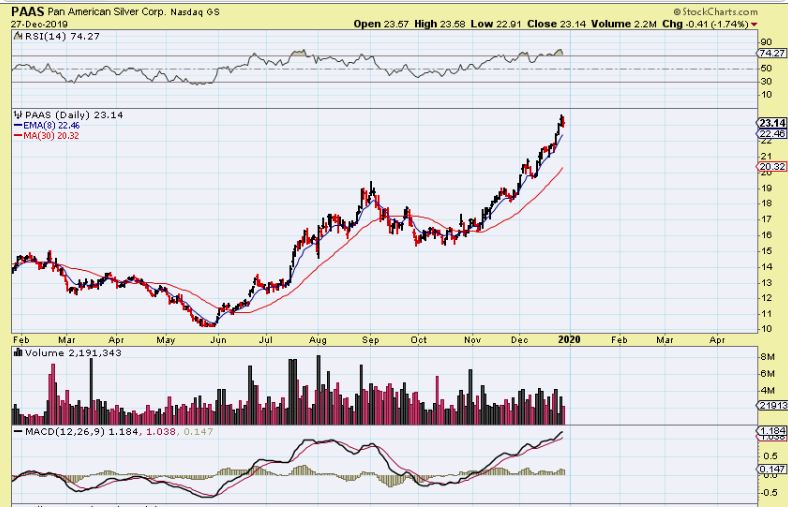 .
GDXJ WEEKLY

  – The BIG PICTURE for GDXJ WEEKLY is a very bullish base. Just take a look at the run from May to September of this past year (2019).  Wouldn't you agree that it hardly stands out when you compare it to the potential that this sector has on the upside over time?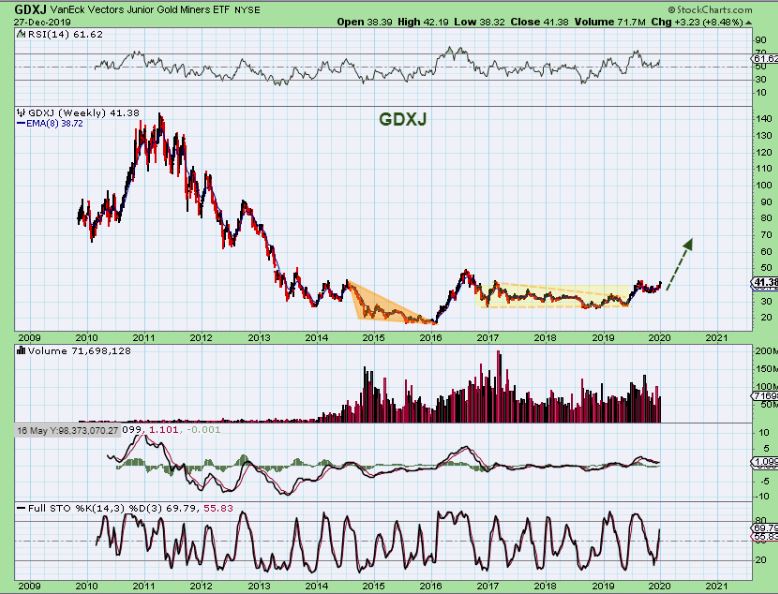 .
GDXJ WEEKLY AGAIN  – The somewhat frustrating sideways choppiness that we just went through hardly shows up when you look at the open space above that GDXJ can run higher in. This is a nice multi-year bullish base and many people still doubt that Miners can run higher.  They will join in later and push prices even higher.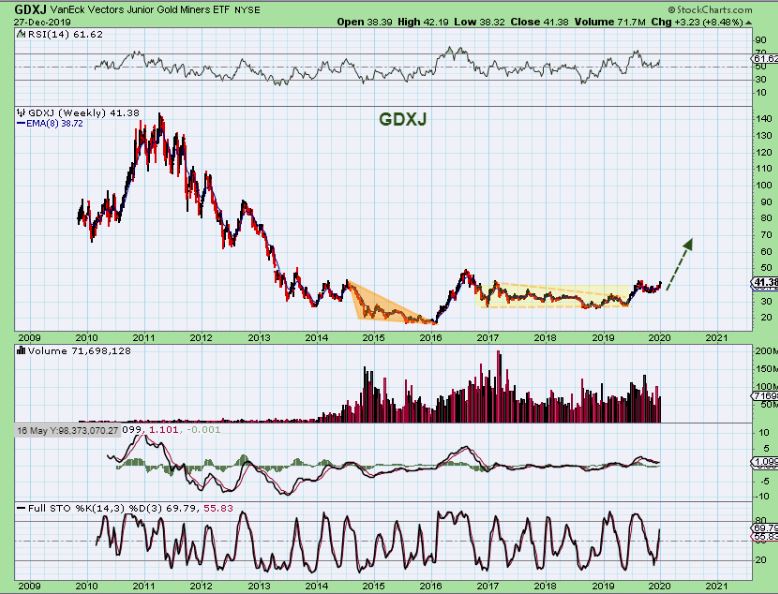 .
GDX MONTHLY #1

– Now the GDX Monthly chart is developing into very bullish set up too. I don't want to sound silly or overly exuberant,  but a Multi Month rally can unfold once this gets going & the doubters & Funds start piling in too. 

Read the chart and look at the multi-month drop on the left.  Do You see the  7 down months out of 9

?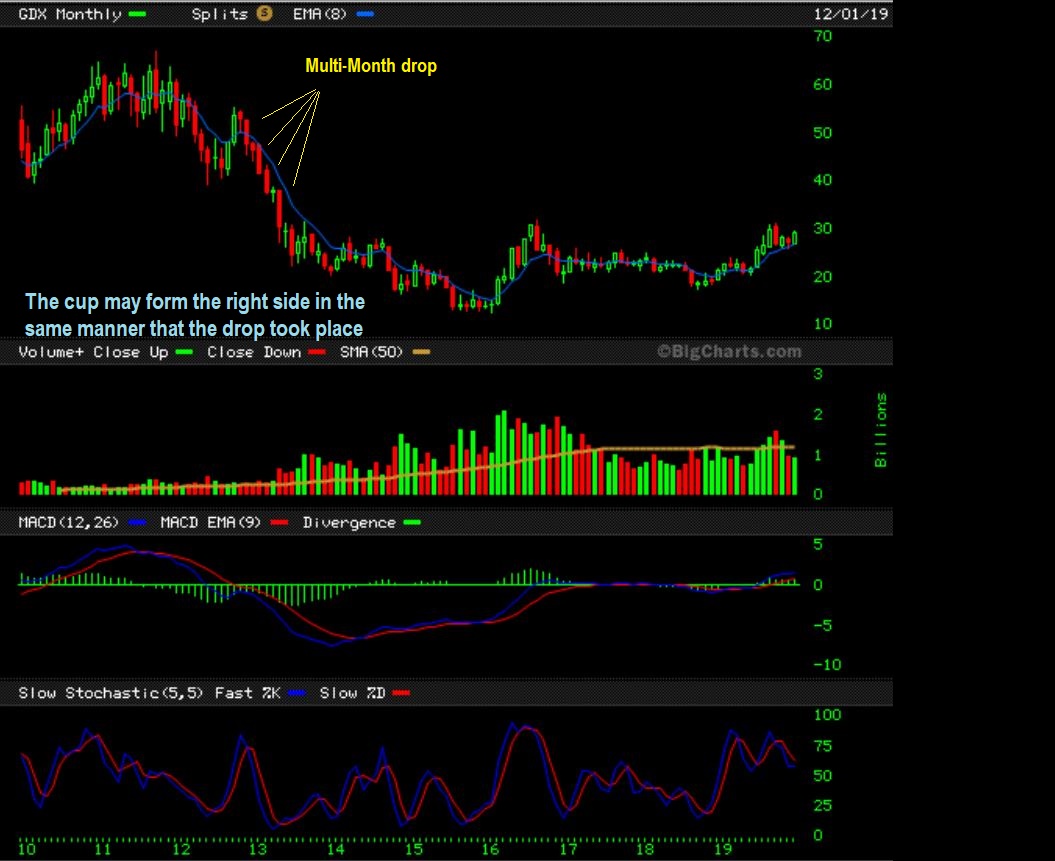 .
GDX MONTHLY #2

– In the future,  could we rally for 7 up months of 9? Sure, but I cannot say if it is time for that yet.  I an not a perma-bull, but I  admit that I expected 2016 to continue higher at that time.  Then a Cup formed as shown.  You do not want to be on the sidelines doubting whether or not these Miners can rally when this runs.    The right side of a cup could be bigger than the 2016 run that we caught & rode out.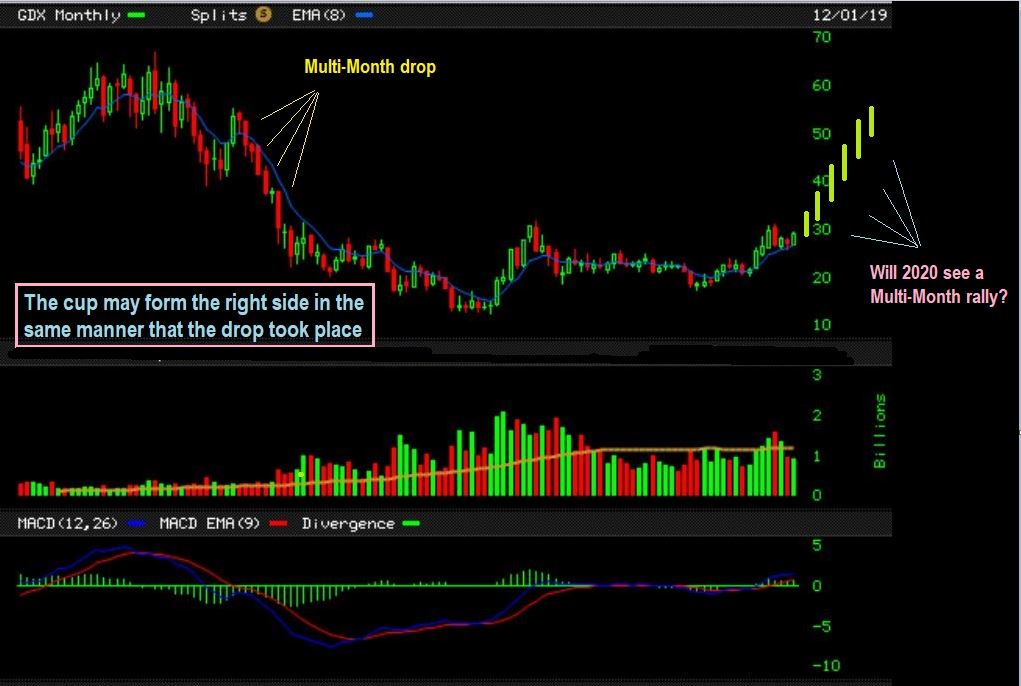 ,
  What's the Good News?  If you like to be long the markets, we currently have several sectors that are acting Bullishly.  As for the Miners?  Wow, those are beautiful weekly charts and now Monthly charts!   There will still be consolidations periods, dips into a DCL here & there, sideways choppiness, and even the deeper ICLs will cause doubt and worry over the year, but this does look to be acting correctly.
Miners

are really setting up as I had expected from a year or 2 back.  THAT is what gets me excited.  It hasn't broken down, it hasn't failed to find support, it hasn't even been hindered by the strong dollar, it rallied with interest rate hikes and rallied with  interest rate cuts.  It rallied with a high 'Smart Money Short' position last May , June, July, etc and Even with the talk by the Fed of a lack of inflation, Gold is rallying and

now putting in higher ICL ( lows).

  They remain on track to be a Bull Market, and with that we will make some excellent profits on this sector.  I have taken a long ride on this bull back in 2000 through 2011, and these Miners can really run swiftly. 100%, 200%, 500%, even 10 baggers over the coming years. THAT is the real Good News about this weekend report.  The Gold Bull continues to be right on track! 😉
.
Enjoy your trading and thanks for being here with me at Chartfreak!
,
~ALEX
,
I want to add a bit more  'Bigger Picture' to this report:
.
AXU MONTHLY – With the end of December, we are 2 trading days away from the end of the Monthly Chart. IF AXU recovers, you can see the potential over time here too. I'm not even talking about JNUG or NUGT & Leverage, but these miners can act like they are leveraged at times.  This could run from $2 to $10 over time.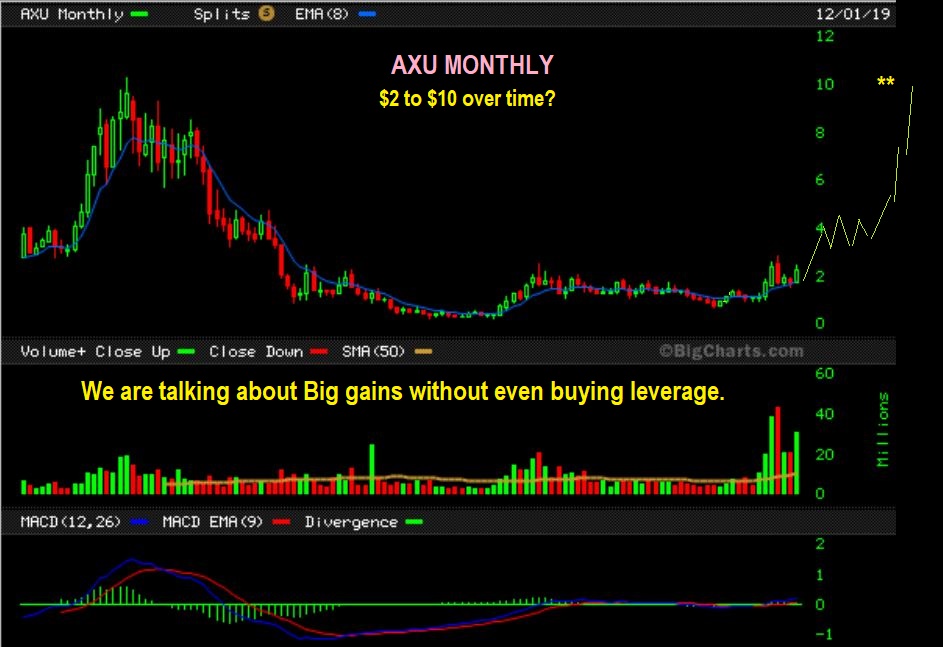 .
SVM MONTHLY – This chart shows our recent Big Run in SVM from $2 to $6, but also shows the potential going forward. One day we may look back and see that it ran from $2 to $18. That is 800% gains.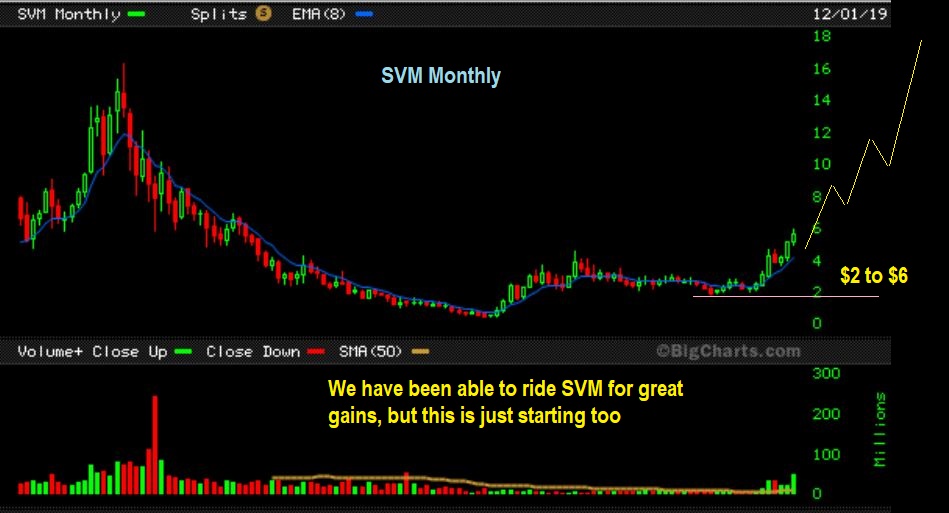 .
NEM WEEKLY BIG PICTURE – After the 2016 run, NEM actually consolidated for 3 years. This now looks ready to break out and run.  This is a nice buy for the longer term Buy & Hold investor as well as the shorter term traders.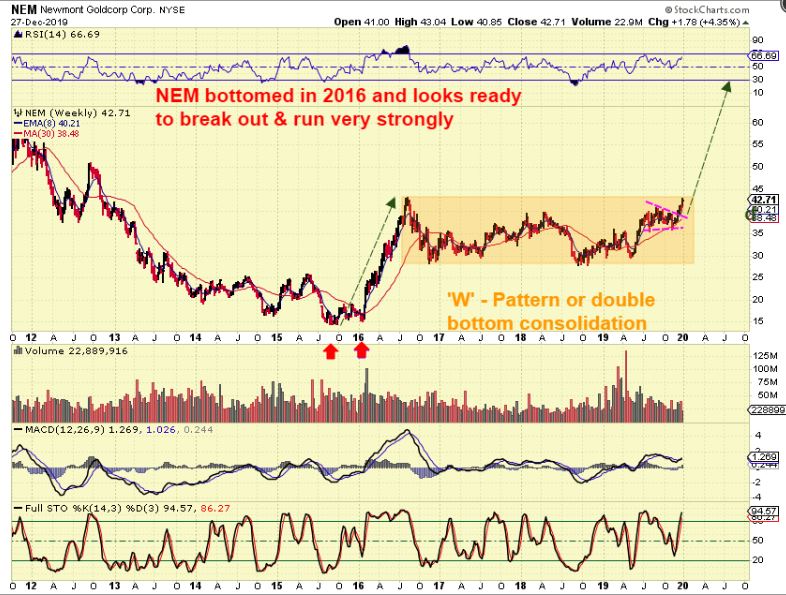 ,
This was a big picture weekend review.  Each day I post reports with daily charts and stock picks with lower risk entries.  If you think that you'd benefit from my reports, especially if you are too busy to do all of the research yourself, why not sign up & try a month or maybe even a quarterly subscription?  With some of the recent picks in Miners alone, your subscription would have paid for itself.  If you want to know more, click the link below.
Thanks for being here at Chartfreak !
https://chartfreak.com/wp-content/uploads/sites/18/2020/01/GOLD-BIG-PIC-12-27a.jpg
729
815
Alex - Chart Freak
https://www.chartfreak.com/wp-content/uploads/sites/18/2019/11/Chart-Freak-site-logo.png
Alex - Chart Freak
2020-01-03 14:55:16
2020-01-03 14:55:16
END OF DECEMBER 2019 – A BIG PICTURE REVIEW