I want to post something here that I pointed out to my subscribers last week.  This is a great lesson on a day when Gold & Silver are selling down again. .  Every now and then I do a little 'lesson' to keep us balanced.   This one has to do with the difference between […]
https://chartfreak.com/wp-content/uploads/sites/18/2015/11/idea.jpg
572
841
Alex - Chart Freak
https://chartfreak.com/wp-content/uploads/sites/6/2013/04/black_logo.png
Alex - Chart Freak
2018-07-11 14:21:10
2018-07-11 14:32:16
A Matter Of Perception

The Theme picture here speaks a thousand words. At Chartfreak, we've covered plenty of bullish set ups in the General Markets like TWTR, SQ, AMD, CREE, CY, TQQQ, SOXL, etc. over the past few months, but in addition to that, I have recently been very focused on the current set up in the Precious Metals Sector. For the public, I want to share what we have been doing with that here.
.
We have been tracking Gold, Silver, and especially Miners with focus for the past couple of Months. I have been expecting a deep sell off into a Cycle Low that will lead into an excellent buying opportunity. Interestingly, even though I have expected a deep sell off into that ICL (Intermediate Cycle Low), I started recommending buying at least some Miners weeks ago, because something interesting was taking place. Unlike the prior bear market sell offs, where Miners crashed down as Gold sold off, I noticed several Miners appeared to very strong. They seemed to be under accumulation, despite Golds sell off.
.
Take a look at
KL

for example. New 2018 highs occurred while Gold was selling off over the past few weeks. In fact, it has almost doubled in 2018.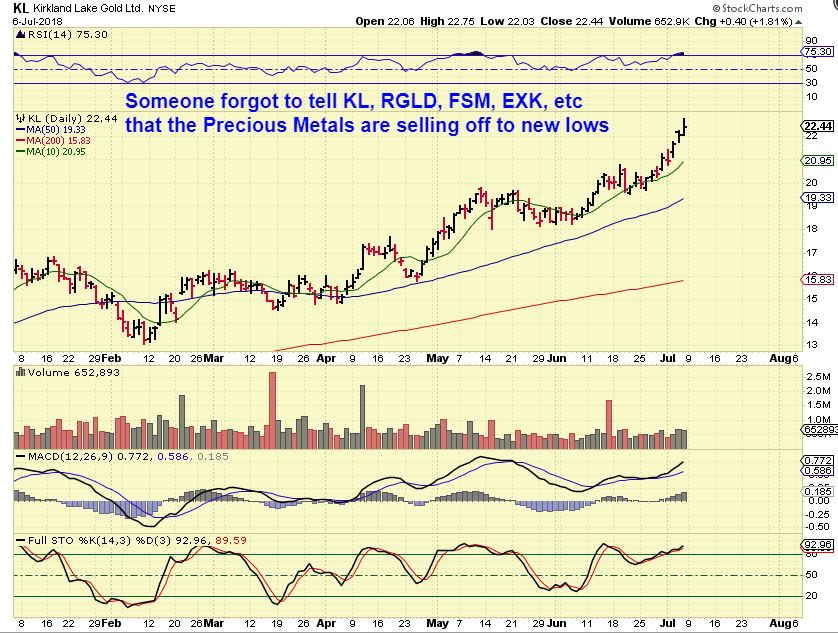 .
Did you notice GORO?

I have been pointing this kind strength out for Months now, but many are still afraid of this sector. This sell off in Gold has fooled many into believing that "Gold is dropping and Miners are dangerous." I got emails to that affect, but charts do not lie and my daily reports have been sharing many bullish factors that go unnoticed at times.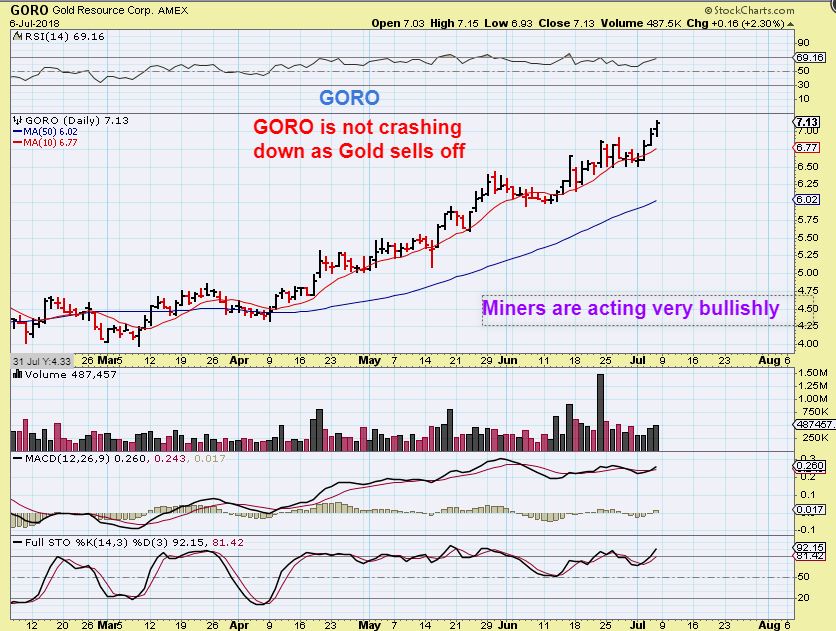 So I've decided to show portions of my last 2 weekend reports combined together here for the Public to take advantage of.
Read More
https://chartfreak.com/wp-content/uploads/sites/18/2018/07/dont-get-left-behind.jpg
834
1250
Alex - Chart Freak
https://chartfreak.com/wp-content/uploads/sites/6/2013/04/black_logo.png
Alex - Chart Freak
2018-07-09 14:27:40
2018-07-09 14:27:40
Don't Get Left Behind

 We have really been focusing on whats going on in the Precious Metals Sector lately, so with that in mind, I am releasing this weekends  Premium Weekend Report to the public, enjoy!
.
SPX

- We discussed the break out from the down trend / triangle as bullish 2 weeks ago, but we really need some upside to increase the big picture bullishness.  An ICL in Feb formed and I'd like to see new highs within this intermediate cycle. This is currently a bullish set up, as discussed in the weekday reports.
Read More
https://chartfreak.com/wp-content/uploads/sites/18/2018/05/WALK.jpg
684
848
Alex - Chart Freak
https://chartfreak.com/wp-content/uploads/sites/6/2013/04/black_logo.png
Alex - Chart Freak
2018-05-29 13:49:29
2018-05-29 13:49:29
May 26th Weekend Report