My last public post last week discussed Bitcoin & Blockchain trades.  They have been absolutely explosive, some trades running up 300-500% or even more.  On Monday (in my premium section) I then went over some of our current trades, and discussed the idea that Bitcoin could go parabolic and then crash down, so caution would be warranted.
 Does a parabolic move and crash mean the end of Bitcoin? No it doesn't, so before we get into a debate about whether or not BITCOIN is in a bubble, and whether a 'Bubble' phase means that this is the end of Bitcoin or not, please read on and then see how you feel.
Read More
https://chartfreak.com/wp-content/uploads/sites/18/2017/11/BUBBLE.jpg
555
862
Alex - Chart Freak
https://chartfreak.com/wp-content/uploads/sites/6/2013/04/black_logo.png
Alex - Chart Freak
2017-11-29 15:29:25
2017-11-29 15:31:26
Is Bitcoin A Bubble Or Not? Blockchain Part 2

NOTE: Please keep in mind that this report was written last week as a premium report, while Bitcoin was between $7000 & $8000.   Bitcoin almost hit 10,000 this weekend, and a follow up premium report was posted on Monday.  The following report gives you an idea of how we were viewing the blockchain charts. It also briefly discussed OIL, the XLE, Gold & Miners.
.
While waiting patiently for the Gold market to set up properly, we have been trading other areas, and one of those areas recently has been the Blockchain trades. I mentioned that I had been trading these on the side, watching how they play out, seeing if they act as expected, before including them in the reports.  Well, they are quite volatile, but I was having success trading them, so I came to the conclusion that they were trade-able and that maybe I should put them in the reports with a small warning about risk last week. So we started trading Blockchain last week.
I'm not sure who decided to take these trades with me, and who watched from the sidelines, but I want to review some of these explosive moves (and gains) and point out a couple more set ups that may be ready to follow the leaders.
RIOT

- This chart showed a consolidation that I had been trading with BIG SWINGS. After a series of lower lows, we see

a higher low Nov 13

and it looked ready to break out, so I Used this chart as a buy and...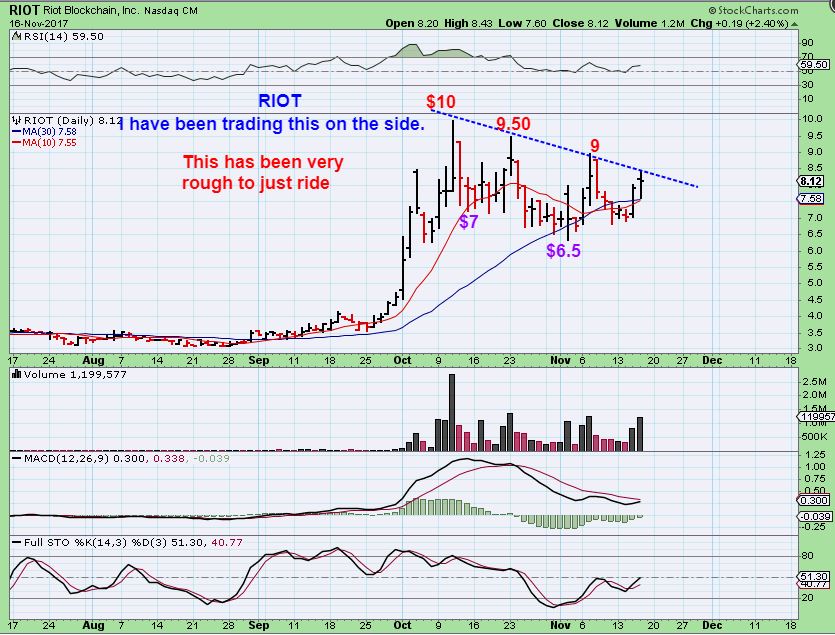 RIOT

- This chart to show the bigger picture potential. I named a couple of upside targets that sounded kind of ridiculous, like $14 & $16, even in the $20's.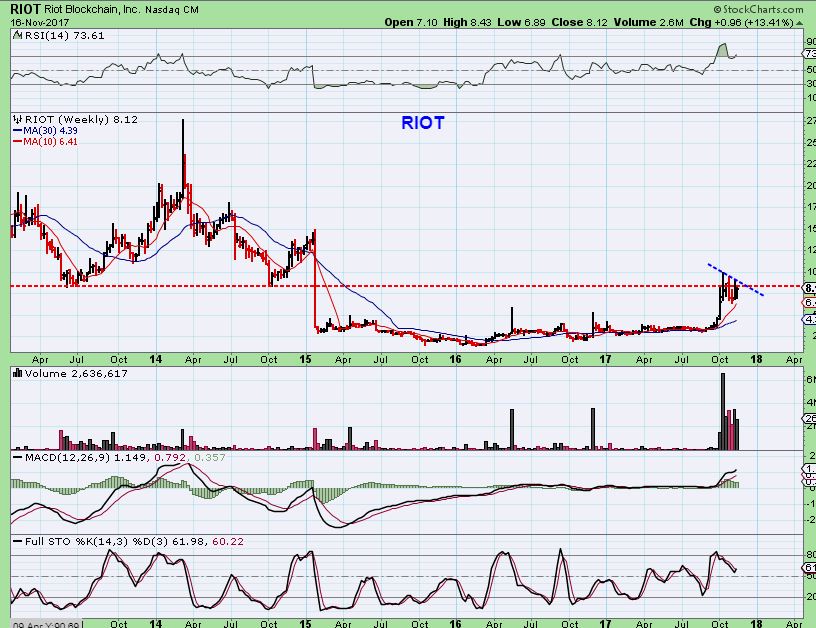 RIOT

-  I sold 1/4 of my position at $16 & posted that in the comments section. Then it after hrs, it continued to ramp up and was at $18.35, so I placed a sell for 1/4 at $18.30 & it sold immediately.  I mentioned this in the comments too, so that others could follow if they wish.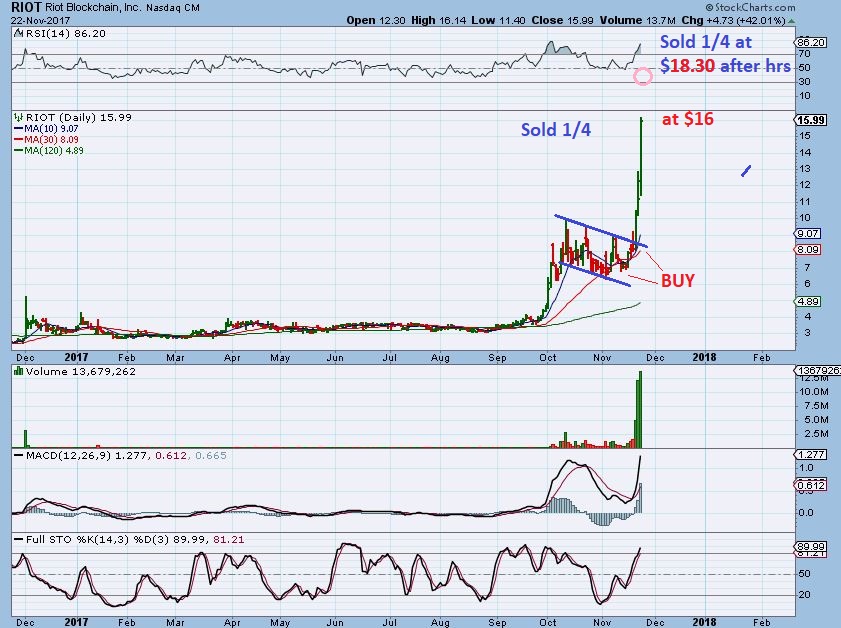 GLNNF

- 

GLNNF

,

RIOT

, and

PRELF

  were the main ones that I traded as an experiment. GLNNF has been very quick mover too, but they are also getting very exuberant and parabolic when they take off  ( Bit coin is breaking new highs too). I sold this one a bit early every time, but with solid double digit gains.  I mentioned this one near $1.20 I believe, and

I sold it at $1.80 

(

Red Arrow = early again

) 🙂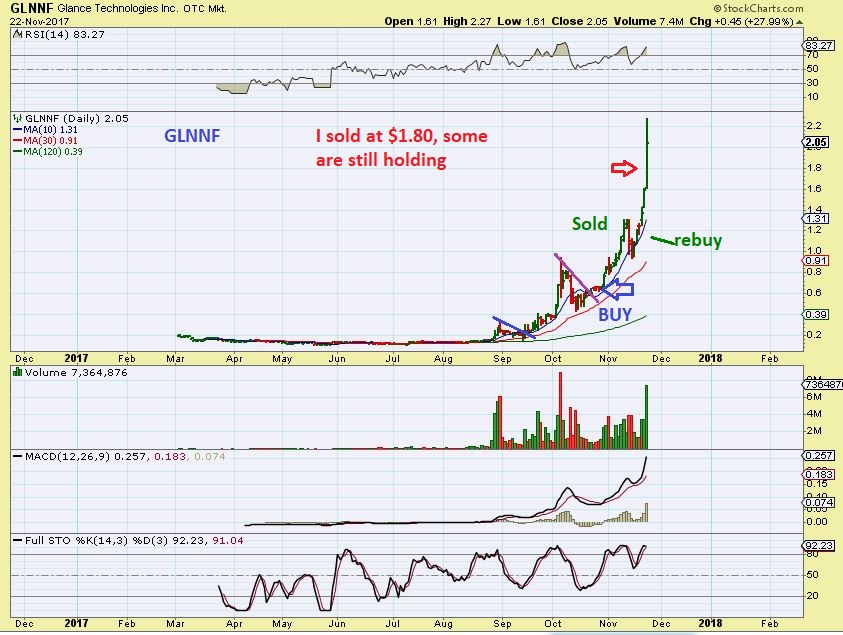 So let's take a look at some other trade ideas in this sector...
Read More
https://chartfreak.com/wp-content/uploads/sites/18/2017/11/BLOCKCHAIN.jpg
580
929
Alex - Chart Freak
https://chartfreak.com/wp-content/uploads/sites/6/2013/04/black_logo.png
Alex - Chart Freak
2017-11-27 14:15:49
2017-11-27 14:18:00
Nov 24th - The Blockchain Explosion!

I AM OPENING UP THE WEEKEND REPORT TO THE PUBLIC.  IT IS A LONG REPORT, SO IT WILL TAKE SOME TIME TO READ, BUT I HIGHLY RECOMMEND IT. IT IS A BIGGER BIG PICTURE VIEW.  ENJOY & THANKS FOR CHECKING IT OUT!
This weekends report is going to be a bit different.  I often give the Big Picture review, and with that, we have been discussing since last January the possibility of a Blow Off Top / Parabolic move resulting from the general markets' bullishness.   Well, this is going to be an even Bigger Picture discussion, with a number of different Markets discussed.  It is a long detailed report designed to answer many emails that I have received about the bigger big picture , so grab some coffee or tea and let's begin...
NASDAQ

-  This chart was from last May.  I posted this idea of how the current rally that we were seeing could be becoming  parabolic. Parabolic moves seem like they will never end, and you'll hear that "Nothing can kill this market", and it feels so true. Then suddenly, they die a brilliant death as you can see in the year 2000. See the chart below, where we examined similarities of a final shake out consolidation, a ramp up with somewhat choppy trading that would still having higher lows, higher highs, and then the final Ramp higher...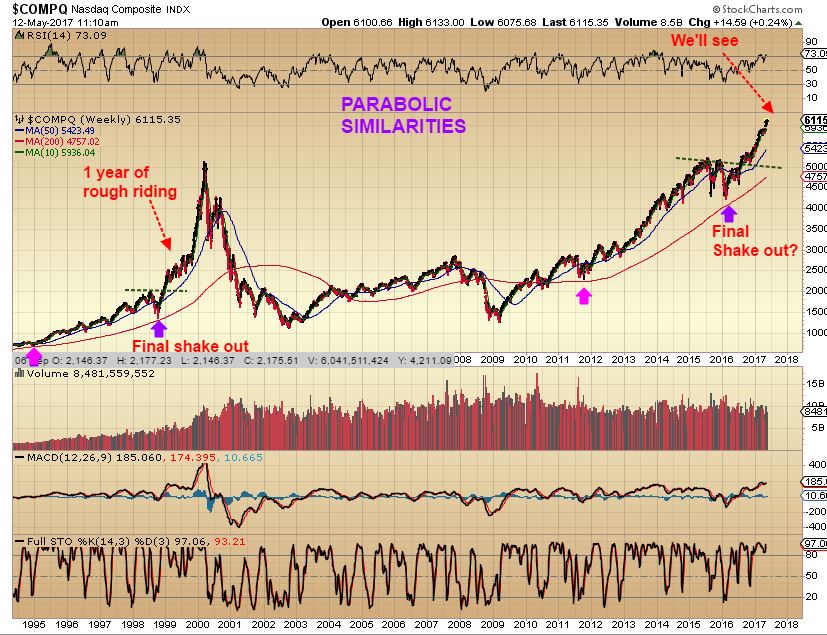 NASDAQ

- Here we are now and the choppiness with higher lows and higher highs seems to be playing out now, and a blow off top would follow. OR, is this the blow off top in play as it just continues higher?  This move is verticle and could lead to the blow off top.  Just ride it long. I have drawn in  a post blow off top scenario with a normal 'back test' of the break out. Let's dig in further...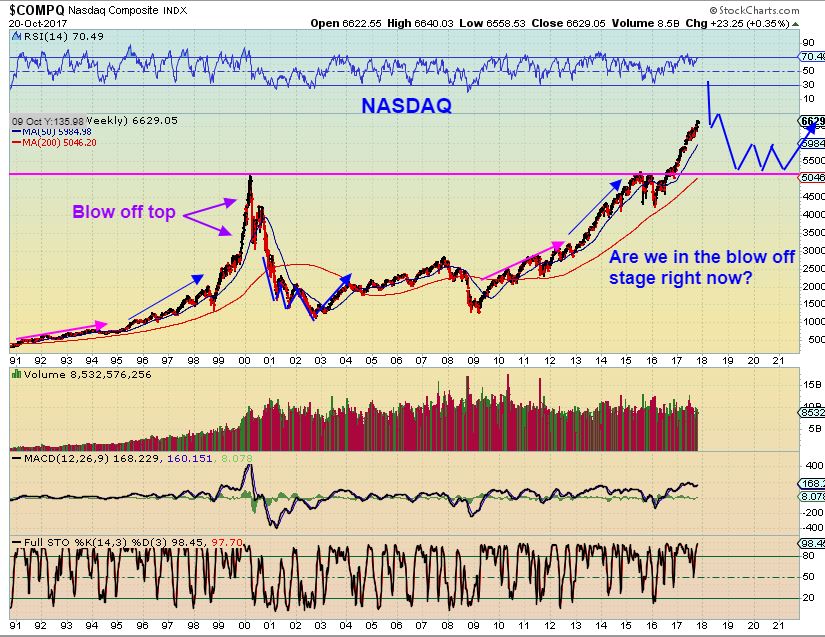 NASDAQ

- Currently, the 'choppiness', when examined close up, is normal.  I have advised buying with a reasonable trailing stop. Each dip to the 50sma can be bought as a low risk entry. Was that tiny dip the DCL, because we are so late into this current daily cycle?  I'll show you why that could be possible later using the RUT AND TRANNIES. If it isn't a dcl, and we get a dip to the 50sma (even with a shake out there), that would obviously be a 'buy'- please read the chart. THis is a healthy strong bull run.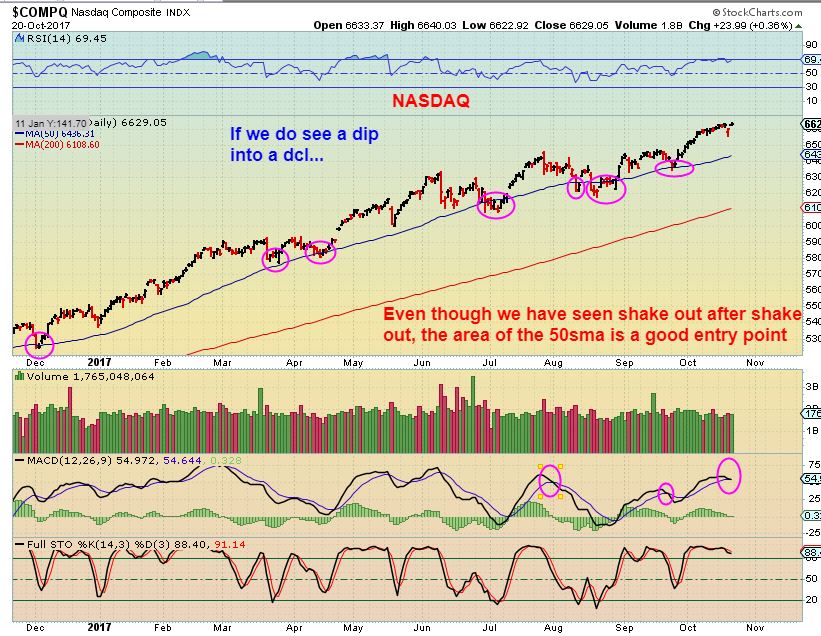 Now let's also look at the
BIGGER PICTURE  SPX, RUT, TRAN, DJIA
Read More
https://chartfreak.com/wp-content/uploads/sites/18/2017/10/big-pic.jpg
606
866
Alex - Chart Freak
https://chartfreak.com/wp-content/uploads/sites/6/2013/04/black_logo.png
Alex - Chart Freak
2017-10-23 16:20:40
2017-10-23 16:23:33
Oct 23rd - THE BIGGER BIG PICTURE