.
I want to open up a part of the premium report that my subscribers received this morning to the Public.   We are waiting on a FOMC Decision and things often get volatile around that time, so I wanted to share some interesting observations that I have with my readers. After discussing the General Markets and Oil, the report continued with these thoughts…
.
USD

– My unbiased look at the USD has me thinking that it looks like it wants to go higher short term. If the Fed  DOES NOT cut rates,  the USD could continue a little higher.  However the 50sma could stop the dollars rise because, …

It may just be the back test that I drew on this chart weeks ago.  I still believe that the Big Picture does not favor the USD, when the FED is discussing Rate Cuts.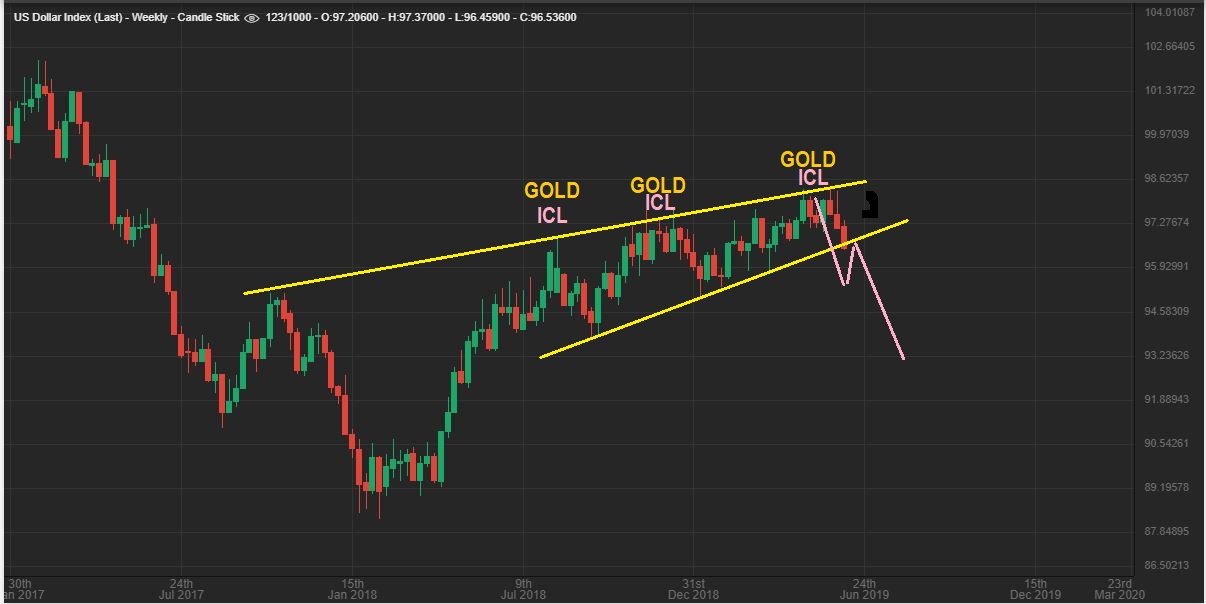 .
GOLD 

– My unbiased view of Gold makes me look at this and think that it does want to pull back short term. 

It  certainly does NOT have to on a Fed Day

, but it has wicks at the top of the candles, and that is often caused by selling pressure.  It could be considered overbought short term too.  A USD bounce post fed could drop Gold a bit.   SO FAR GOLD WONT BREAK THE 10sma.

If this pulls back, it is a normal pullback,

and …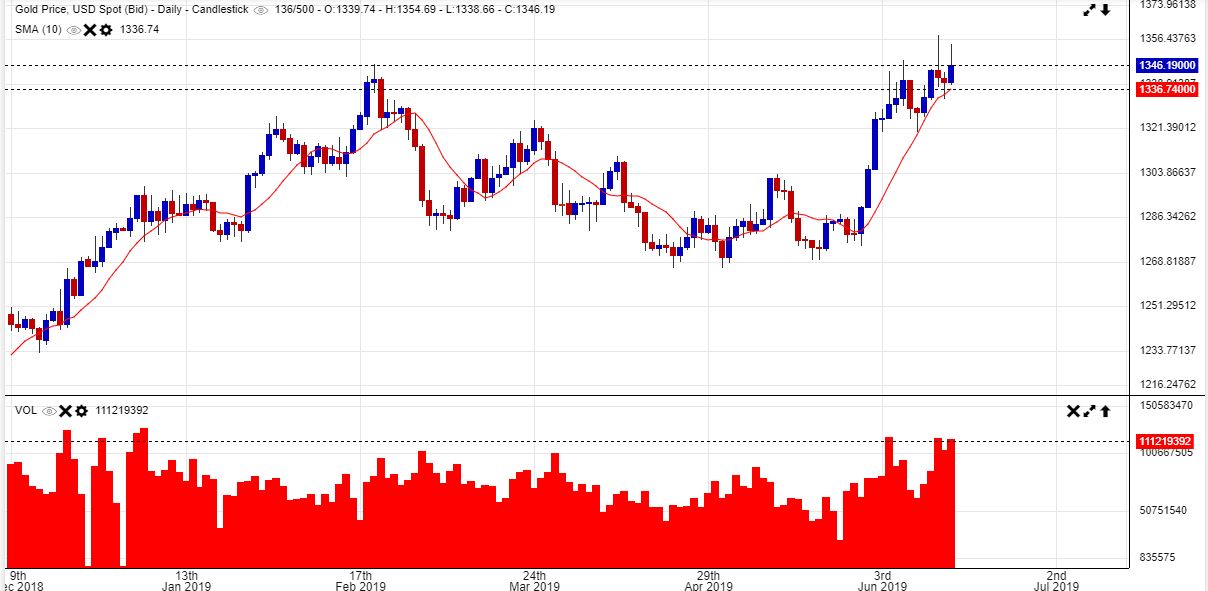 .
I pointed out a Cup & Handle type pattern weeks ago as a possibility.
I do NOT expect that long of a handle

, I actually expect higher prices soon  , and it could be as soon as the FOMC MTG.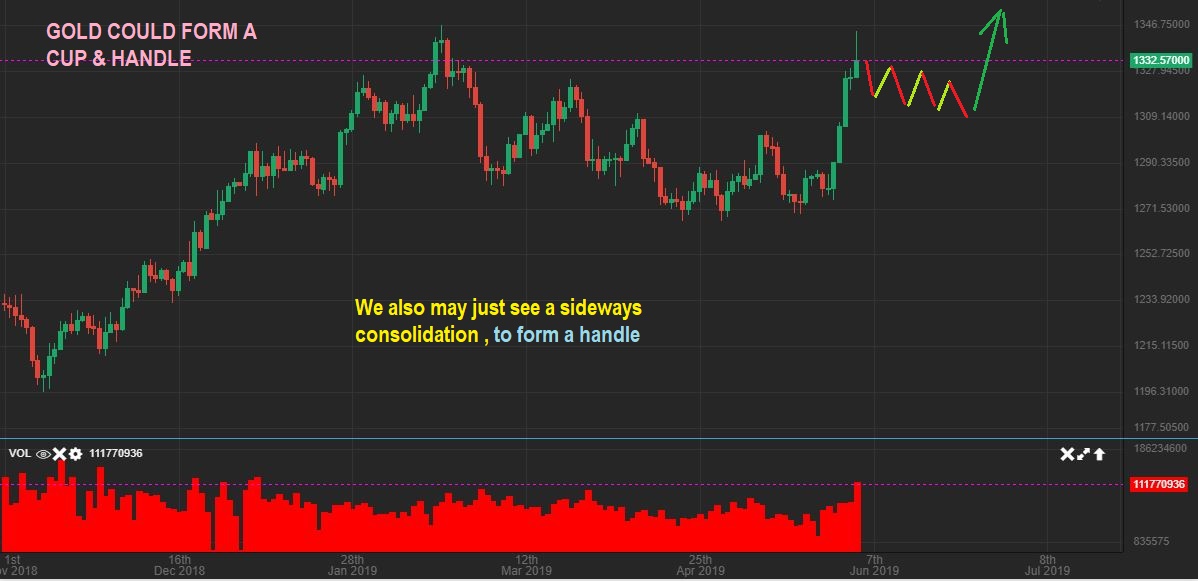 .
A rate cut could rocket gold, but that isn't expected until the July Meeting.  Talk of that Rate Cut may still push Gold higher from here though, so this is not out of the question.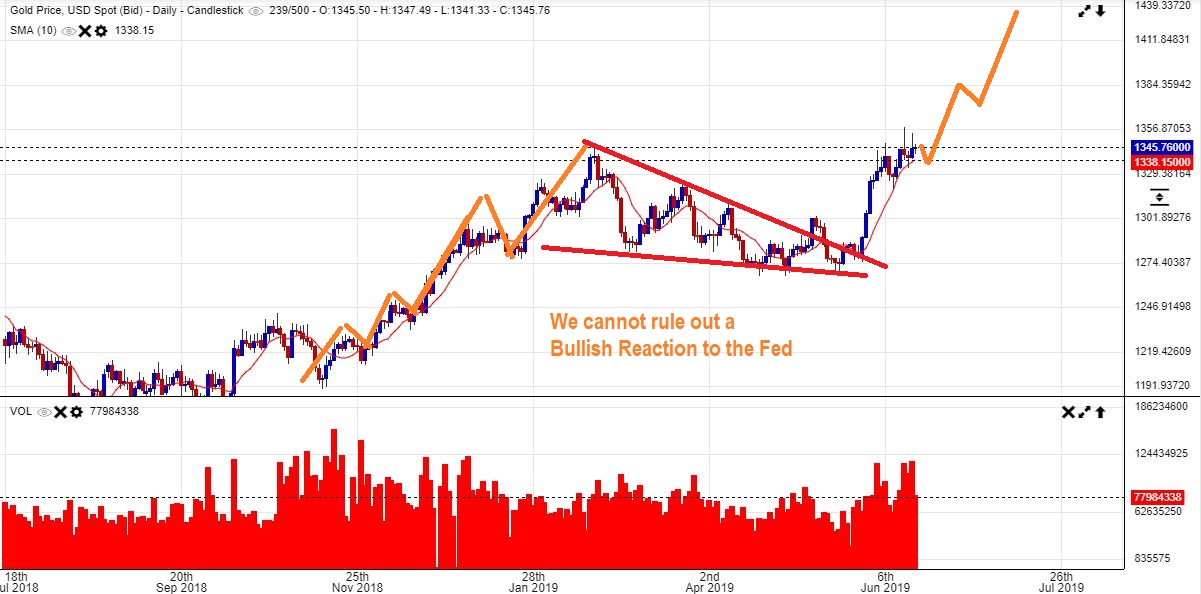 .
EVEN A PULL BACK AFTER THE FED WOULD REMAIN BULLISH in my opinion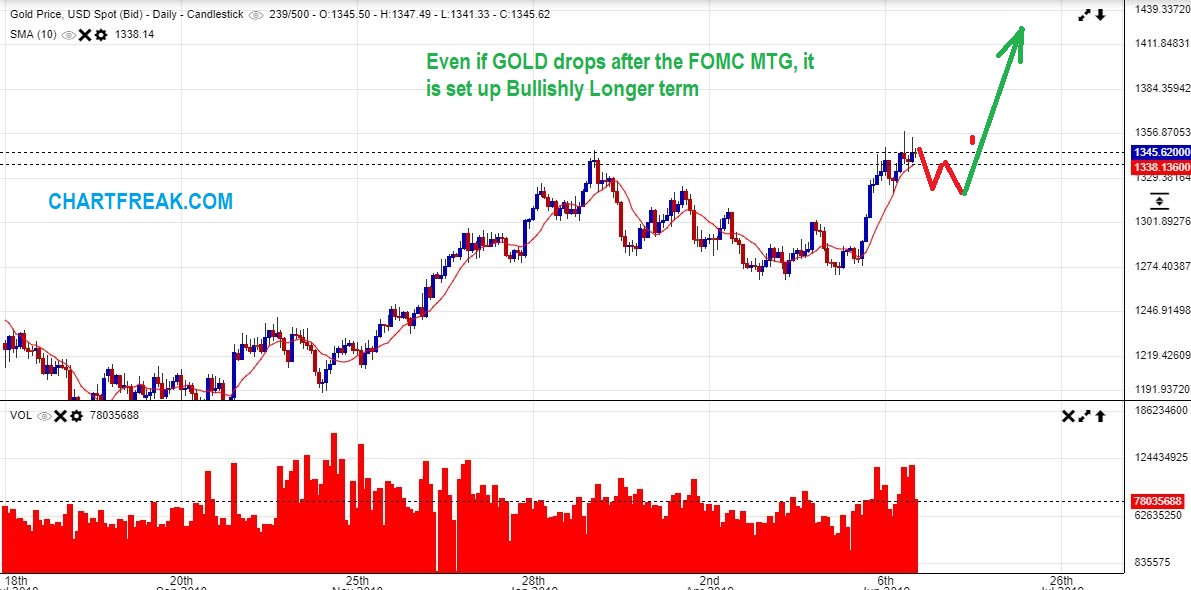 .
LETS LOOK AT MINERS
.
GDX #1

   – Looks like a topping candle late in the daily cycle count, unless day 17 was possibly a dcl. What about that 'topping candle'-  is it Bearish?  Not always…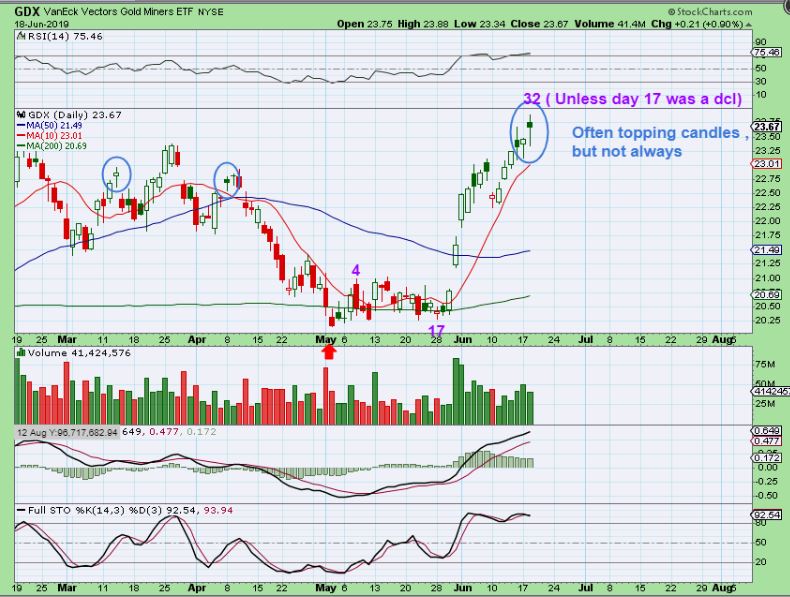 GDX #2

  – That 2016 run had these 'topping candles' too, and

the selling only lasted a day or 2

.  It caused a 'Pause' , so that is Good to know.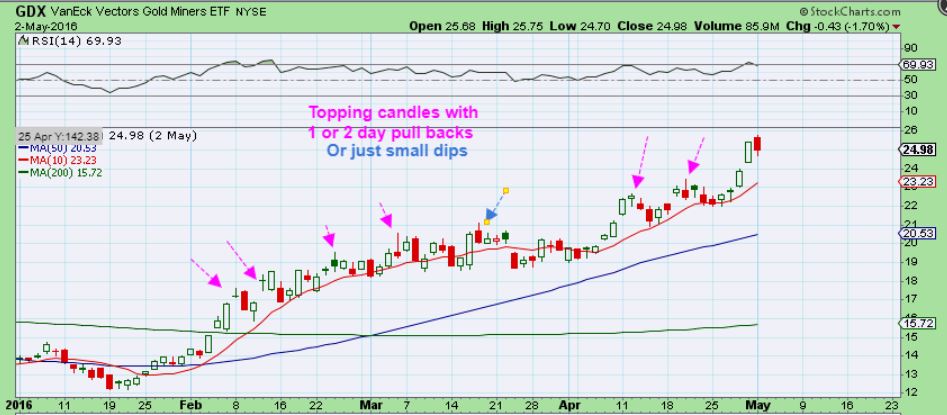 GDX 

–  This CAN continue to run higher if the Fed Decision looks Gold Bullish  ( Future rate Cuts),  but  let's say that we do get a 2 or 3 day sell off, this could be a back test of the break out and form the next dcl. NOT BEARISH or concerning.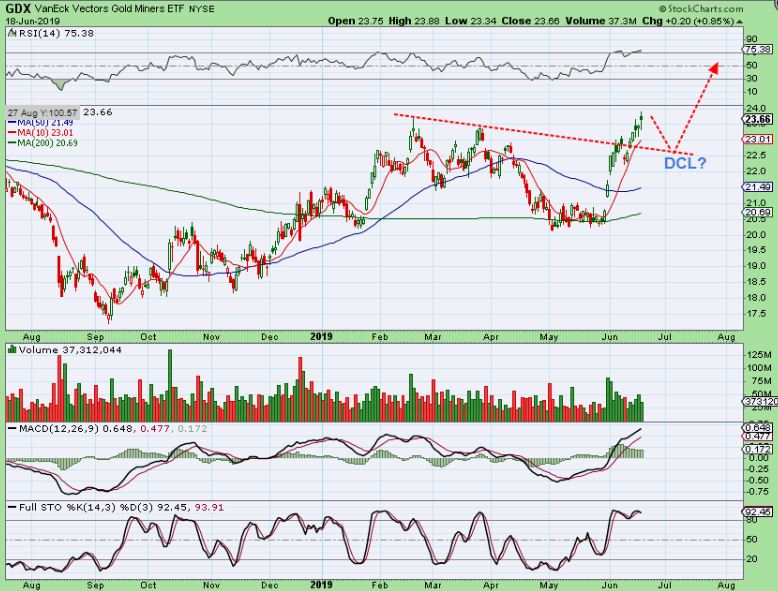 THESE 2 CHARTS ARE FROM YESTERDAYS REPORT: THE BIGGER PICTURE
AND SERIOUSLY, HOW LONG HAVE I BEEN POSTING THIS CHART, EXCITED ABOUT THE POTENTIAL? 
A drop to '2' and a reversal was a STRONG BUY

. A BUY & HOLD FOR A CORE POSITION…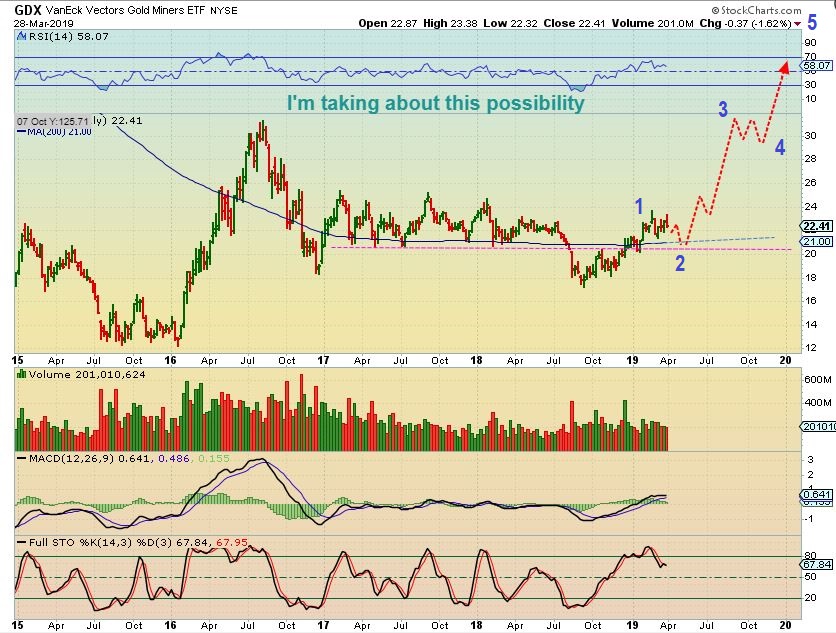 GDX WEEKLY

  – That drop to '2' happened &

reversed at the last Fed Meeting in May.

Whether this weeks meeting has us drop to a dcl or break out and fly, you want to still be invested in Miners for the long run in my humble opinion. Leverage is optional, based on your entry, risk tolerance, etc.
Now let me show you something else that can be considered BULLISH if it is about to repeat…
.
DO YOU REMEMBER?
.
 NOTICE Again that   
MAY 1 WAS THE FED MTG,

 

MAY 22 WAS THE RELEASE OF THE MINUTES OF THAT MEETING

.  **2 important dates, because we want to remember what happened at that time.
REMEMBER
MAY 1 & MAY 22

.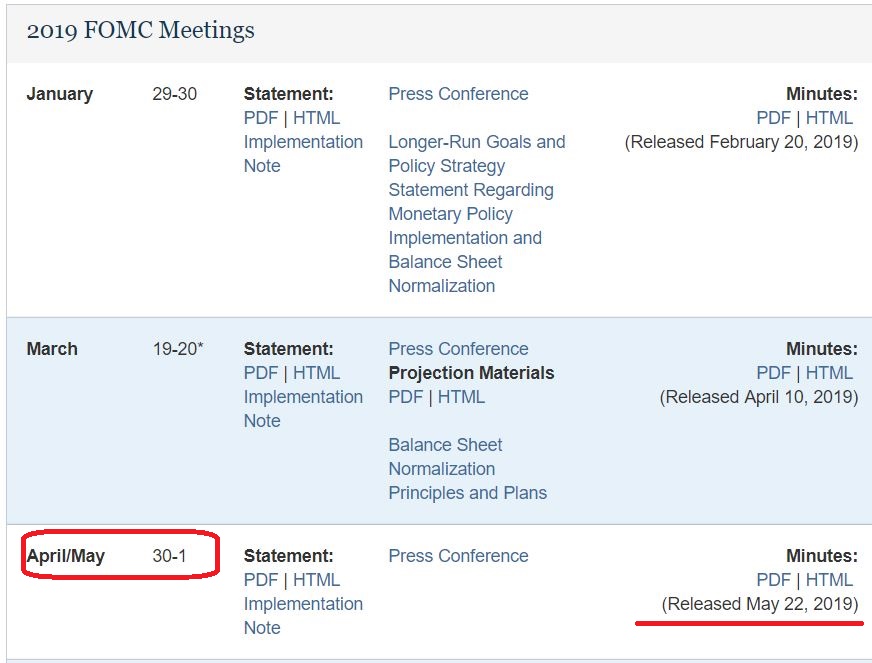 .
I posted this chart in my May 22 Report.   It showed the

MAY 1 Fed Mtg

:   

GDX SOLD OFF ON FED WEDNESDAY, and  BOTTOMED THE VERY NEXT DAY

.

I then said on May 22, that when they release the FOMC Minutes-  GOLD & GDX might bottom again.   WE should watch for that, and …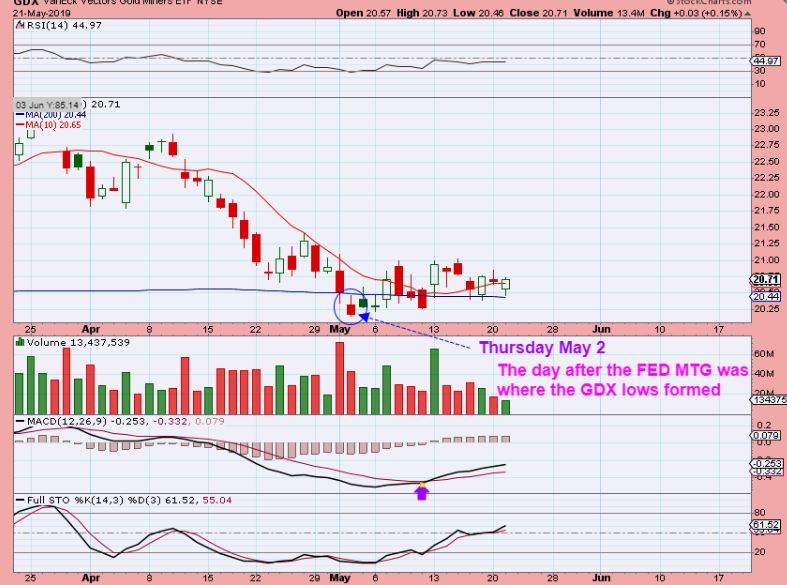 FOMC Minutes on May 22.   

GDX actually dropped again, but that was the next low

.  What does that tell us?…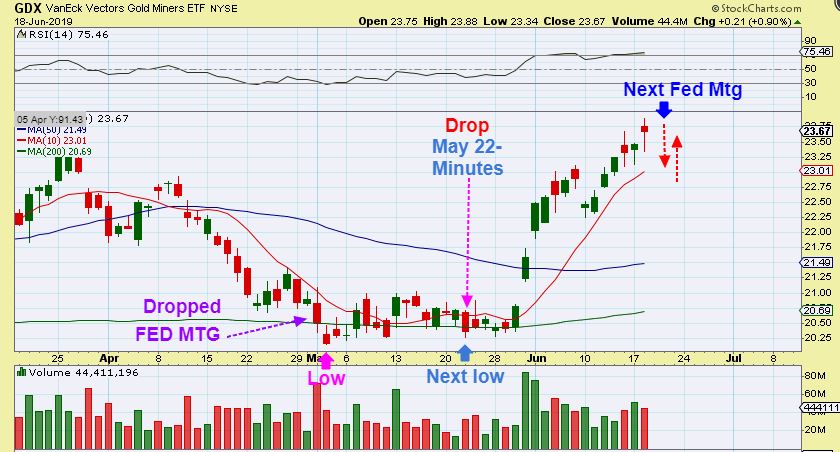 Conclusion:   Most do not remember that GDX DROPPED ON THE FED DAY &  ON THE FED MINUTES RELEASE, but only for a day.    So now we have June 19th FED MTG, and we could drop to break the 10sma, but how long will any drop  last?  The above could be a clue, but really only time will tell.  The set up is slightly different.
.
I am just sharing an observation that shows how the FED Decision & Minutes was received in May.  We were at the lows and due for an ICL at that time.    The reaction was Bullish for GOLD & GDX, SO THAT MAY HAPPEN AGAIN, but we should also recognize that we are now a bit more extended & not at the lows.  The reaction may be a bit different, but at least this gives us an idea of how Gold Really feels about a possible Rate Cut,  and that is my point.   GOLD REACTED BULLISHLY. 
So if we see a pullback in precious metals here, it is not bearish.  The precious Metals reacted bullishly to the MAY FED Rate Cut Talk Twice & rallied strongly.   If the Fed doesn't  cut here, we could see more of a drop, but it is just a normal dip.   So if you can ride some volatility,  that is most likely what we have in store.   
 .
~ALEX
.
 If you feel that this kind of analysis would help you with yours, especially if you are just too busy to do all the research,  why not sign up and try Chartfreak for 1 month, a discounted quarterly , or even a discounted yearly rate?
If you would like to find out more about the service or sign up, please click on the ' buy now' bubble for more details.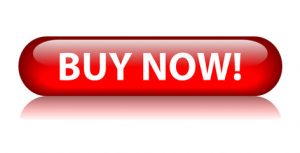 https://chartfreak.com/wp-content/uploads/sites/18/2016/02/GOLD-TIME.jpg
551
886
Alex - Chart Freak
https://www.chartfreak.com/wp-content/uploads/sites/18/2019/11/Chart-Freak-site-logo.png
Alex - Chart Freak
2019-06-19 16:50:13
2019-06-19 16:58:50
June 19- FOMC Countdown