The following is an update on the market and indexes.  The charts are a sample of Alex's work from the week. 
(2/8/19)
We have been expecting a bit of  pull back in the General Markets, and it would likely start after the SPX tagged that 200sma.   I am not expecting a wash out sell off, it will be more of a ' Buy the Dip' type of pull back into the first dcl, but if you want to hold on to most of your recent gains?  Then at the first signs of cracks in the ice,  you would certainly tighten stops or take some profits.  You want to Stay Frosty for a while.
.
SPX

- The SPX tagged that 200sma,  dropped to the 10 sma,  and bounced  bit into the end of the day. We are on Day 30  and I expect this to eventually back test the 50sma.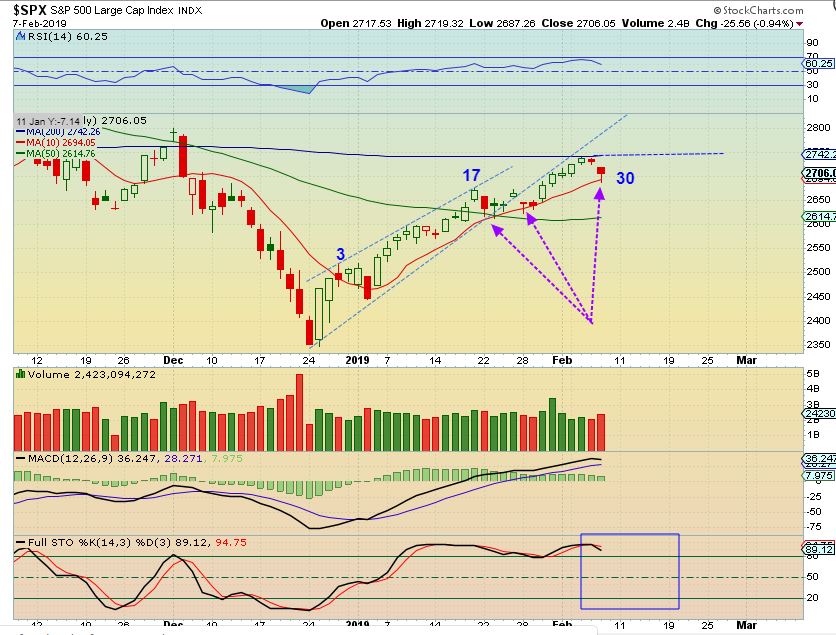 Read More
https://chartfreak.com/wp-content/uploads/sites/18/2019/02/markets.jpg
1162
1600
Alex - Chart Freak
https://www.chartfreak.com/wp-content/uploads/sites/18/2019/11/Chart-Freak-site-logo.png
Alex - Chart Freak
2019-02-08 20:56:43
2019-02-08 20:56:43
An Index & Market Update

(The following is a sample of Alex's work from the week.  This is more of a sophisticated trading technique best served for traders with some experience under their belt.) (From 2/1/19) This example is a case where a trader is holding several positions and while active trading them, notices that one is beginning to run […]
https://chartfreak.com/wp-content/uploads/sites/18/2019/02/block-break.jpg
1067
1600
Alex - Chart Freak
https://www.chartfreak.com/wp-content/uploads/sites/18/2019/11/Chart-Freak-site-logo.png
Alex - Chart Freak
2019-02-01 15:53:46
2019-02-01 15:53:46
Trading Technique: Go Where the Action Is

I want to show you how I follow individual stocks over the course of a month.  In this post, I'll show you how I have been covering NBEV. [The following is a sample of Alex's work over the past few weeks] (1/10/19) NBEV  DECEMBER 21  – Back on Dec 21, NBEB broke down through an […]
https://chartfreak.com/wp-content/uploads/sites/18/2019/01/pot-money.jpg
1067
1600
Alex - Chart Freak
https://www.chartfreak.com/wp-content/uploads/sites/18/2019/11/Chart-Freak-site-logo.png
Alex - Chart Freak
2019-01-25 16:05:52
2019-01-25 16:05:52
Round 2. Pot Stocks