The following is an update on the market and indexes.  The charts are a sample of Alex's work from the week. 
(2/8/19)
We have been expecting a bit of  pull back in the General Markets, and it would likely start after the SPX tagged that 200sma.   I am not expecting a wash out sell off, it will be more of a ' Buy the Dip' type of pull back into the first dcl, but if you want to hold on to most of your recent gains?  Then at the first signs of cracks in the ice,  you would certainly tighten stops or take some profits.  You want to Stay Frosty for a while.
.
SPX

– The SPX tagged that 200sma,  dropped to the 10 sma,  and bounced  bit into the end of the day. We are on Day 30  and I expect this to eventually back test the 50sma.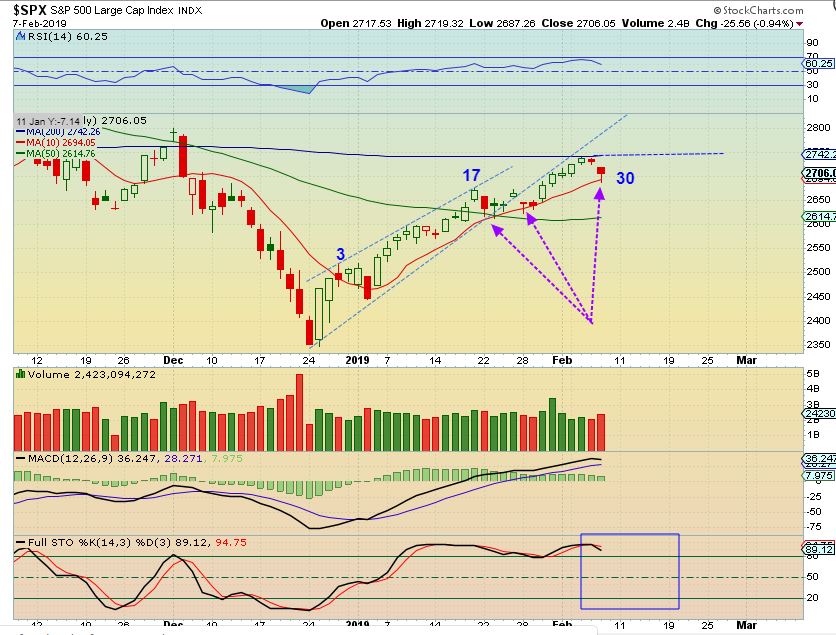 NASDAQ

–  Overbought, The Nasdaq  also dipped at the 200sma  and bounced off of the 10sma.   Just be aware that I still expect that a deeper drop is coming due.  This may be the start of the dip that I have been referring to, but it is not complete .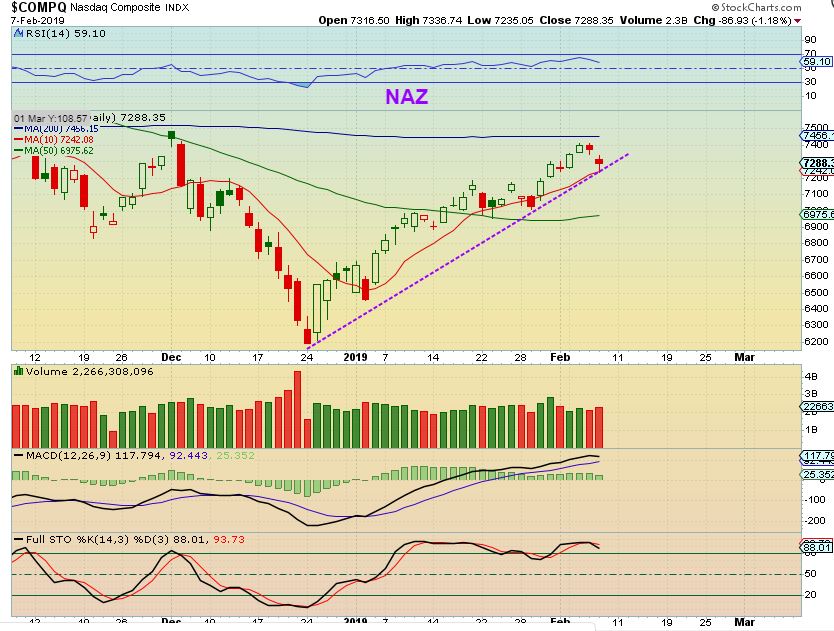 From 2/7/19)
The Semiconductors  actually broke out  over their 200 sma Wednesday, though the General Markets didn't.  Often the semis lead the markets, so I have to wonder if the markets will do the same, or is this a fake break out?
SOX

 – If I use candlestick charting, this could end up being the top, because this is often

a topping candle

.  If it gaps down tomorrow, it will be

an abandoned baby top

and likely a fake break out.
QQQ CHART

– At times, you get a false break out higher & then it rolls over ( see November  7 and Dec 1), so after the speech, Wed COULD gap over the 200sma, but we are due for a dcl, so we keep that in mind. I would sell if I owned TQQQ and buy the dcl.   SQQQ MIGHT EVEN BE AN OPTION FOR THE EXPERIENCED TRADER THOUGH, ONCE WE GET A SWING HIGH IN PLACE  🙂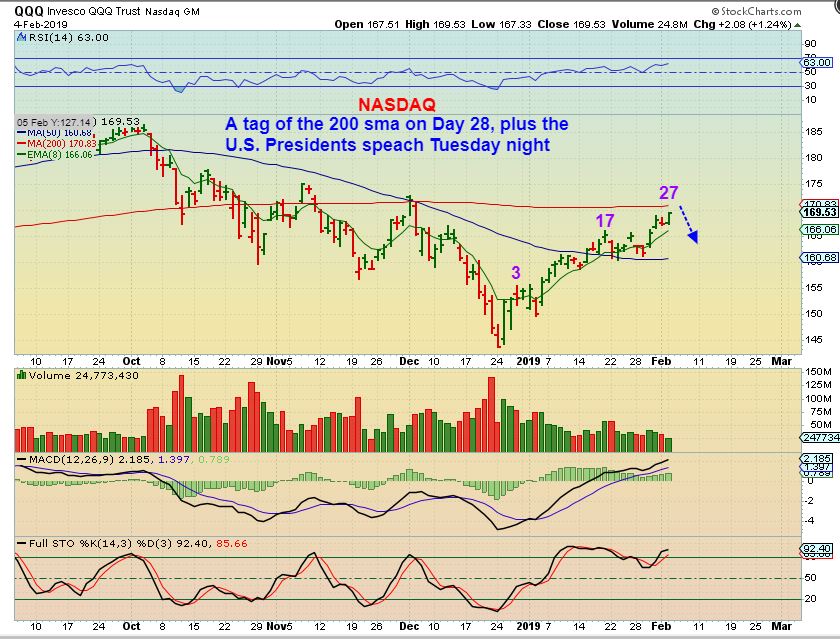 Chart Freak Membership
Alex has been successfully writing a daily newsletter service for nearly four years now and is considered one of the best traders of precious metals miners, energy/uranium stocks, and biotechs.   This is your opportunity to join his service as a member and follow along as we enter the next bullish gold Cycle higher.
If you would like to find out more about the service or sign up, please click the buy option for more details.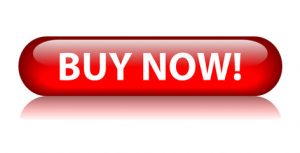 https://chartfreak.com/wp-content/uploads/sites/18/2019/02/markets.jpg
1162
1600
Alex - Chart Freak
https://www.chartfreak.com/wp-content/uploads/sites/18/2019/11/Chart-Freak-site-logo.png
Alex - Chart Freak
2019-02-08 20:56:43
2019-02-08 20:56:43
An Index & Market Update