The Theme picture here speaks a thousand words. At Chartfreak, we've covered plenty of bullish set ups in the General Markets like TWTR, SQ, AMD, CREE, CY, TQQQ, SOXL, etc. over the past few months, but in addition to that, I have recently been very focused on the current set up in the Precious Metals Sector. For the public, I want to share what we have been doing with that here.
.
We have been tracking Gold, Silver, and especially Miners with focus for the past couple of Months. I have been expecting a deep sell off into a Cycle Low that will lead into an excellent buying opportunity. Interestingly, even though I have expected a deep sell off into that ICL (Intermediate Cycle Low), I started recommending buying at least some Miners weeks ago, because something interesting was taking place. Unlike the prior bear market sell offs, where Miners crashed down as Gold sold off, I noticed several Miners appeared to very strong. They seemed to be under accumulation, despite Golds sell off.
.
Take a look at
KL

for example. New 2018 highs occurred while Gold was selling off over the past few weeks. In fact, it has almost doubled in 2018.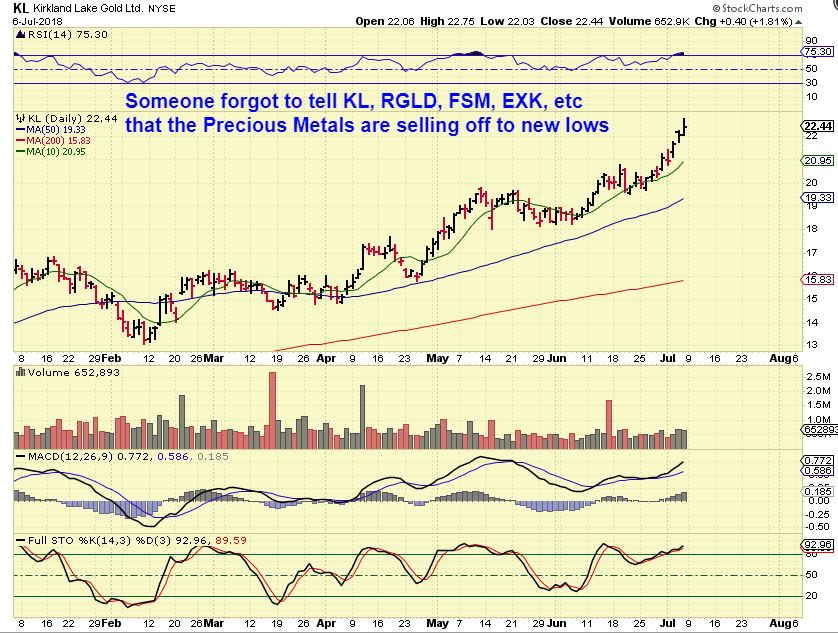 .
Did you notice GORO?

I have been pointing this kind strength out for Months now, but many are still afraid of this sector. This sell off in Gold has fooled many into believing that "Gold is dropping and Miners are dangerous." I got emails to that affect, but charts do not lie and my daily reports have been sharing many bullish factors that go unnoticed at times.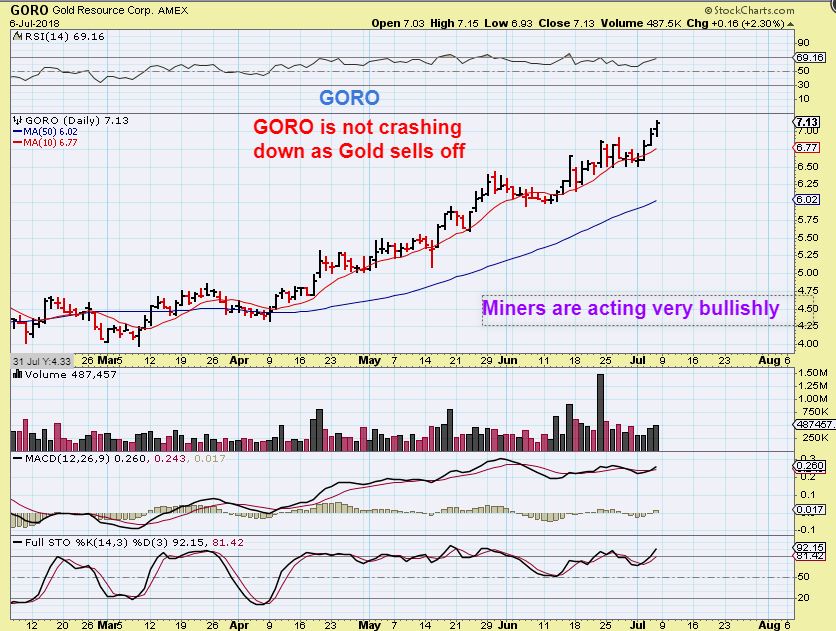 So I've decided to show portions of my last 2 weekend reports combined together here for the Public to take advantage of.
During the week in my daily reports, I cover daily chart, short term analysis, and also stocks that look set up to go higher. During the weekend report, I offer more of a Big Picture overall view. The first half of this Public version will show what we were looking for at the end of June, and then I will include portions of this last weekend report ( Where we are currently).
.
LET'S TAKE A LOOK AT THE PRECIOUS METALS SECTION AS OF THE JUNE 30 WEEKEND REPORT
.
USD DAILY- Read the chart, this is good news for Gold. PRICE IS AT HIGHS, THE MACD IS DROPPING. The USD is in the cycle timing for its own ICL type drop over time and could easily drop to the 200sma as a failed daily cycle. The USD should continue lower.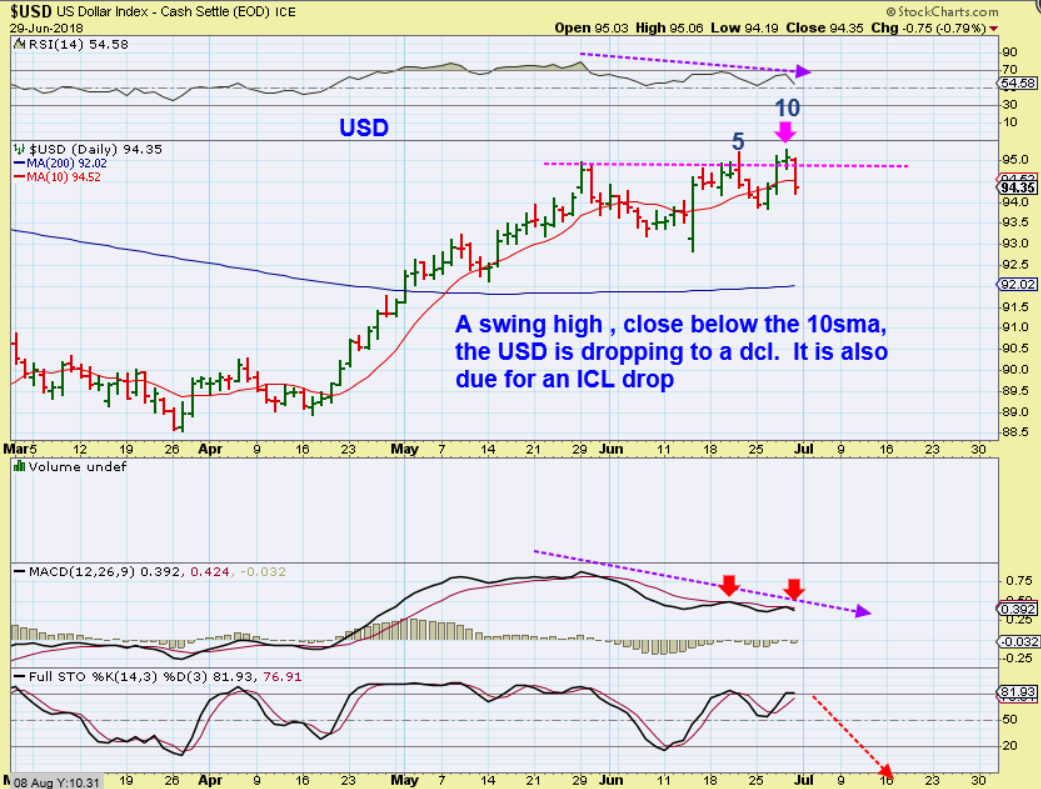 I have been showing this bigger picture chart too. The USD now looks ready to drop down from resistance.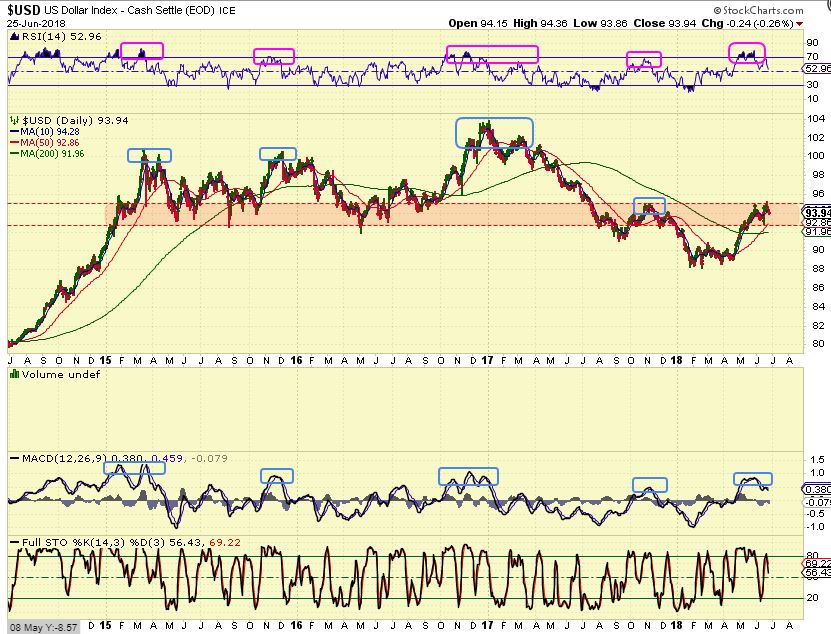 The current USD WEEKLY shows that resistance has capped the progress and it is overbought. This is also good for a solid rally out of an ICL (low) for GOLD.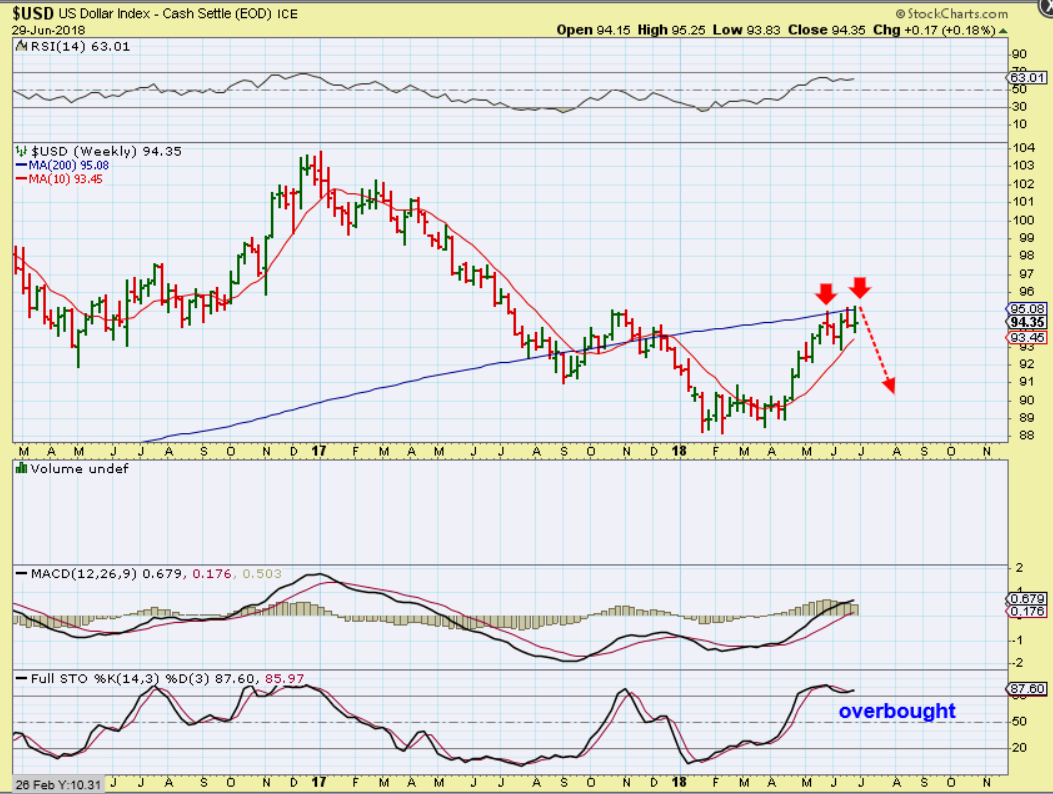 .
PRECIOUS METALS
.
NOTE: In the comments section I mentioned that I added again to my leverage & Miners early Friday Morning of June 29th, even though we do not have a confirmed swing low in GOLD. This is not the safest way to trade it, but I liked what I was seeing in the GDX/GDXJ & Components of those ETFs. I also liked the drop in the USD at resistance, so things seem to be lining up as expected. Any further drop in Gold should be rather short lived due to cycle timing, if we get some more downside.
.
GOLD WEEKLY

– After basically 10 days of solid selling, we had a reversal in GOLD on Friday as the USD rolled over. It is NOT above the 10sma, so it is a swing low 'unconfirmed', but the trend line has been broken (Bullish). Day 28 IS in the timing for a swing low DCL / ICL. We need follow through next week to confirm a swing low dcl/ ICL.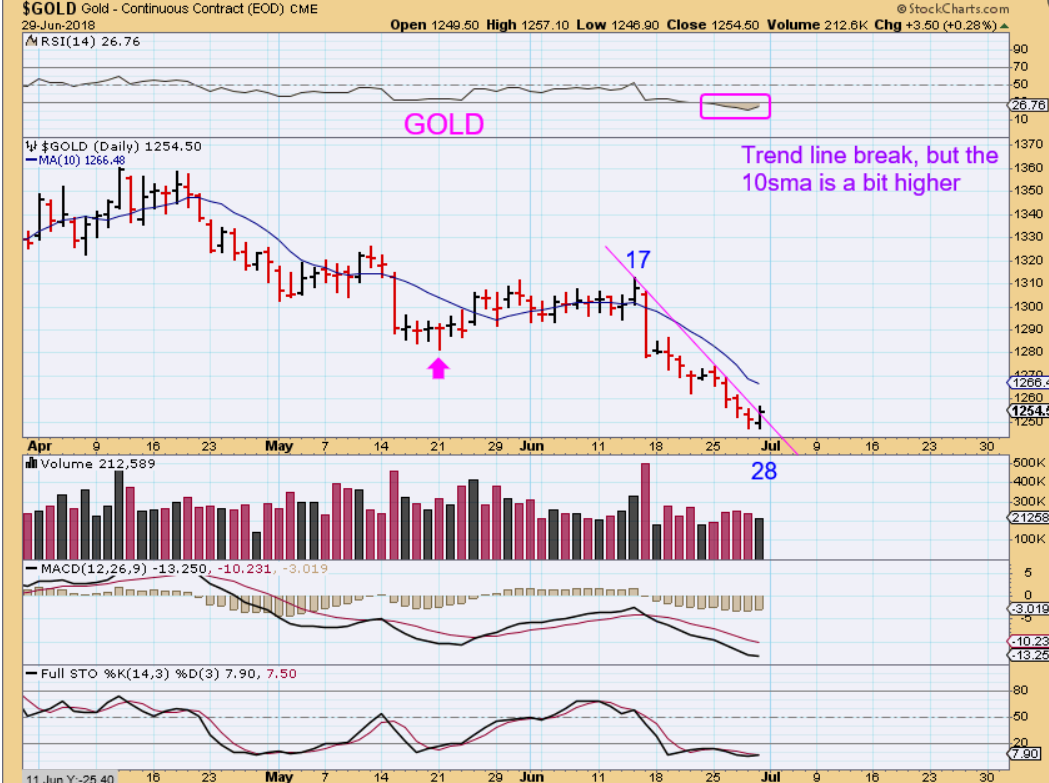 SILVER WEEKLY

– Silver is at the bottom of a trading range. This is a 2-3 year consolidation friends, and this could really run swiftly higher when it breaks out. Please own some Silver stocks if you do not own any yet. I have been pushing them since April, and they have not been selling off.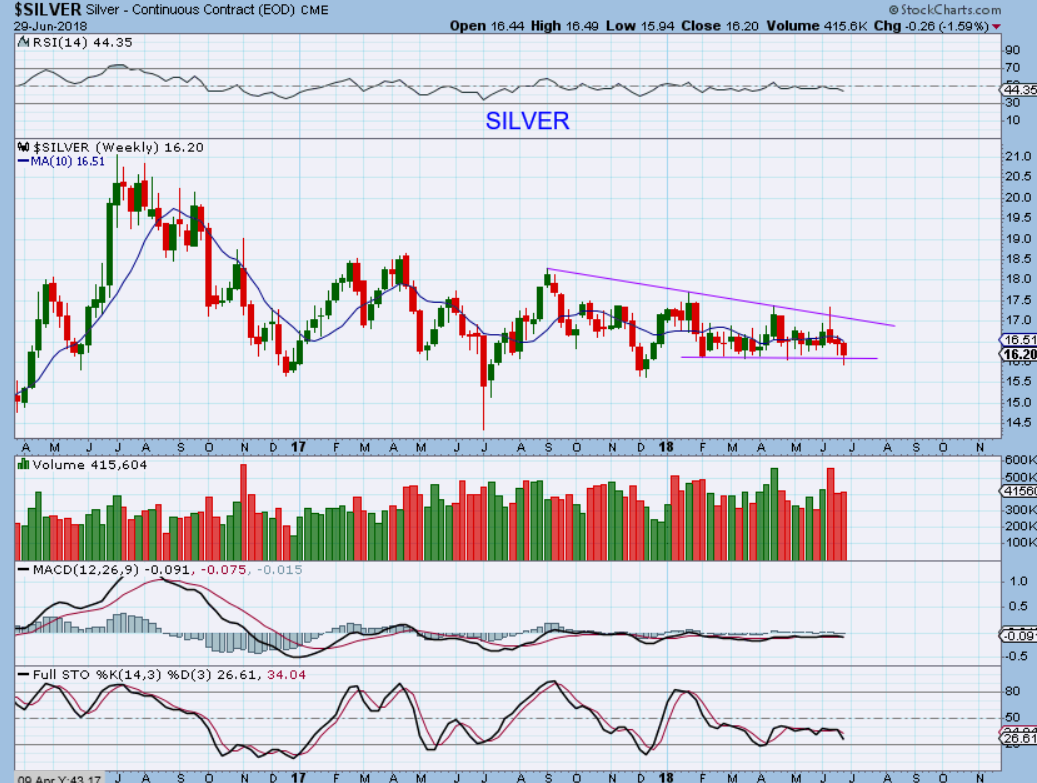 .
THIS IS WHY I ADDED TO LEVERAGE ON MINERS
.
ABX– On Friday morning, I noticed GDX & GDXJ pushing higher, so I decided to look up some of the Miner components. ABX was looking quite bullish, and at this point, Gold was not even really moving higher yet. It looked like MINERS might be leading the move higher. This was a Friday morning chart and ABX then closed with over 13 million in volume.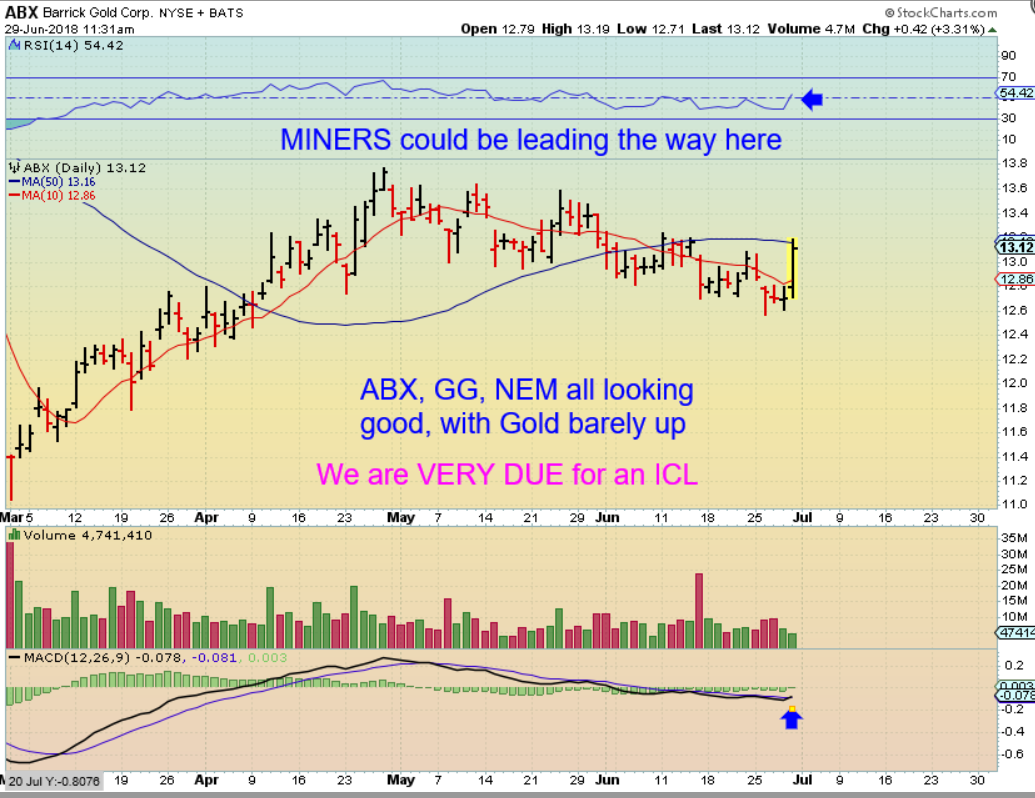 GG

– You can see that GG also broke higher, taking back 7 days of trading, and this also occurred before Gold really made a move Friday morning, so Miners may be leading the way.

This is why I added to my Miner positions.

The timing is proper for a low and the Miners were Bullish before Gold kicked in.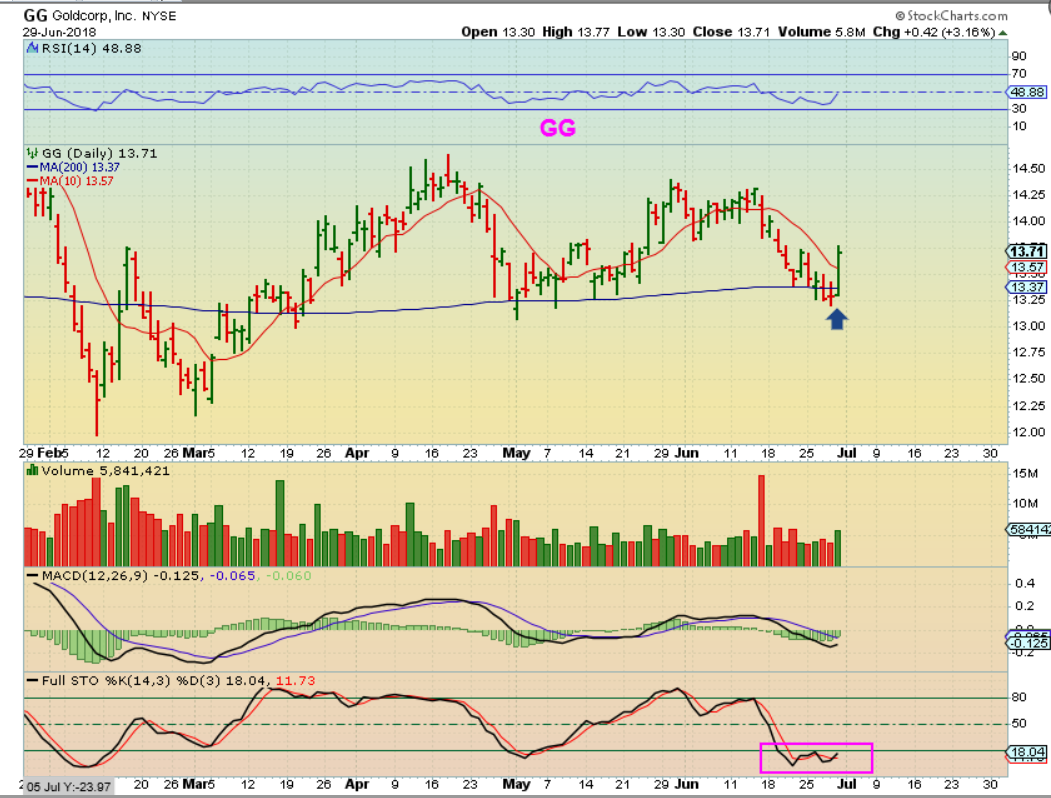 NOTE: ABX, GG, & NEM are very oversold, and yet GG & ABX have only been going sideways as Gold sells off. This is a sign of strength and when Gold runs higher, you have to believe that these will do very well, pulling GDX up with them. Let's look at GDX & GDXJ now…
.
GDX DAILY

– GDX broke above the 10sma and had a strong day, especially since Gold did not do very much. The volume was very nice.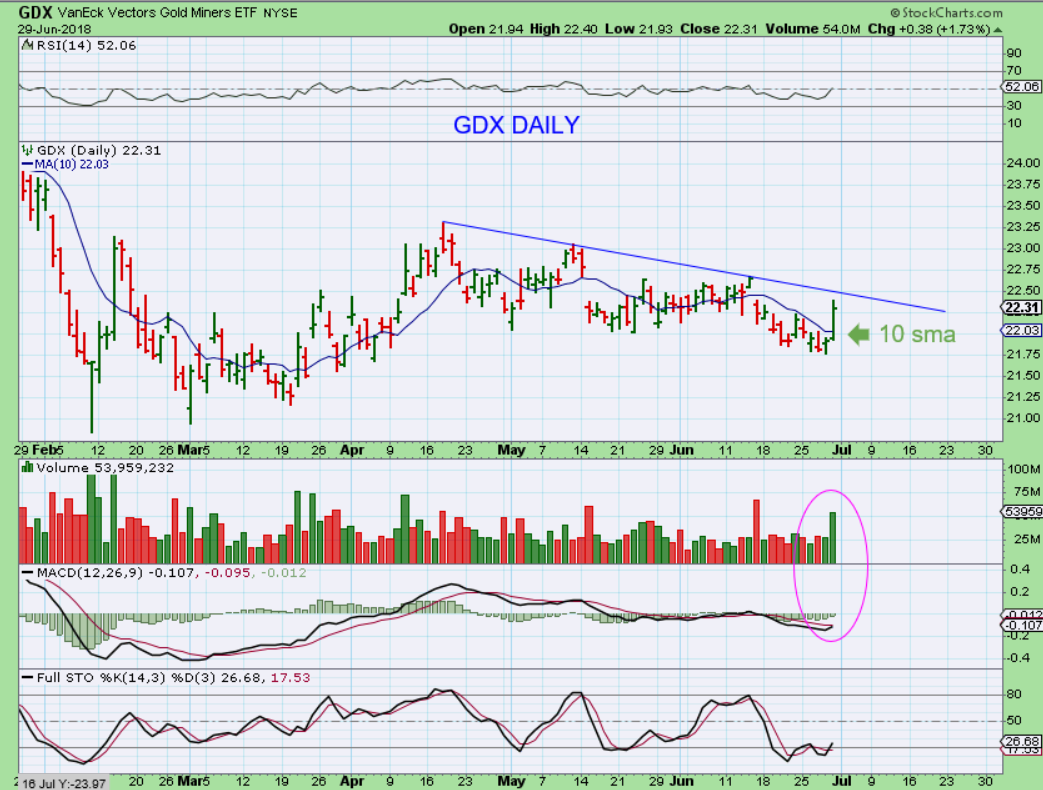 GDX WEEKLY – This has been a tight pattern and looks ready to break out.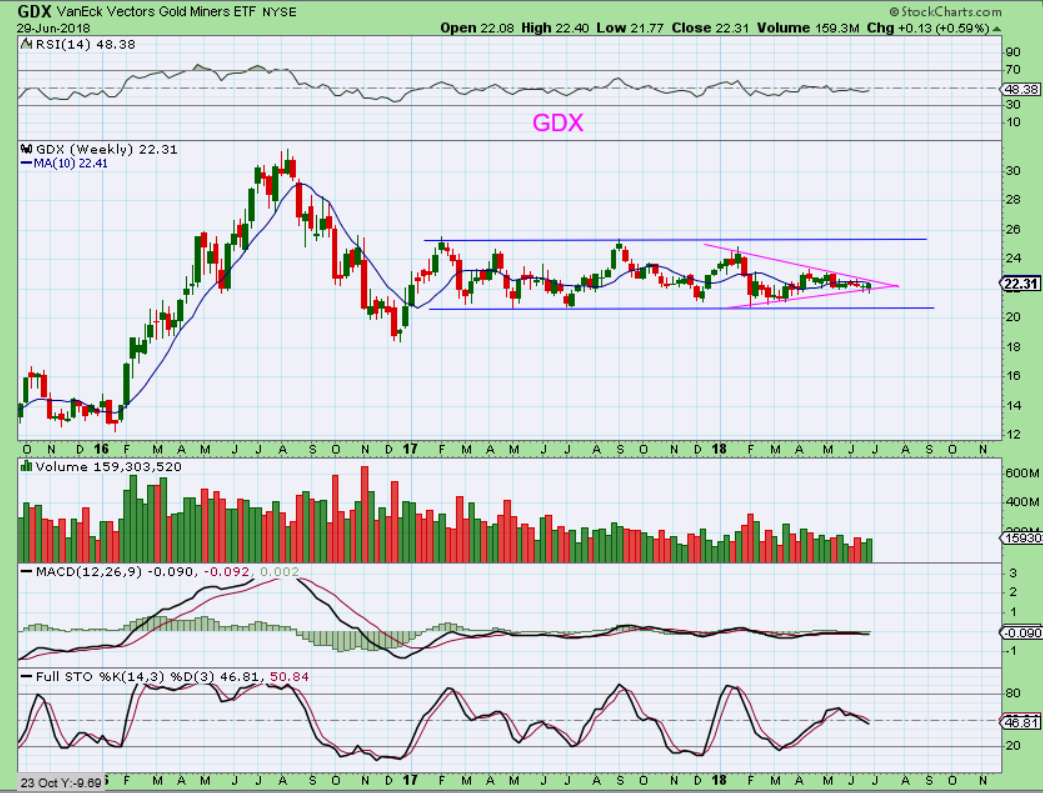 GDXJ DAILY – GDXJ also broke higher, closing above the 10 sma also.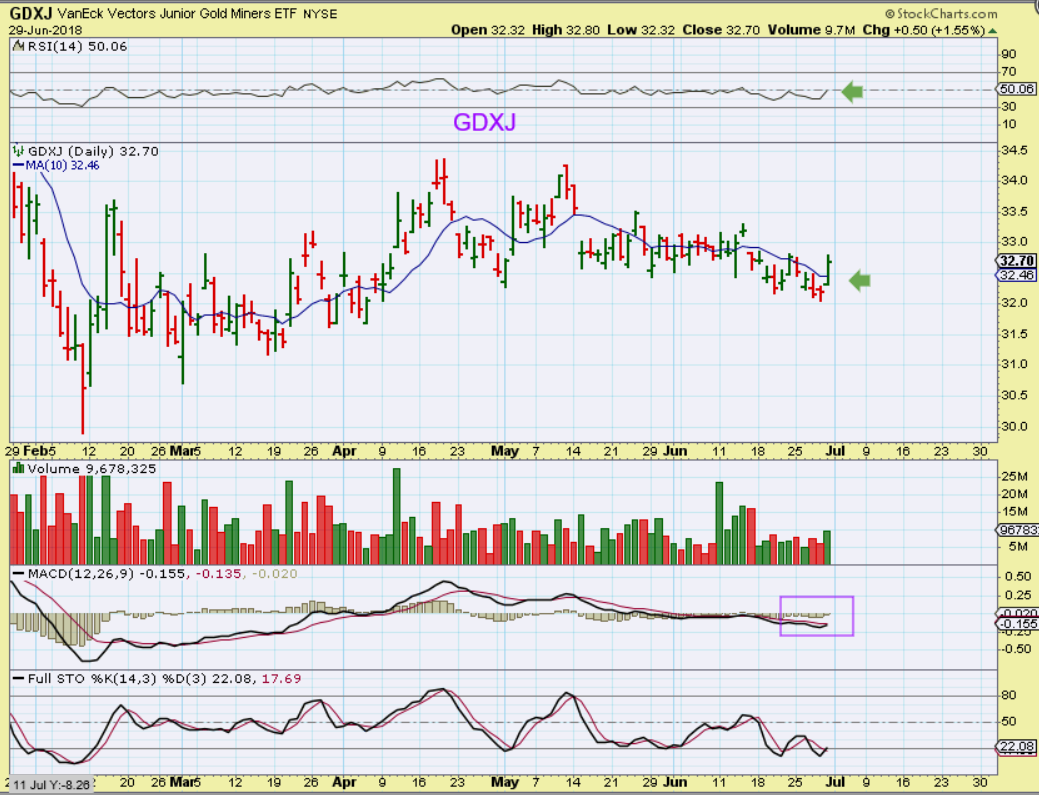 BIGGER PICTURE
.
HUI MONTHLY WITH BOLLINGER BANDS

– This is the HUI Monthly chart. I love the tightness of the Bollinger bands, which usually leads to a break out & sustained run. The B.B. was has not been as pinched as this since maybe the 2001 lows.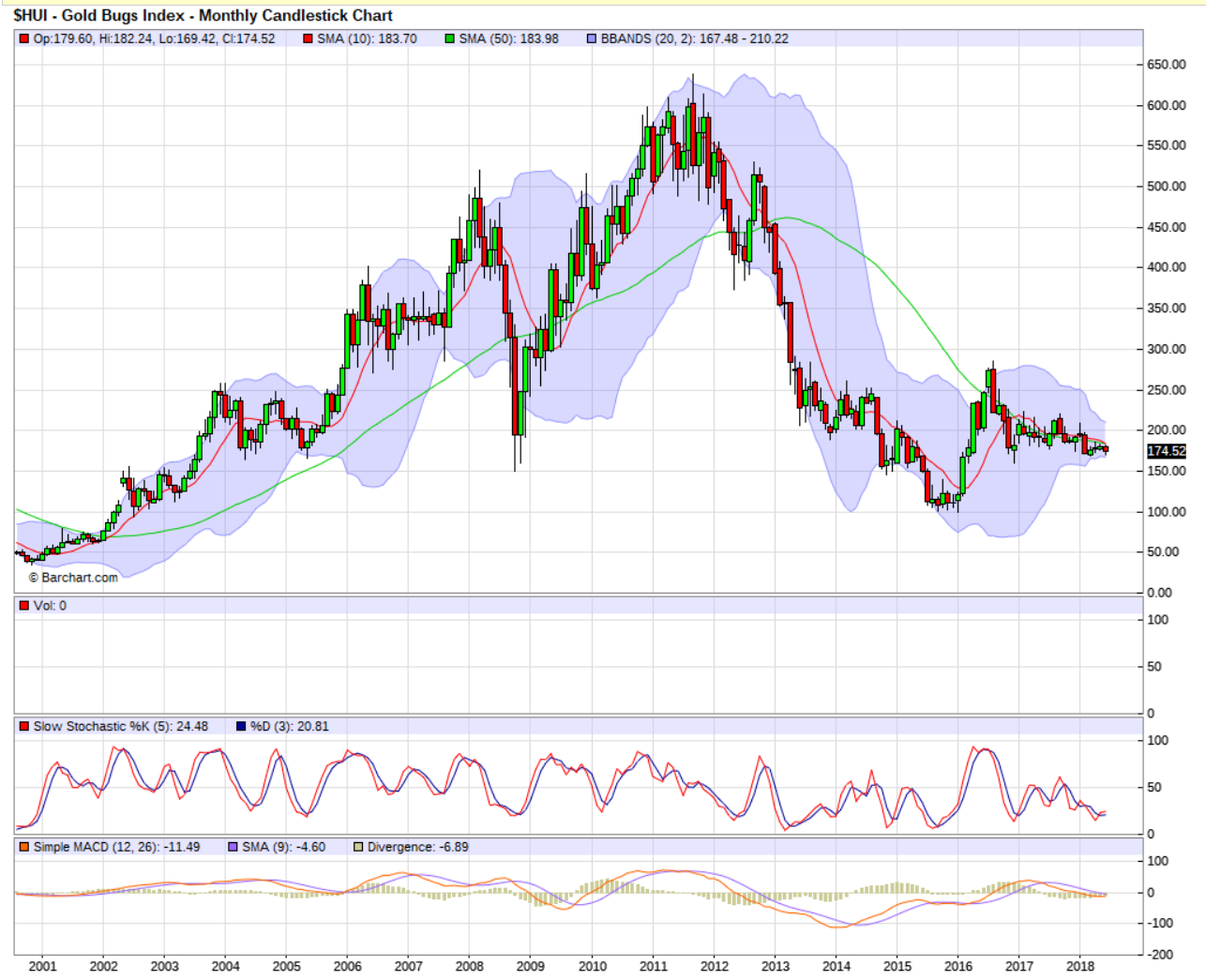 GDX MONTHLY WITH BOLLINGER BANDS

– Using a Monthly chart, GDX has formed an extremely tight price consolidation & Very Tight B.B. Pinch. These do not just last forever, they break & run for a while, having built up good energy to move on out. I think the move will be higher, and could dwarf the 2016 run.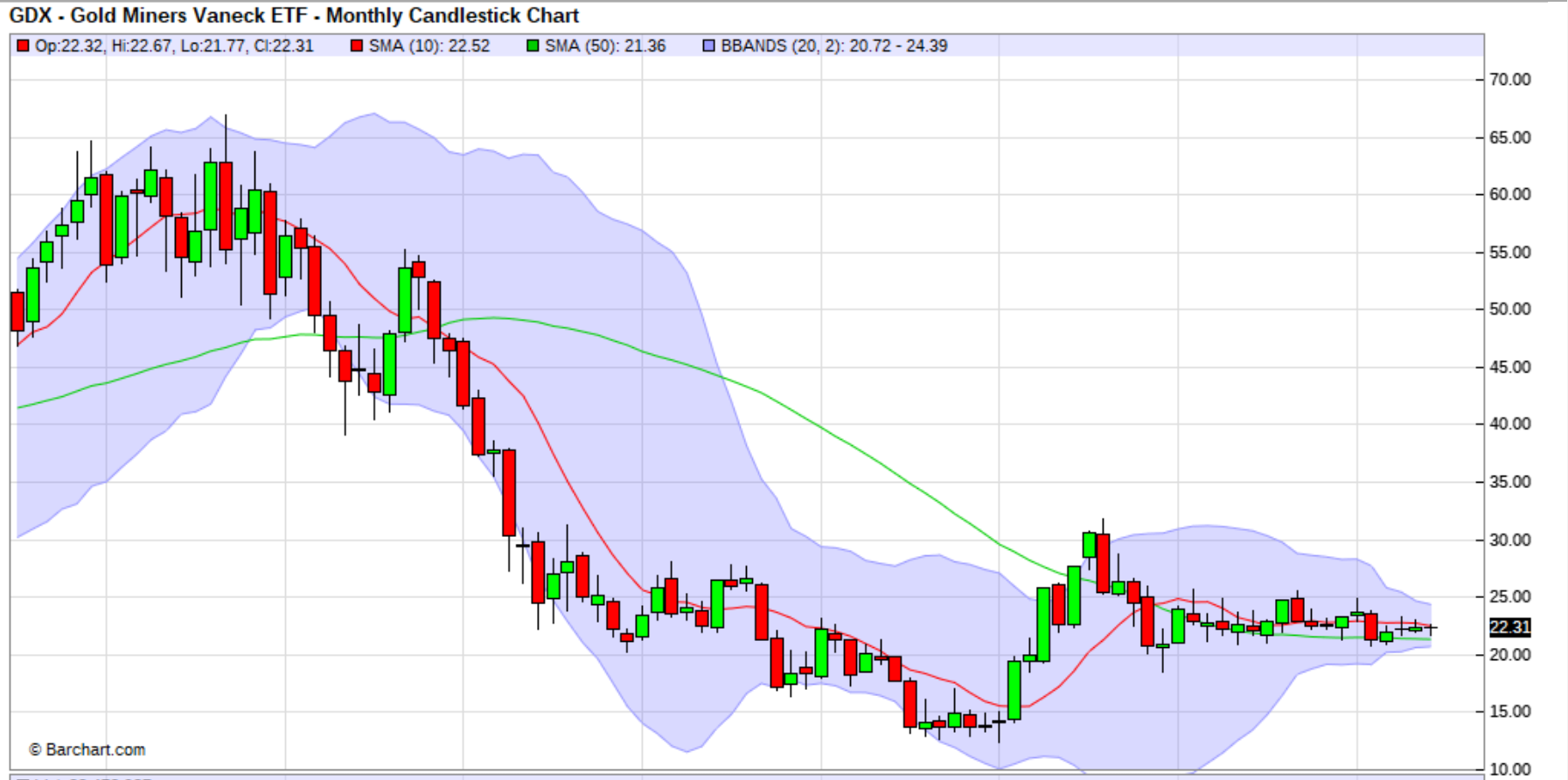 AG DAILY

– The Silver Miner AG has been running bullishly for weeks & months now, and it started breaking higher again Friday, yet some are still ridiculing the Miners. You can't say that I haven't tried to convince everyone that these Miners are going to be good money makers.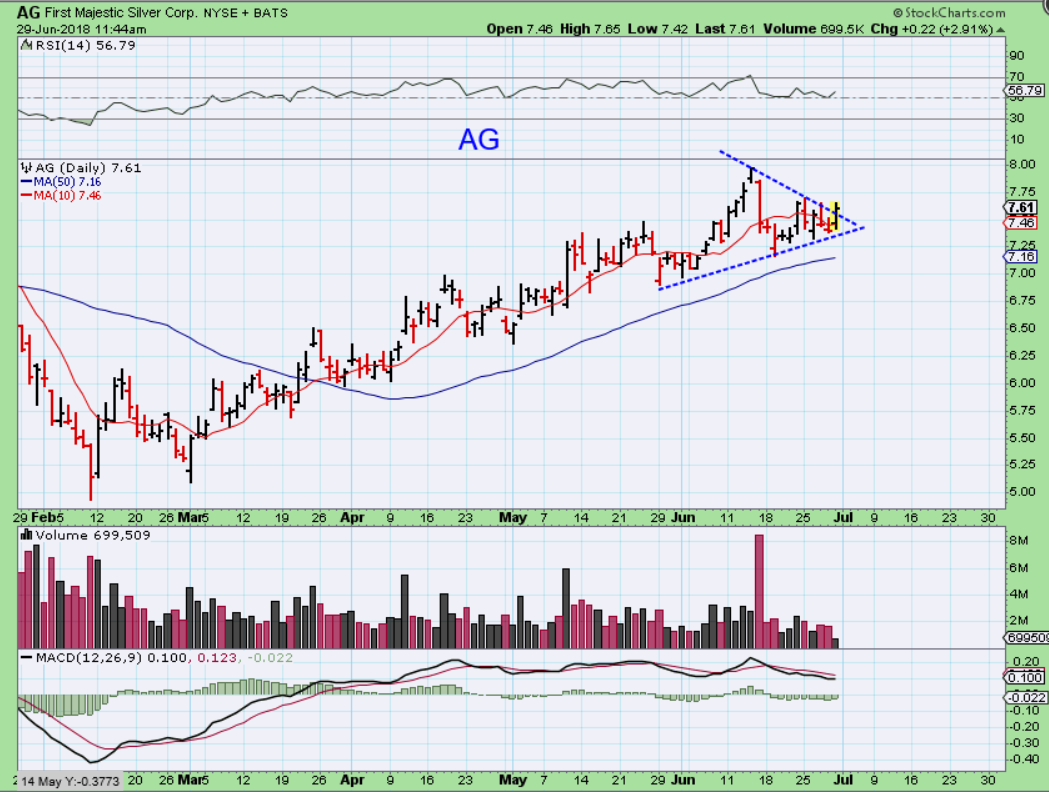 .
CONCLUSION:
.
I recommended at least buying some Silver miners weeks ago and pointed out FSM, EXK, AG, etc. Some Gold Miners started to resist Golds selling too, and it became OBVIOUS to me that Several MINERS are acting very Bullishly as Gold crashed down. I've been reporting it in the daily reports, but Some still do not trust it and just don't see what is happening here. They will have to be left behind for now. Look at GORO again. Gold crashed down for weeks now, and this is not a bearish drop in Miners. Enough said on this…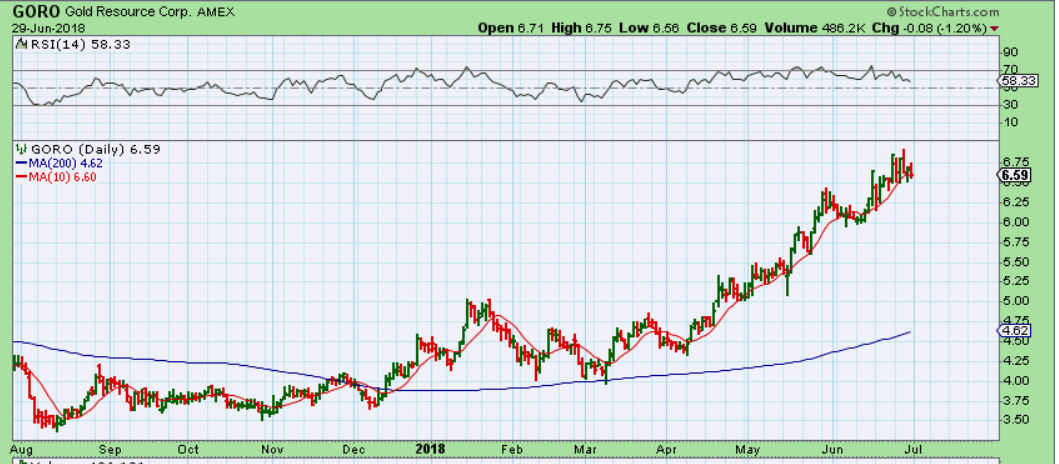 We will get a confirmed Swing Low in Gold soon, maybe next week, and Gold will make a nice run higher.
THIS CHART SHOWS GOLD AT PRIOR ICLs.

You do NOT want to miss this upcoming rally. Here you see that GOLD crashes down, but then at the ICL, it rallies even harder in Bull markets, to new highs. Personally, I have not seen Miners lead the way like some are now in a long time. Due to that, I feel that we should expect an exceptional run in Miners and many have already started to run. After a sell off like we have seen, it may take a little courage to go long, but you will not regret it when the rally phase takes hold.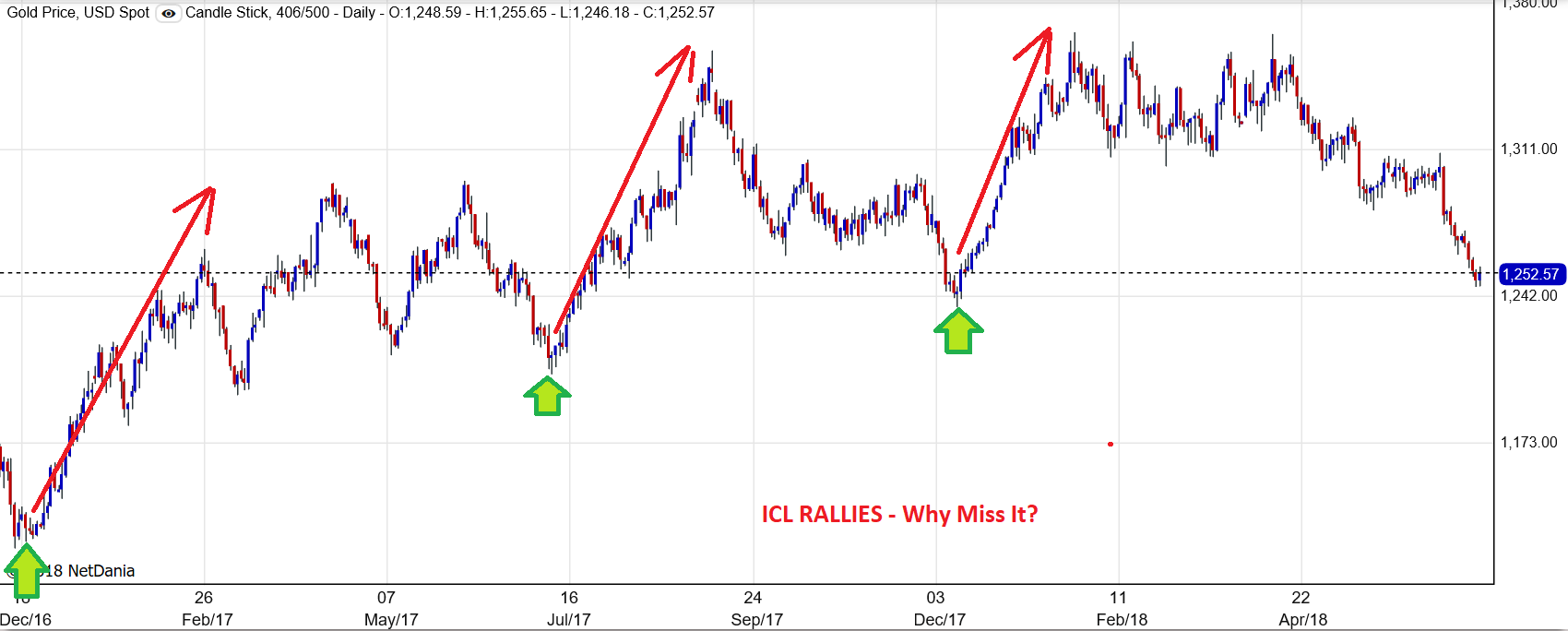 .
I chose the LION as my Chartfreak Logo because we will not follow the crowd, we will be contrarians when the analysis calls for it. It may take courage at times, but the chartfreak analysis is designed to help in that regard.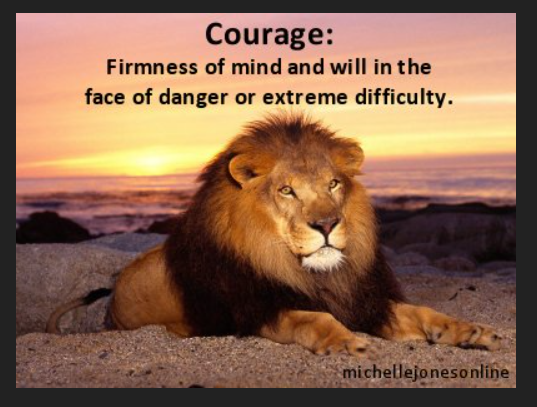 ,
~ALEX
USD DAILY

– 1 week later and we still have our swing high after a day 10 peak. The dollar is at the 50sma support, but it should break down eventually, in my opinion. It has weakened over time, as discussed in prior reports.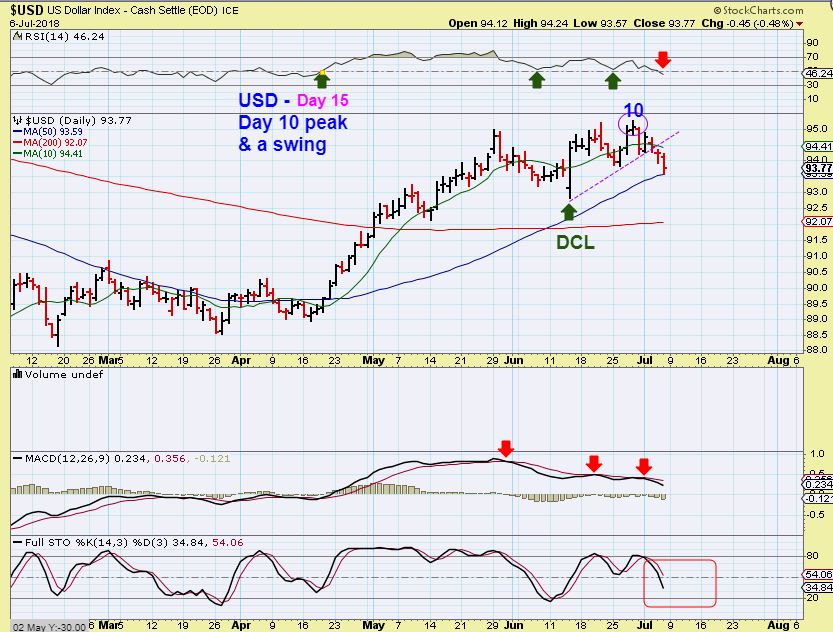 USD WEEKLY

– I have been showing a few charts similar to this over the past couple of weeks. I'm expecting this area of resistance to top the USD.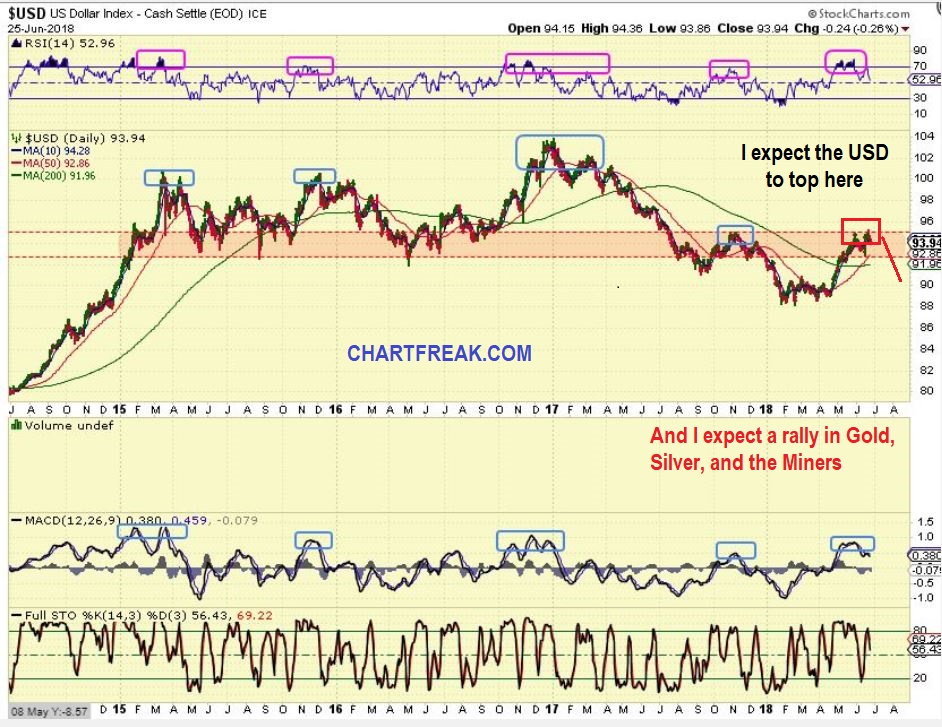 USD WEEKLY

– The updated weekly version shows the 200 week m.a. has acted as resistance.
1. The USD is coming due for a drop into an ICL soon
2. It is overbought and the Stochastic has plenty of room to drop
3. This would be good for Gold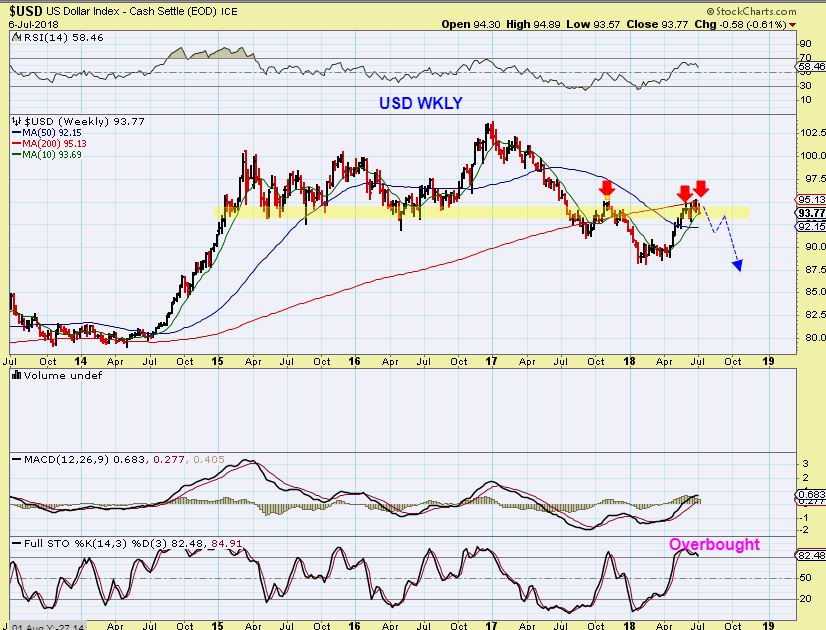 GOLD C.O.T

. – The COT shows that Smart Money as of the end of June is now set up almost the same as they were at the Dec ICL. Smart money has closed shorts, while Large specs have sold their long positions into the Gold sell off. They always seem to sell off into the lows.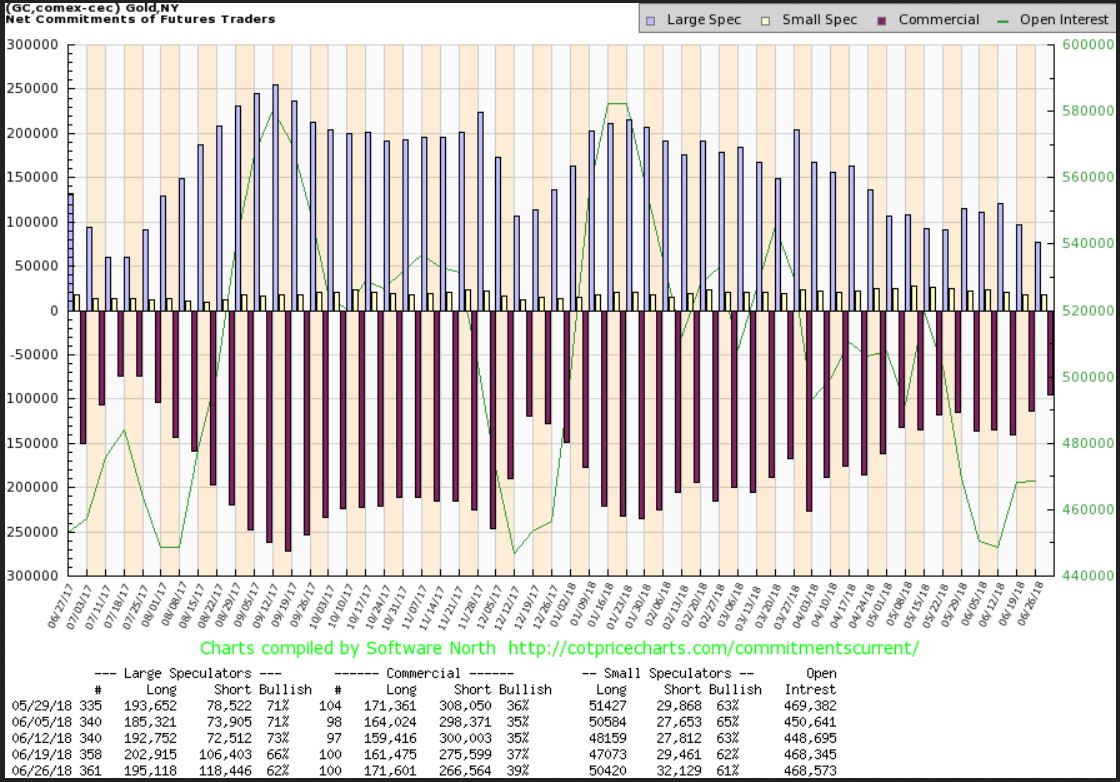 GOLD WEEKLY

– We have a weekly reversal, as expected due to the timing that Gold is in. This weekly reversal is likely going to be our next ICL. We do not have a 'confirmed swing low' yet, but I think we will this week. Miners are leading the way…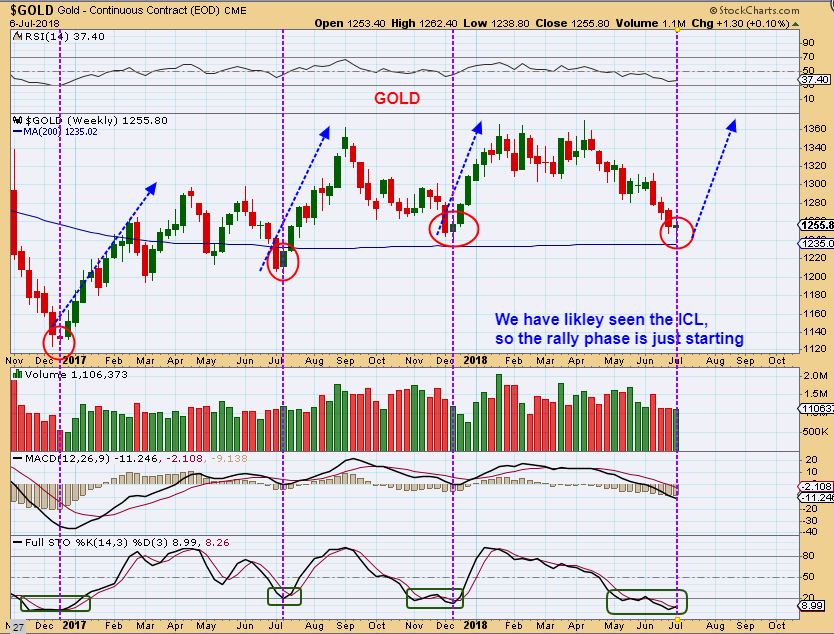 GOLD WEEKLY CONSOLIDATIONS & BIGGER PICTURE

– If we break out above this base, the rally could be spectacular. We'll ride this ICL higher and see if we can get through the top of this base.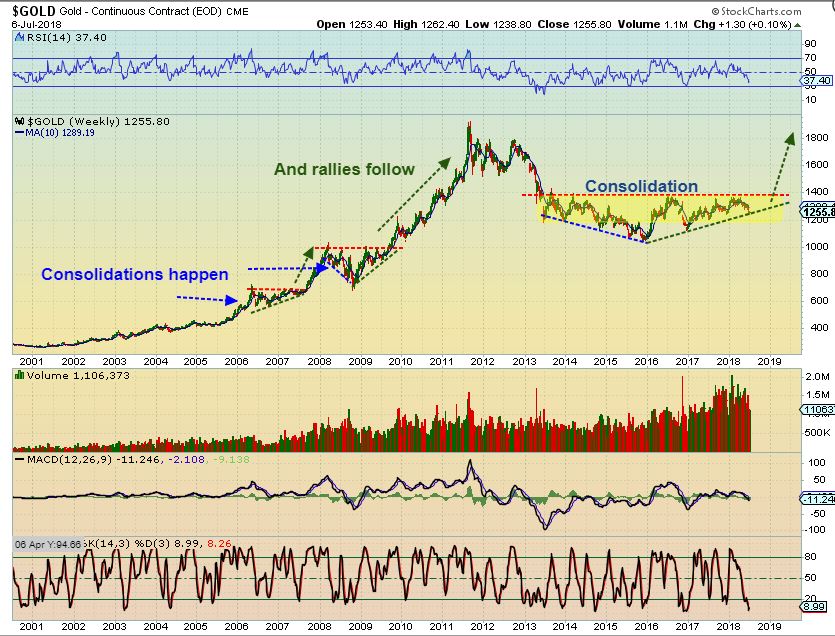 GDX WEEKLY #1

– As GOLD & SILVER sold off to their new lows, GDX did not, has held up nicely.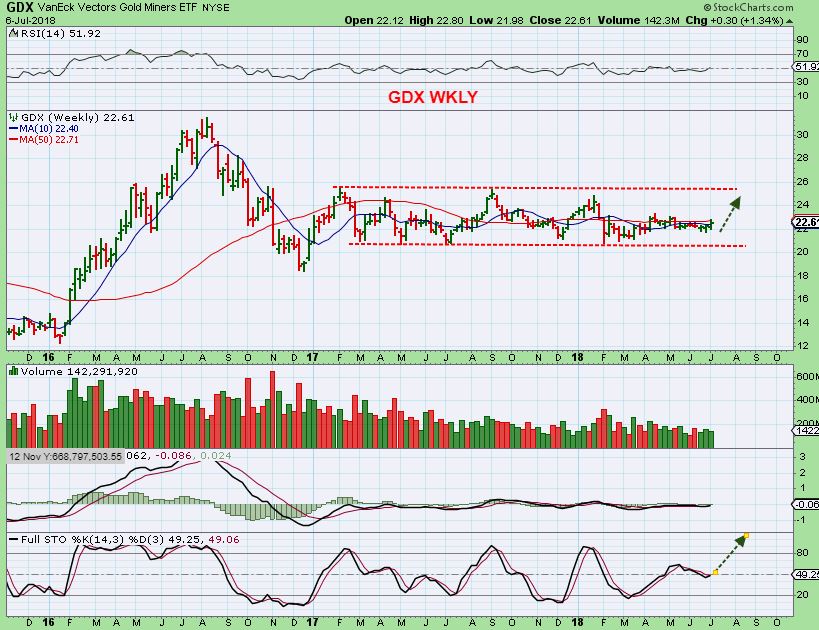 GDX WEEKLY #2

– I am really not just expecting just another 'small rally' in Miners, I think we are going to get a large rally that leaves many doubters behind. Miners have already been showing strength vs Gold, and I think that we could be ready to see a continuation of the Bull run that started in 2016. See the chart…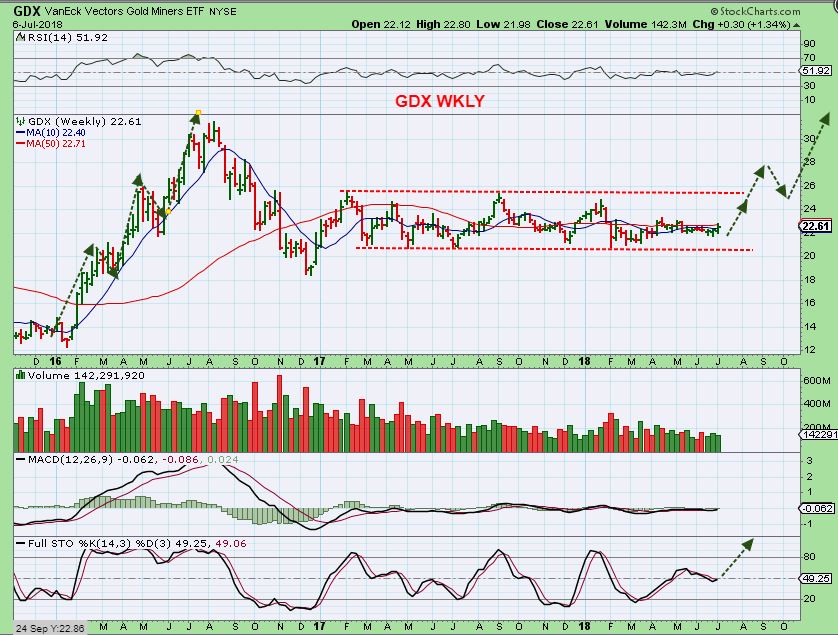 .
GDX VS GOLD

– MINERS ARE NOT ONLY LEADING IN A BIG WAY HERE…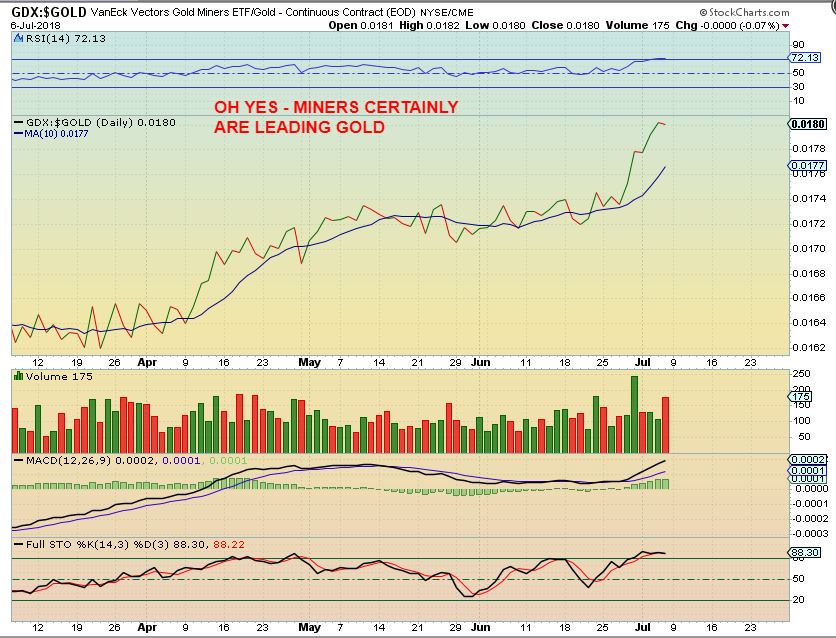 GDX VS GOLD BIG PICTURE

– Miners have actually been outperforming GOLD for months. Do you remember when I mentioned the FEB lows as looking important? We have discussed KL, GORO, RGLD, and others as leaders. Now we even have a GDX:GOLD break out. The RSI is bullish and Miners are Bullish. The best part, I still get the occasional comment in Email or the comments section with fear and unwillingness to buy, even though the person really wants to take a trade. THAT is bullish too. It shows that if Many others are feeling that way, they will be chasing later & keeping the rally going.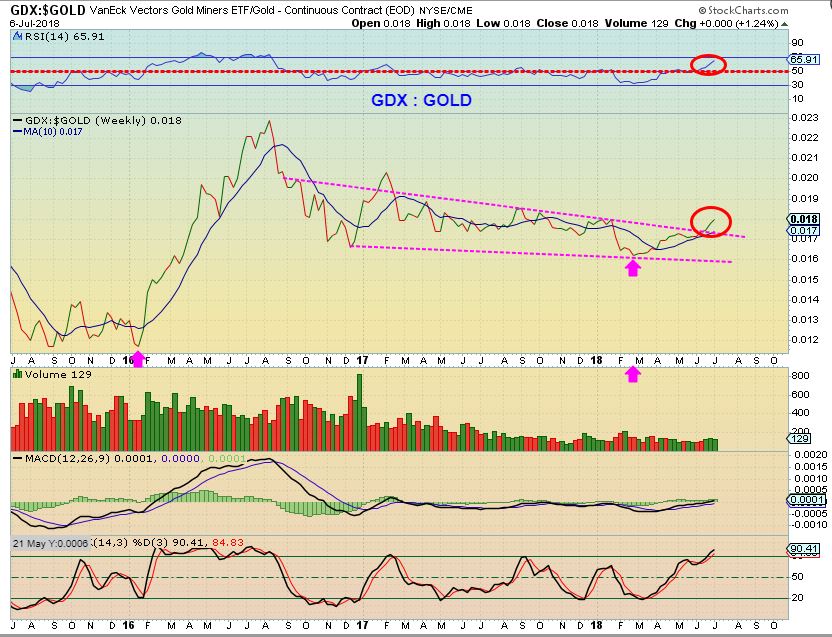 GDXJ DAILY

– When I look at a chart like this, I see immense potential in the upside rally after this breaks out. Read the chart.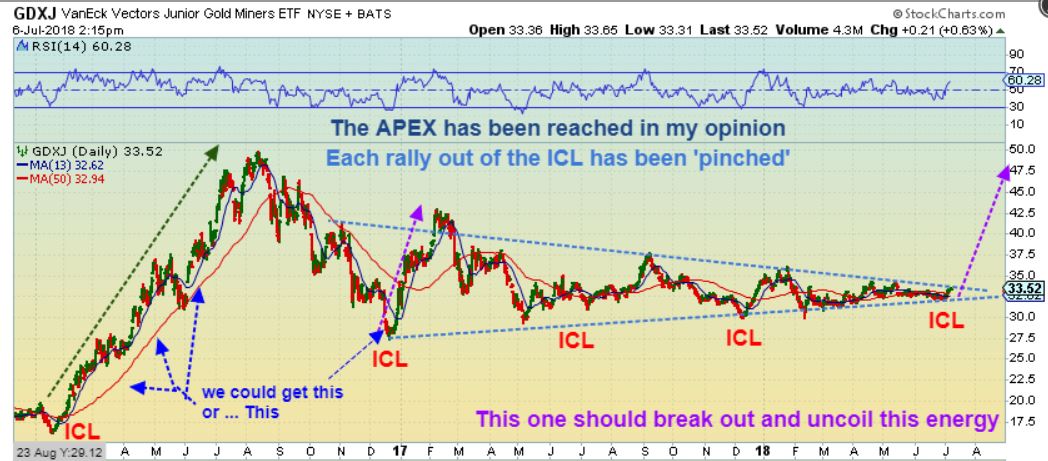 People are complaining that each ICL rally seems smaller than the last, but when you look at that GDXJ chart above, you can easily see why. It is not just due to 'weakness', but instead, A Triangle or Wedge is forming since that massive 2016 rally. People have been lulled to sleep. "The Miners are weak and boring" they say, and eventually this should explode higher.
Price is Pinched.
.
( SOME PREMIUM CONTENT REMOVED HERE )
.
This has been your July 7th Big Picture Weekend Report. As mentioned in the daily reports, I am mostly focusing on the Miners in my personal account right now, and this report should help you to see why. We are due for an ICL, a deep meaningful low that only happens twice a year, and it can lead to solid reliable gains after the lows are in place. And as pointed out in several of the daily reports, quite a few individual Miners are already running away nicely, while GDX & GDXJ linger around. That probably fools many into believing that 'Miners are not doing anything yet'. The GDX : GOLD chart and BPGDM, along with other analysis tells us otherwise.
.
We're looking for GOLD to get some follow through higher. Miners are leading the way. I look forward to next weeks action in the precious metals sector for further clarification.
.
Enjoy the rest of your weekend, and thanks for being here at Chartfreak!
.
~ALEX
FOR THE PUBLIC READERS: I hope you enjoyed and benefited from my analysis. Maybe you just do not have the time to follow this sector on your own, to look for good entry points, or to use CYCLES, Technical Analysis, etc to help you trade this sector successfully? I can do that for you. Or maybe you do your own analysis, but could just use a 2nd set of eyes to help you to also find some good lower risk entries on some trade set ups in this sector? I can help with that too. I usually have 5 reports per week. Why not sign up for 1 month and see for yourself whether coverage of this and many other sectors can add to your own studies. If you did, you would already own this one. 🙂
FSM is a silver stock that is also not selling off with Silver & Golds recent drop.
If you would like to sign up and give us a try, click the link below. Thanks for being here at
Chartfreak!
~ALEX
https://chartfreak.com/wp-content/uploads/sites/18/2018/07/dont-get-left-behind.jpg
834
1250
Alex - Chart Freak
https://www.chartfreak.com/wp-content/uploads/sites/18/2019/11/Chart-Freak-site-logo.png
Alex - Chart Freak
2018-07-09 14:27:40
2018-07-09 14:27:40
Don't Get Left Behind