Precious Metals – Alive Or Dead
I see a lot of people have started absolutely hating Precious Metals and Miners in recent weeks, and that is understandable.  Gold, Silver, and the Miners have taken a dive, especially since the recent Election results in the U.S.  They cannot seem to catch a bid, and each reversal just doesn't seem to stick, even though Oil and Metals like Steel, Aluminum, and Copper rocketed higher. 
We have to ask: Is the Bull dead or Alive in this sector?
Here at Chartfreak, we have been discussing this extensively throughout the past several weeks.  I'd like to open up a portion of the weekend report from Dec 4th, along with a few charts from earlier reports, to show how we have been monitoring these areas.  Enjoy.
As of Nov 18th,  GDX was already at an important Fib retracement of 61.8%, so we looked for the sell off to stop in this area.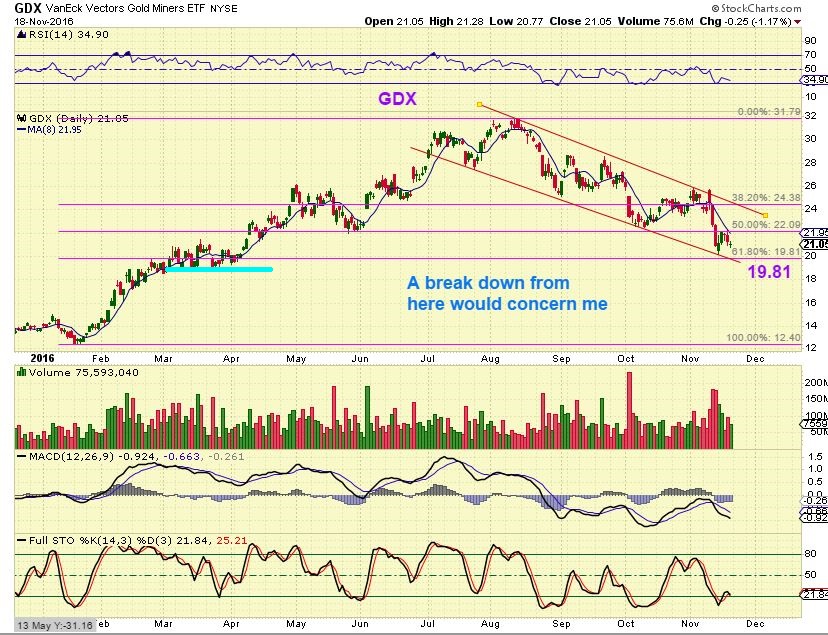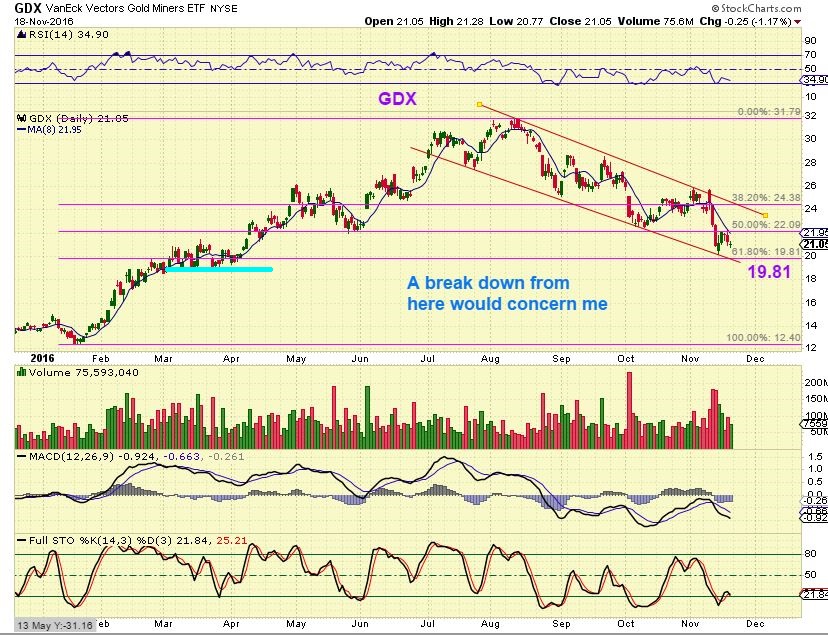 GDX Nov 23rd

–  A possible double bottom, and I was pointing out that some Miners were actually improving too.  I mentioned some that wee not even breaking below their Oct lows, even though GDX & GDXJ had.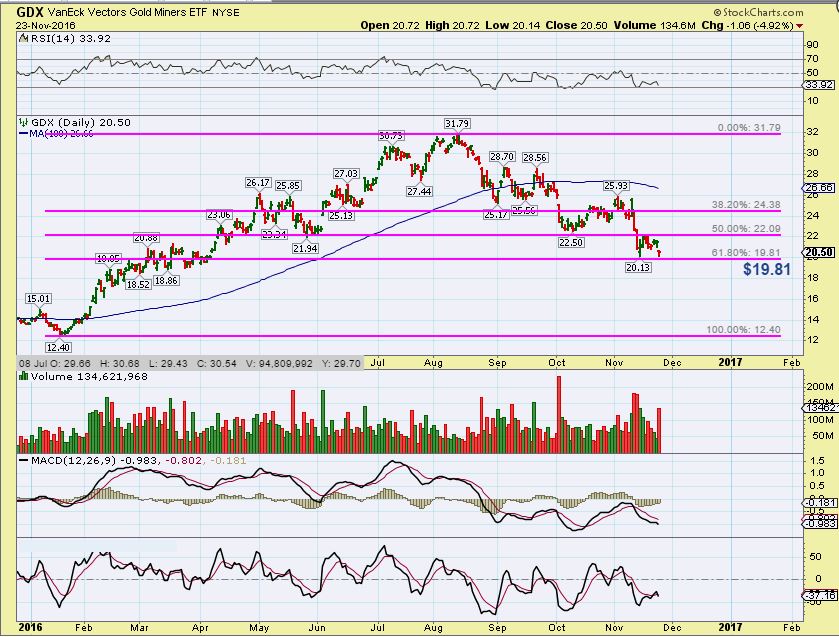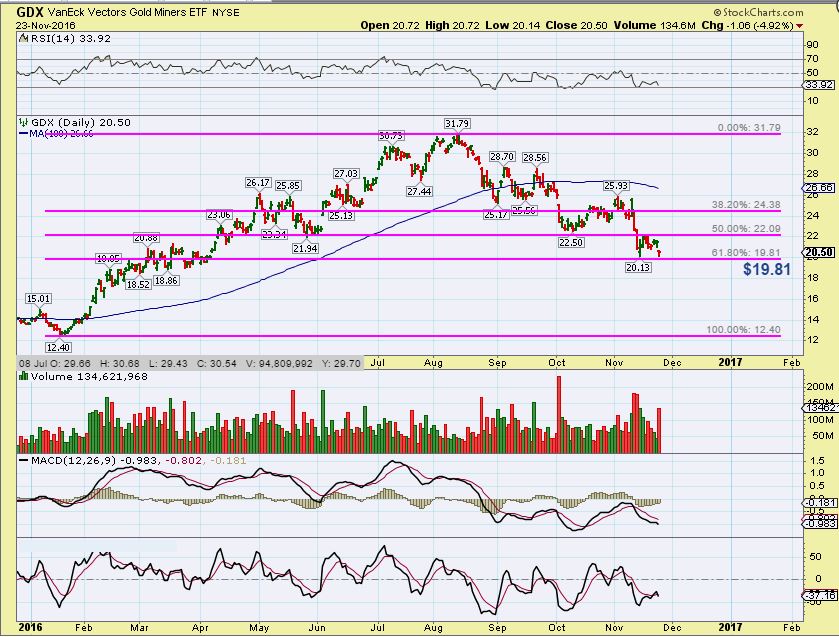 We were watching for a possible shake out below the May lows in early November.  I must admit, after the U.S. election results were released, the drop was much sharper than I expected, so I drew this chart to show important support going forward at the end of November.
 
————————————————————–
ON DEC 4TH, WE CELEBRATE OUR 2ND ANNIVERSARY.  THANK YOU TO ALL OF OUR MEMBERS FOR MAKING CHART FREAK SUCH AN AMAZING SUCCESS!

The service has grown tremendously since our launch and I have greatly expanded the content produced for members on a daily basis.  We hardly ever run a promotion, but to celebrate our 2nd anniversary, new members receive 10% off their first recurring payment. 
End Dec 6th – Midnight! 

See bottom of this post for details.
 ————————————————————–
I want to Jump to Oil for a moment, and there is a good reason to.  OIL and Energy stocks, along with Copper, Steel, and Aluminum are all taking off higher. Wouldn't higher prices here result in inflation?  And isn't inflation usually bullish for the Precious Metals?  Lets take a quick look at Energy and Metals. 
OIL

is now a bullish set up, and Energy stocks are breaking out too.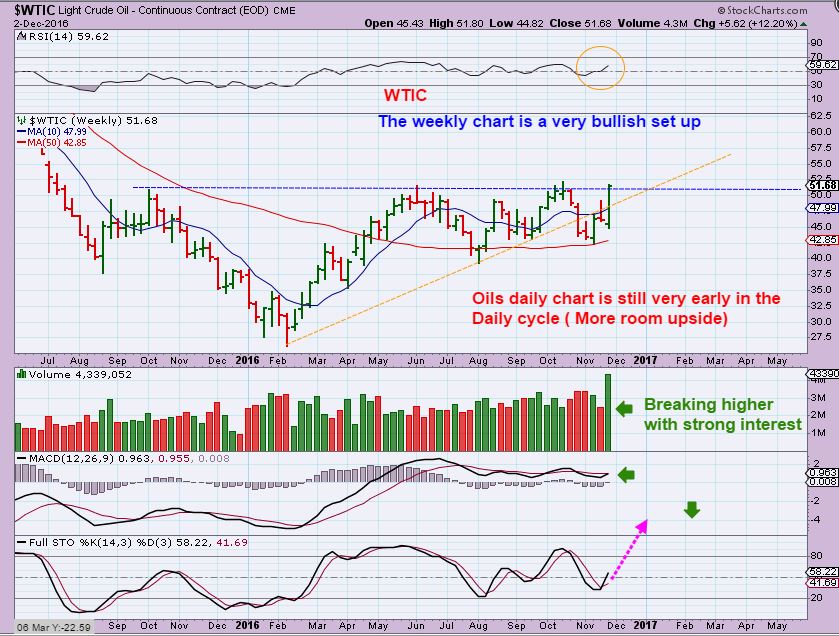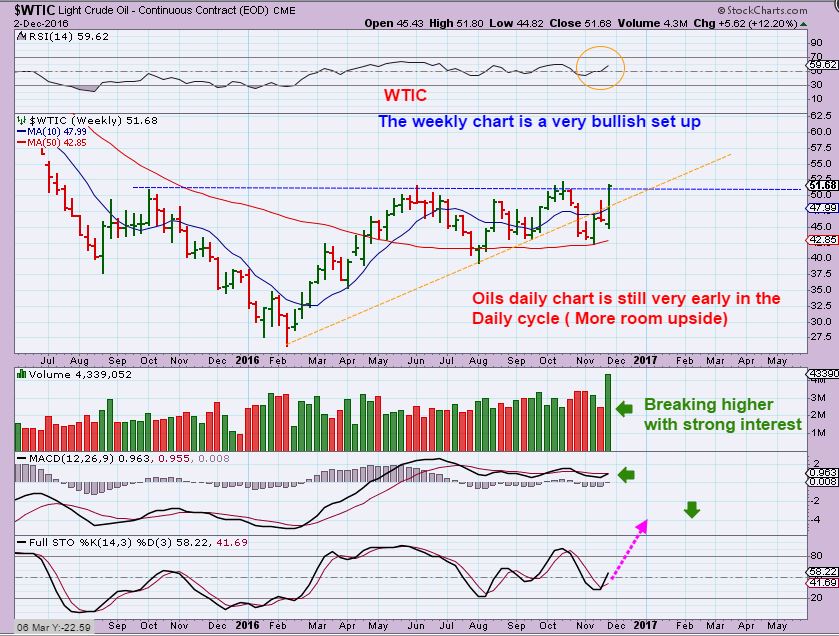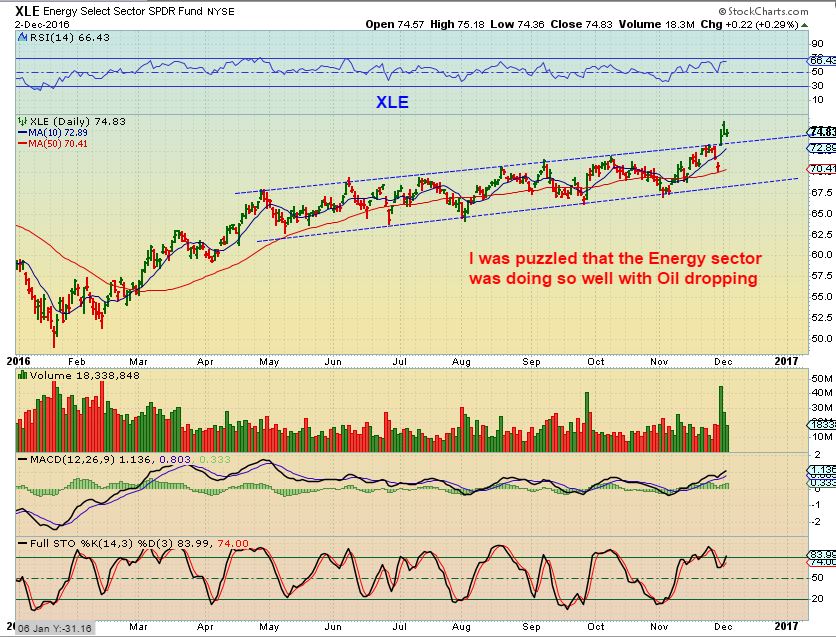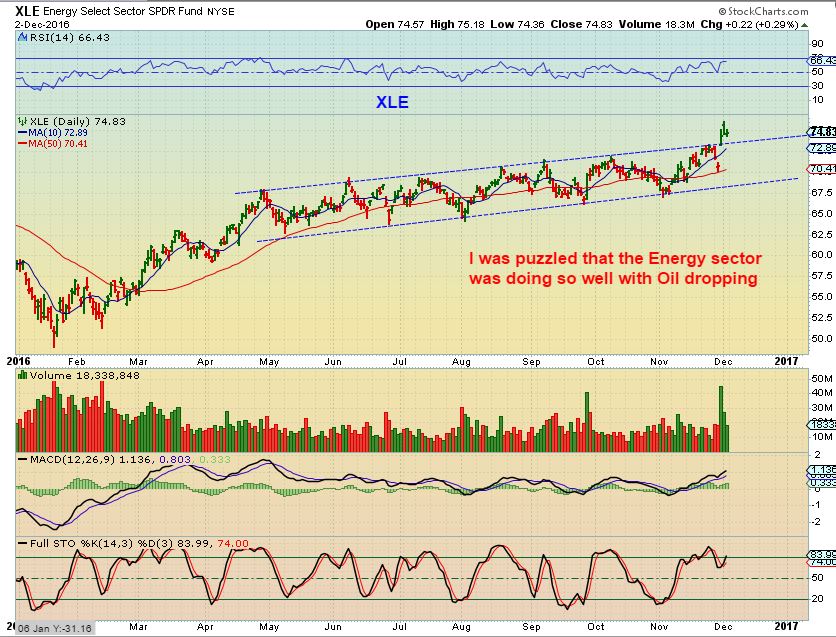 So let's add charts of Steel and Copper to the mix.
STEEL

– I had pointed out in September that Steel was shaping up after bouncing right off of the 200sma. This was Bullish.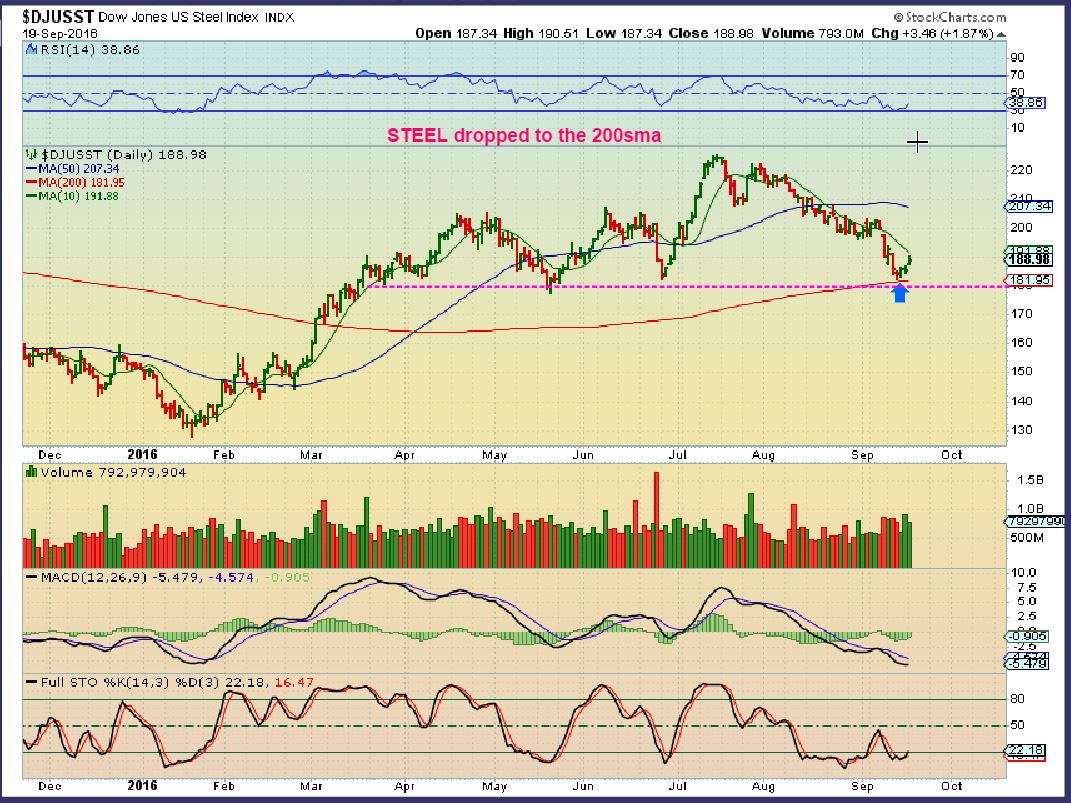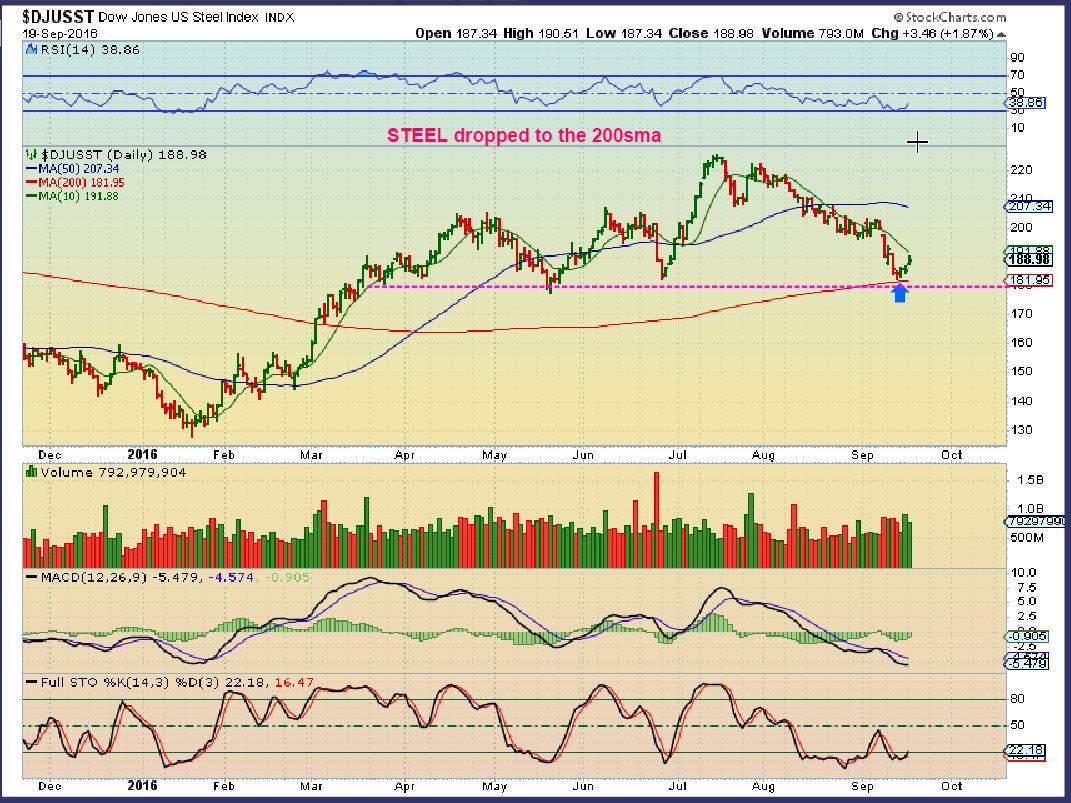 STEEL

absolutely took off when Trump was elected.  His ideas of rebuilding infrastructure and helping the economy has juiced the metals again ( Steel, Copper, Aluminum, etc). Last week was explosive, with Steel breaking to new highs.  We caught these metals companies in the spring using X , AKS, CLF, SID, STLD, AA, FCX, CENX, HBM, VALE, ETC ETC, and then they went into about a 6-7 month consolidation. This is now another area of interest.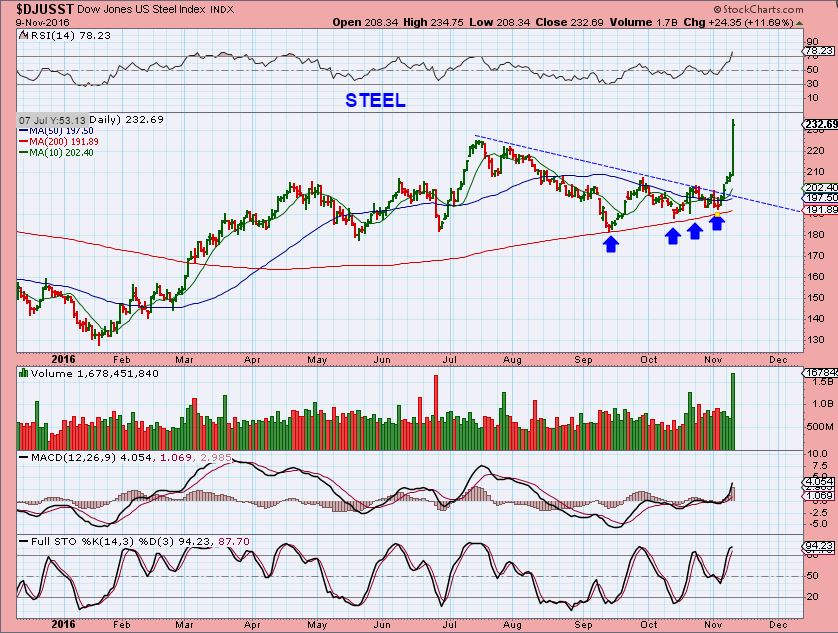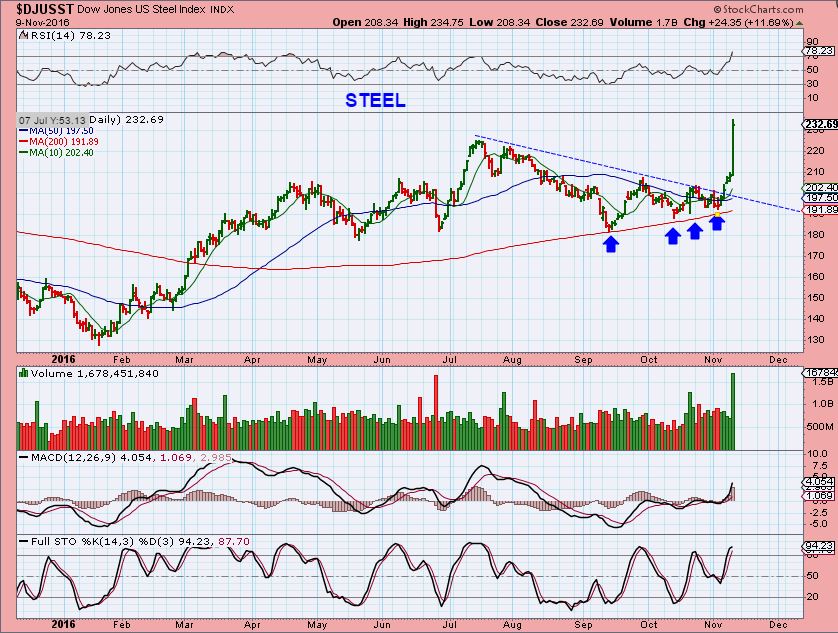 A look at

COPPER
Pre Election :

Copper

was trading around $2.10 on the week before the election, and I was pointing out that it was now breaking out at $2.20. I didn't think that it would absolutely bust out, just that it was bullish.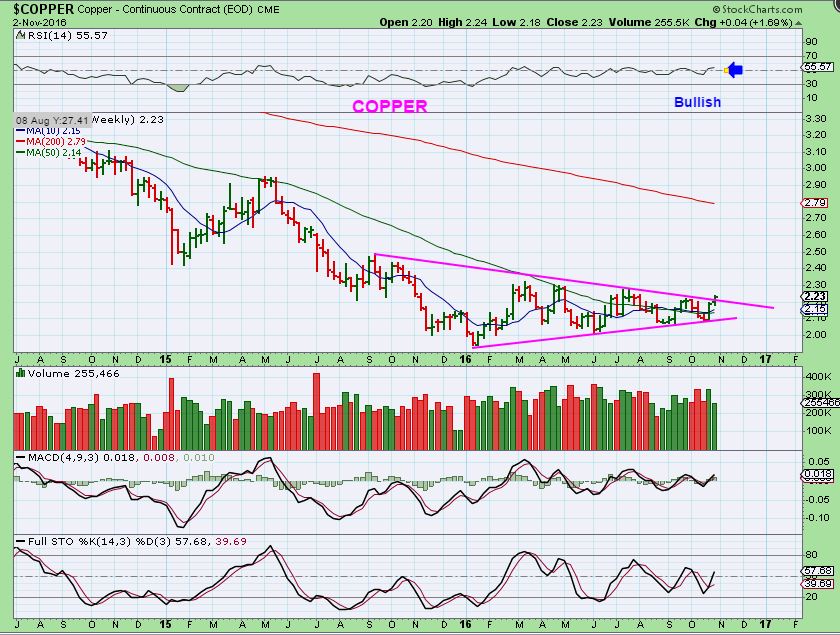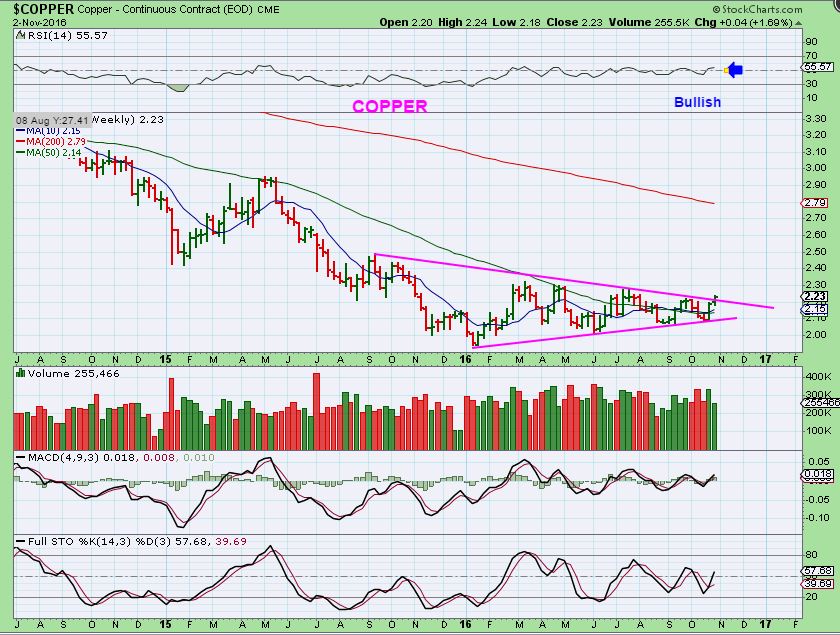 POST ELECTION: 

Copper

hit $2.75 this week!  Boom after the election! This is a major break out foretelling much higher prices. Copper is bullish.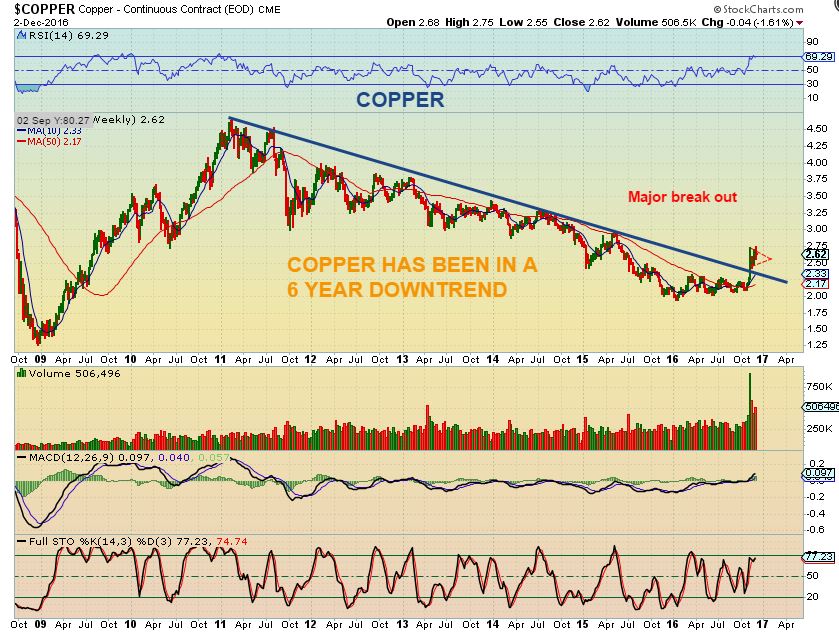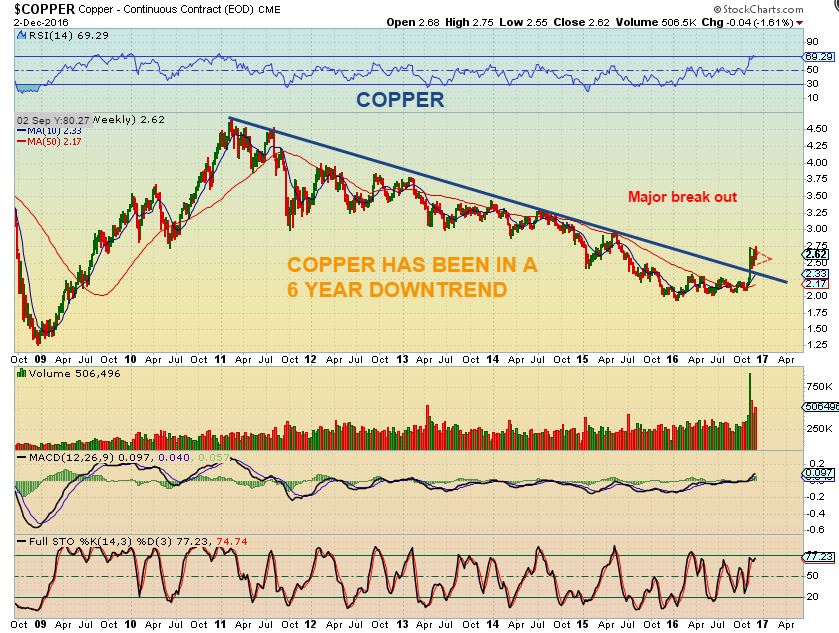 We see Copper move from $2 to $2.75 and predicting much higher prices.  We saw Steel take off like a moon shot and now steel prices are quickly on the rise. Is this a sign of inflation going forward? Again, shouldn't this be Bullish for Gold?  When the selling stops and the shorts are forced to cover, will we see GOLD & MINERS Shoot up the way Copper and Steel stocks just did? Time will tell.

GOLD & MINERS
I expect a bottom soon, and it should be a good solid trade able low.  After an ICL,  we should see weeks of trading where those lows are not broken, and I would expect a good solid rally when the shorts start to cover and buyers step in. Whether Gold remains in a solid Bull market or a we see a multi week  Suckers rally remains to be seen, but we'll be analyzing and discussing that as time goes on too.

GOLD –  Last week I posted this chart to show the 61.8% retrace was hit near Nov 30.  I'm expecting an ICL  ( intermediate cycle Low) and a rally soon.  Note: Even bear markets have rallies out of their ICL.  Then we will monitor that rally as it unfolds. See the chart for a
minor

target.

GOLD

– Thursday was day 38 with a new low, so Friday should be day 39  and we are overdue for an ICL.  This should also be a yearly cycle low. If we prove to still be in a Bull Market, gains out of this low could be huge over time. Remember last January – May?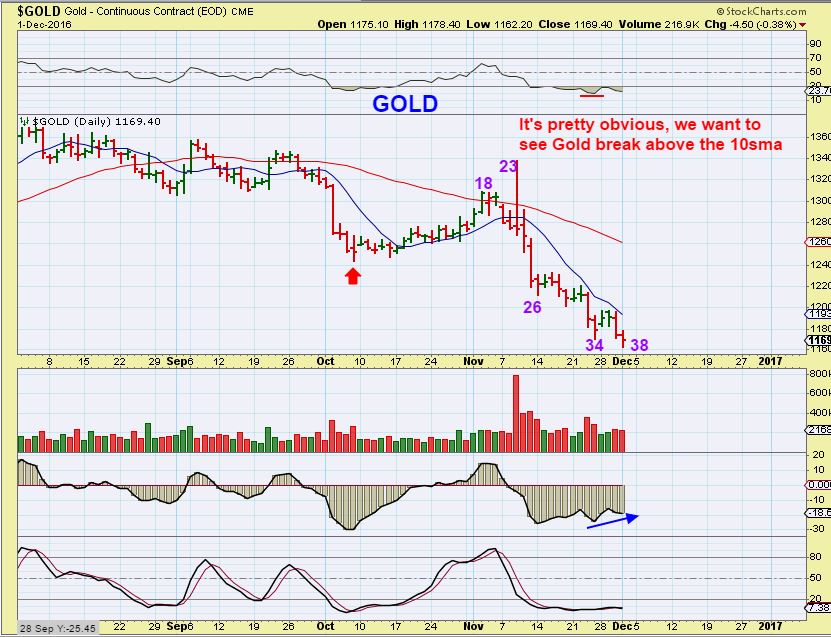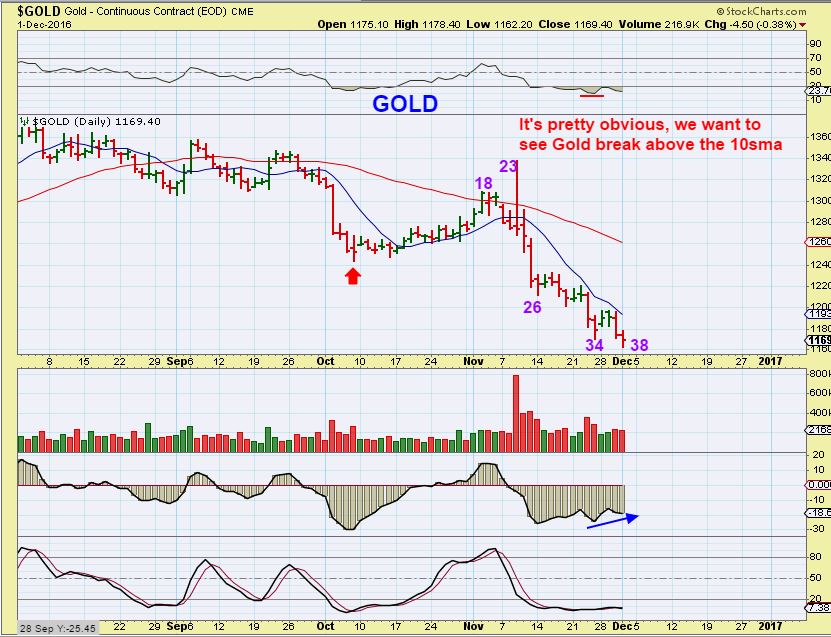 GOLD FRIDAY – We see a swing low  (Unconfirmed), so this could be day 1, or day 39. Monday would be day 40 if we make a lower low.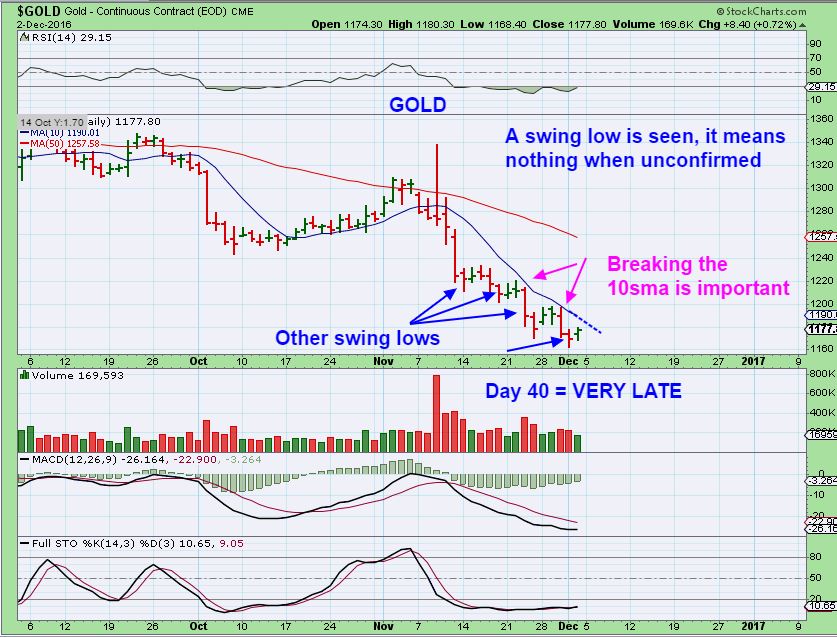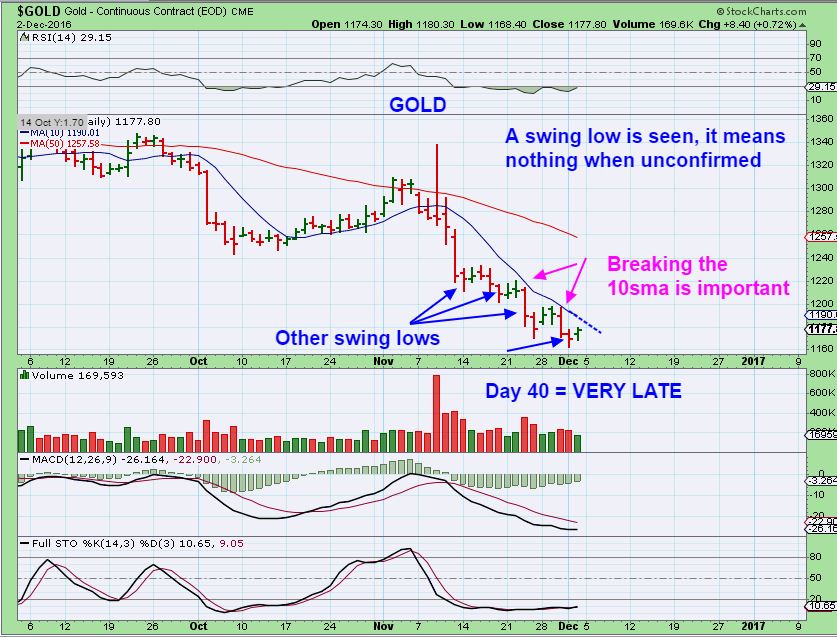 The C.O.T. has a very encouraging

Open Interest reading

. This is very bullish, but I don't use C.O.T. readings for "timing' of lows.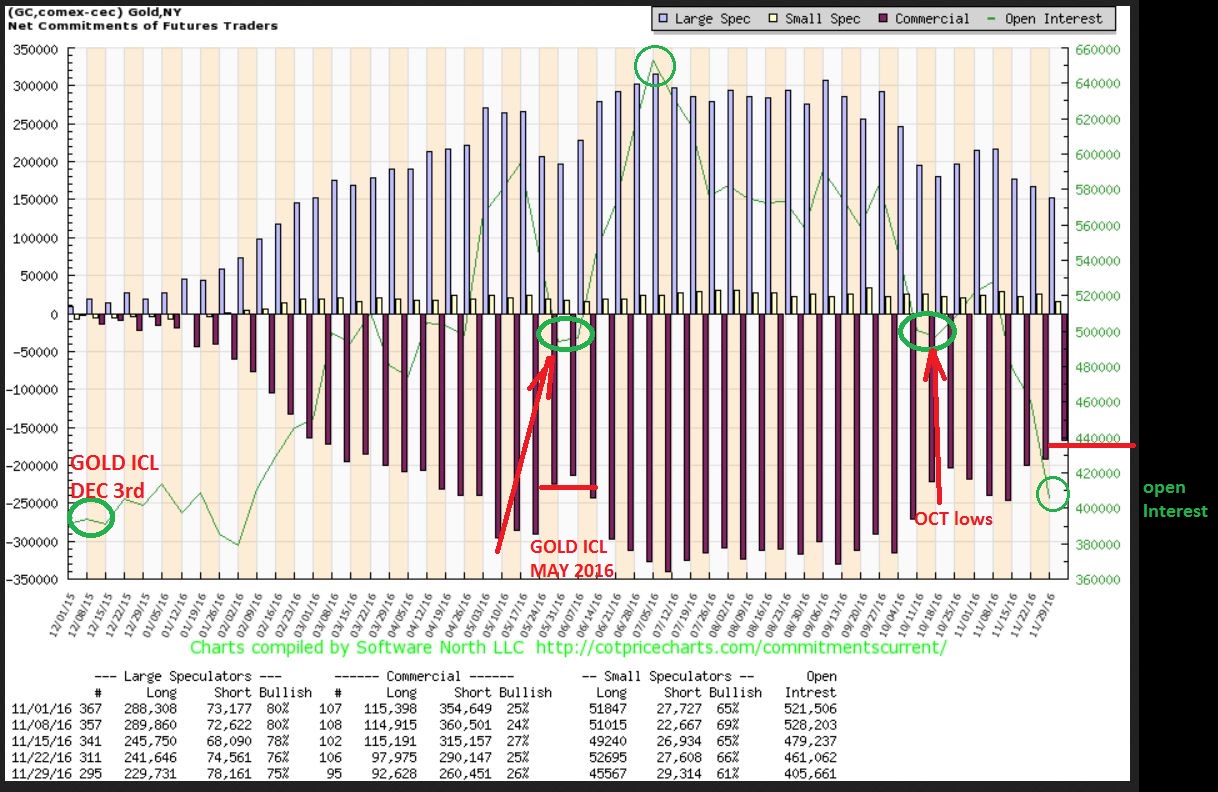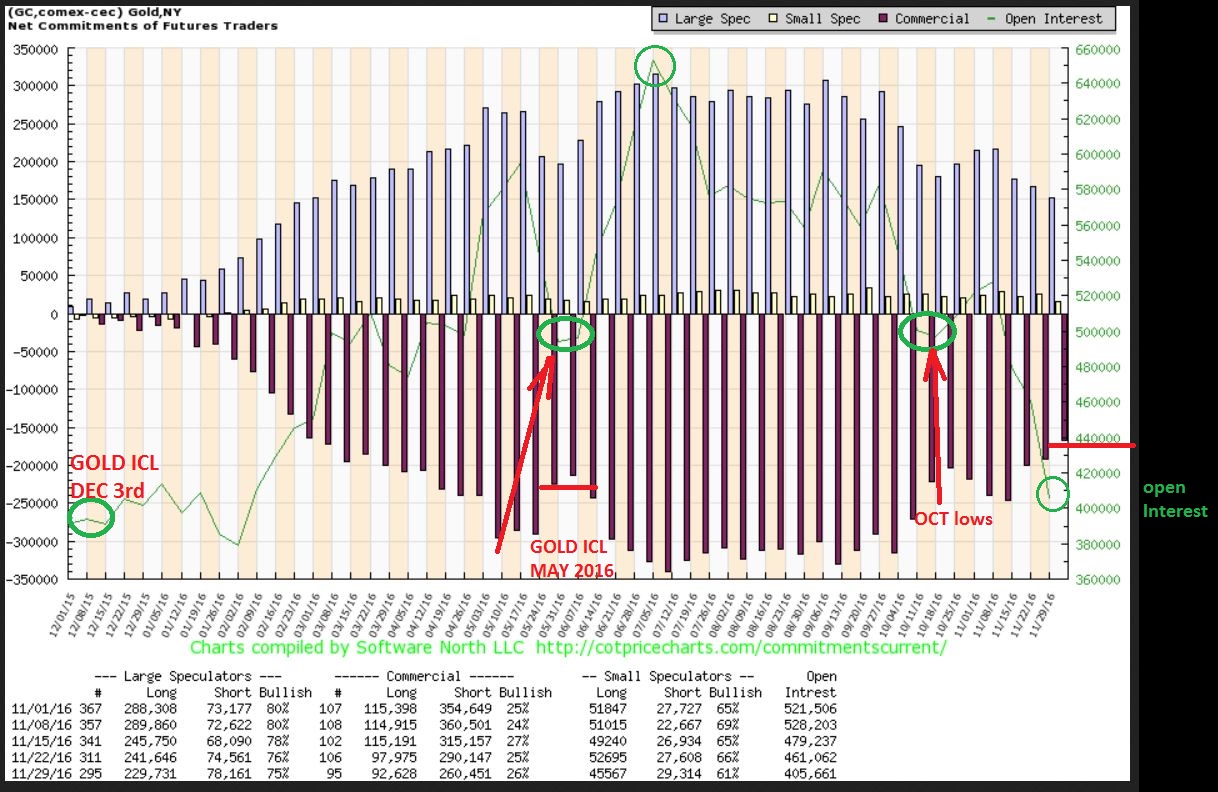 GOLD – We see the RSI 7  here showing divergence at the recent new lows, for the first time.  This is Bullish for Gold. We want to see follow though above the 10sma to add confirmation of our new swing low.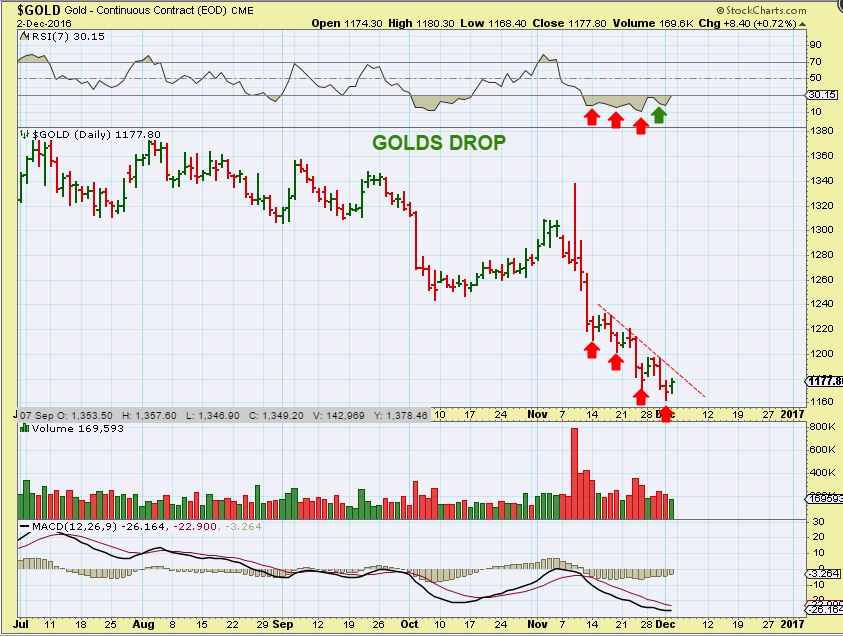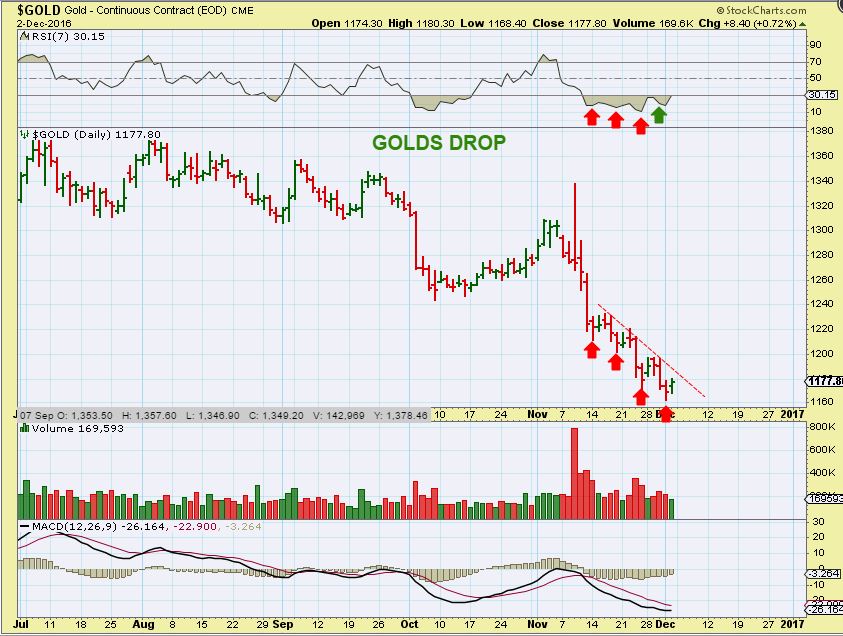 GDX – The GDX did close above the 10sma , this is a positive note for a swing being in place. GDX is still very oversold and the MACD is crossing higher. This is a buy signal for Miners and they have room to run.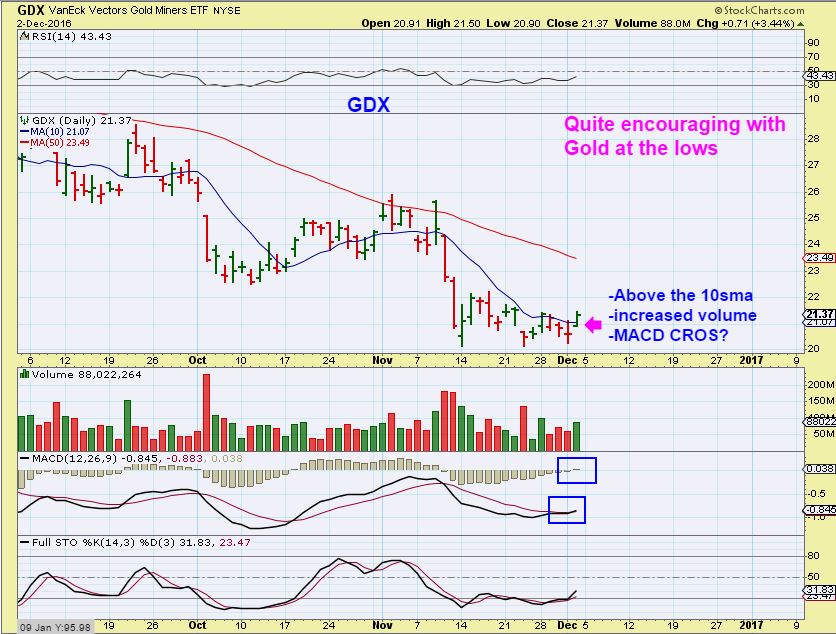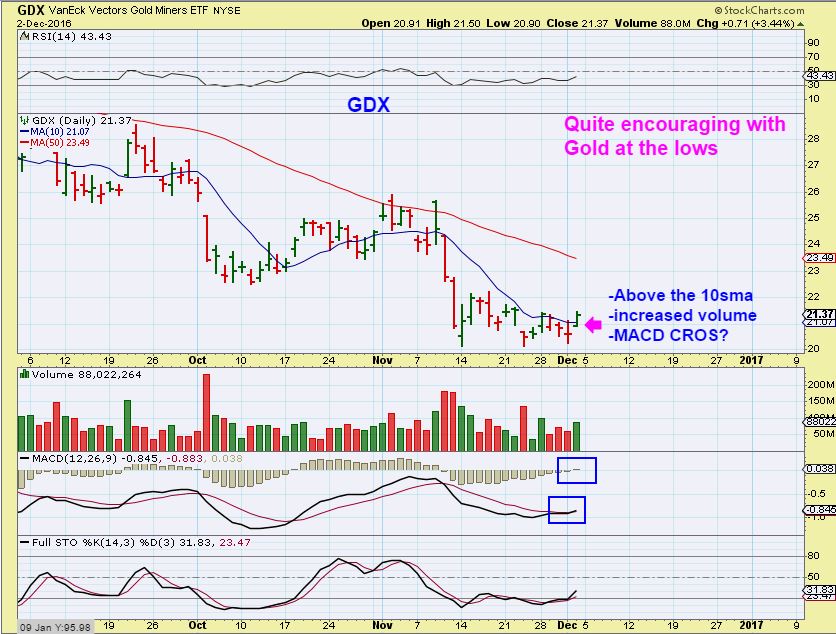 The chart of the $CAD VS $USD was used by me at the 2016 lows.

  I found this to be a bullish confirmation to Gold and the Miners break outs.  This was my Feb 4th weekly chart from an early Feb report.


I think that the USD is due for a pullback.  Lets look at the current CAD : USD Chart.
Notice that when this broke out above the 20ma in Jan 2016, Miners broke out (see the chart).  Price then climbed up that 20ma as support into May. Now notice the struggle at the 20sma currently, but we look like we could break out this week. This is Bullish for Miners.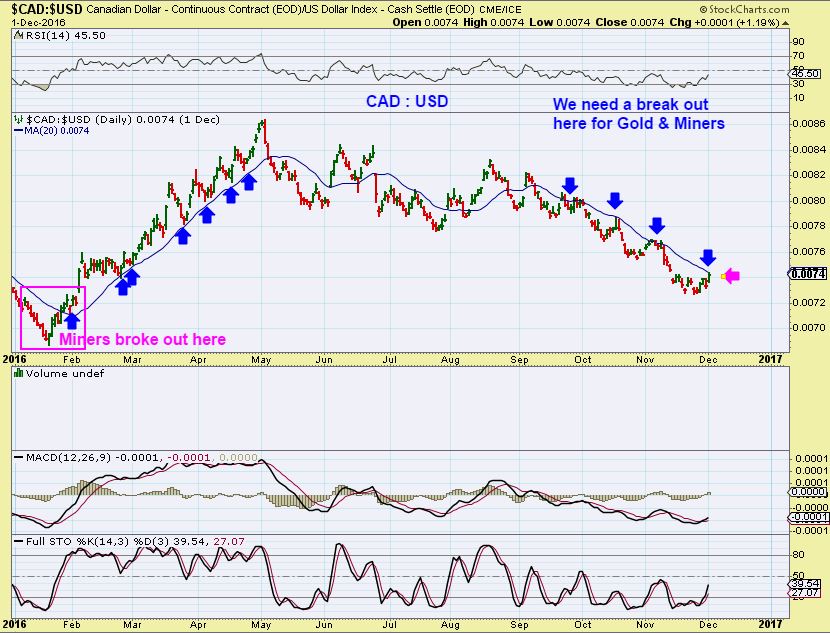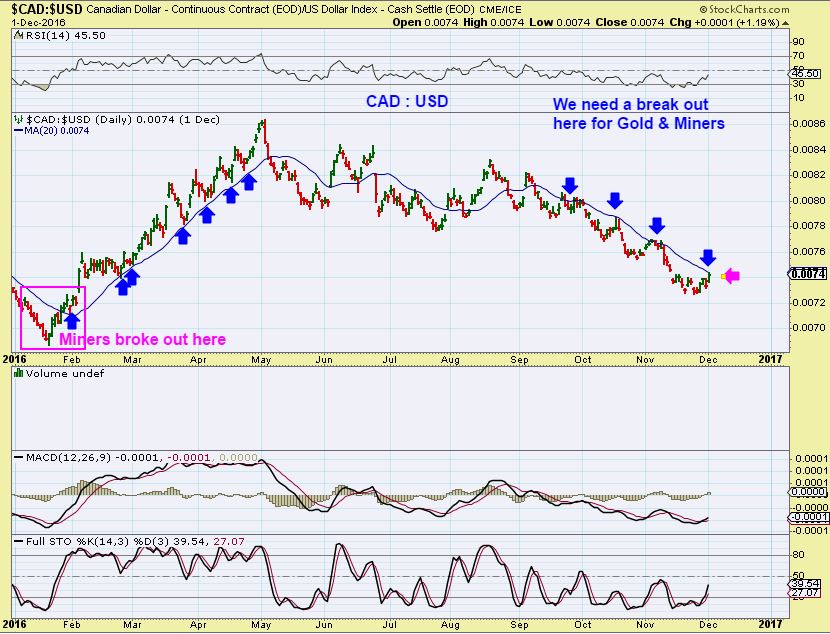 This recent selling has been a deep Sell off , difficult for long term investors to ride out. Many are giving up on Gold , Silver , and the Miners.
Take a look at this bumpy ride in 2007. We repeatedly saw (

blue arrows

) a drop, a bounce, then another drop to new lows, then a bounce, followed by another drop to new lows, etc.  Tiring!  Ugly!  Frustrating! Brutal!  Each time new lows were produced, I'm sure that you can picture the screaming, the fear, and the loathing. Who wants to buy with all of this choppy action into July & August lows in 2007?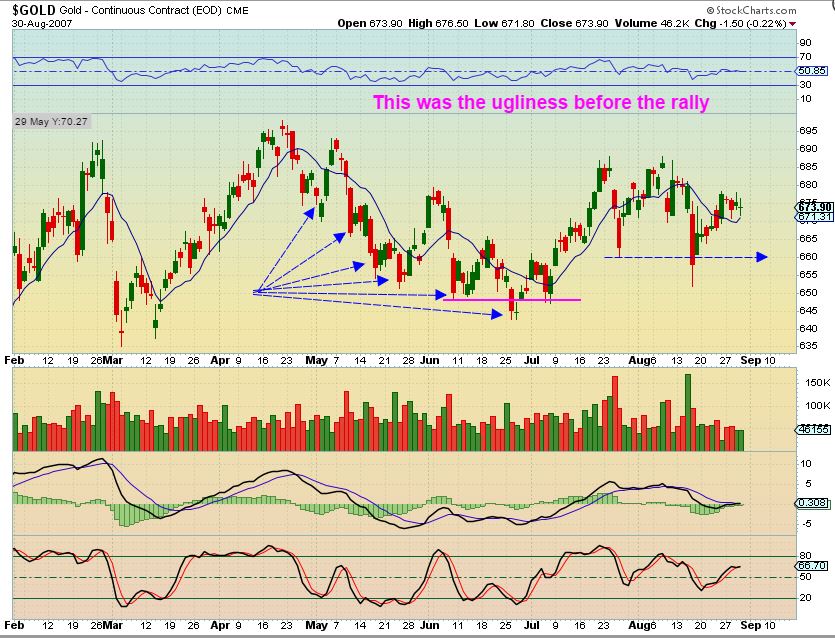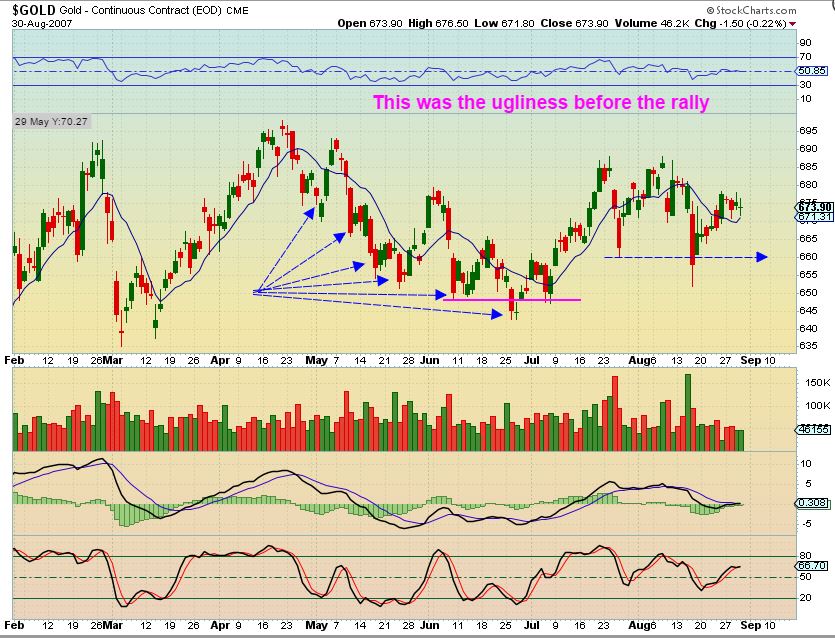 Look at July – November 2007 –

  In hindsight,  it doesn't look bad once that rally kicks in. The Bull 'consolidations' and 'sell offs into ICLs' always buck off riders at the lows. They always change sentiment from bullish to doubtful. People HATE miners at the lows. When everyone is afraid to hold on or get back on, they get left behind. Again, look at the rally that followed from July to November after that bumpy ride.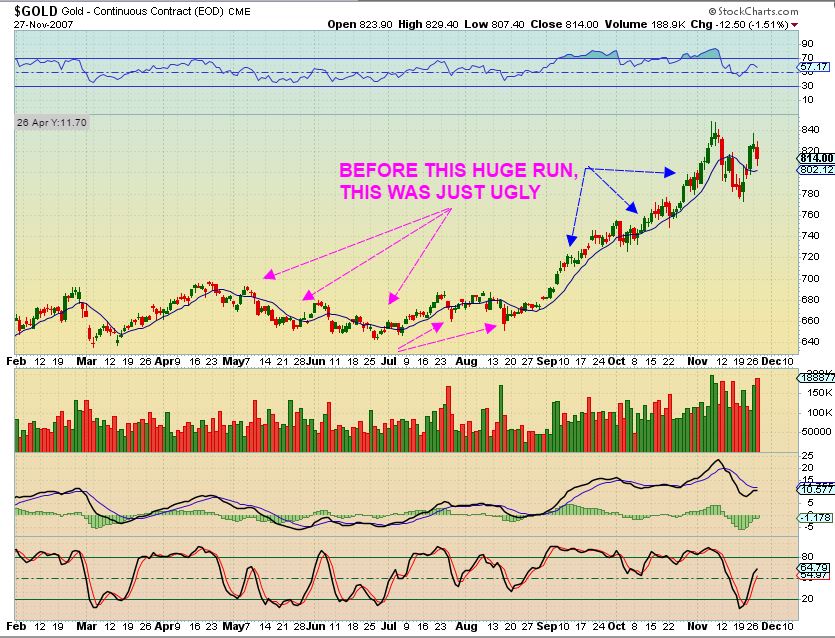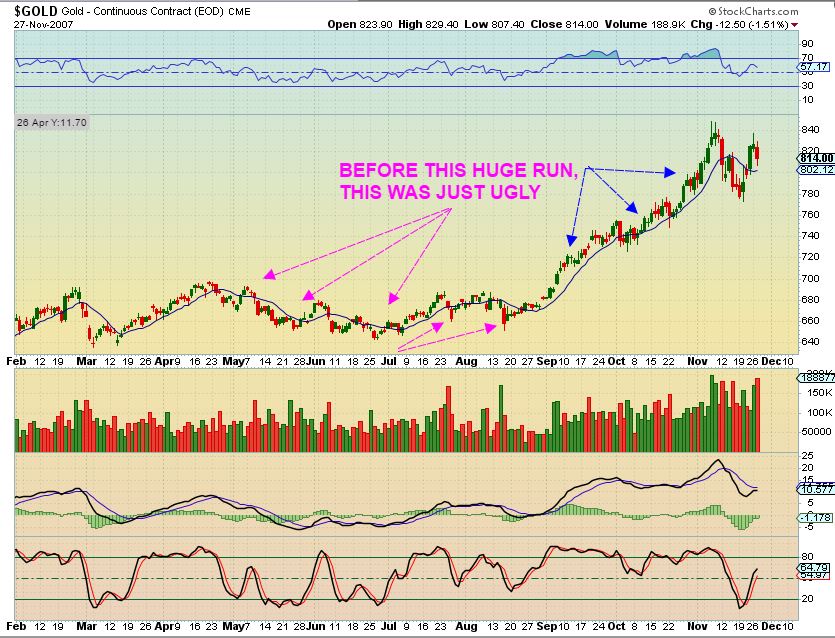 So I am expecting an ICL in Gold  ( A deep tradeable low that should hold for weeks without being broken) . Looking at Steel and Copper, I am hoping for that type of reaction higher, but we'll have to let Mr. Gold tell us what will happen.   Miners look like they may be leading the way, because not only do we finally see a GDX close above the 10sma, but we see several individual Miners not even breaking their Oct lows, and now they are moving higher.  If Gold sells off Sunday after the vote in Italy, I think that the downside is limited.  If Gold takes off higher Sunday night after the vote, we are probably looking at our ICL last Thursday. The Miners are ignoring Gold more and more, I think that the lows and some good %-Gains are right ahead. Enjoy the rest of your weekend! 
~ALEX
Final Note: 

As reported in the weekday reports, GPL, AG, PAAS, SA, GORO, SAND, KGC, etc. etc.  daily charts look like they are starting to move.
GPL WKLY

–  I have been pushing this one for weeks.  Now the weekly chart is really looking bullish. It closed at the highs last week and the week before, with Silver getting sold off.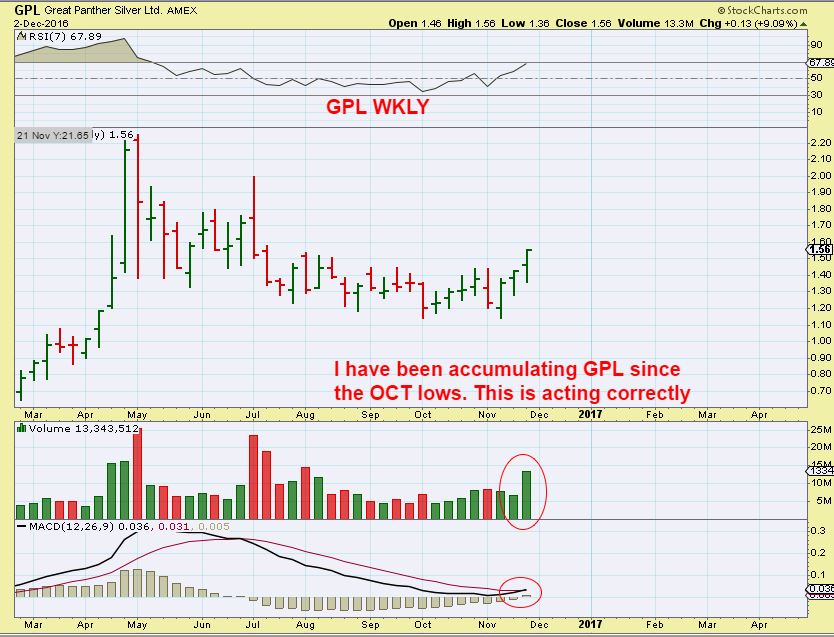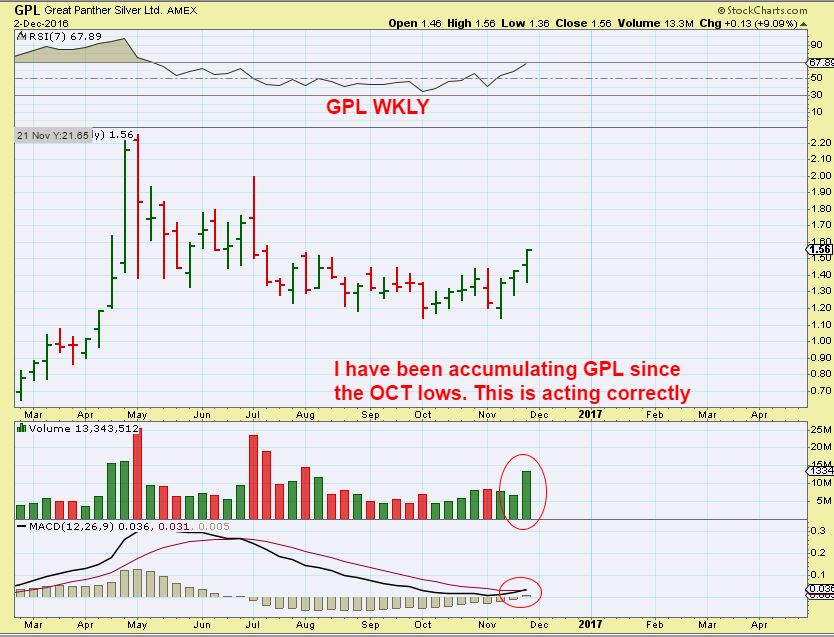 AG WKLY

– $2 to $19 in 2016? Wow. When it was at $19, people really wished they bought it below $10. It has now run up from under $8 to almost $10 – while Silver got slammed.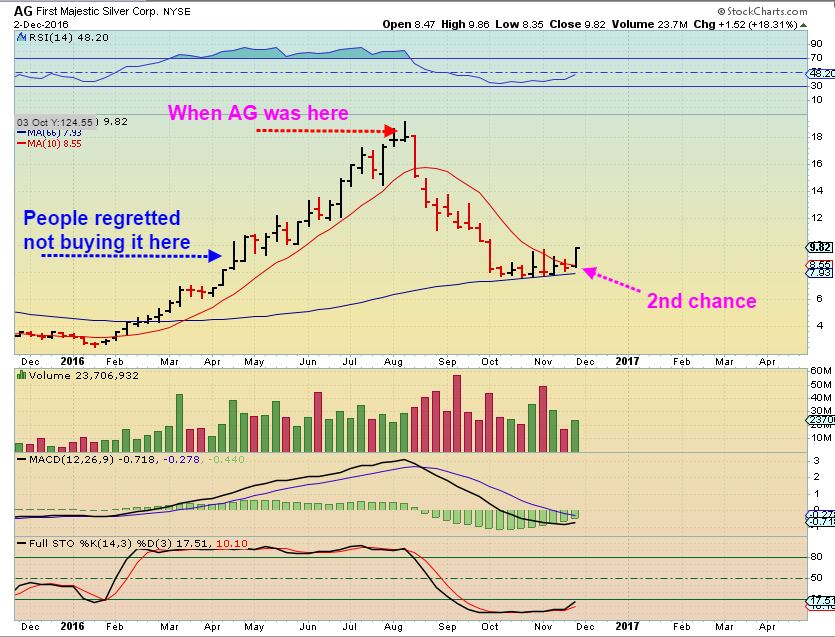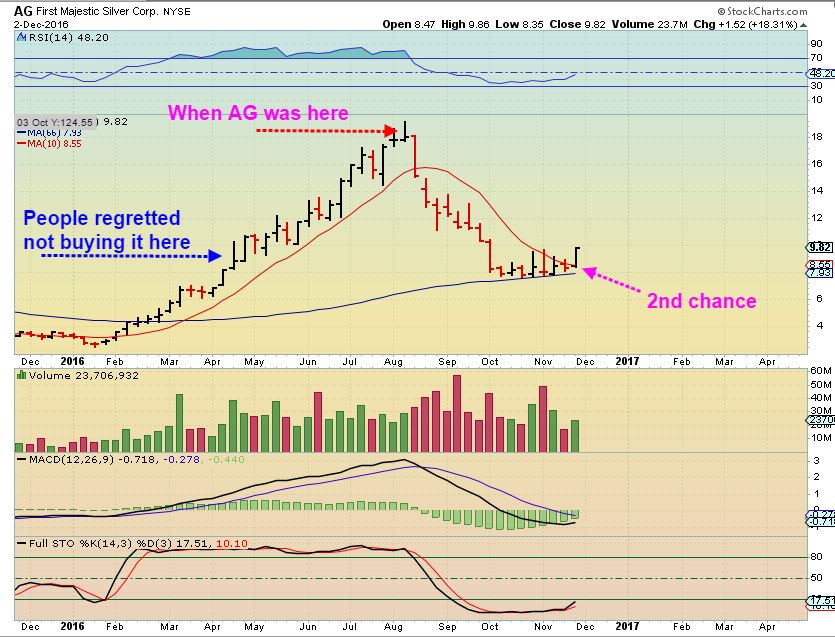 AG DAILY – What a beautiful chart, really.  I can picture an inverse H&S forming in the coming weeks, and then a run to back to the highs if this bull remains in tact.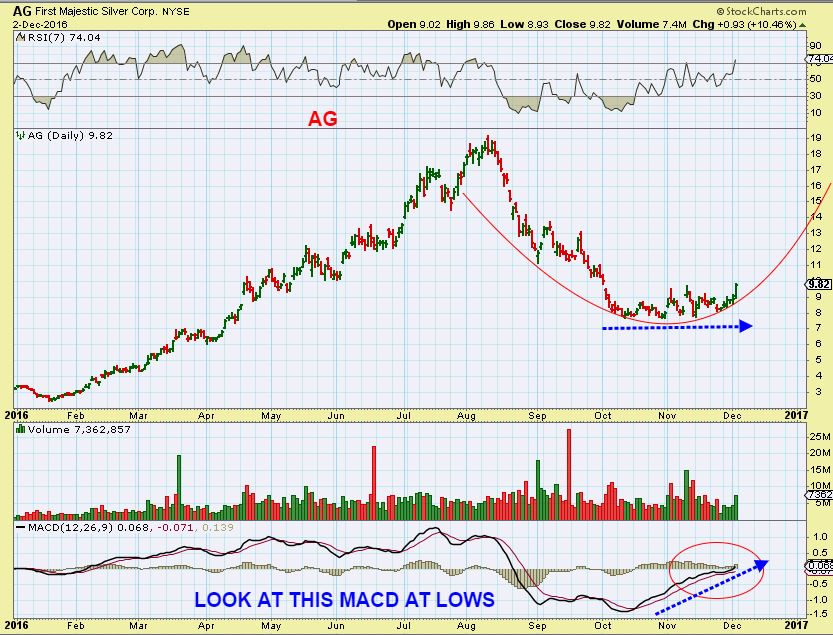 Certain Miners are 'buys', and we have been covering them in midweek reports. While Gold keeps making new lows, some Miners ( Like AG and GPL shown above) are looking more like they are being scooped up and accumulated.  We will continue to look for opportunities as they arise in the coming weeks with  Energy, Metals, and Precious Metals.
-SALE-
THE SERVICE HAS TRIPLED IN SIZE SINCE LAUNCHING AND ALEX HAS GREATLY EXPANDED THE CONTENT PRODUCED. THEREFORE, MEMBERSHIP RATES ARE GOING UP AN AVERAGE OF 15% ON DEC 7TH. LOCK IN THE OLD RATE TODAY FOR LIFE, BEFORE DEC 4TH. AND TO CELEBRATE OUR 2ND ANNIVERSARY, GET 10% OFF THE FIRST RECURRING PAYMENT TOO.
Chart Freak Premium – Limited time promotion.

Chart Freak members receive up to 5 premium reports per week covering a wide array of markets, as this public post illustrates.  Come and join the ChartFreak community as we trade the new Gold Bull Market and various trending sectors.

https://chartfreak.com/wp-content/uploads/sites/18/2015/03/Commodities.jpg
591
883
Alex - Chart Freak
https://www.chartfreak.com/wp-content/uploads/sites/18/2019/11/Chart-Freak-site-logo.png
Alex - Chart Freak
2016-12-05 21:06:02
2016-12-05 21:10:35
Precious Metals – Alive Or Dead?