This weekend we are going to just keep it simple. We are in the middle of what has turned out to be some very good trades, and they have been acting correctly for weeks now. Why get too complicated when we are seeing things remain right on track as we go forward.  To the chart!
.
SPX

- Personally I have not taken a trade in the general markets by means of ETFs. Individual stocks have done well, but the volatility in this sideways consolidation has schooled both the Long & shorts.
1. We had a break out (bullish) , but the VIX was down near 10 ( Bearish)
2. We had a failed break out when it gapped down, and an ISLAND TOP formed ( bearish).
3. That was negated Friday when the gap closed, and this looks bullish again. The green trend line is key going forward.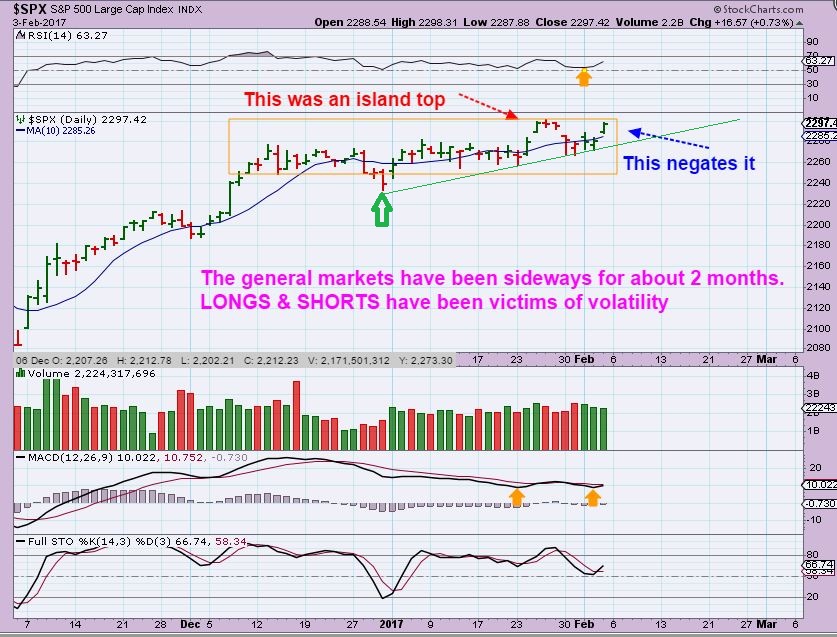 We were watching the VIX , which was indicating that the markets would likely pull back in February sometime ( I mentioned that the VIX is not a short term timing tool, I use it as a cautionary measure). Now let's look at the weekly charts.
Read More
https://chartfreak.com/wp-content/uploads/sites/18/2017/02/Bull-On-Track.jpg
602
978
Alex - Chart Freak
https://www.chartfreak.com/wp-content/uploads/sites/18/2019/11/Chart-Freak-site-logo.png
Alex - Chart Freak
2017-02-05 00:10:26
2017-02-05 00:10:26
FEB 4th – Fed Week And He Stayed On Track

We have a mixed bag in the markets, so let's get right to the charts.
.
SPX

- Do you see what I see Gilligan? The markets have been all over the place along with the vix since 2017 began. It looks weak. This is an ISLAND TOP actually, a bearish top if price doesn't close that gap soon.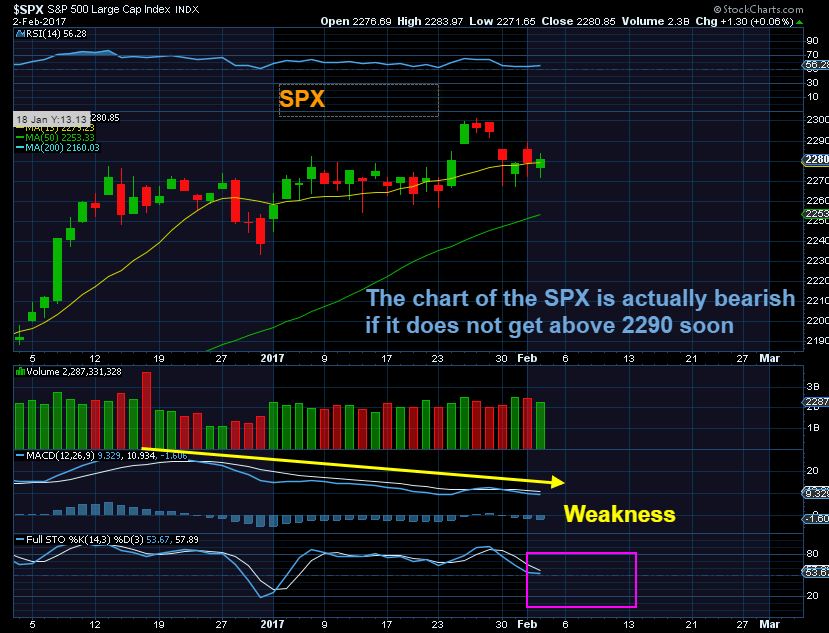 Read More
https://chartfreak.com/wp-content/uploads/sites/18/2017/02/BAG.jpg
611
1033
Alex - Chart Freak
https://www.chartfreak.com/wp-content/uploads/sites/18/2019/11/Chart-Freak-site-logo.png
Alex - Chart Freak
2017-02-03 12:11:44
2017-02-03 12:11:44
A MIXED BAG

https://chartfreak.com/wp-content/uploads/sites/18/2017/02/WELL.jpg
528
909
Alex - Chart Freak
https://www.chartfreak.com/wp-content/uploads/sites/18/2019/11/Chart-Freak-site-logo.png
Alex - Chart Freak
2017-02-02 11:52:17
2017-02-02 12:29:29
Feb 2nd – Pretty Well