The Uphill Climb
When a climber begins his or her ascent, they are full of energy and the start of the climb is always easier than when they near the peak. As the climb continues, you may see him or her periodically rest, shake out the tightness,  even drop back and pursue a different path to the top.  I often see that same thing happen in the climb of various stock market sectors, and Precious Metals and the Oil sector is experiencing that now. (Long term they remain bullish in my opinion),
WTIC – This was June 14 and we were on day 50 of a Cycle, so it was already late in crude oil's daily cycle and I was expecting a low soon.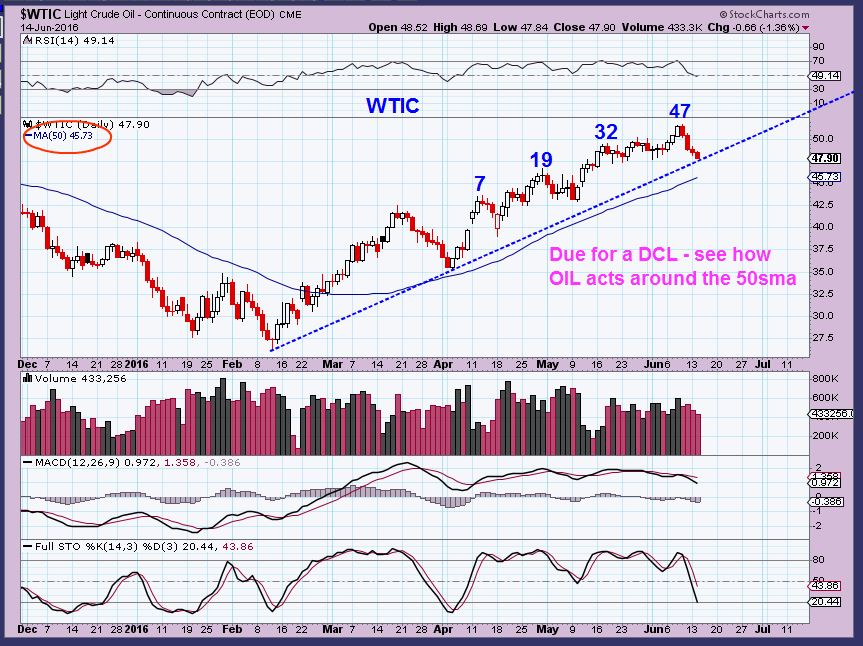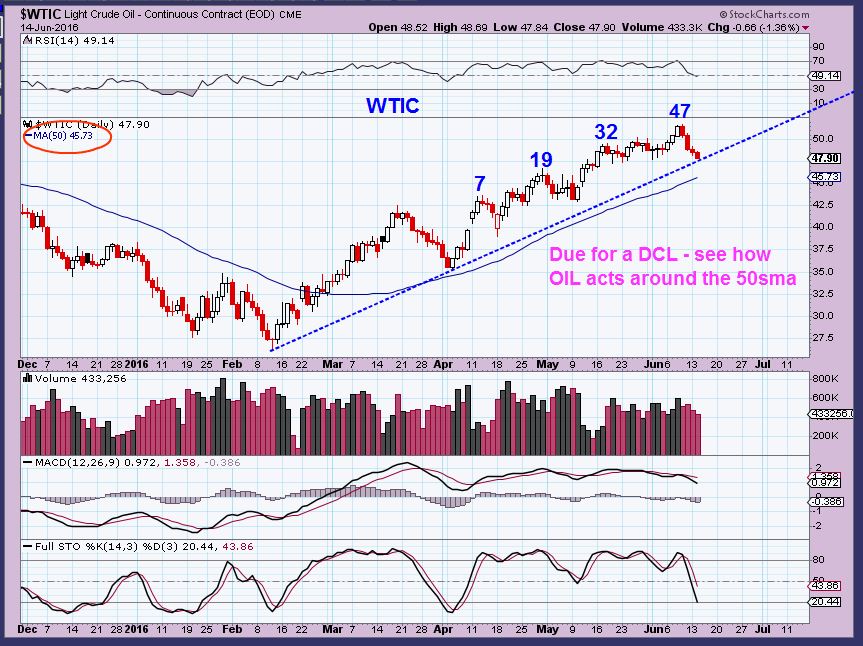 WTIC – That would make Thursday day 52 and we have a trend line break and possible support on the 50sma. Of course, we know we could get a quick shake out, but a reversal here should be the daily cycle low.  I'm expecting that Daily Cycle Low, and the last 2 daily cycles are Right Translated  (R.T. is bullish) . I would say that 'Long Oil' is now back in play.


XLE – The Energy sector put in a reversal at the 50sma Thursday. XLE did lose the 50sma , which possibly was a shake out. Tight stops at the 50 do not work in recent years.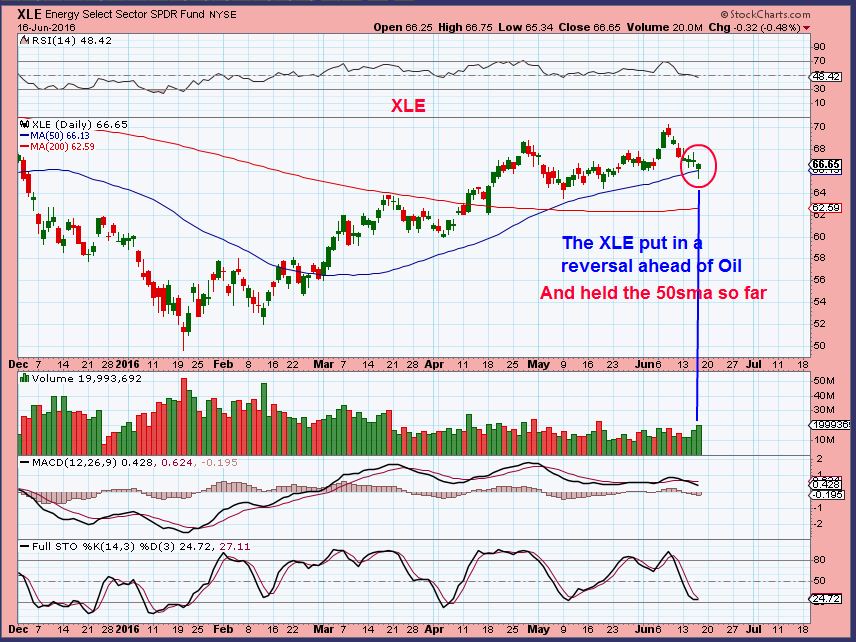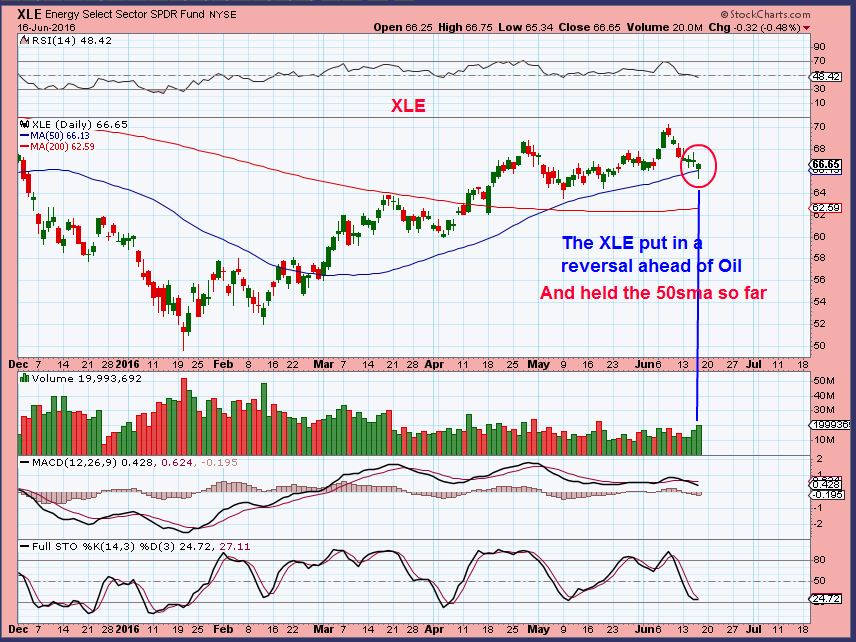 GOLD & MINERS
I wrote this in yesterday's report, and this is what we saw.


GOLD – This is what the  "False Break Out" looks like. People buy the break out in the event that it will just run off higher, and then this will try to shake them out.  I am still bullish on Gold, despite a pause here. We could see a sideways move into Brexit, it could form an inverse H&S form with a drop to the 50sma.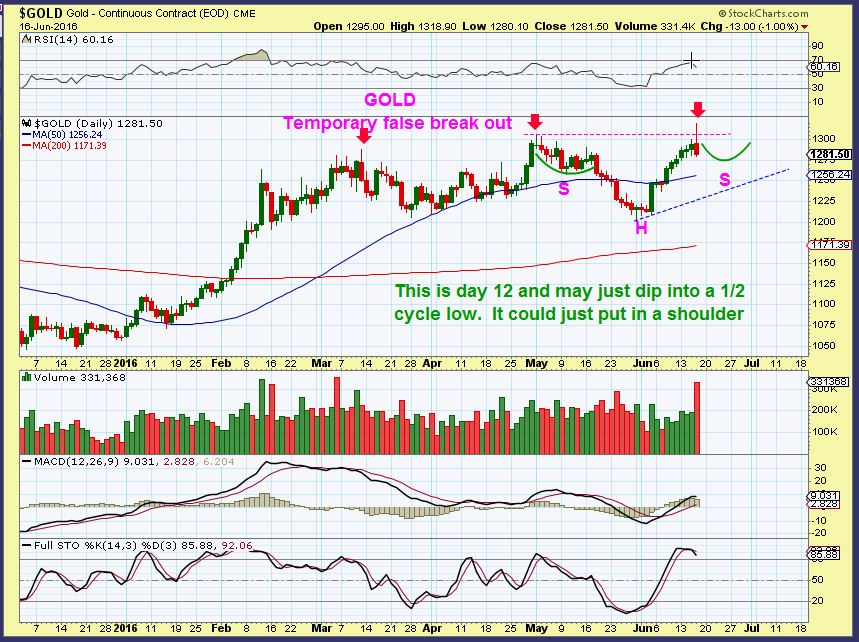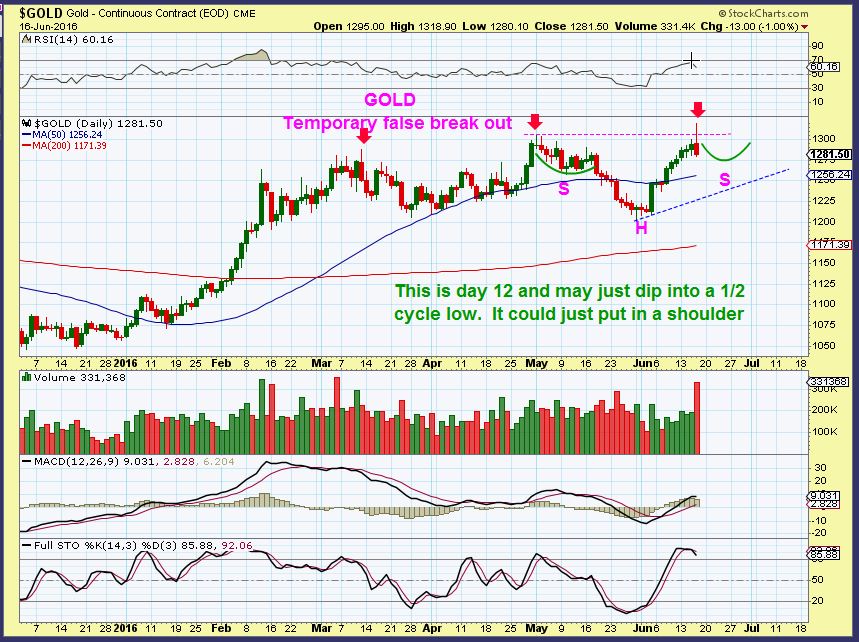 MINERS –
Since we are in a Bull market and we were in the timing for an ICL, I had been saying that I was buying certain Miners 2 -3 weeks ago.  I also mentioned that readers should at least buy something to have some skin in the game.  Maybe start small and build on those positions later.  We saw MUX, VGZ, ASM, and others breaking out strongly, and GDX did brek out to new 2016 highs.  Could GDX pull instad of immediate upside follow through?   Yes. With the FED and BREXIT and jittery hands, the steep climb that Miners have made could experience what was mentioned in the opening sentence of this report. We could see GDX pause, do some loosening up and shaking out just like the climber in the opening illustration.
GDX JUNE 8–  I drew this possibility on June 8th. We already see the pause and the shaking out occurring. I thought that we might see a false break out in GDX, but it remains bullish in an uphill climb.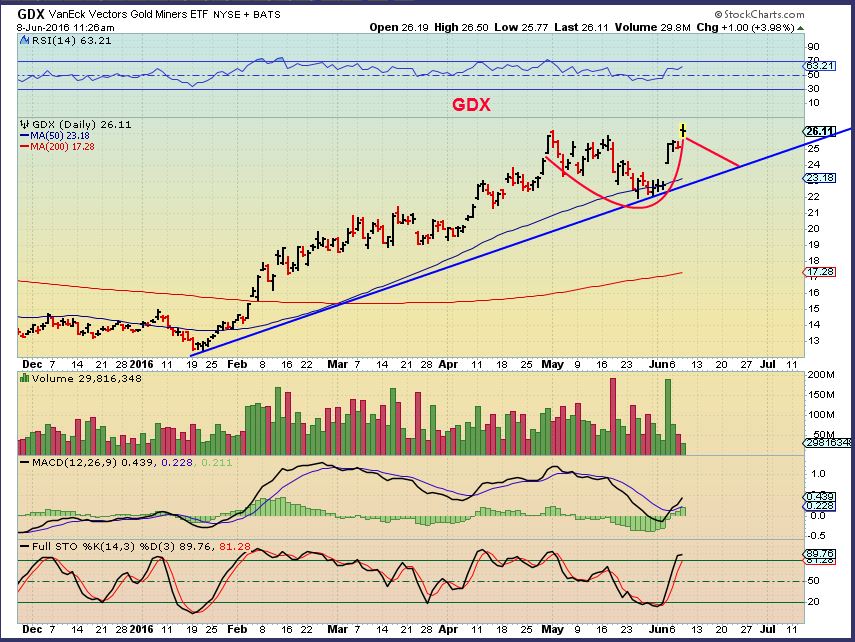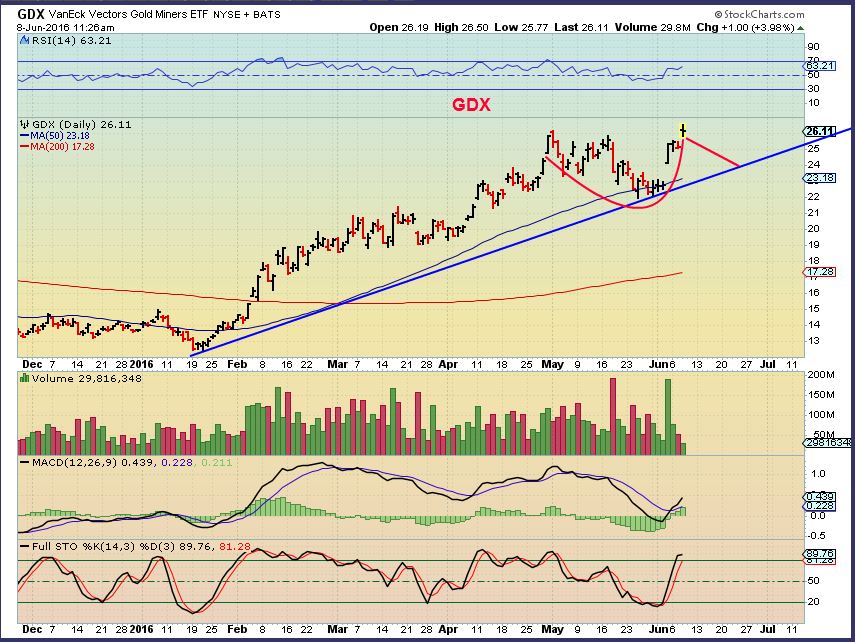 JUNE 13– Would we drop & fill those 2 gaps on Fed week?  I actually mentioned that with this possibility, I did NOT think that the lower gap would fill. These reversals were holding up early in the daily cycle.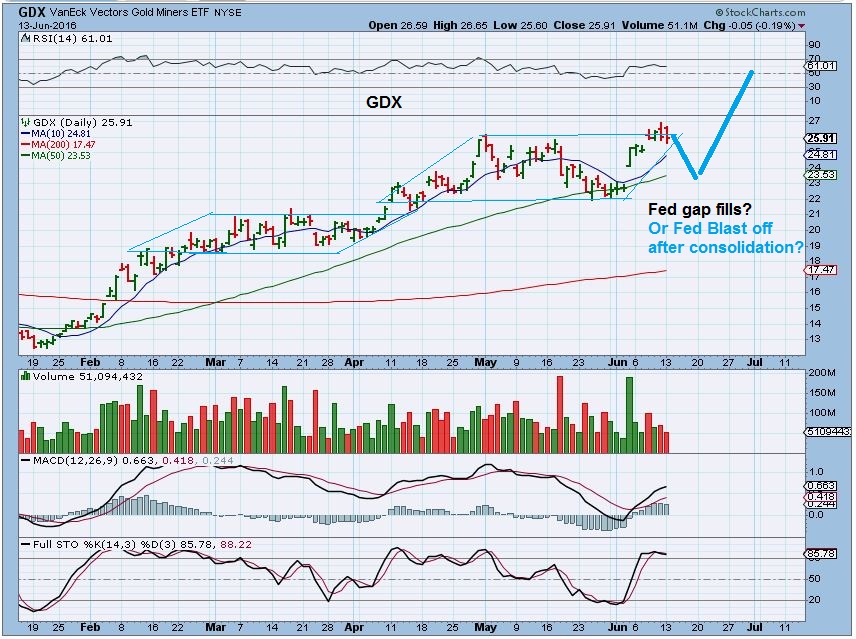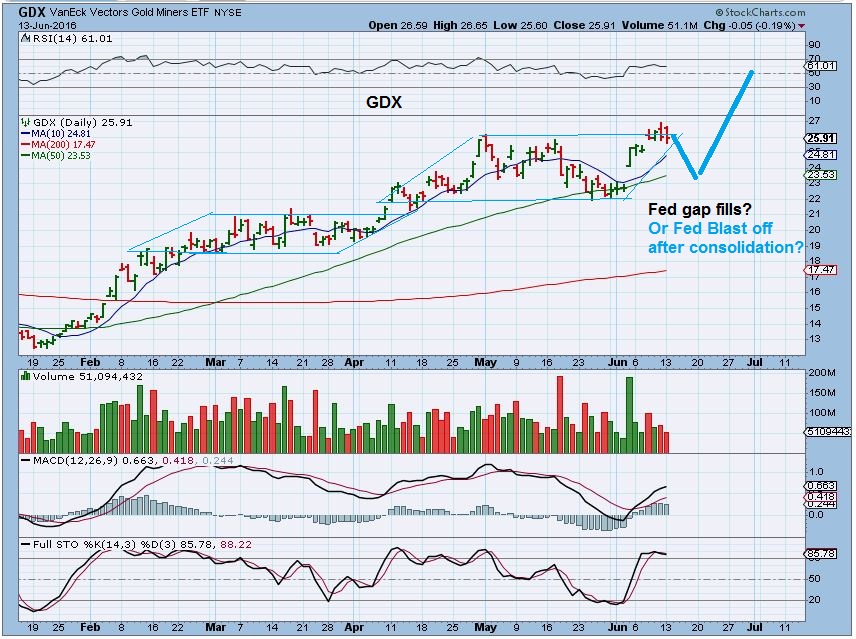 GDX JUNE 16 –  Reversals. Thursdays reversal is nothing new. I still expect higher prices in time, since I believe that an new lows are in place.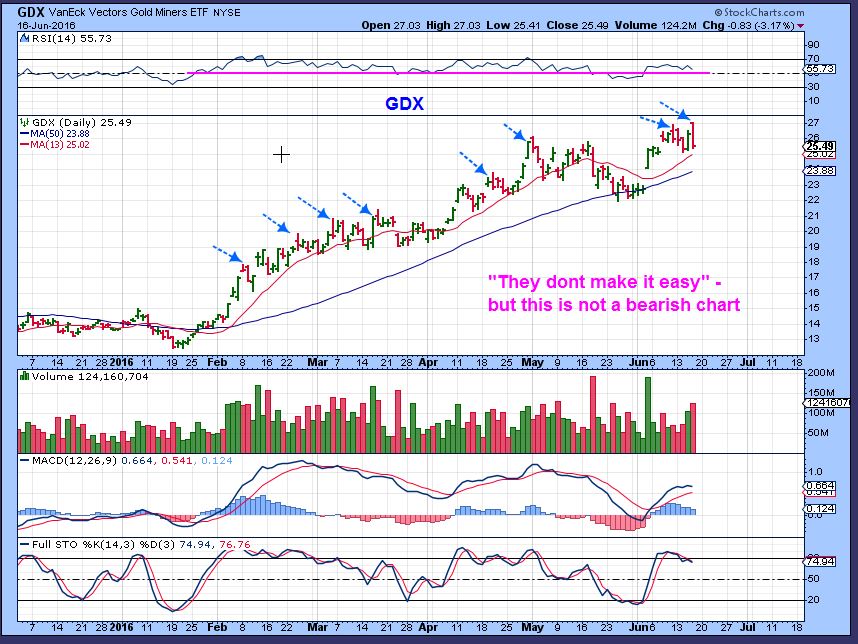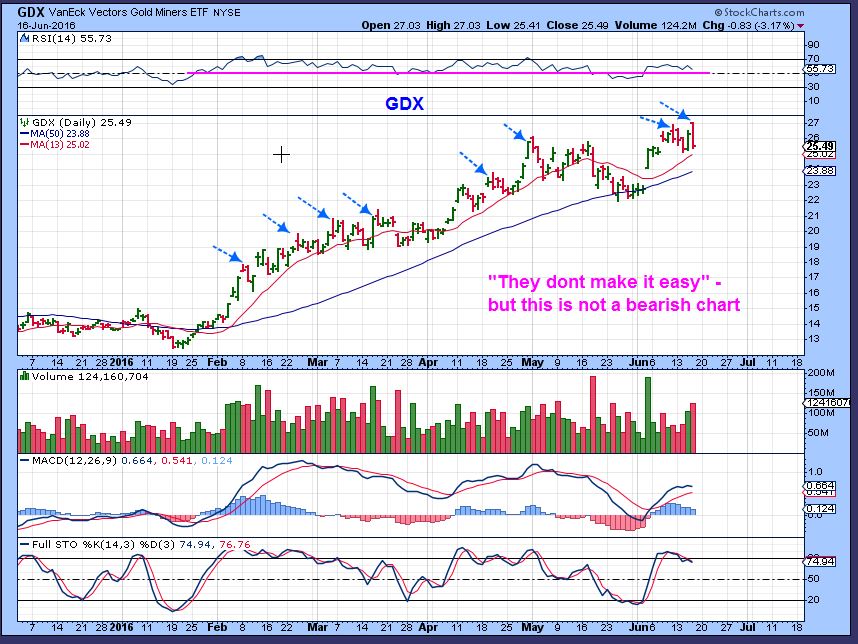 I also still like the set ups in various individual Miners as  mentioned in Thursdays report.
Look at VGZ, MUX, TRQ, SAND, BTG, PVG, GORO, etc. for example.
BTG – This is my chart from yesterdays report  BTG, and SAND and a few others looked similar. I was expecting a break out.  They did break out with the Fed Decision on Wednesday, but then the reversals came in. So it was temporarily a false break out with reversal. That doesn't make it bearish to me.

BTG – This was BTG on Thursday with the break and reversal.  Sand is the same. It may play out as shown.


I am still looking at the big picture.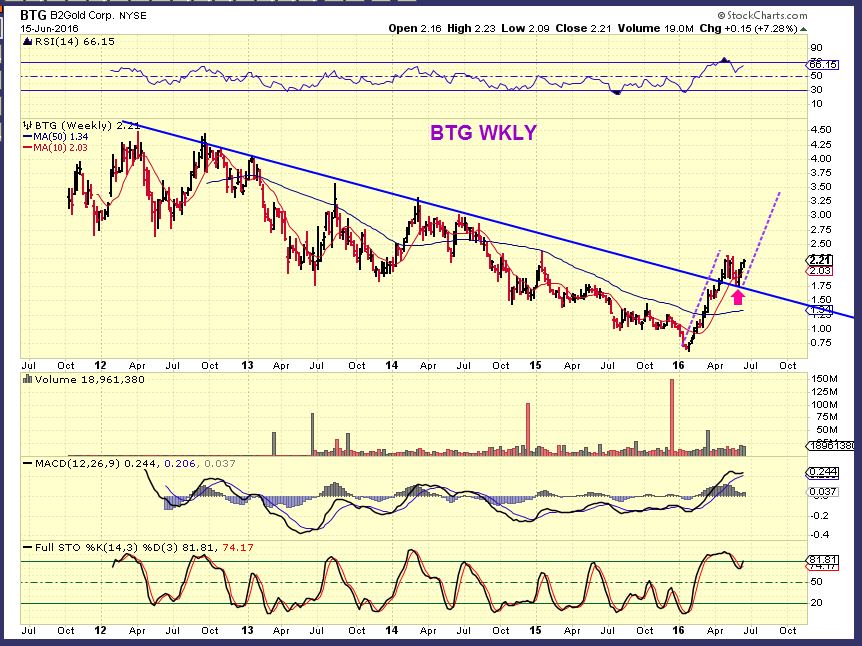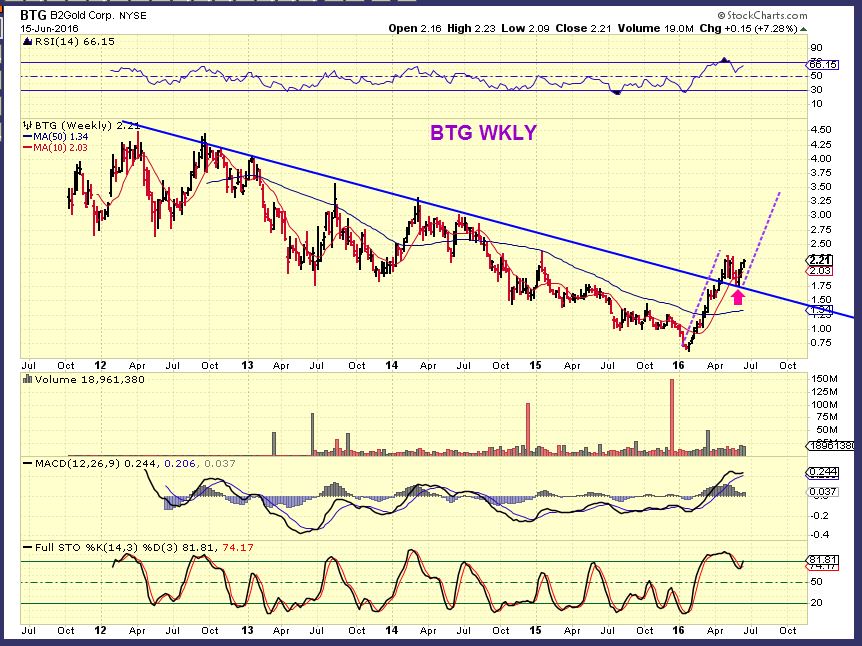 Many people on Twitter and in public forums got discouraged and even nervous when the reversals took place, while some even got outright bearish , calling The Top for Gold & Miners.  I do not see it that way. This is also why I mentioned  to start with small positions 2 weeks ago and build on them as miners climb and dip.  As shown in this report, these are really the same old moves that we have always seen. We repeatedly saw these miners shake out buyers all along the run from Jan – April too. Looking back, staying with the climb was well worth the reward.
Enjoy your Friday trading and we'll see you in the weekend report Late Sunday night or Monday morning.
Chart Freak Premium
Chart Freak members receive up to 5 premium reports per week covering a wide array of markets, as this public post illustrates.  Come and join the ChartFreak community as we trade the new Gold Bull Market and various trending sectors.

~ALEX
https://chartfreak.com/wp-content/uploads/sites/18/2016/06/climb.jpg
506
858
Alex - Chart Freak
https://www.chartfreak.com/wp-content/uploads/sites/18/2019/11/Chart-Freak-site-logo.png
Alex - Chart Freak
2016-06-17 16:20:51
2016-06-17 16:22:07
Public Report – The Uphill Climb