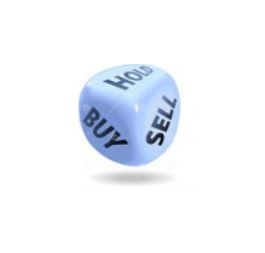 APRIL 11, 2014 –  Please review my last report , it basically is still quite valid. I had some possible downside targets that havent been met yet (For ex: QQQ could visit the 200Sma), however with 'bounces' along the way and the "Should I 'Buy The Dip'? mode firmly in peoples minds- is it really just a roll of the Dice?
No.   BUY-SELL-HOLD is still a personal decision based on your trading/ investing goals…and our Energy & Steel  trades from weeks ago are still green, but for others – Tech stocks/Momo trades are a mess. Lets review a few charts …
Nimble Traders can look for lower risk entries based on probabilities ( like oversold areas and trendline/moving average support,etc)  but in waterfall sell offs , even these can fail and one should not trade heavy sell offs unless they can monitor their trades intraday.
 GOLD was up yesterday and the $USD was getting smoked in the last couple of days, and I saw THIS??
  GDX got rejected at the 50SMA and Sold off. EVERYONE seems to see an Inverse H&S pattern(Bullish), so I am thinking that it will fail and the first wave of impulse selling that started in Mid March will have another leg down. One could trade this move with DUST, but I recommend waiting for confirmation that it's failing here.
OIL and $NATGAS look bullish to me. 
Looking at $WTIC on FEB 12th , OIL had completed a running correction, burst higher,and FAILED at the highs on high volume. Below was my Target of somewhere near $98 if the 50sma held the selloff that I thought would ensue
You can now see that the price DID drop to $98 and the 50SMA has held , the 200 Sma is about to be crossed upward by the 50sma , and Volume is increasing in BUYING. I think OIL could be heading for $110 in the future. I want to take this one step at a time, – will OIL go higher In the summer?? Needs watching, but $WTIC and $NATGAS look bullish to me.
So , this is just a thought, Way too early to know for sure, but if OIL remains bullish, I can see a sideways move this summer and continue higher in the fall. OIL was $140 in the past, why not a test of those highs??
What did you say?    We are in a deflationary environment, so OIL wont go higher?  I know,I hear that a lot, but
1. Things change and…
2. let me just throw up a few long term charts to help us to stay open minded to any of the possibilities.
Are prices dropping in all commodities?
"But $Copper has been selling off like crazy!!"
See COFFEE , WHEAT, CORN, etc etc etc
So the big picture may offer trades in beaten down commodities , and most know that I have already been investing in many of these since last summer. Wait for 'sell offs' and 'pullbacks' for lower risk entries and ALWAYS use stops if the trade goes against you. When you BUY a stock, you have a plan…if it does not do what you thought it would , sell and re-assess.     Save your capital for the next good set up.
Thanks for reading! ~ Alex
https://chartfreak.com/wp-content/uploads/sites/18/2014/04/BUY-SELL1.jpg
253
265
Alex - Chart Freak
https://www.chartfreak.com/wp-content/uploads/sites/18/2019/11/Chart-Freak-site-logo.png
Alex - Chart Freak
2014-04-11 10:04:41
2014-12-02 00:20:10
UPDATE to my last post