My last Public Report was posted on May 11th, where I discussed the big Picture of the General Markets, and what it could mean for the GOLD, SILVER, & The MINERS, and I covered Bitcoin too.   I will do a quick review here using charts from my last public report, and then an update from this weekends premium report.   Since my last May 11th Public Report, we've continued to dig in to the Precious Metals charts,  have taken positions, and are finding that things are now playing out very bullishly for Gold, Silver, and Miners  (As expected).   Todays public report will include a good portion of my recent weekend report.
TO START THE BIG PICTURE VIEW : 

  I discussed on May 11 that were either going to drop and make new highs again in a runaway higher,  or more likely,  we were going to roll over and allow the Precious Metals sector to make a strong run higher. I expected a Meaningful low ( ICL in Cycles) For GOLD, so I  posted these 3 Big Picture charts of May 10.

.
SPX TOP-

If  this breaks to new highs and rolls over forming as Left Translated,  it will be a 'Bull Trap'.    It can roll over until that period of selling ends with our next dcl.  The 3rd daily cycle drop and especially the 4th can drop quickly too.
SPX DAILY

–  Look how sharply the SPX dropped from Oct to Dec.   That could repeat in our 3rd & 4th daily cycle.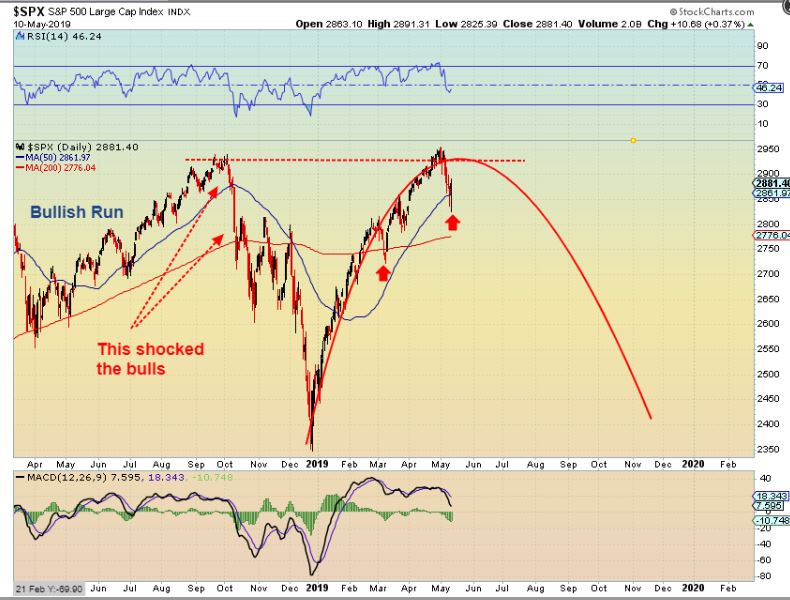 SPX

– I see that RSI was a bit weaker than prior times at these highs.  I warned that a DCL was coming due and that things could also get choppy and sell off. 

This looks like a triple top

. THIS COULD BE GOOD FOR GOLD.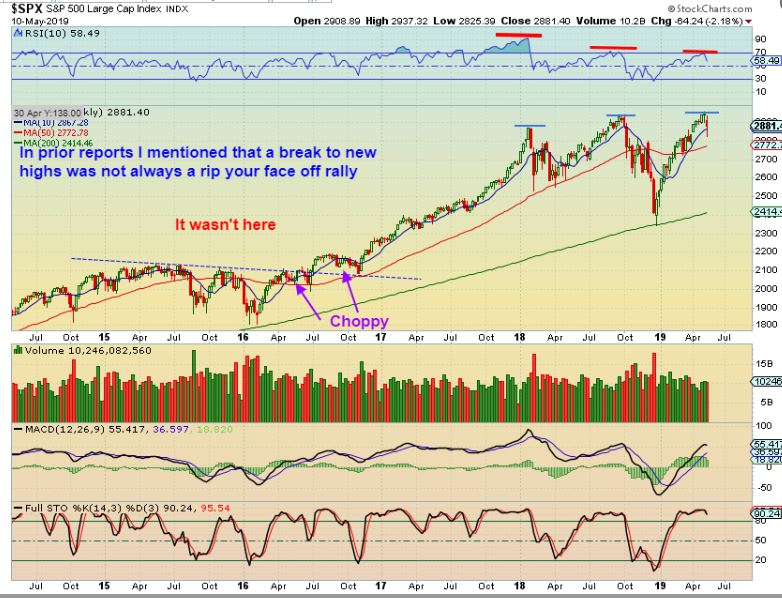 NOTEWORTHY VIX-

we also discussed the VIX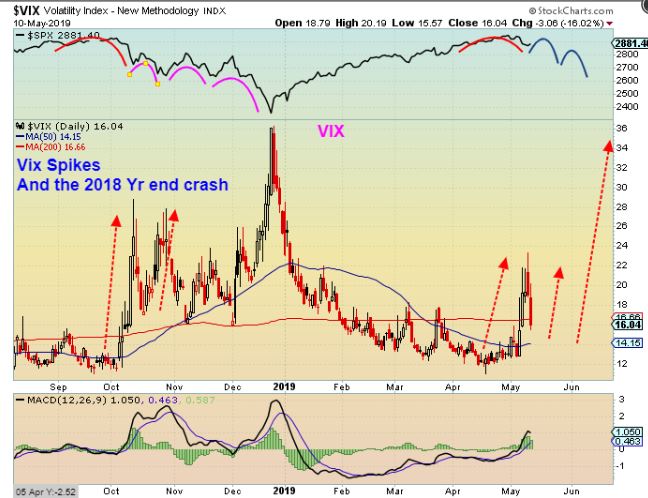 .
MY CURRENT UPDATE FROM THE JUNE 1  PREMIUM WEEKEND REPORT

:
 .
DJIA WEEKLY

– This is looking like a Triple Top and breaking below  the upward trend line again.  This has helped GOLD.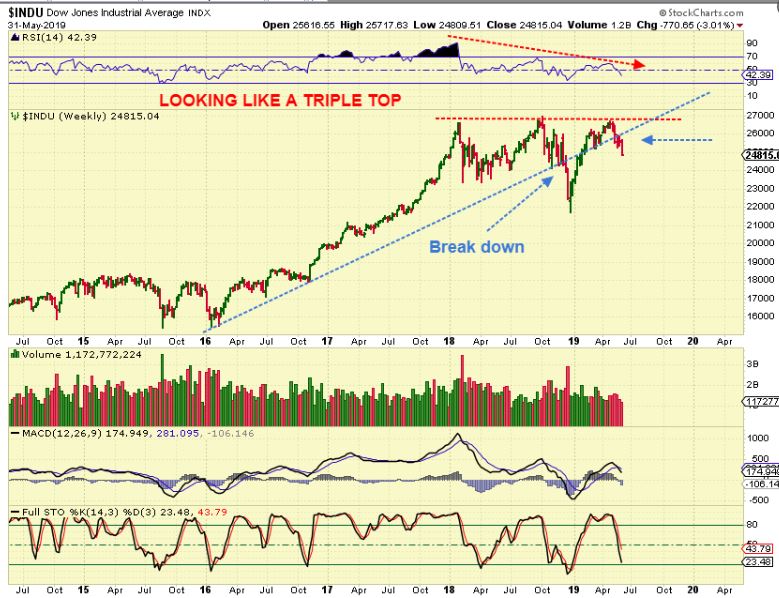 Even if we see a relief rally  at any point  (maybe some progress on Tariff talk or something like that),  it may just lead to a back test before the next leg down.
SPX WEEKLY

–   This would also indicate that a top is in place for the General Markets.  This kind of Drop could cause Gold to do the opposite ( safehaven).  Take a look at these  ** marks for similarities to a recent crash in 2018, this has room to drop.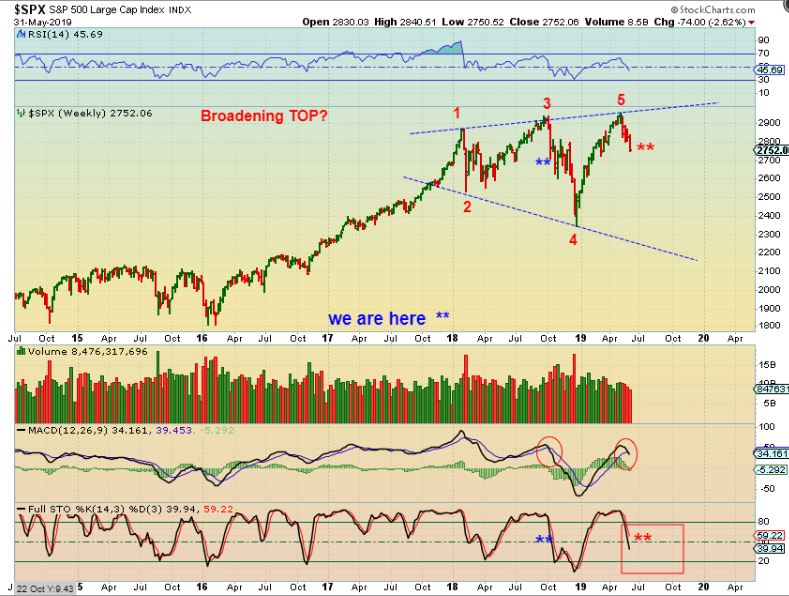 My daily reports will monitor it along the way on a day to day basis, and The Big Picture weekend report always focuses on the Bigger Picture.

.
FROM THE MAY 11 PUBLIC REPORT- you can still read that whole report, but here are some excerpts OF WHAT I EXPETCED … 
.
The Precious Metals Sector

  MAY 10
We have really been focused on this area.    The Timing is complete for a meaningful low.  In past Bull Markets,  I have found cases of Milder ICLs so I pointed those out in past reports recently.   
The way I see things, we must be VERY CLOSE to a meaningful low here, and a strong rally should follow.
.
GOLD WEEKLY BIG PICTURE

–  The Milder ICLs pointed out on this chart look similar to what we see now.  We have a weekly swing low now,  so this may be THE LOW as of early May.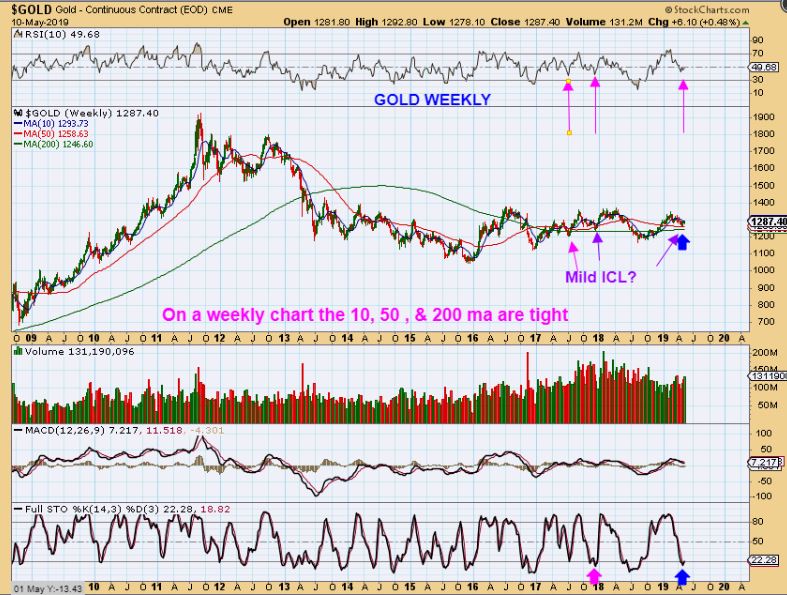 .
GOLD WEEKLY

–   Gold sits above the 50 & 200 weekly ma in a bullish descending wedge.  A short quick slam to those are possible, but a break out higher is a buy.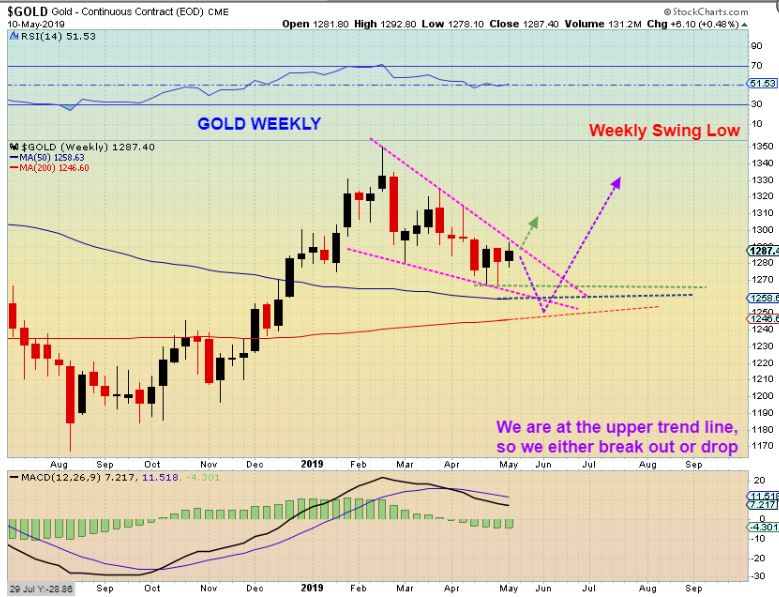 .
SILVER WEEKLY BIGGER PICTURE MAY 10 

– This very large base should have Huge upside potential. I have discussed Silver in detail in many of my past reports and not much has changed this week.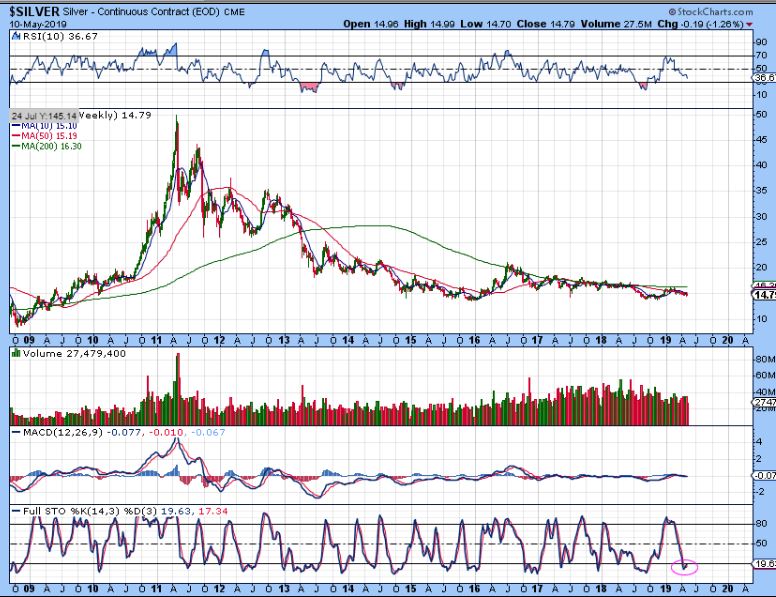 .
 MINERS MAY 10
,
 

GRAVESTONE DOJI

–  The 2 candles on the right are 2 that I have pointed out many times.  Though it is  a 'bearish looking candle' to many, it often is NOT bearish.  After a sell down, it closes at the lows, but it is quite often actually bullish.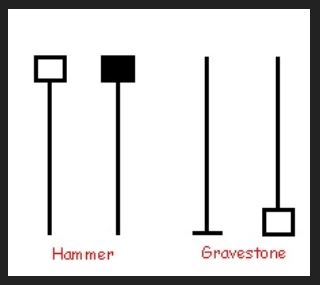 As seen on this chart, price can drop below the gravestone doji, but it is usually a reversal soon after, since selling has dried up.  Well…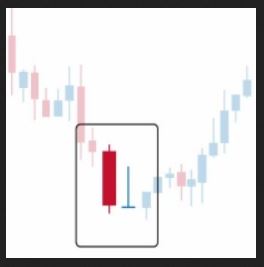 .
GDX WEEKLY

– Fridays sell off caused a Gravestone Doji on the weekly charts.  The lows may be in.  So this makes things a bit more interesting heading into next week, right?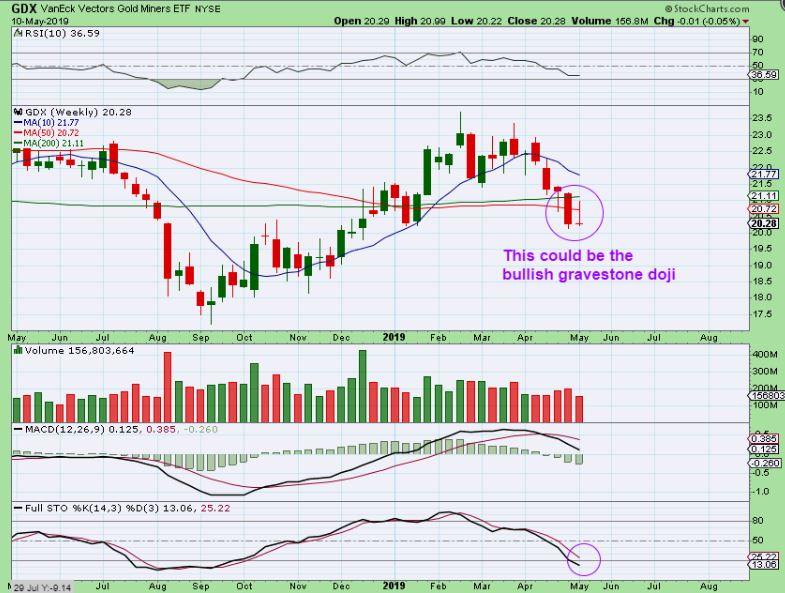 GDX WEEKLY

– This is an area that we have been looking for a low to possibly form…
GDXJ WEEKLY

– Another gravestone doji for the GDXJ, HUI, and XAU WEEKLY too.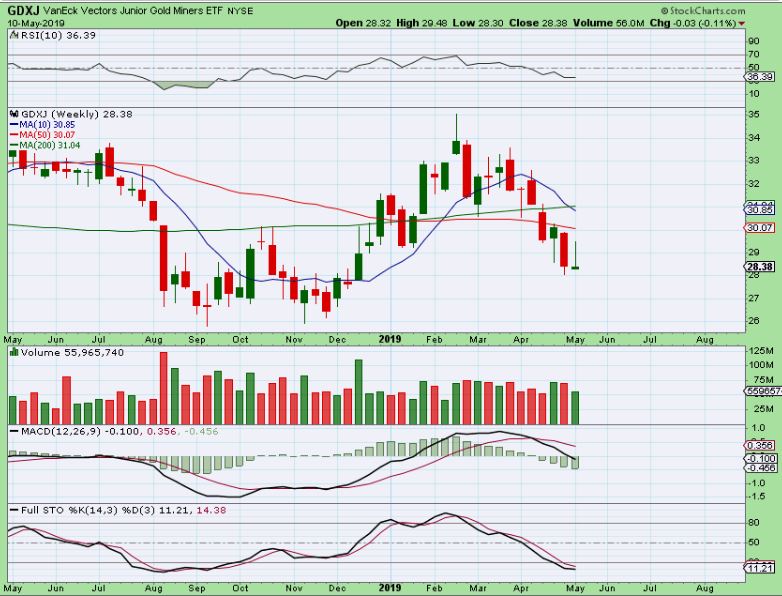 ,
 NOW A FEW UPDATES FROM MY

CURRENT WEEKEND REPORT JUNE 1, 201

9
.
USD DAILY

–  Short term cycles indicate that  the USD topped on Day 8, but the BIG PICTURE tells the real story!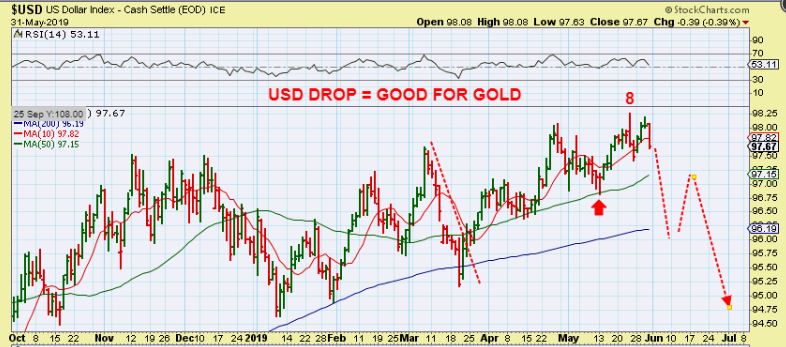 USD WEEKLY BIG PICTURE

–  When distribution ends, Selling takes over. This is a rising bear wedge of distribution for the Big Picture USD.   That is usually also Good for Gold.
 .
BITCOIN REVIEW :

I actually Called a low in Bitcoin when it was in the $3500 area with this chart.  I said that a break from here should run right to $6000-$6200 as an initial target.

.
BITCOIN

– As it continue d to break out & Run, the trade was on  ( I also recommended  other Blockchain stocks like MARA, RIOT, MGTI, GBTC, etc).  Many have doubled since then, but I traded in & out of them. 

 .
BITCOIN

– After an initial surge,  I thought we were seeing a bull flag,  so I saw no reason to sell,  just let it consolidate and continue to $6000+

.
BITCOIN

– Again, a Bull flag that kept some from selling , or it also could be bought.  It looked ready to break out & run to that resistance line that I drew in.   I did have a $7500 price target after $6200,  but there is a lot of resistance there,  I did NOT think that it could get through that area yet.   I expected price to stall there…

.
BITCOIN

–  This weekend Bitcoin hit $7000 plus!  Don't underestimate the Crypto -rockets  🙂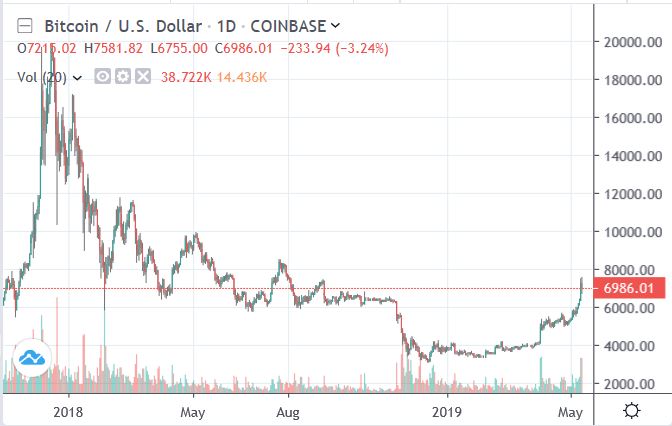 https://chartfreak.com/wp-content/uploads/sites/18/2016/12/dig.jpg
550
919
Alex - Chart Freak
https://www.chartfreak.com/wp-content/uploads/sites/18/2019/11/Chart-Freak-site-logo.png
Alex - Chart Freak
2019-06-03 15:31:48
2019-06-03 15:46:51
June 3rd – DIGGING FOR GOLD