Our recent weeks of trading have had a lot of choppy sideways action, and this gets frustrating to both the longs and the shorts.  My premium reports discussed how that choppiness was ending in Oil, and we began looking at buy set ups forming in the energy markets. I wanted to share my thoughts on ENERGY & PRECIOUS METALS from the weekend report here with the public.  I Am expecting a sell off in Gold, Silver, and Miners, but it could be the next best buy of 2016. Lets take a look.

.
Below is a partial of the weekend report.
.
WTIC

– Break out and follow through as expected. Please read the chart.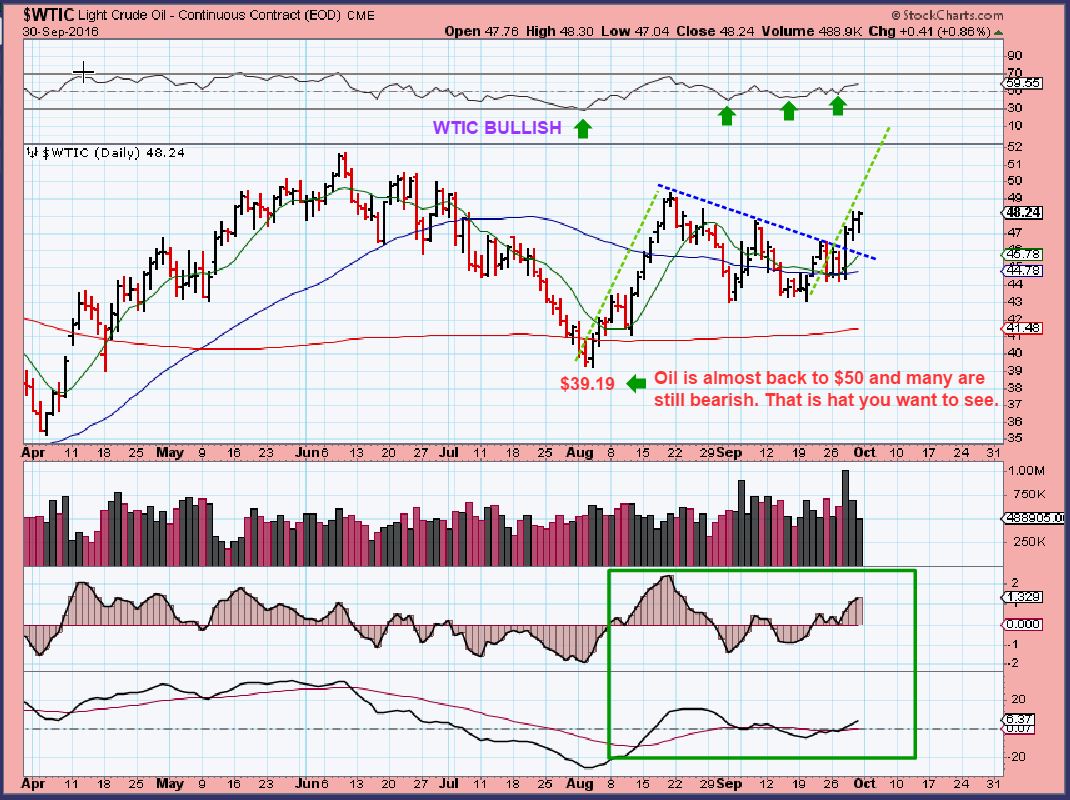 Please notice that

when OIL bottomed in 2008-2009

,  it also had a sideways choppy period for weeks like we just experienced and then it ran strongly.

We had been looking at and discussing a variety of Energy stocks throughout 2016 since February like CWEI, RICE, WPX, AREX, SDRL, AXAS, MRO, CHK,  and many more. 
.
GOLD , SILVER, and MINERS
.
GOLD–  I am expecting the dip into an ICL. A great buying opportunity should be coming soon, but this drop may cause some Gold Bulls to sell and not re-enter. We will be ready to buy. See the chart.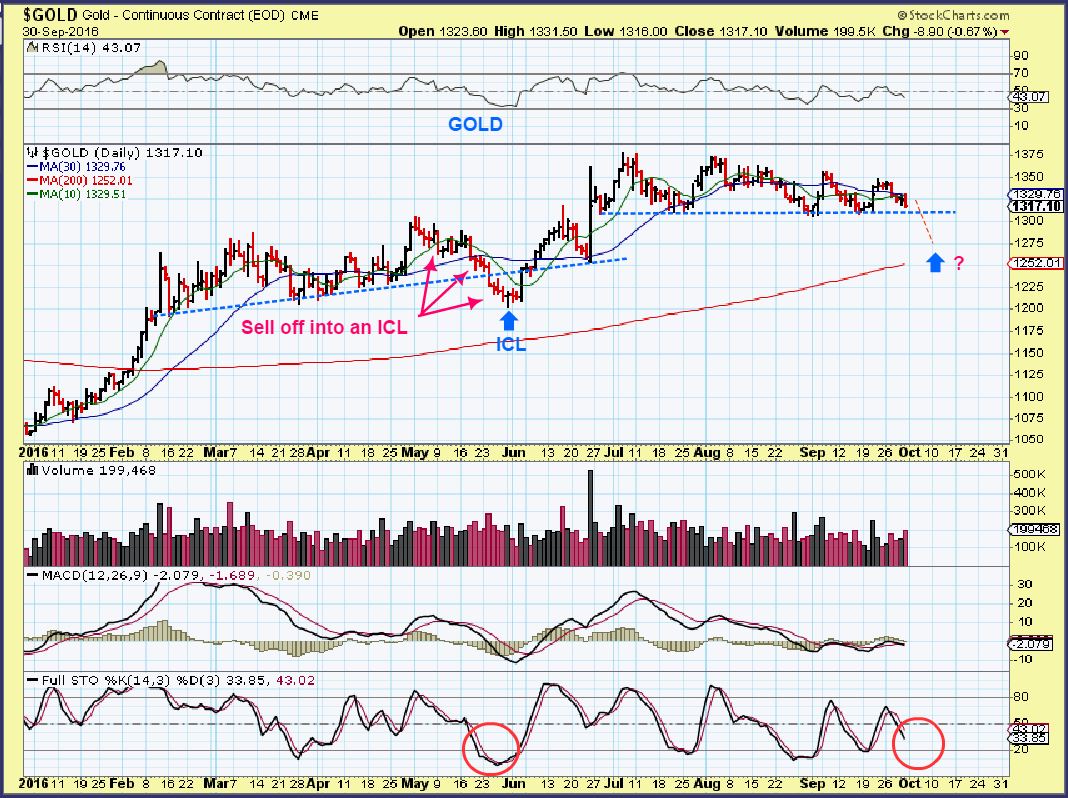 GOLD WKLY–  Read the chart please.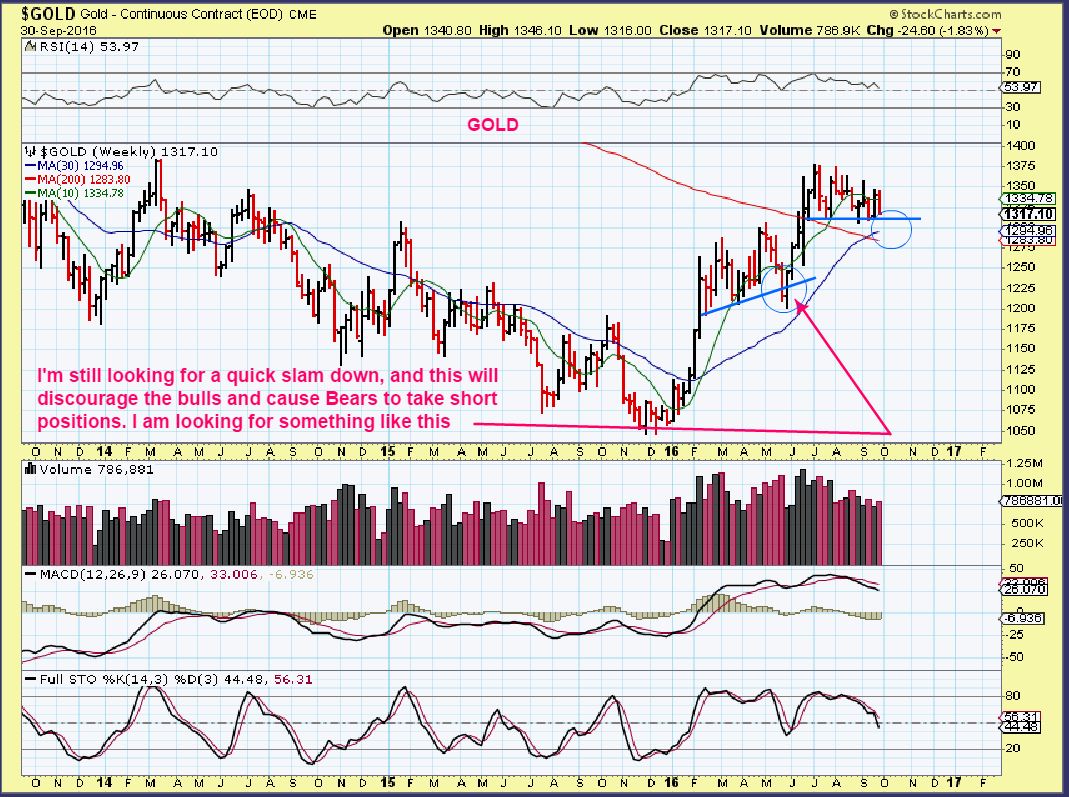 SILVER –  Read the chart please.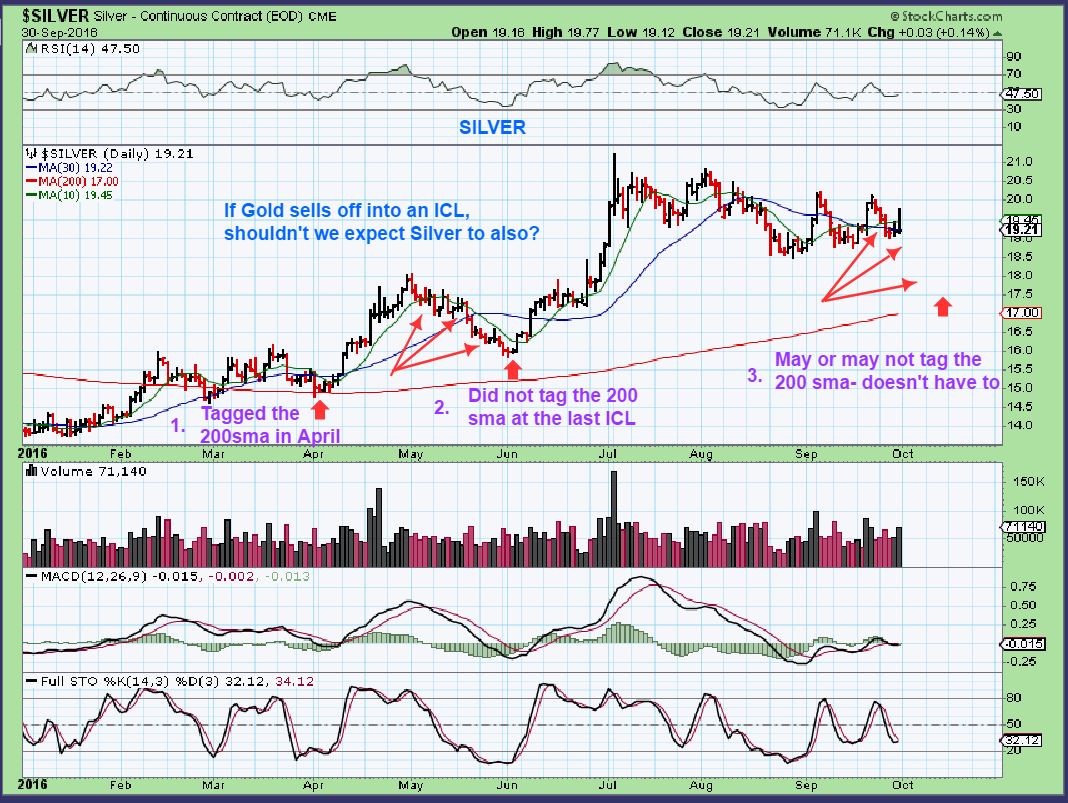 LETS LOOK AT MINERS
GDX

– In Bull markets, Miners consolidations can lead to very profitable moves higher.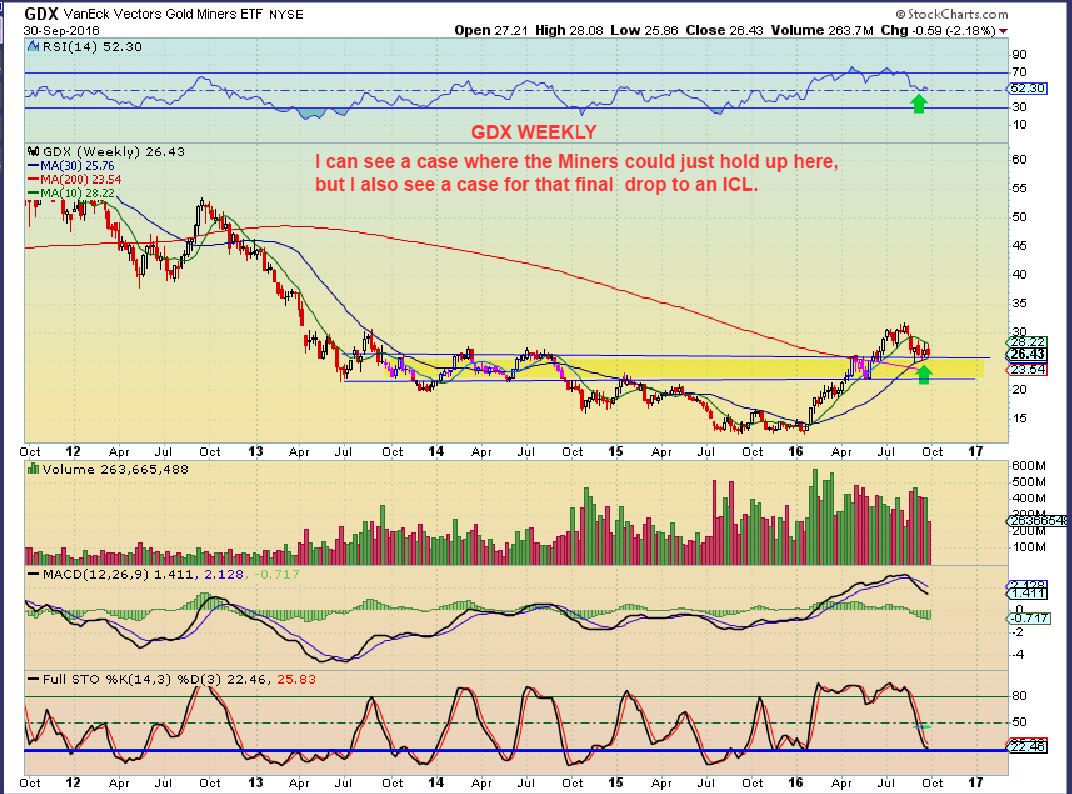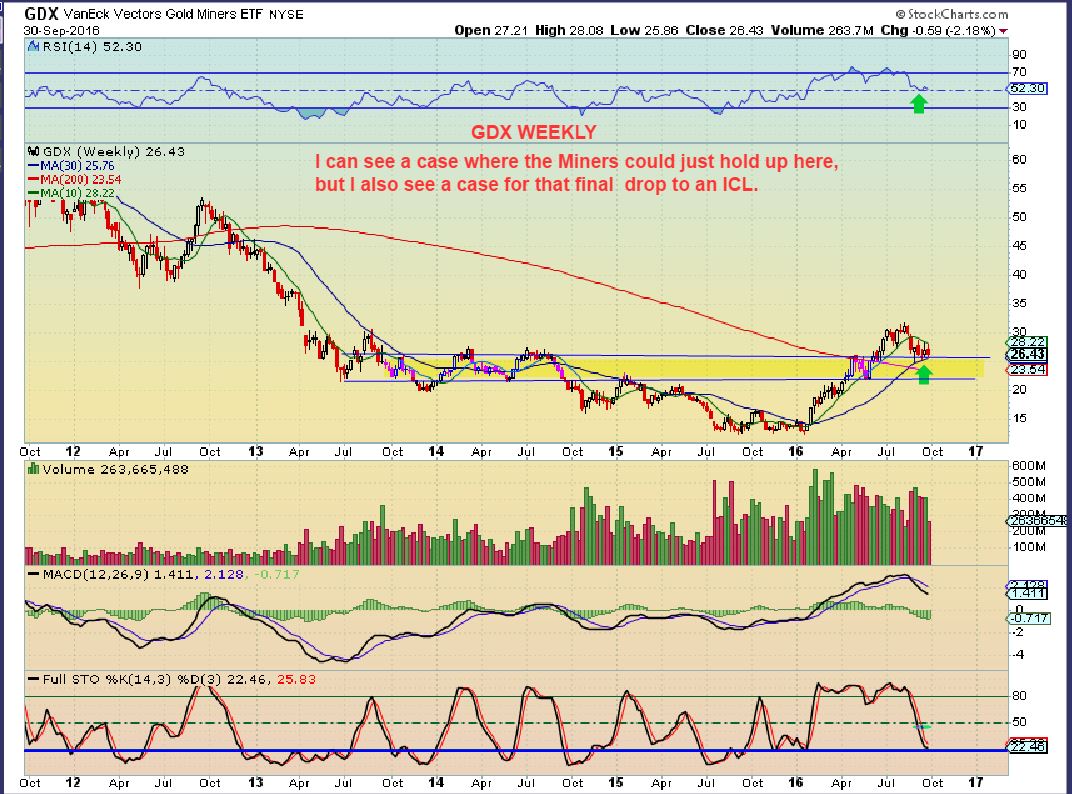 GDX

– A back test of the 200MA  would be a drop into an ICL,

IF

it happened. This weekly chart is getting oversold, that is good news.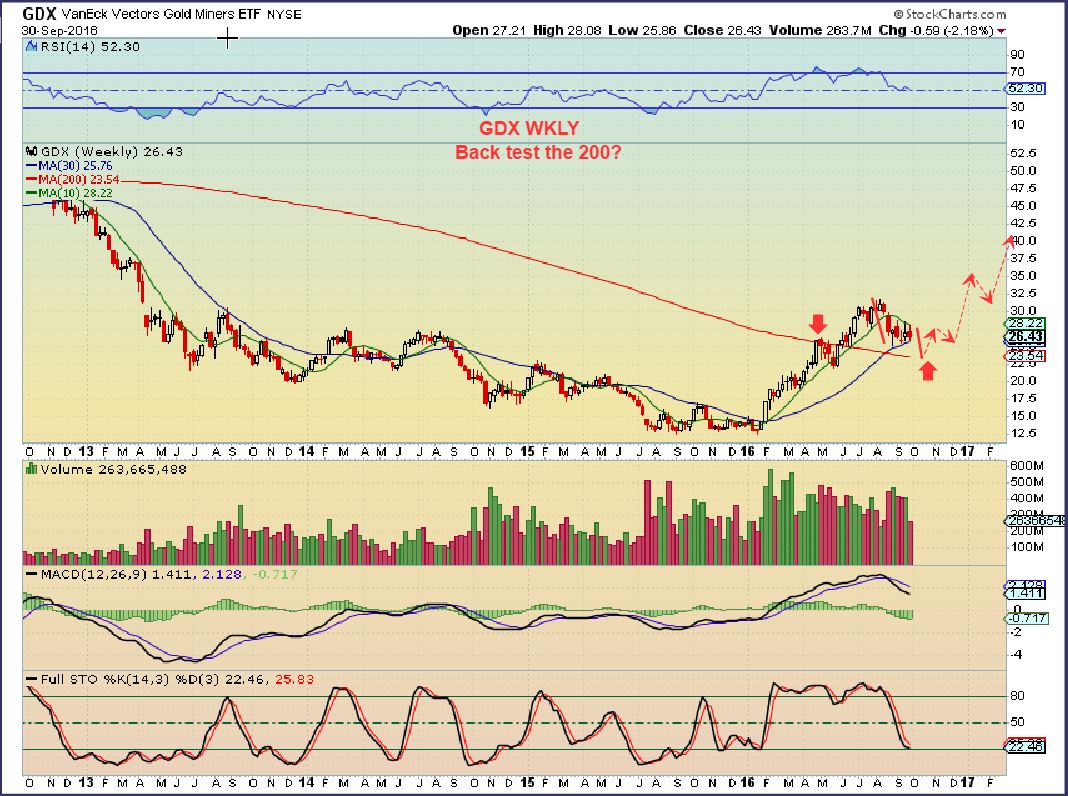 GDX  WKLY

with a drop into an ICL , Elliot Wave style. please read the chart.

DO YOU RECALL IN A RECENT REPORT I was pointing out that this sideways action has happened before, and yes it is frustrating, but it always ends eventually.  Here I was pointing out a

sideways chop

in 2014

that had a final quick plunge into an ICL.  Unexpected to many that didn't know cycle counts.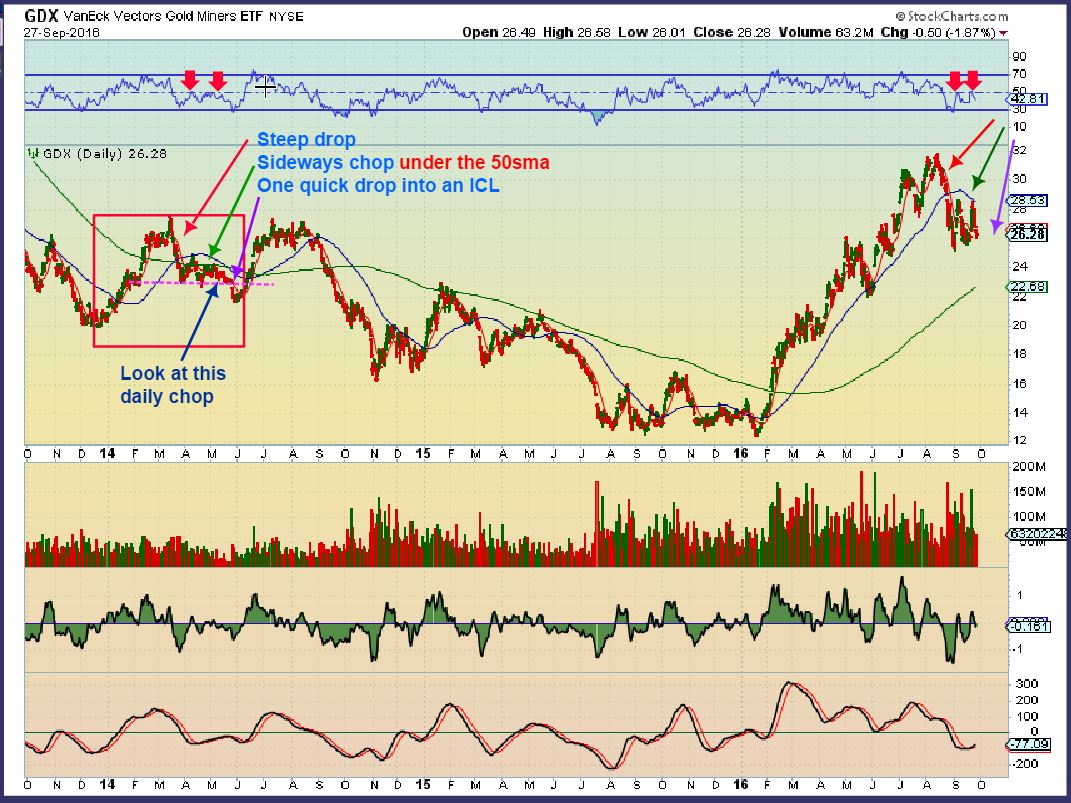 I wanted to zoom in on that Quick plunge into an ICL, since we are likely near one now.
That break down was very scary to buy, it was just a 2 day plunge.

I wrote in the

Purple dates

under the actual dates that this occurred. Those are our current cycle count, and please notice how that lines up  🙂

In 2016, the Miners last ICL was the end of May, and look where that leads us this for that plunge.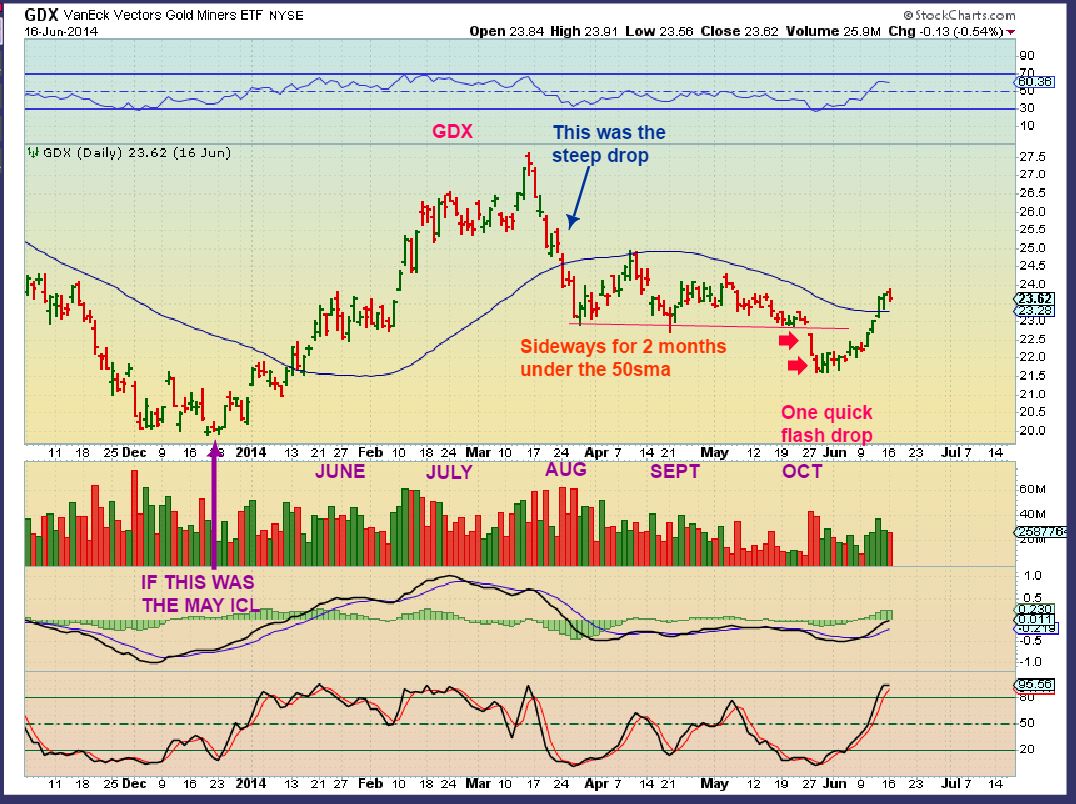 .
Since the sideways chop and consolidations can be frustrating to many, causing them to want to sell and give up, I want to re-post this chart.
.
This was an XAU consolidation in the Green circle.  Again, some are getting frustrated and tired of waiting in this current sideways action.  This was a chart that I posted a while ago, so you can ignore what I wrote on the chart then, and just

focus on GREEN CIRCLE

.  You see 3 months of just sideways chop &consolidation.  NO MONEY TO BE MADE TRADING THEN.  CHOP CHOP CHOP and if you kept jumping in and getting stopped out, it was frustrating. Now look at that run up after the 4 month chopping action labelled 'the real rocket'.   BOOM!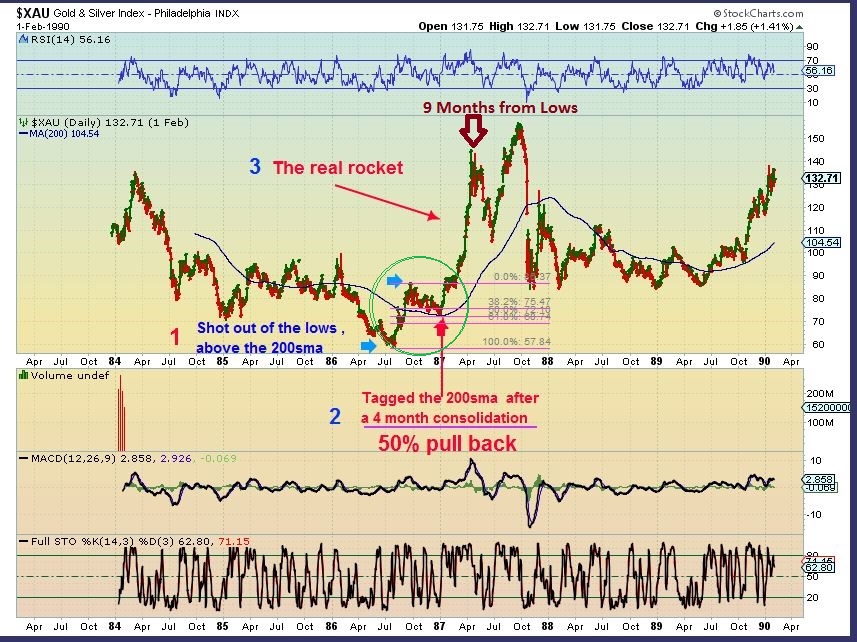 SO basically I am expecting that a pullback will end this choppy sideways action.  I am pointing all of these reminder out  ( And will keep doing so) so that my readers dont get frustrated with the current  price action in Miners and say, 

" This rots, I hate Miners. I'm not buying this weak sector anymore!"

   Not that you would, but some do, and I think GOOD TRADES are fast approaching.

.
So – look at the following 2 charts of  GORO and GSV  and you see some bullish action even now while Most Miners are chopping sideways and pulling back.  This is making me think that when Gold, Silver, and the Miners finally take off upside, Miners may really spring into action as buyers step back in  ( And some shorts cover).
GORO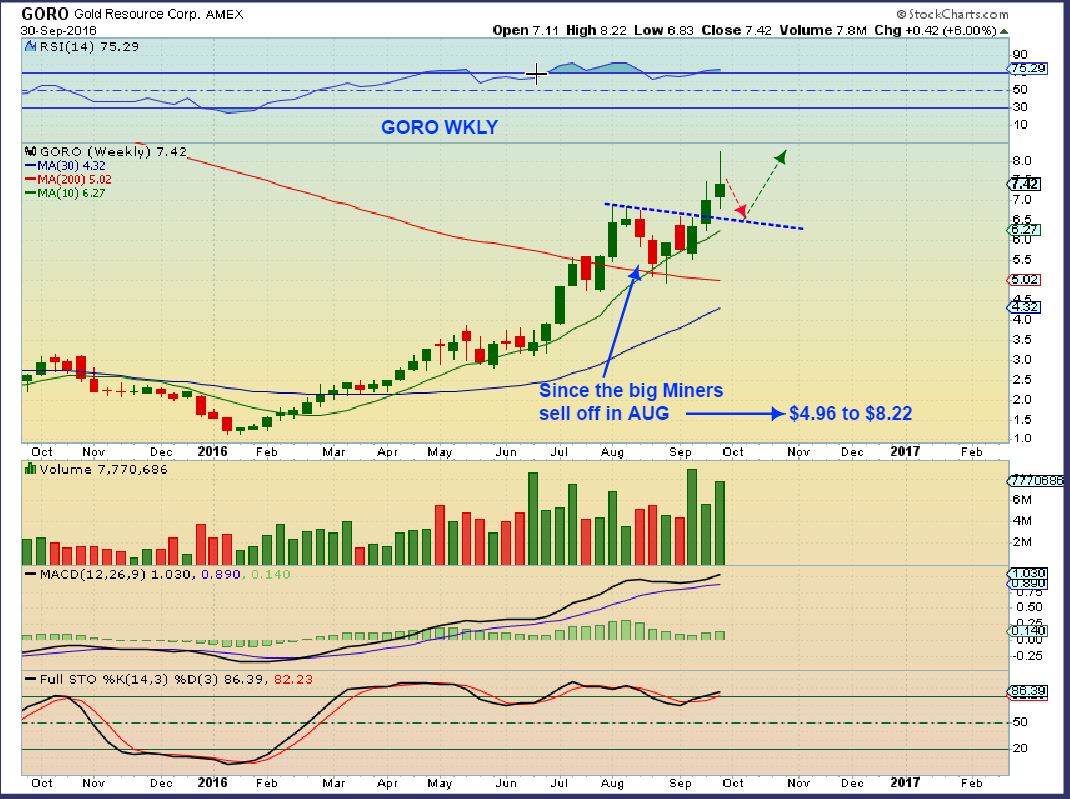 .
This was part of my weekend wrap up for the end of September 2016  Oil & Energy trades may make us some extra money while we are waiting for Miners to finally get moving upside, or maybe holding CASH is a position that serves you best. My experience has proven to me that patience during these consolidation periods and buying the dip pays off very well. Thanks for being here, have a great weekend!

.
Chart Freak Premium
Chart Freak members receive up to 5 premium reports per week covering a wide array of markets, as this public post illustrates.  Come and join the ChartFreak community as we trade the new Gold Bull Market and various trending sectors.

~ALEX
https://chartfreak.com/wp-content/uploads/sites/18/2015/03/Commodities.jpg
591
883
Alex - Chart Freak
https://www.chartfreak.com/wp-content/uploads/sites/18/2019/11/Chart-Freak-site-logo.png
Alex - Chart Freak
2016-10-04 12:18:57
2016-10-04 12:32:23
GOLD & ENERGY OPPORTUNITIES