I've been hearing a lot of talk about the  NATGAS plunge.  It has dropped roughly from $3.00 to $2.00 since May!  It's bouncing today , so I wanted to take a look at a couple of charts and point out to members in the premium report this morning what we have before us technically. I will share 3 of those charts here.
.
Starting with a close up.  ( Note: This volume was erroneous and later adjusted at stockcharts).

NATGAS

  has basically finished a measured move.  It also broke well below the Bollinger Band, so a bounce was to be expected.  A buy for a trade maybe, but will the  bounce put in a higher low or could it roll over like prior bounces?   It would be good to know.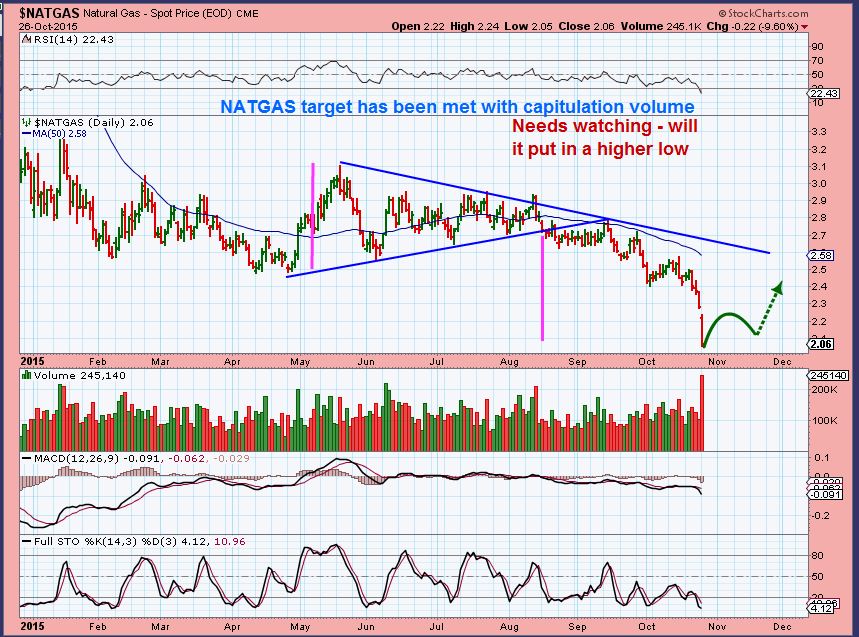 So stepping back,  I see that a bounce to the wedge and another drop wouldn't be out of the question.  If I was trading this bounce, I would keep this chart in mind. Prior lows in 2012 were at $1.90.  and the lower wedge trend line is around that area.  Lets zoom back one more time.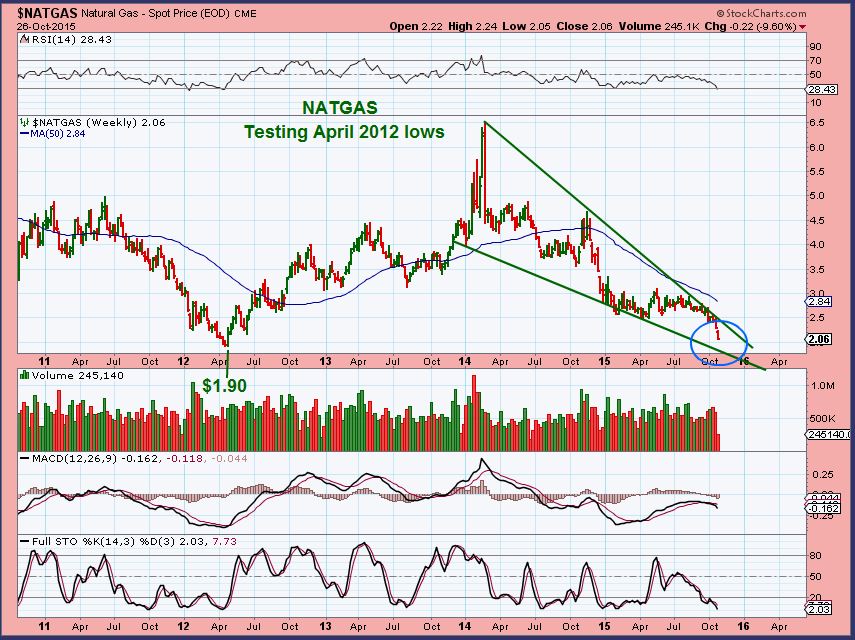 This chart shows that a

prior Double Bottom Low in 2002 in the $1.88 area

. That 2nd low on that double bottom was an undercut of $1.85, so we may see support in the $1.80's and lower $1.90's.  $1.90's since the 2012 lows were $1.90 shown in the chart above.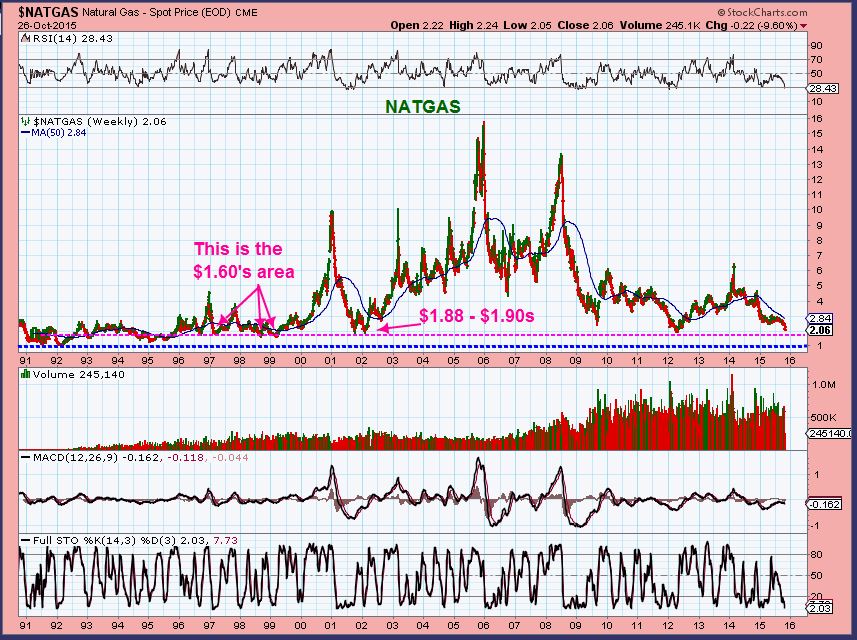 I am not trading NATGAS right now, but the bollinger band crash on Mondays daily chart was indicating that a bounce should follow shortly.  Stepping back and looking at a couple of longer-term charts, we see that we either made higher lows here or there could be better support a little bit lower near $1.90.  Double bottoms are common and sometimes they undercut recent lows with divergence. 
I will be looking for that in the future and we may see another entry point if  Natgas returns to its recent lows.  If I was trading this bounce,  and maybe you are, I would just keep the long term charts in mind and use a trailing stop or take profits with Fib Bounce #'s   or whatever method you use to cash in on a trade.   I would also keep in mind the crazy market activity that is often seen around FED WEDNESDAY and stay alert.

Happy trading
~ALEX
https://chartfreak.com/wp-content/uploads/sites/18/2015/10/NAT.jpg
588
920
Alex - Chart Freak
https://chartfreak.com/wp-content/uploads/sites/6/2013/04/black_logo.png
Alex - Chart Freak
2015-10-27 16:48:01
2015-10-27 16:48:43
$NATGAS - Public Report