For all of my public blog followers, here is a taste of what a normal, "daily update" premium report looks like! Enjoy and thanks for following the blog.

SPX –

When this consolidation breaks, the move should last for a while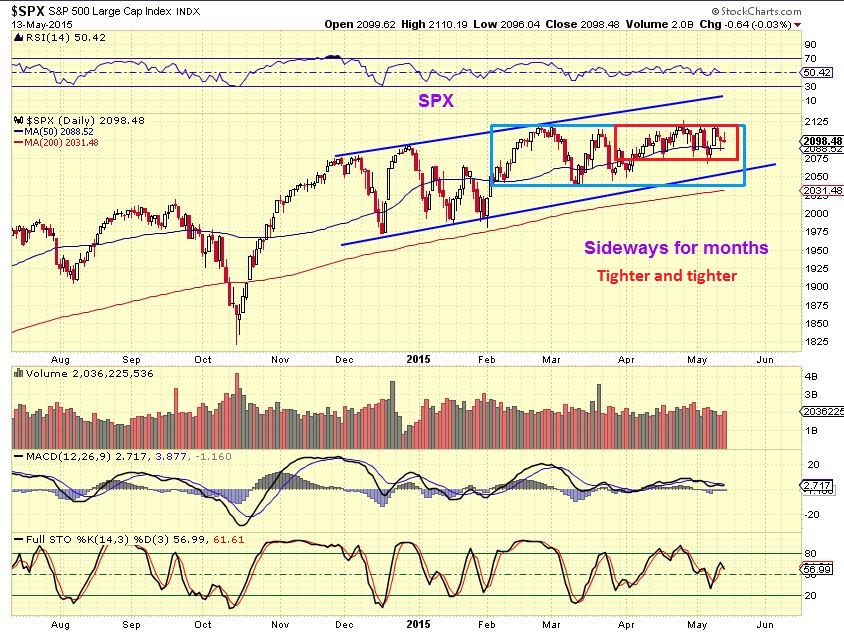 The NASDAQ looks a little different…
NASDAQ

–  This looks like it wants to drop.  It has the look of a wedge that broke down & Back tested.  This may continue to churn sideways, but I'd be cautious unless it really breaks higher and then this sideways consolidation could run higher too.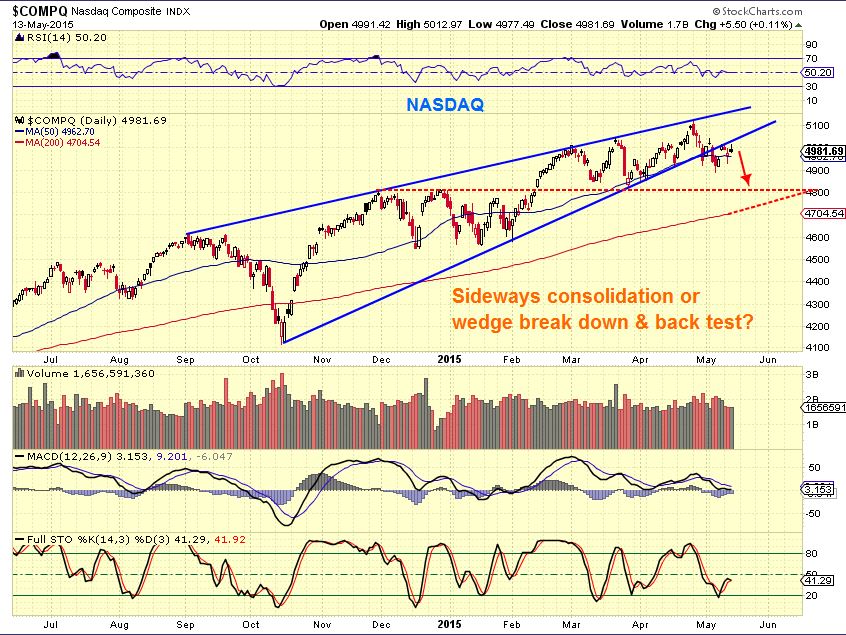 OIL & NATGAS

continue to act as expected.  They've been bullish.
OIL may meet its 200sma soon ( And find resistance)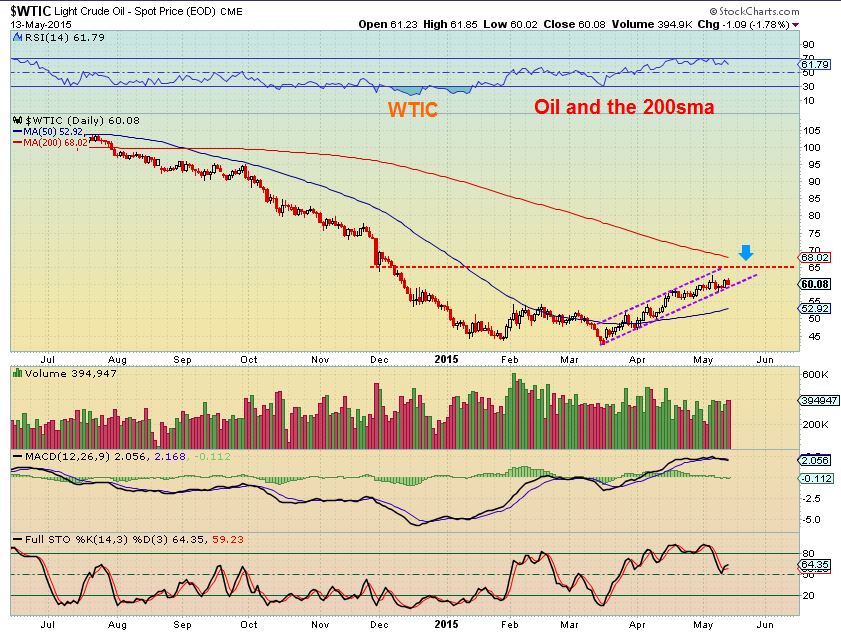 NATGAS is still early in its move, just dont expect straight up each day.  Thursdays have NATGAS reports that can cause some waves.

.
OK-  This is the part where we JUMP!  WHY?
I have mentioned that MINERS look bullish to me, and I have said in my reports that despite the fear that I read in other blogs, etc- I see MINERS as bullish while GOLD & SILVER seems to be inside triangles or sideways consolidations.  These moves make it difficult for Cycles technicians to read  (Difficult for me to read using cycles too).  Using T/A  I trade what I see in different ways.   I have mentioned buying BAA, GSS, LSG, MUX and a couple other Miners not mentioned here.  Now we have a break out that clarifies a few things and gives us the idea that  MAYBE MINERS are being accumulated and bottomed already.  More on that in a minute,  first…
GOLD-  I could show many charts where I said that GOLD fooled so many people last NOV-DEC & I think we may be seeing the same.   I posted this in my MAY 3 wkend report to point that out.A stop run on DAY 37 last Dec.   Did we see the same.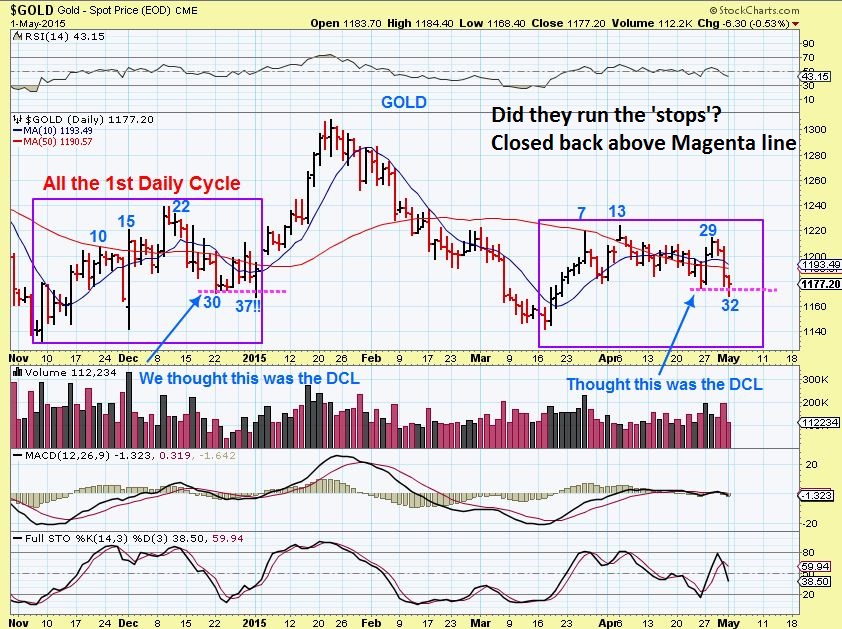 GOLD –A quick Stop run (See the

light blue arrows

)  causes many to say that it broke lows and "Failed".  I buy those and did start buying  last week as mentioned here.  Others here also traded NUGT.   Now we see GOLD break higher.  We are on day 8 of the GOLD CYCLE.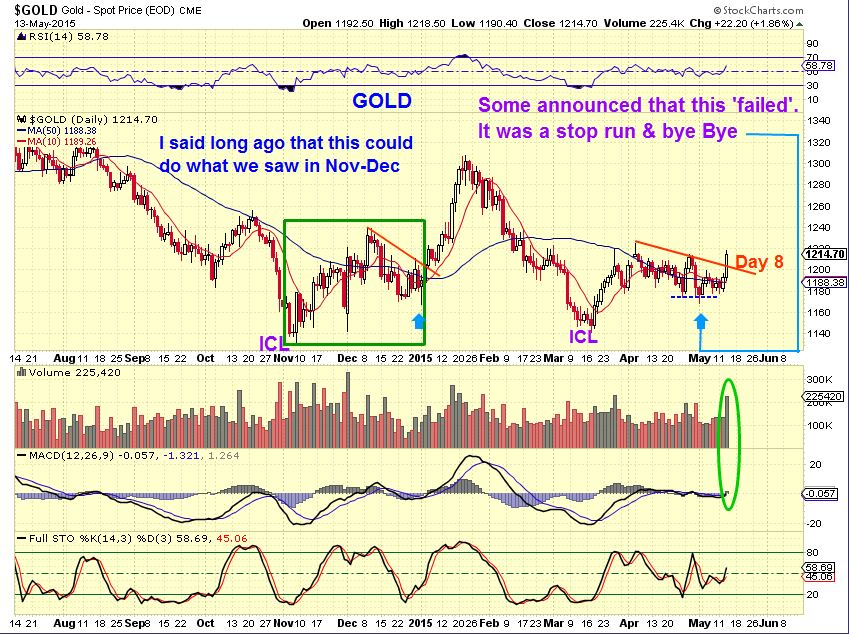 Its not Super  LOW RISK, so I wasn't pounding the table here,  but my weekend reports have featured METALS & MINERS to prepare us for a bullish surprise. 

See My GOLD REPORT MAY 3
SILVER- I pointed this out on MAY 8, last weekends report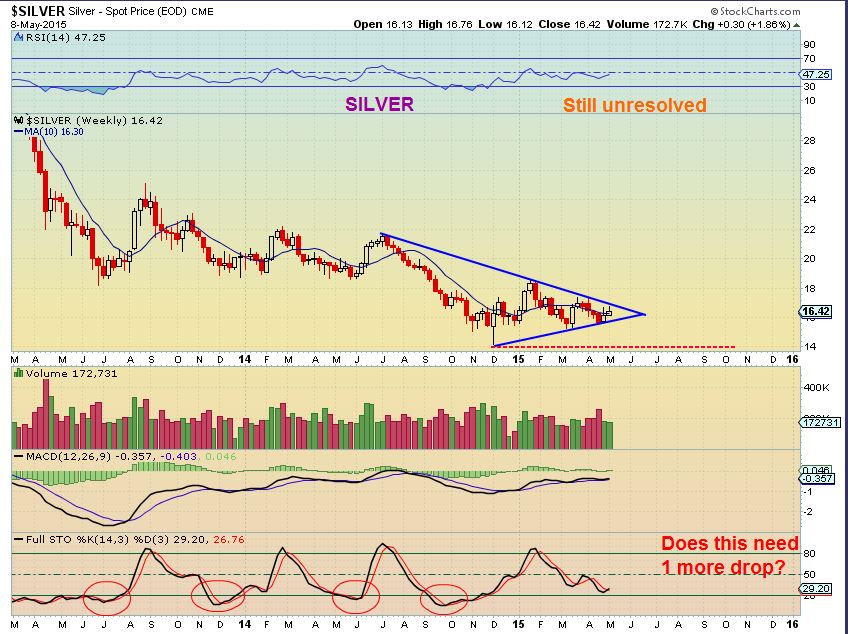 JUMPED.  That is a valid break out

  🙂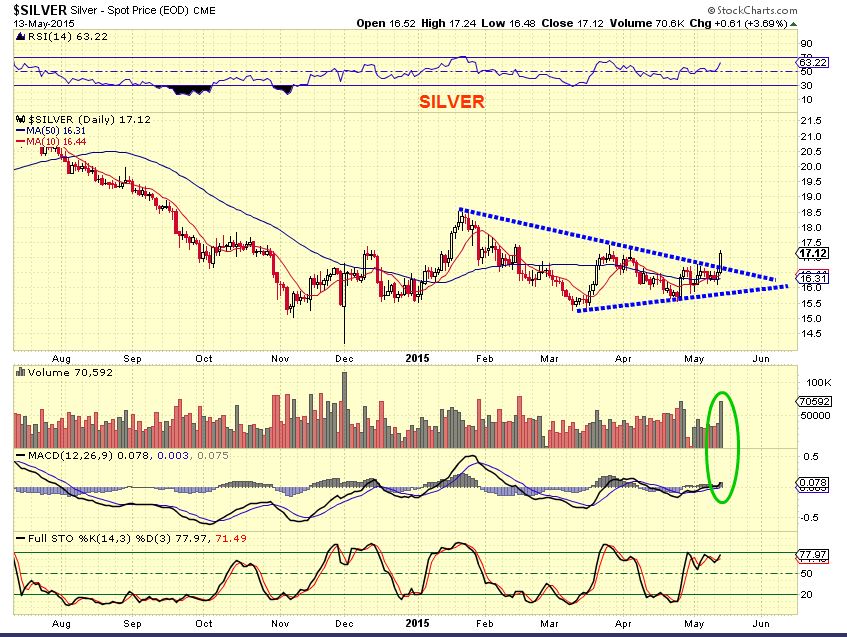 WKLY GDX –  From Last weekends report.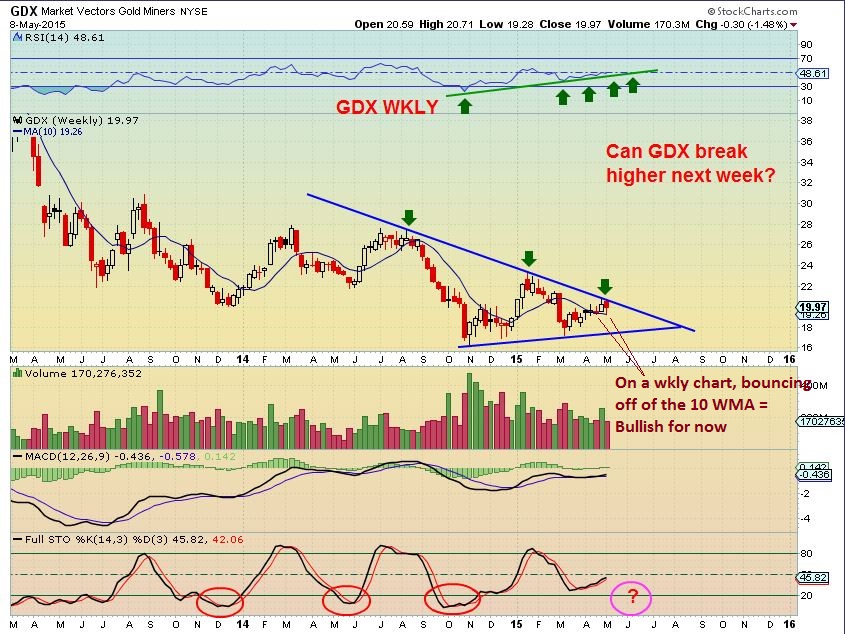 The Bullish point is that GDX has a series of higher lows and is right translated.  ( Gold is not right translated).
GDX

– Bullishly bounced off of the 50sma and now is challenging the $20.90 of prior highs.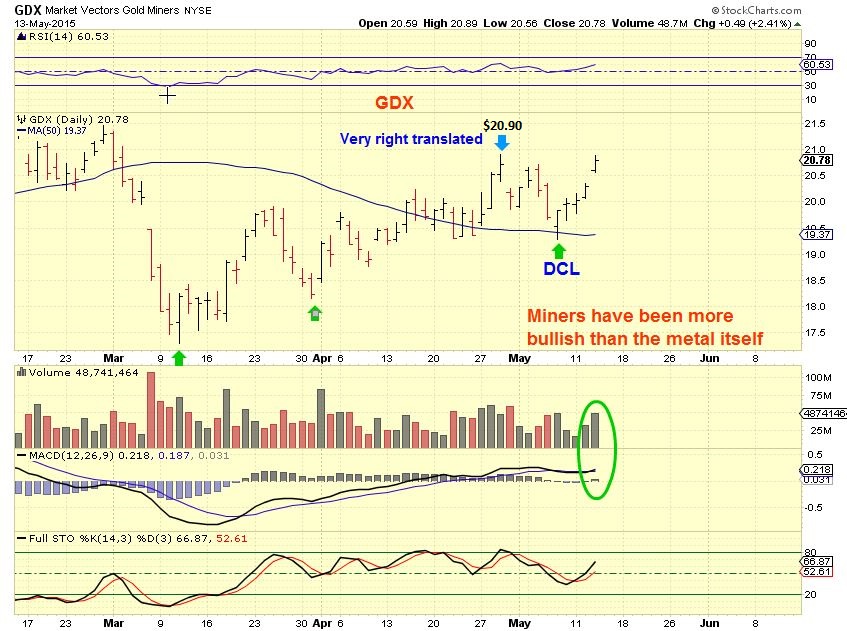 I really like SILVER and the SILVER STOCKS looked primed.   I pointed out

SSRI

the other day bouncing off of the 50sma.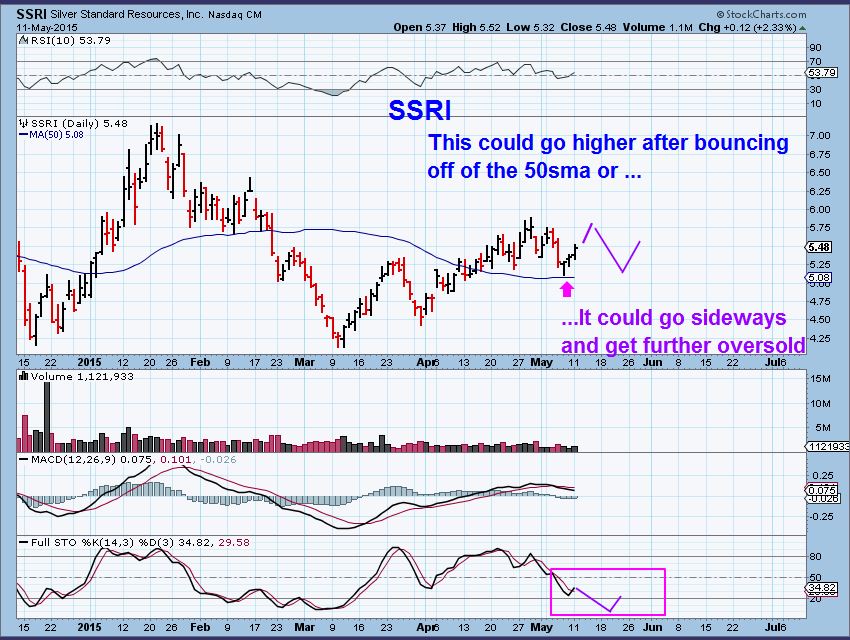 It POPPED-  so did PAAS and a few others.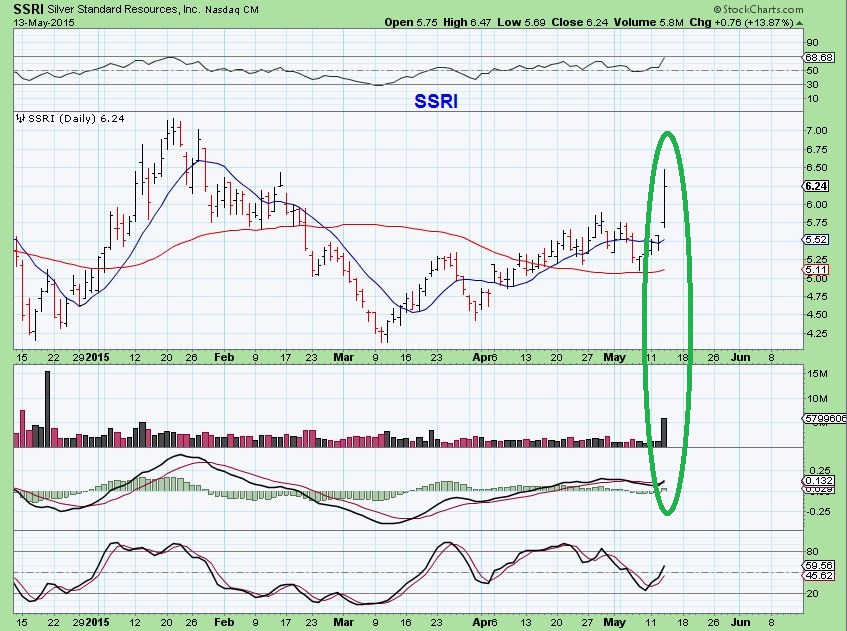 I am simply going to post a few  Bullish charts of Miners.  This was MUX and I think it has great future potential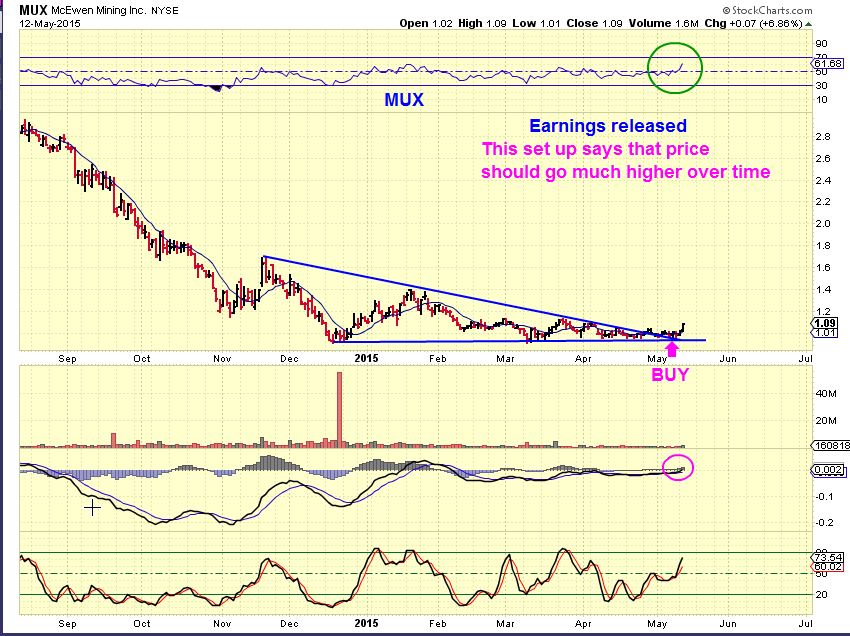 GSS

– This is just to show what possibly a little short covering & Good news can do to these Miners after being hated and beaten down for so long.  I bought that good news Pop from the base last week.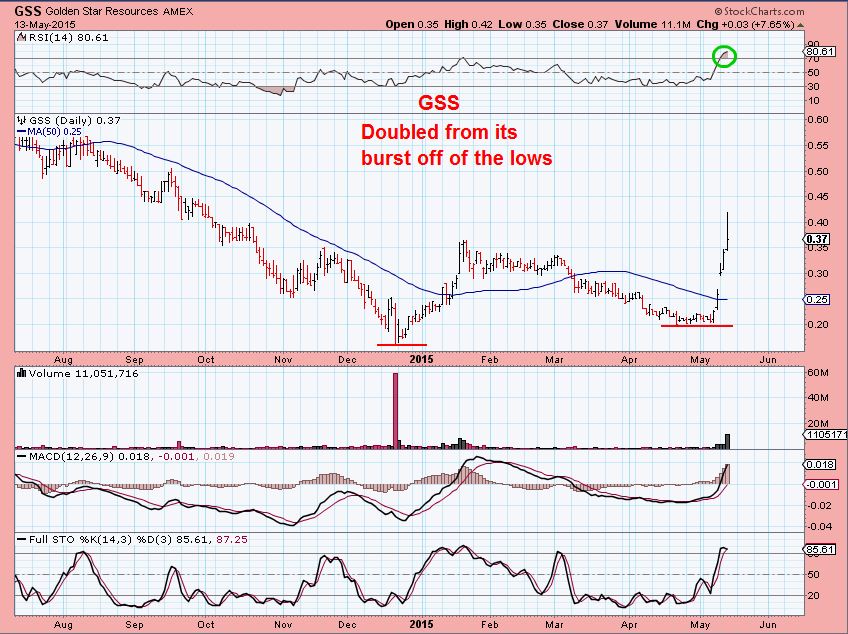 SVLC

–  Silver stock .  I was away for much of the day yesterday ,  but returned at the close and  I LOVED the look of this set up .  I bought it at the close and may just hold it longer term.  If it drops today back down to its 50sma,  I may add.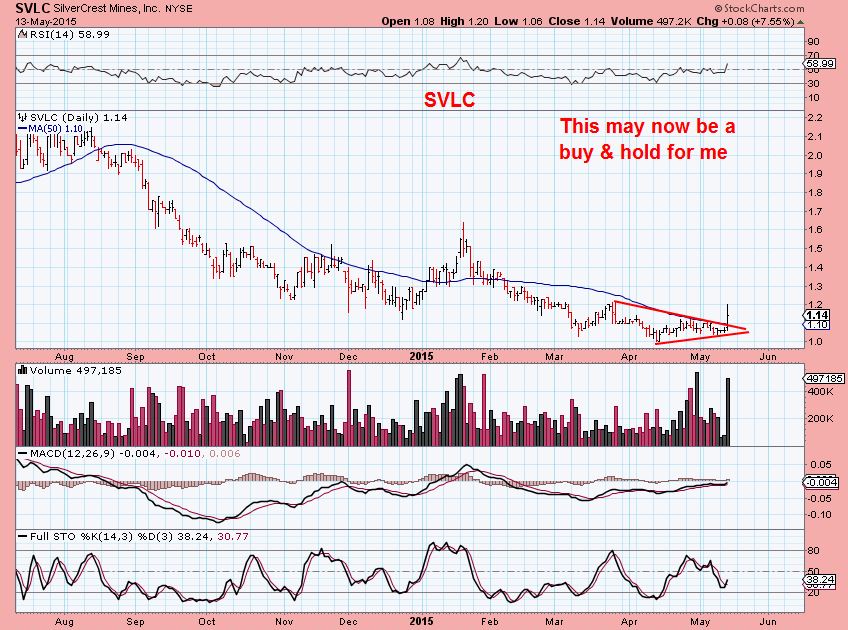 CDE WKLY- 

  Silver stock.  Just to show that this doubled last Nov and has pulled back to a perfect spot on the weekly charts. Higher low too. CDE did NOT break out big yesterday,  it could be bought here.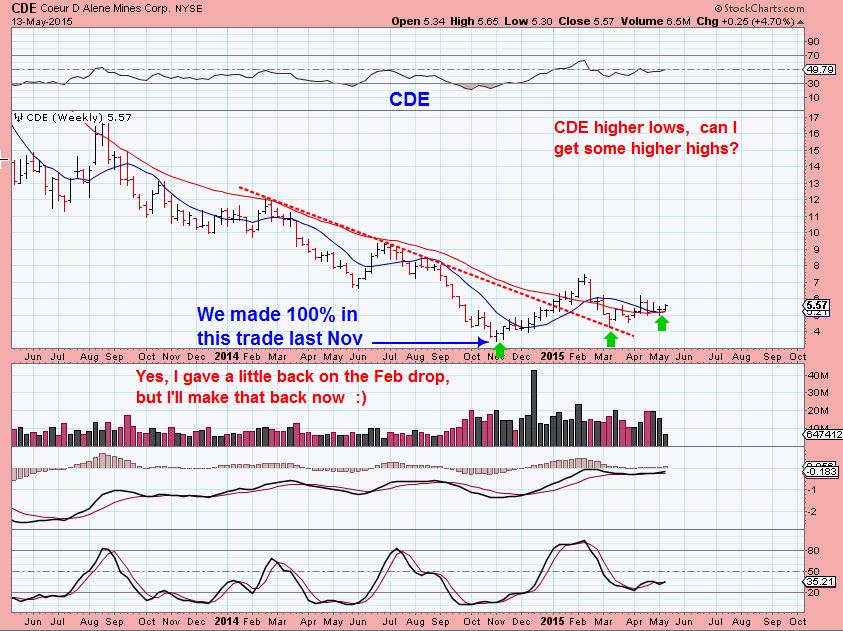 So this JUMP in metals may indicate good things to come longer term.  From here  GOLD/SILVER/MINERS  may Pop & Drop and Rock N Roll ,  but I see further upside in Miners after the recent pullbacks and consolidations.  If I see anything of interest over Today & Tomorrows trading, I will try to cover it  in this coming weekend report.   Miners are early in their Daily Cycle and I see many that didn't really move too much, so these can be bought today or on future dips.  Silver stocks like  PAAS, EXK, MVG, SVM, and so on may start moving   ( please consider earnings release dates before you buy- surprises may be upside or down).
  Also please re-read the GOLD section of my past weekend report if you are new here and never had the chance to.  Or if you are like me  and you just need some reminders , you may want to review it again.
Happy trading
~ALEX
SZYM

–  I read the comments section yesterday and I guess SZYM  sold off fast and recovered.   It has been selling down for a while and is getting oversold, but I dont see a lot of BUYING on up days.  One may want to wait for a recovery of the 50sma and a reversal candle or another bullish indication before entering again.   IF you are still holding positions,  I wouldn't want a close below that trend line or 50sma for too long-  I'd be out.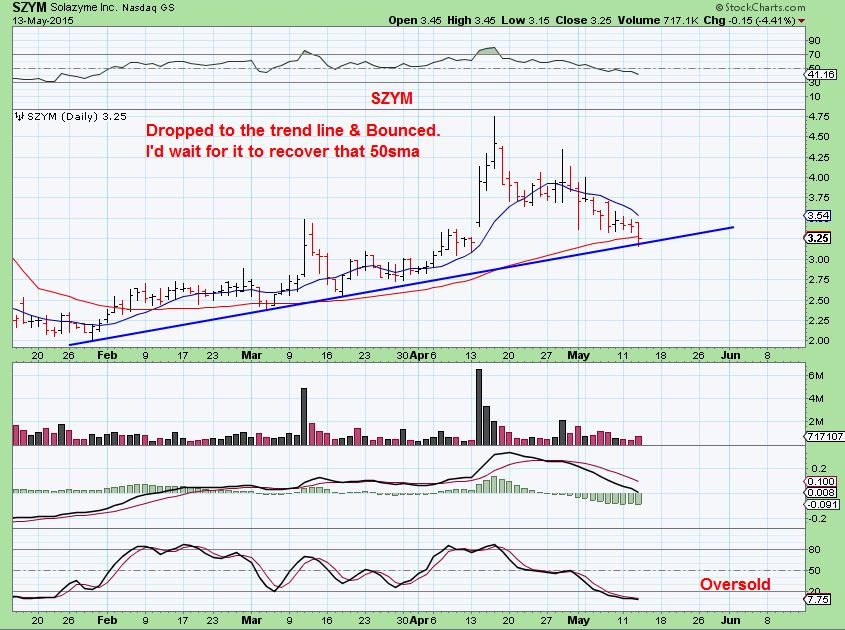 Like what you see? Weekend reports are even better.  Consider a membership…you will be extremely surprised at just how affordable it really is!
https://chartfreak.com/wp-content/uploads/sites/18/2015/05/Friends-cliff-jumping-into-the-water950.jpg
638
950
Big League Finance
https://www.chartfreak.com/wp-content/uploads/sites/18/2019/11/Chart-Freak-site-logo.png
Big League Finance
2015-05-14 20:51:14
2015-05-14 20:51:14
Public Post – HOW HIGH!