After any extreme sell off takes place and people finish  discussing all the reasons why there can be no recovery, it's often a good time to go shopping.  Why?  When it gets overdone, the bargains can be great %-Wise.  Recently while OIL  & NATGAS   sold off beyond expectations , I noticed that the equities stopped selling off and began building constructive bases. Temporary bottoms or permanent? Its too early to say for sure , but trade-able?  Most certainly.
 Here at Chartfreak, we have been buying & trading  them for weeks now.  I want to share some of the charts and ideas that we are again looking at , since I am expecting another leg higher.

OIL Feb 10-

Some said "Bear flag"  We had been trading energy stocks , and I  saw signs that OIL wanted to go higher.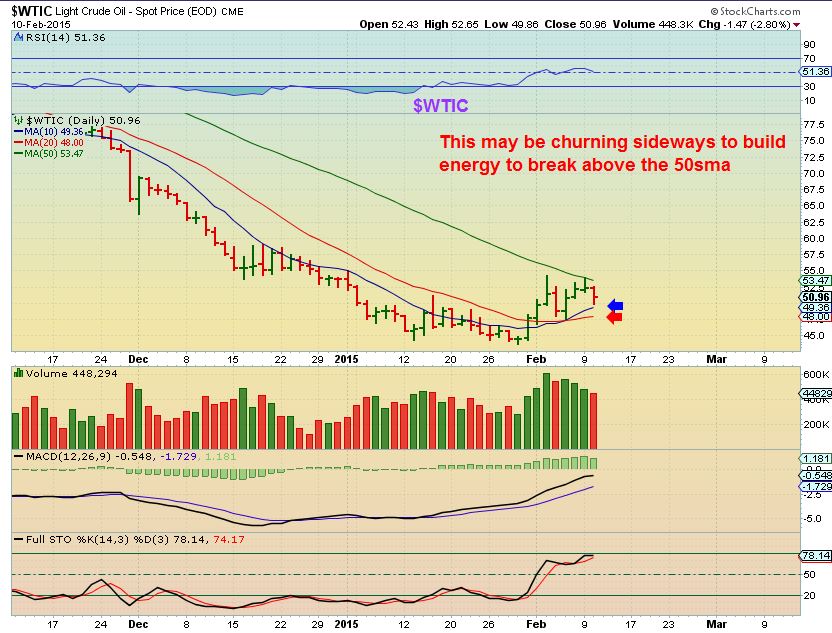 Feb 18 – consolidation/ base building. I posted this chart  , I wanted a drop to $49 actually…

FEB 19 – the drop happened and reversed above the 20sma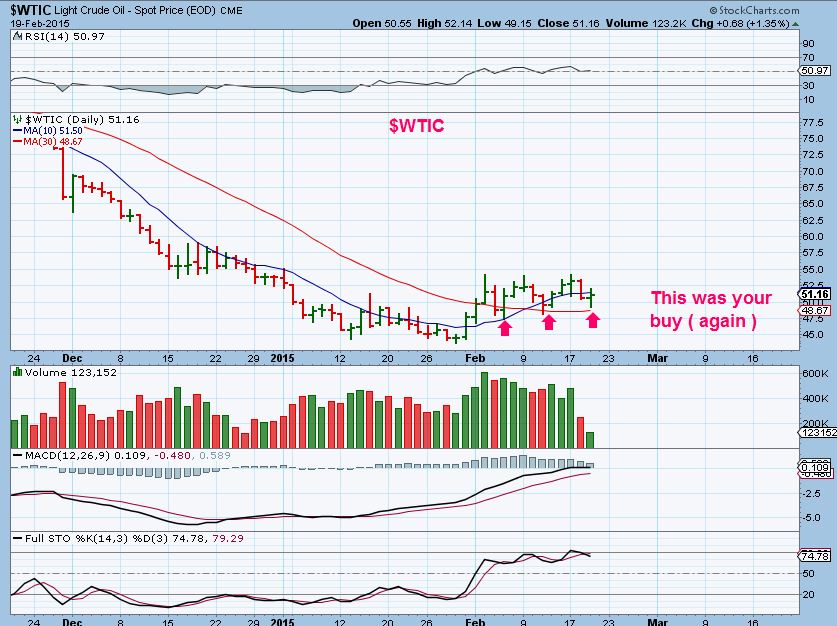 Currently OIL is down, while
Many energy stocks are green

.  If we drop a bit more, for

EXPERIENCED TRADERS

,  UWTI, UCO, USO are options as I watch this chart .

Last week I said that I wanted to see 

NATGAS

hold here, above the 10sma.
NATGAS

is bottoming  In My Opinion.  A small base formed. I mentioned buying UGAZ & GASL , etc

(for experienced traders only)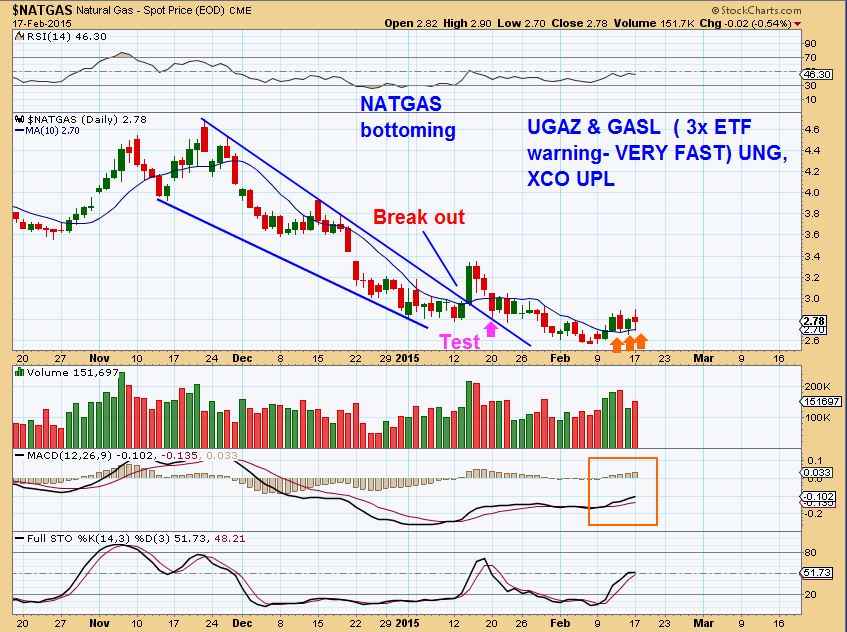 NATGAS WEEKLY

– I posted this from last week. It broke out today
Let me share some trade ideas we were looking at in stocks.
GDP FEB 3-  originally purchased  under $3.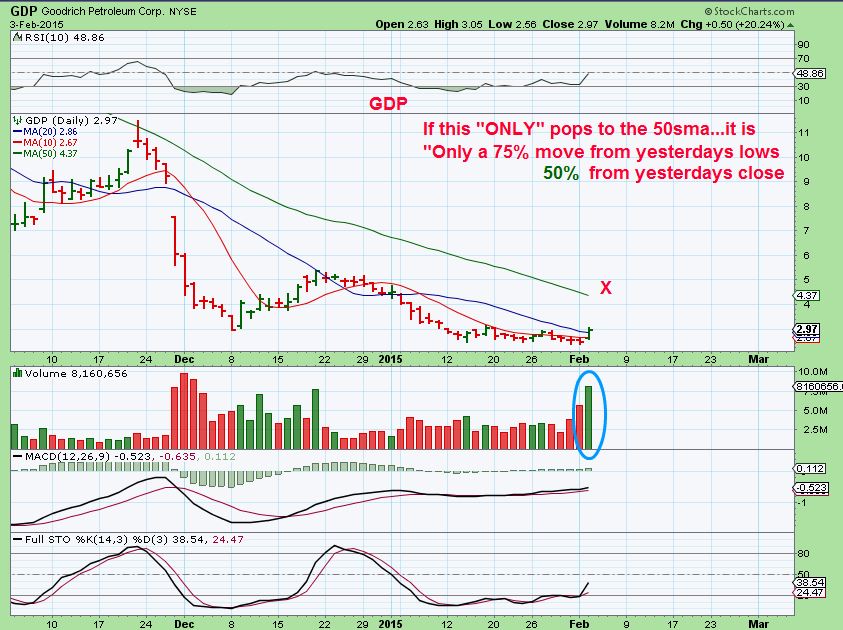 GDP – Bought again right on the 50sma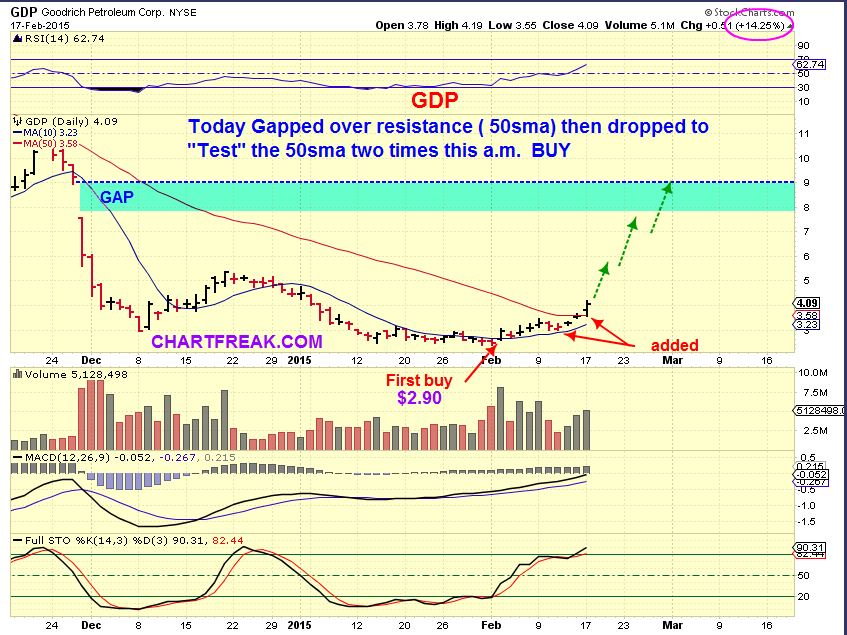 MINI – LESSON : 

I want to point out something else in ENERGY.  When you see the above GDP chart , you see
1.   A strong GAP DOWN in Dec.

2.  Then it builds a  "BASE" 
3. Then proceeds higher.
Look at

XLE –  Gapped down, built a base, Breaks the 50sma & moves higher.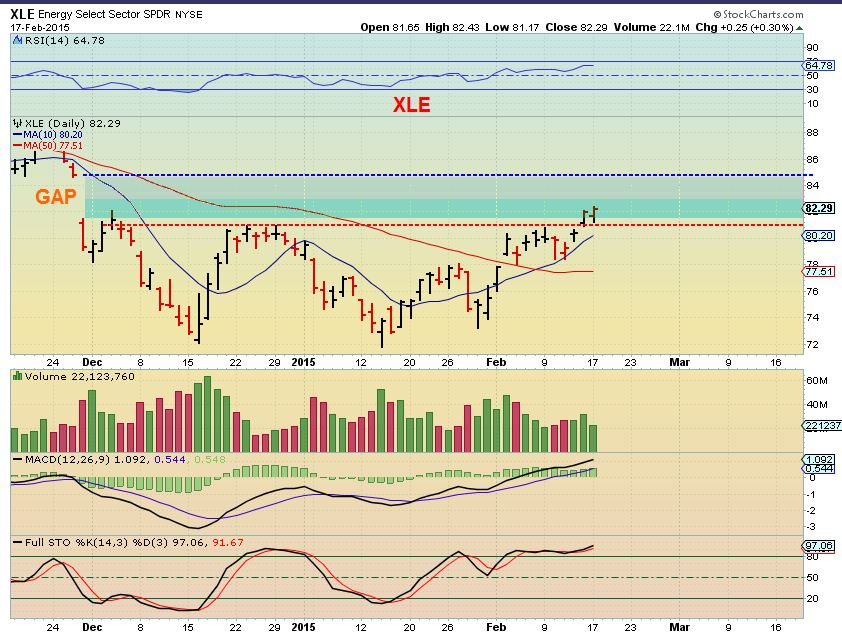 Are other energy stocks doing this?   YES, some of the leaders like BASS, REXX, SD, EXXI , etc etc  are, so you can add at the test of the 50sma.
SD

… (ran from $1.13 to $2.35  and no one hardly noticed)  Then it did exactly as mentioned above –  Gapped down , base built, break the 50sma, test it,  go higher. The next buy was $1.72 area.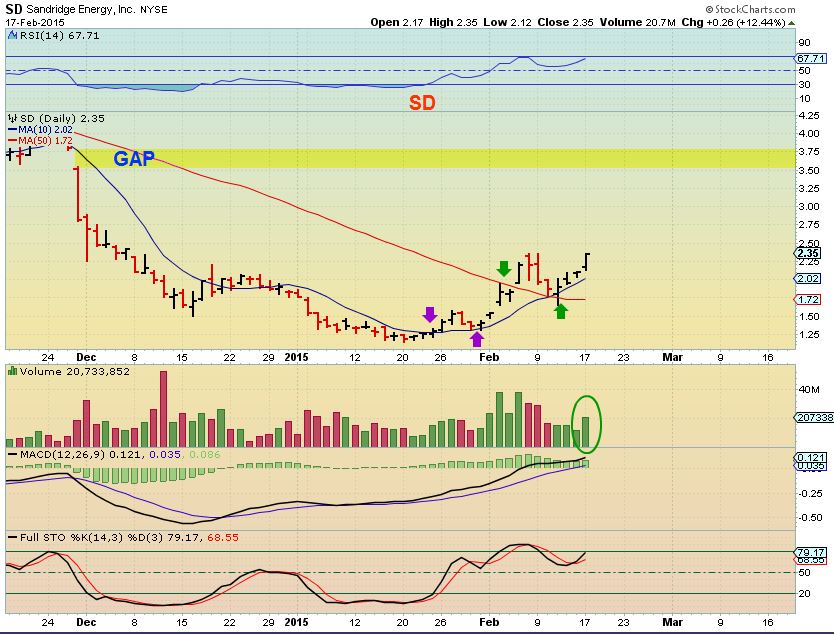 Bought

EXXI

at the lows  ( $2.50)  when I saw this "Base" setting up JAN 23.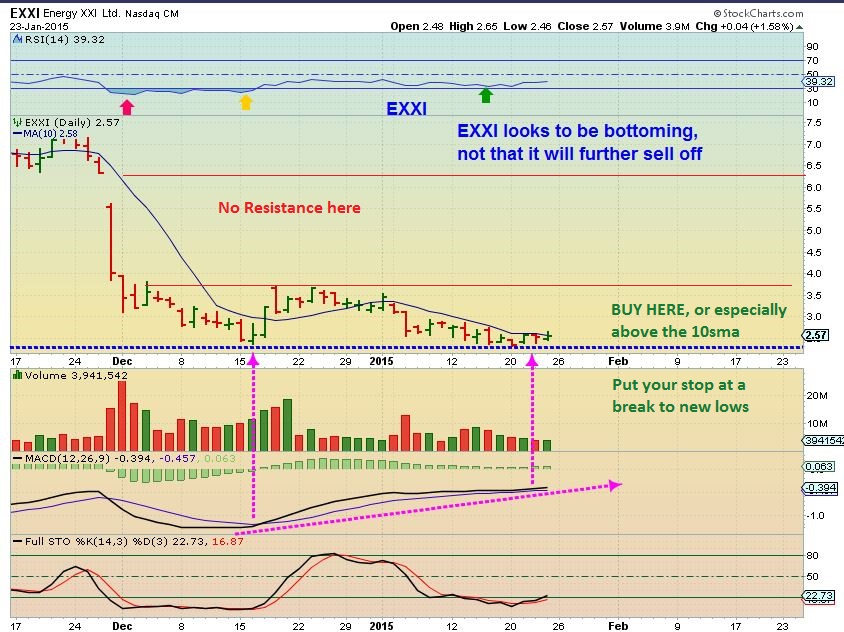 EXXI

–  Gapped down , Base built, Breaks the 50sma, tags it, moves higher.   That was the 2nd buy, and now it's  over $4.00.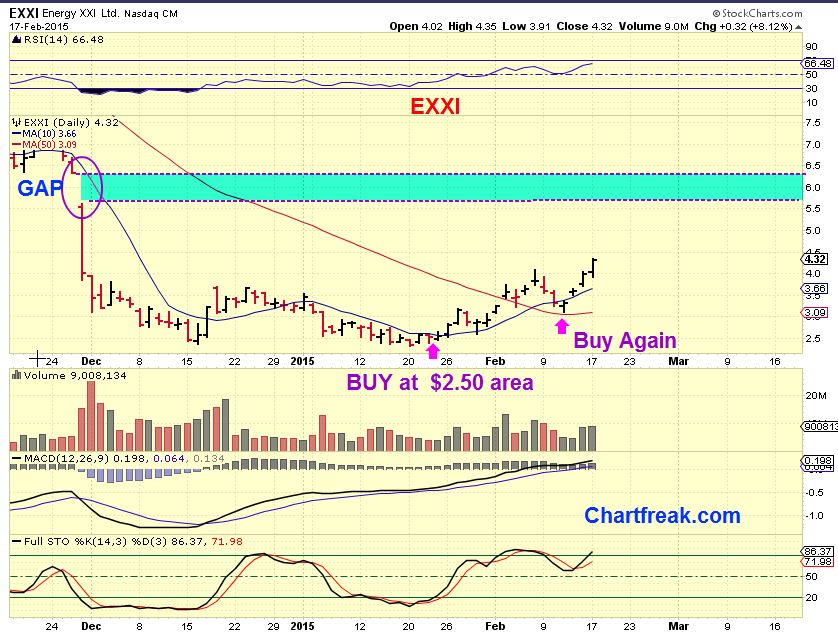 Feb 17 – I pointed out

WRES

as a 'lagger' . Will it fly?   I cant know for sure, but this set up is much like the others used to be. currently needs to break the 50sma.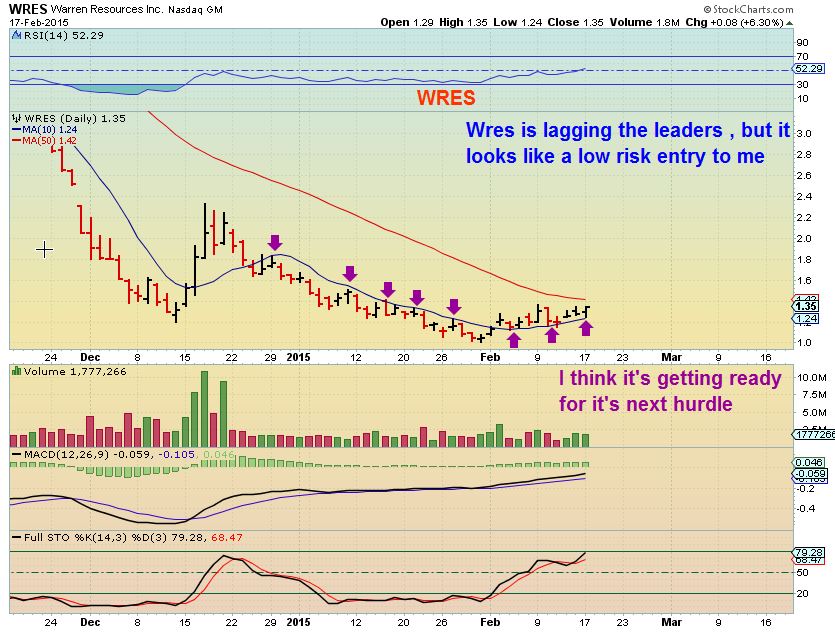 Using that above line of thinking : Bases, moving averages being tested, pullbacks to support, etc –  I want to now show you some nice set ups in ENERGY.  Some low priced, others average. Can they fail? Yes, earnings has come out on some, but others still have earnings next week.  Remain alert.
I bought

REXX

yesterday . It is still a buy in my opinion, especially since earnings was released already.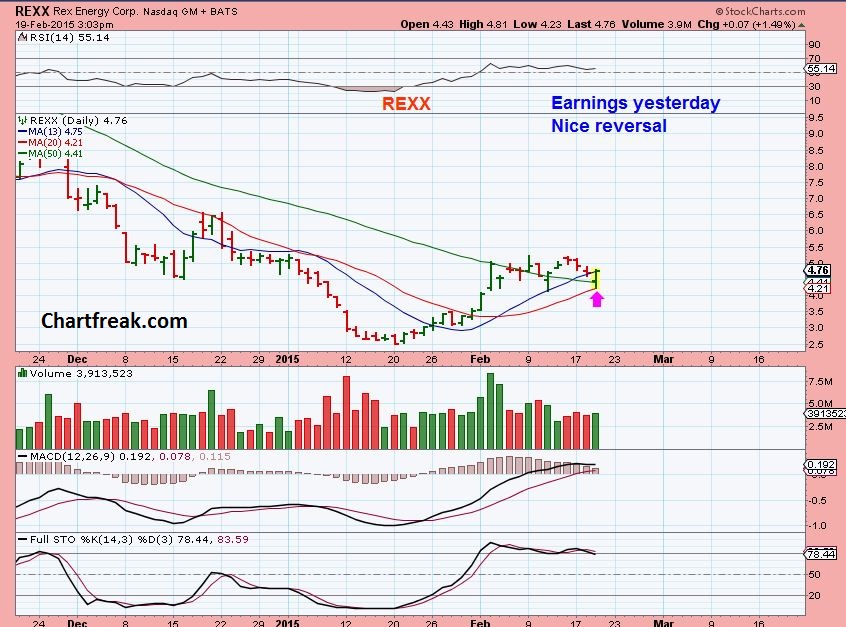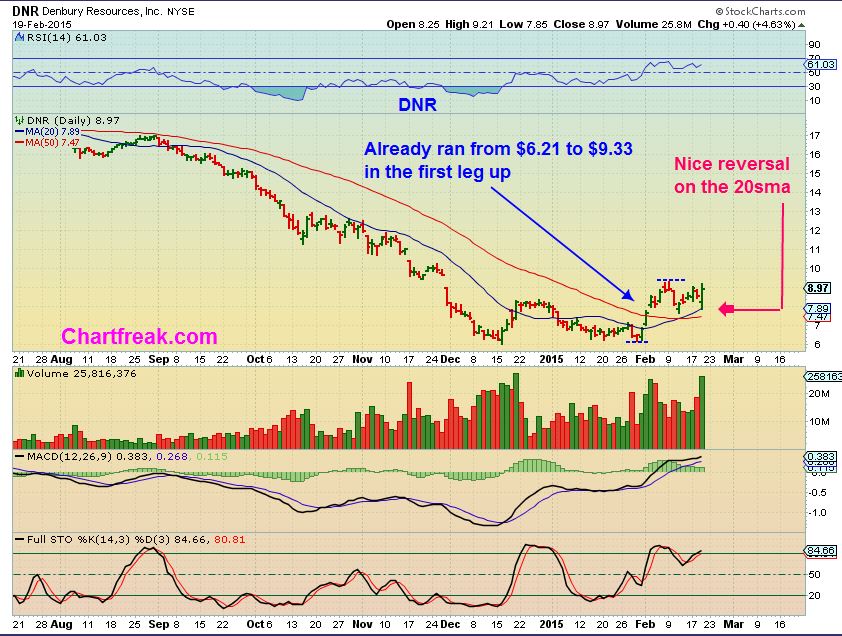 BUY

WRES

above the 50sma, or here with a stop below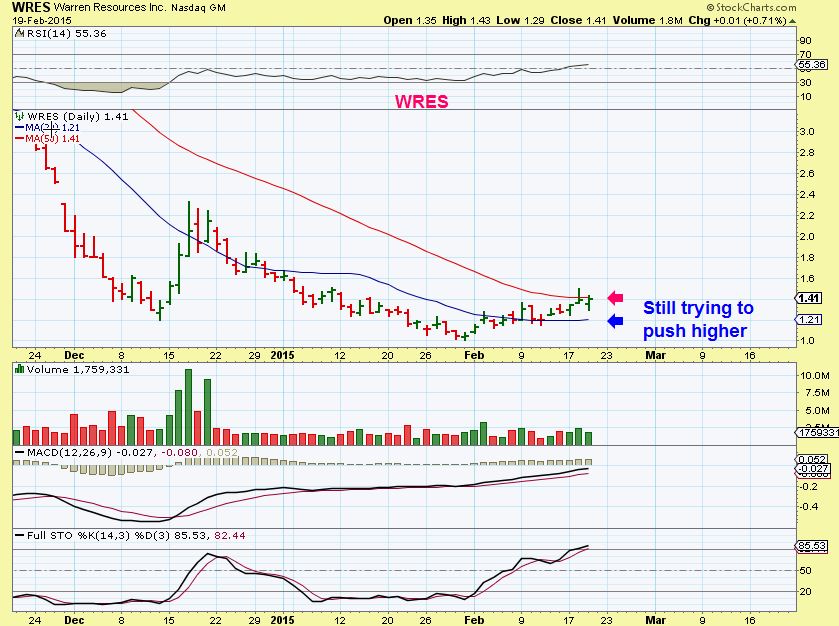 BAS

   chart is FEB 18 –  May not quite be ready yet.  It is consolidating sideways. Earnings came out yesterday.  No POP,  a bit of a  drop,  down a bit today.  It may drop to the 50sma?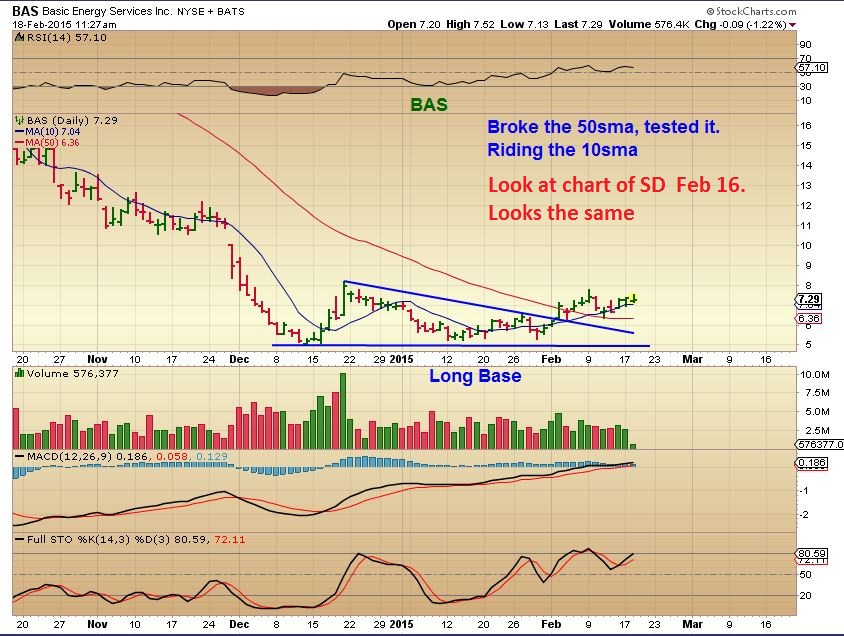 So thats just a few ideas of what we have been watching in the Energy Sector.   Some are best traded in and out as they pop higher, others have been buy & hold.   I admit that some of these stocks dont look like they've moved much, but look closely and you see that some have doubled while OIL has just gone sideways at its lows.   They may have plenty more upside if OIL breaks from its current base.  Another strategy that I personally employ is to buy these bases when they are at the lows ( When I see identifying marks that show they are ready to break out).  Then I sell 1/2 of my positions as they rise up & just trade the rest of the moves, as mentioned.  Watch for them to test the 50sma when they get overbought and extended, and so on.  I hope you enjoyed reading this report.  If you like what you see here, we offer 1 month , quarterly,  and yrly subscription service for the premium reports.    If you cant subscribe at this time, you can also sign up for free email alerts to let you know when I post these public reports .  Thanks for being here and have a great weekend!
~Alex
 GOLD is lack luster so far, but keeping an eye on it too.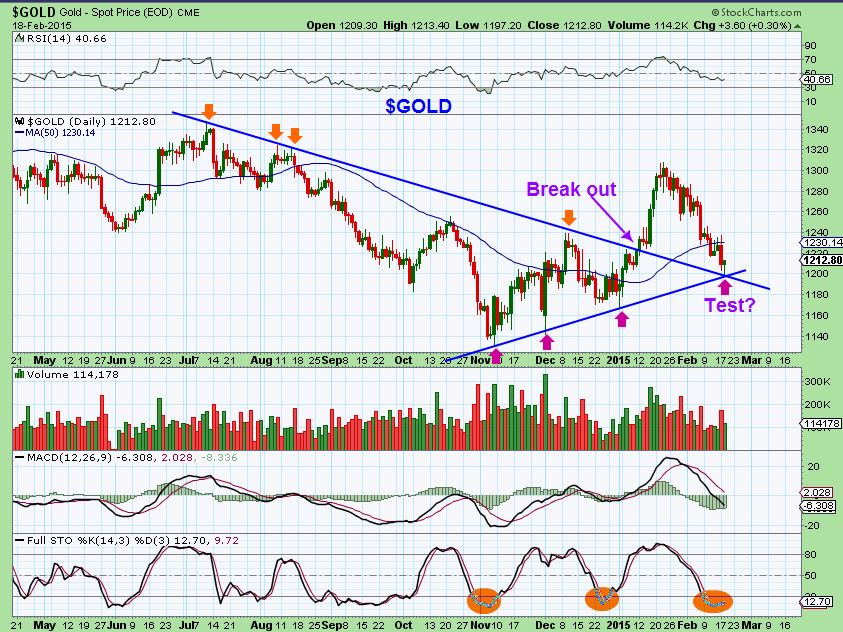 https://chartfreak.com/wp-content/uploads/sites/18/2014/12/stormy.jpg
781
1008
Alex - Chart Freak
https://chartfreak.com/wp-content/uploads/sites/6/2013/04/black_logo.png
Alex - Chart Freak
2015-02-20 17:29:26
2015-02-23 20:05:05
WHY ENERGY?