When I was a kid, I used to really love playing on the swings.  Then when  I grew up  I  found that  I still love to play with the swings.   'Market Swings' ! They  can actually be profitable to an investor or trader, because they may afford a low risk entry with potentially   more upside than downside risk.  The problem is…They can also fall apart.  No one wants to swing on a swing thats prone to fall apart.   Can we know when a swing is invest-able and less likely to fail?  What can help us to identify a proper swing verses a swing that might be prone to breaking down?  Since I've been trading for years in various sectors, I would say that  Experience , Training , and researching with a keen eye have helped here at Chartfreak.  Under the "Strategies" tab I have a premium report discussing just that subject in Gold / Silver  & Miners.   I will share a little of the thinking there…but the details obviously need to be reserved for paying members.
GOLD WEEKLY  

(Today , Golds daily chart  looks lame. The weekly chart could look bullish or bearish as of yesterday,  but it swings lower)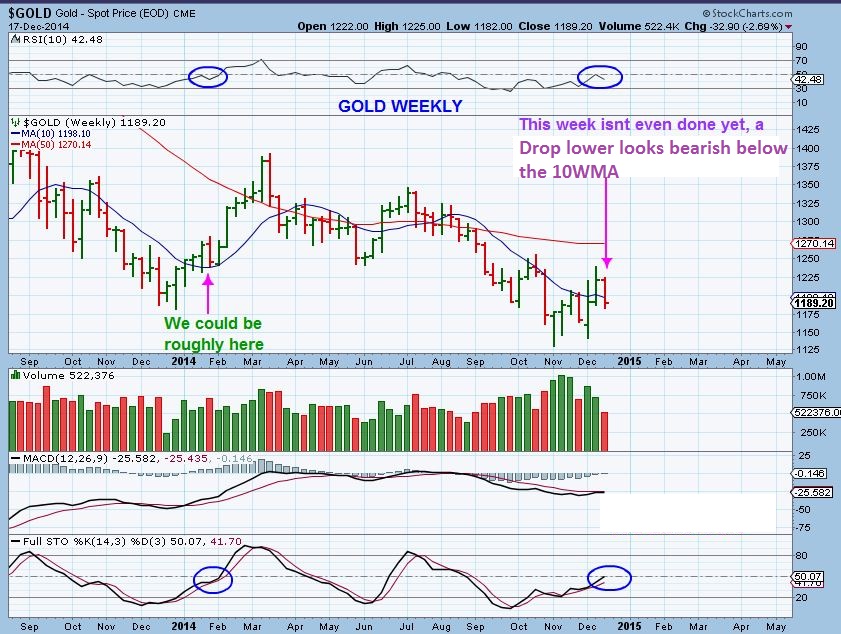 The $USD was a rocket yesterday,  Swinging up over one Dollar! Todays follow through seems to be hindering GOLD & SILVERS progress.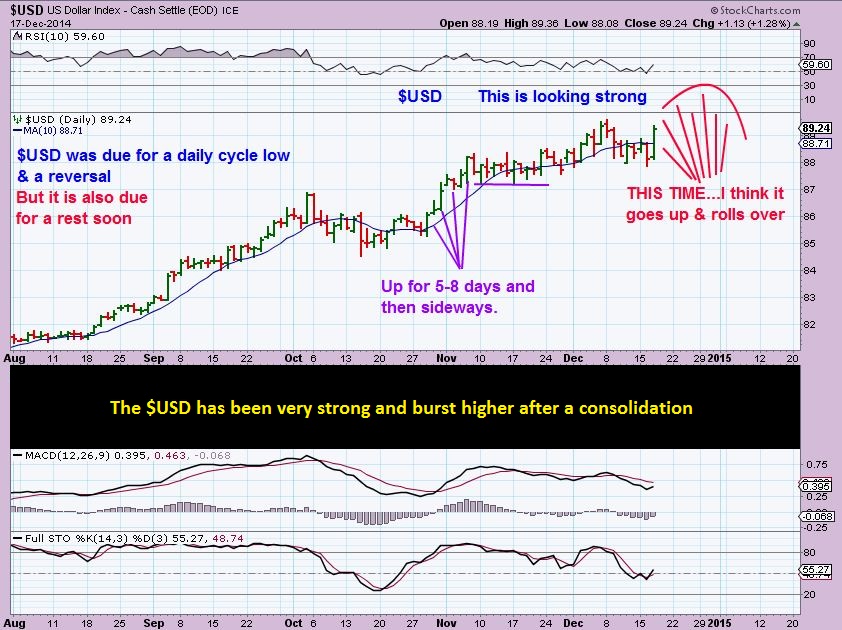 Then why are  GDX & GDXJ green?  WHAT ARE THESE SWINGS?  Is it just an oversold bounce,  about to tank with the metals?  OR Are Miners leading GOLD here?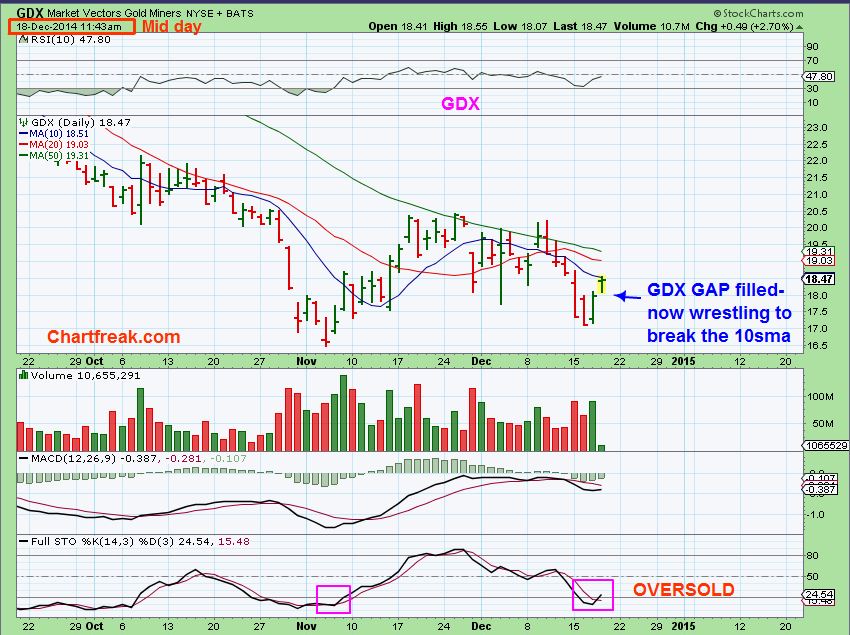 Even individual Miners  ( like MVG)   have interesting Swings taking place.    MVG ,  a Silver miner , was swinging up higher yesterday as the $USD was up over a buck.  Thats odd.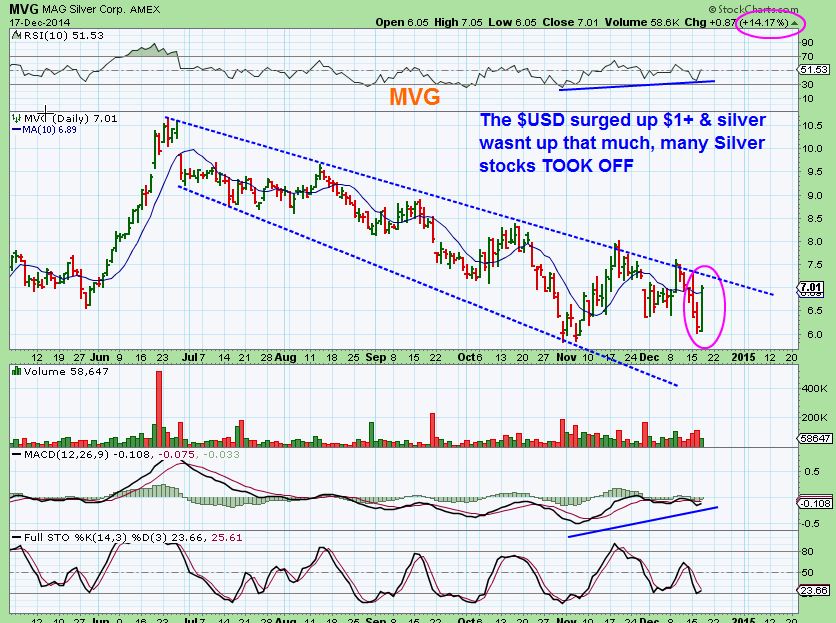 Today it reached resistance, and Gold & Silver began to sell downward-  is it DONE?  A broken Swing ready to fall apart with the Metals soon? Or could it possibly pullback to gain some strength & then break out higher?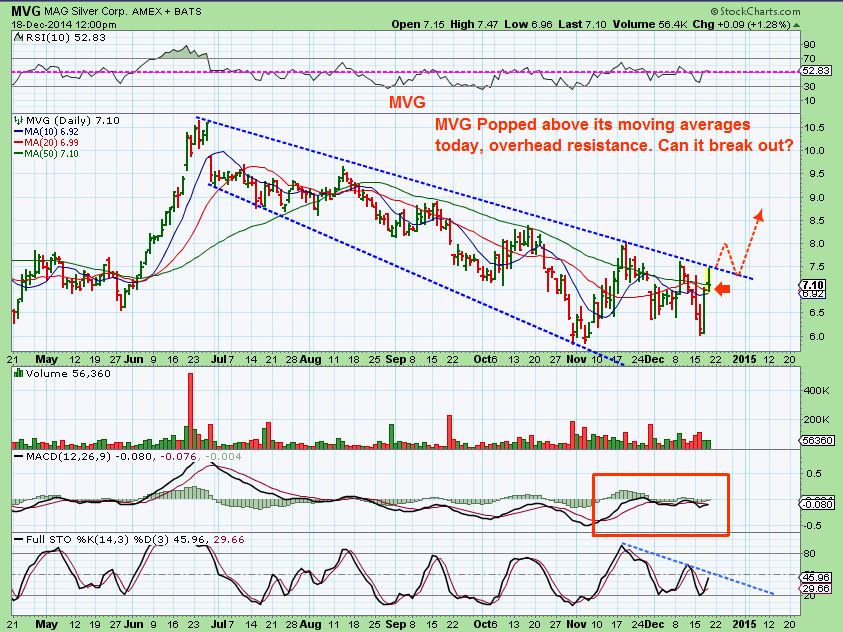 I do think that I have a good idea of whats going on in Metals and Miners right now . I do feel that things are lining up for a decent move in one direction or the other,  and that it could be profitable to take positions soon.   Its in today's report  under the strategies tab  for paying members. To get my thoughts on the matter and see things the way that I do,  you can sign up for a 1 month subscription under the 'strategies tab' and see  my analysis on Metals / Miners / SPX / IWM / in todays report and also I had an Energy report Tuesday referring to XLE & ENERGY  being pssibly at the  lows Monday  .   I personally believe that you will be able to more than make your $37.95   back on 1 good trade,   if things play out the way I feel that they will. 
Even if you cant sign up, Thanks for stopping by and I appreciate your being here and reading along.  I will post publicly from time to time ,  so check in frequently under the 'blog' tab /  strategies tab for premium content.   Also you can  Sign up for our free email alert service & be directly notified whenever I post. Thanks again for stopping by.
~Alex
https://chartfreak.com/wp-content/uploads/sites/18/2014/12/swing.jpg
823
1155
Alex - Chart Freak
https://www.chartfreak.com/wp-content/uploads/sites/18/2019/11/Chart-Freak-site-logo.png
Alex - Chart Freak
2014-12-18 18:17:34
2014-12-18 18:36:40
SWINGS!