( This post was written Friday a.m. Dec 26)
Have you ever seen those artists that do 'Chalk Art' along the sidewalks of public streets?  They amaze me and at times you just cant believe your eyes.  I find myself asking , 
"Is what I am looking at real?"  Well lately, many are saying the same thing when they look at the Gold / Silver markets. I have been reporting since Nov 5th & Nov 7th that GOLD was putting in a meaningful low 
(At least a temporary one

).    See my Nov 5th report here –    http://www.chartfreak.com/afraid-alert/
Looking at the chart of
GOLD

, you can see that the Nov lows have held and this is with the

$USD

at new highs!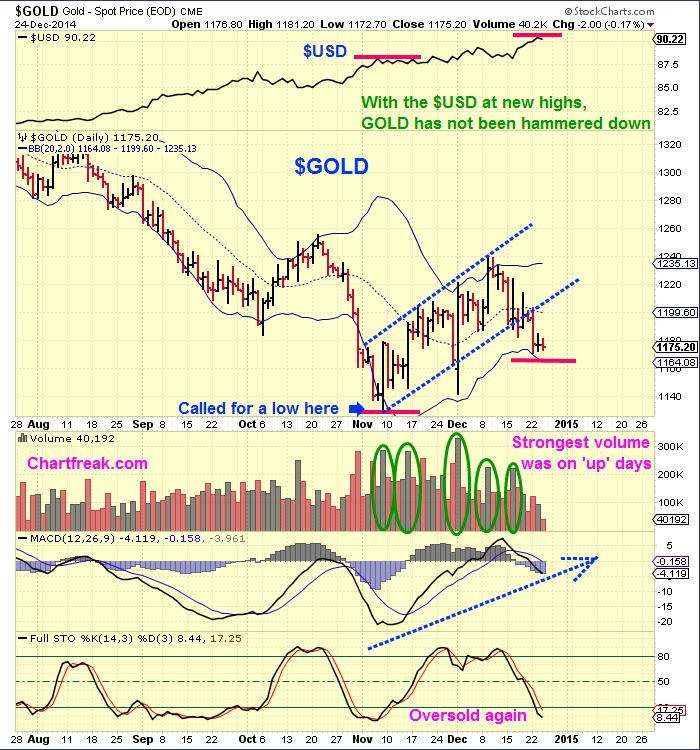 $SILVER also has shaped up nicely in the past couple of months …
I posted this chart on Dec 22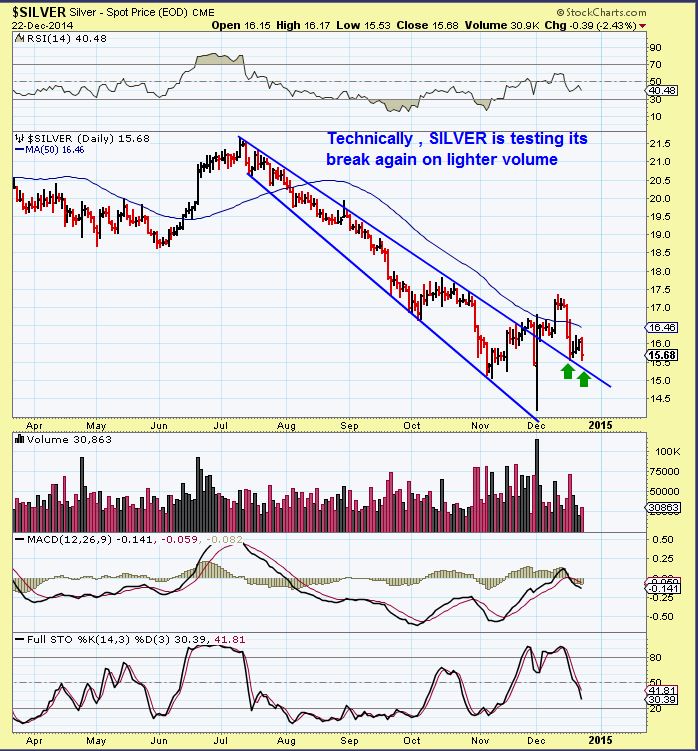 I  Tweeted out last week and earlier this week that certain Miners ,  and particularly a few Silver stocks,  are actually doing quite well. Look at
IAG

–  It ran up 100% and is still up over 75% off of its Nov lows.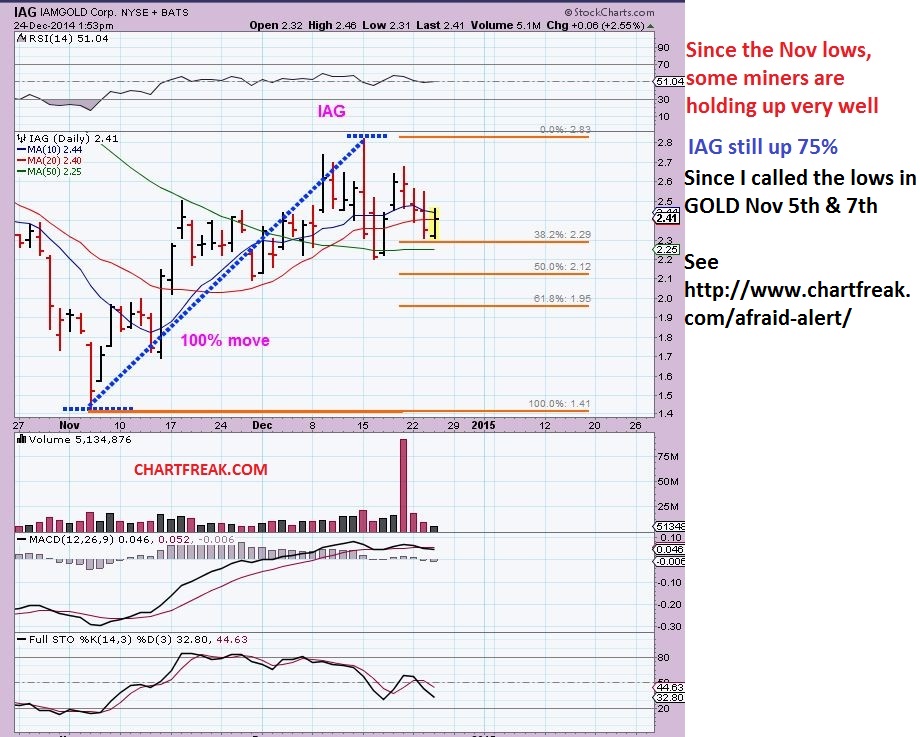 As mentioned, I told my subs that I thought  Certain  SILVER stocks could be bought during the recent pullback. For example:

On DEC 16- 18 

CDE  & AG

were  holding up nicely while SILVER sold off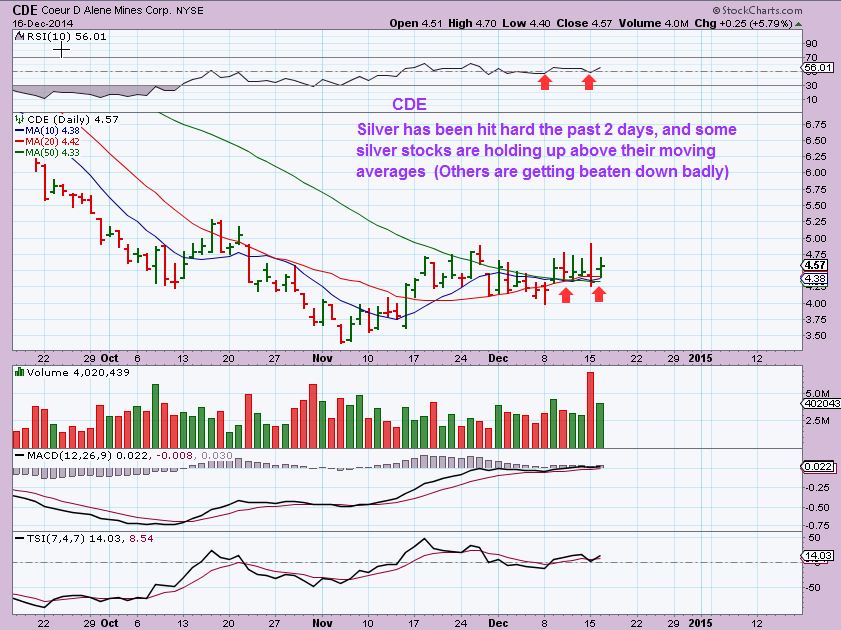 AG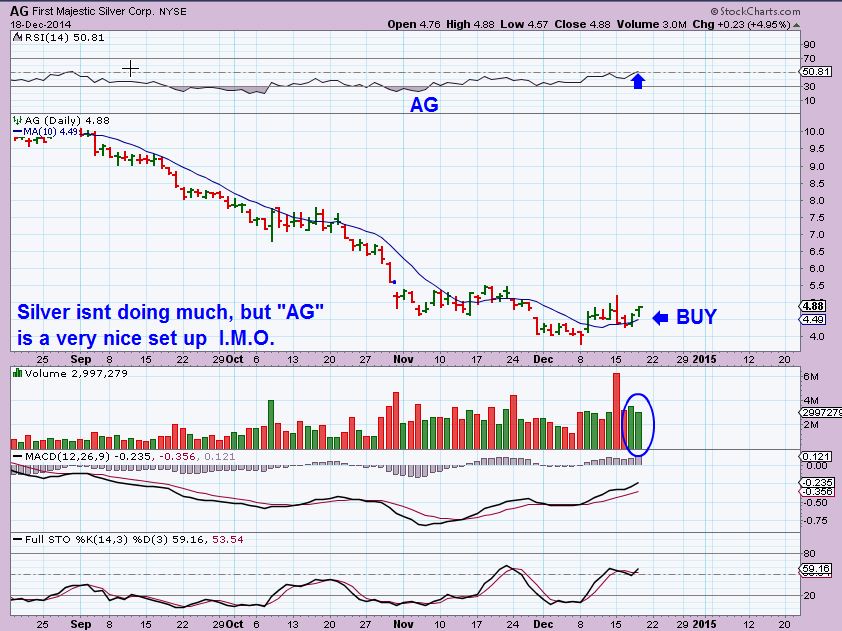 SO I have basically been  pointing out that a significant low would come about in Early Nov in Gold. Many other articles I've read called for an impulse wave to $1000 or lower , since we broke a major support level.  Also the recent pullback in

GDX $HUI $XAU & GDXJ

has many feeling bearish again,  yet as mentioned above, I still see that some miners are not only  holding up , but some are even showing signs of strength.   Still the questions remain:   Is another rally going to unfold,  a second leg up , or is this a bear Flag ?  Is todays move up in Metals  just a head fake or can it last?  Is there anything that  we look for going forward to determine if this is going to be a longer term rally or just another pop & drop?   Yes, There is,  and at this point it could still go either way.   I think I can already see signs of how this will play out,  but we need a little more time to see how things begin to unfold.   I'll have to save that for future posts.
Public posts are found under the   'Blog'  tab of this website and Premium posts can be found under the 'Strategies'   tab .  Obviously the premium content will be more detailed for the benefit of our subs.  Time will tell whether this low in Nov  is still just a part of the 1 1/2 yr lows that many have been watching in Gold & Silver.    Questions remain whether it will hold  longer term or not ,  and whether what we are seeing is real or not too.  Even good chalk art gets washed away when the heavy rains come.   Stay tuned to see whether these lows can weather the storms that the markets may bring in the future  , or are just they really just a dead cat bounce that will eventually wash away too.

Thanks for stopping by!
~ALEX
.
https://chartfreak.com/wp-content/uploads/sites/18/2014/12/CHALKED.jpg
877
1667
Alex - Chart Freak
https://www.chartfreak.com/wp-content/uploads/sites/18/2019/11/Chart-Freak-site-logo.png
Alex - Chart Freak
2014-12-27 21:48:56
2014-12-27 21:48:56
Is It For Real?