As Gold drifts around the lows of November,  many wonder whether it means Metals are about to break through the bottom again and head for new lows, or break out higher?  For many its hard to get really comfortable with the constant ebb and flow of the Metals , especially with the Dollar acting so strongly lately.   We can look at some charts in the public section here and comment a little about whats been happening, but a Premium report just went out this weekend, so the review has to be limited, not taking away from those reading the premium version. 
 Gold hasn't broken down in a lasting manner  from this channel, but its at the low end now and faces resistance above. (Click chart to open)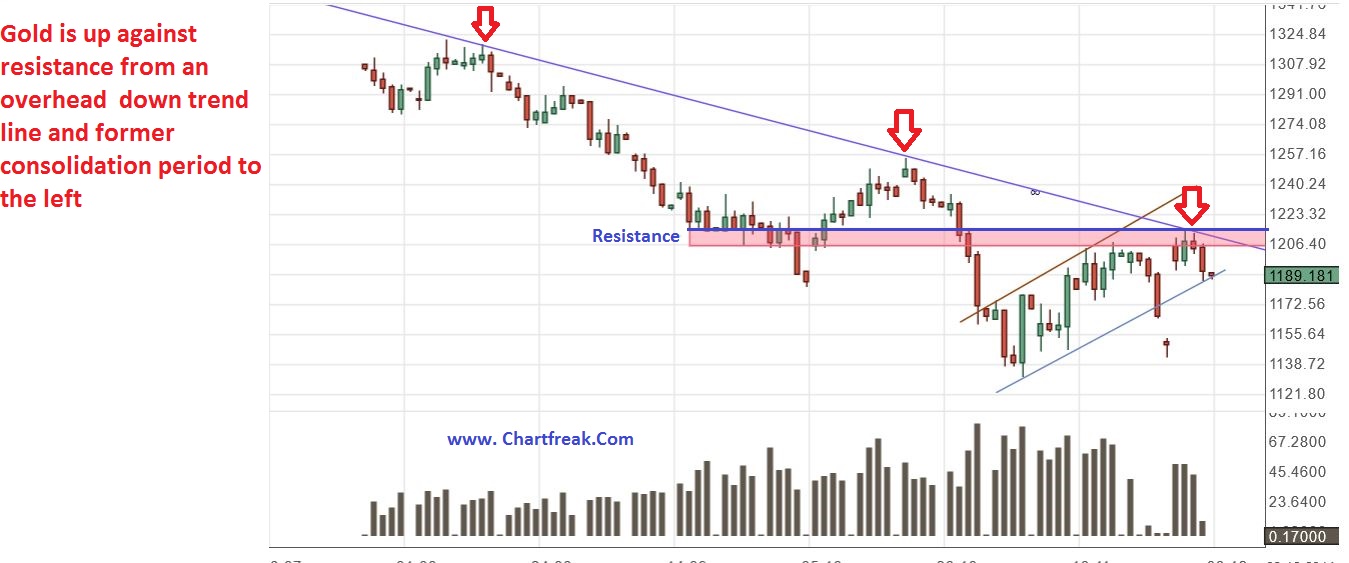 If you look at a long term chart of SILVER, it finds itself in a similar place …
SILVER is pushing against resistance too, but may also have broken out and back tested that break. What next?  (Click to enlarge)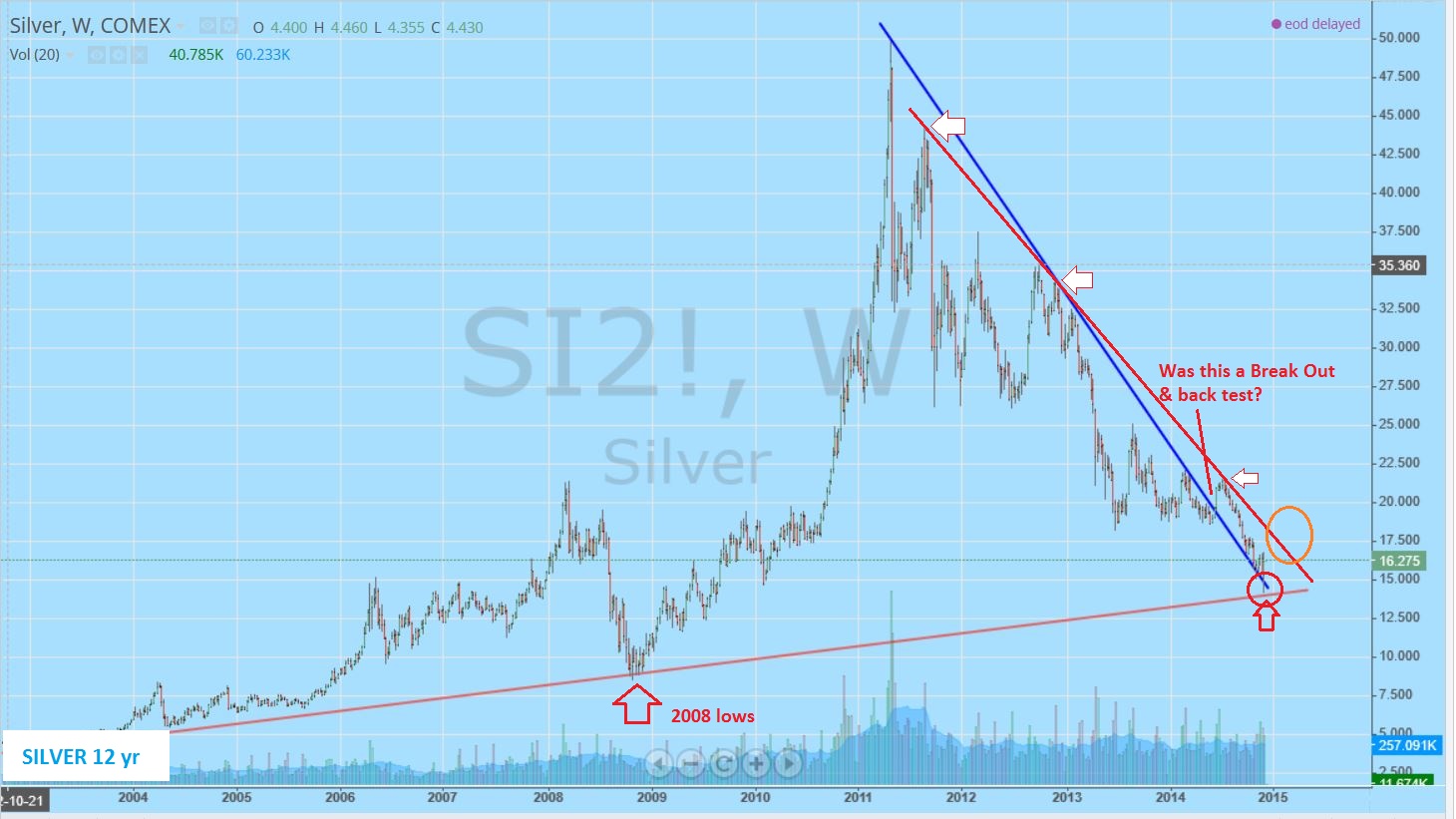 I have mentioned that even though Most Miners have been very painful to hold over the past few yrs, there are  some MINERS that have done well since the June 2013 lows were put in place. Notice GOLD here put in it's lows June 2013, tested that area in Dec 2013 and recently is revisiting that area.   As it broke lows recently, many letter writers were telling their readers to get ready for a plunge to $600, $800, or $1000.    It looks like a shake out here as mentioned at chartfreak.com in early Nov…
GOLD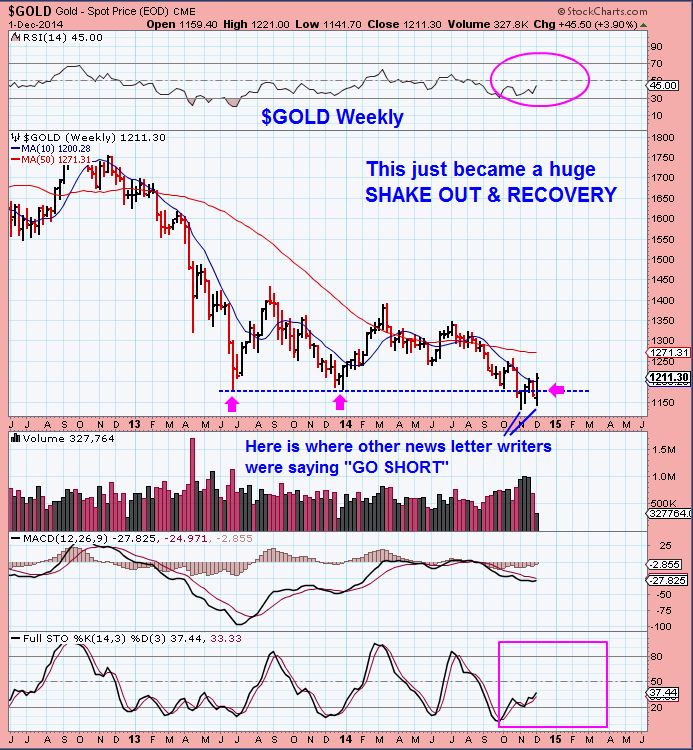 Yet some Miners have NOT revisited their June 2013 lows, in fact each dip down they made higher Highs. Notice the strength in …

RGLD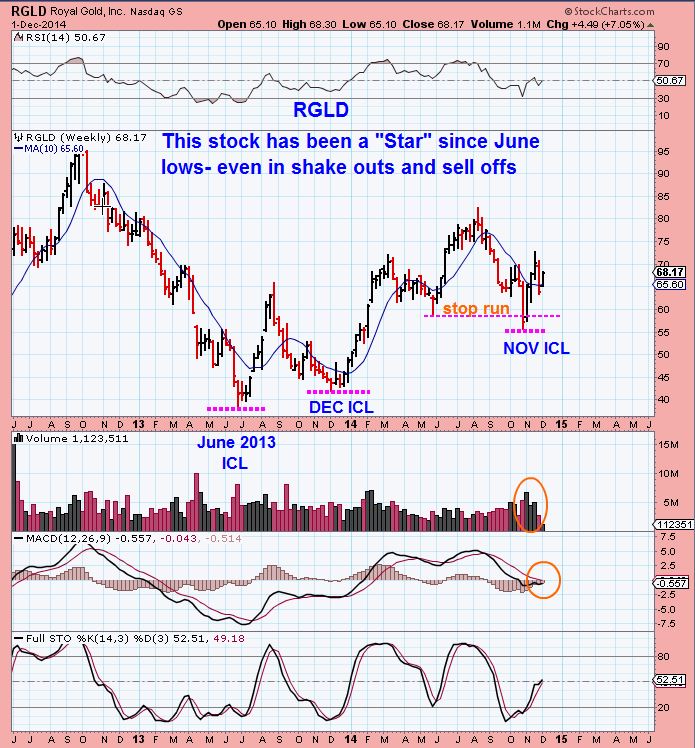 RIC

has held up very nicely.  From one year ago, with all of the volatilty in Gold Prices,  RIC is still up over 200%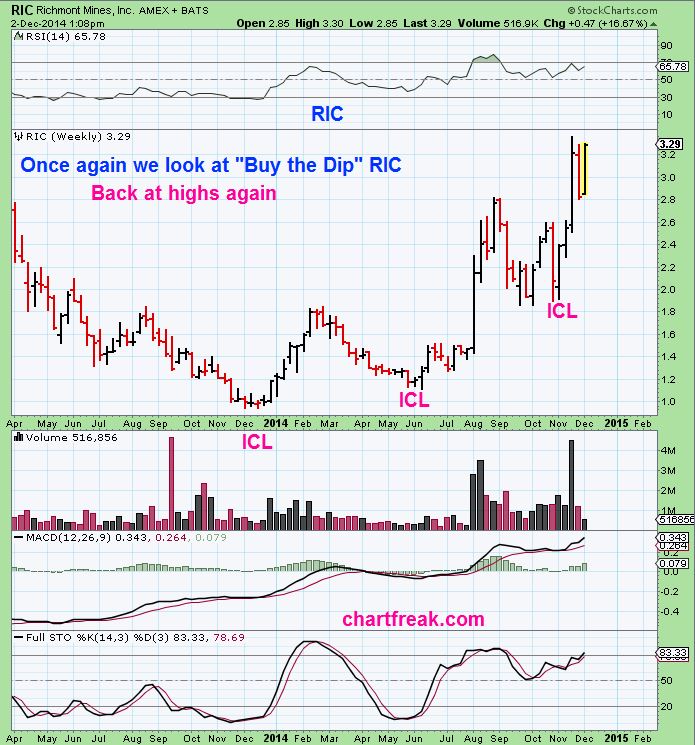 There are many other interesting things that I see happening in the Metals markets too. Sometimes Bottoming is a 'process' and takes some time ,  other times you'll see a "V – Bottom" that just takes off in a rally of short covering,  and sometimes Bottoms just turn into Bear flags that  give way to further downside.   As I have mentioned here in the past, it is important to recognize and keep in mind that Not All Bottoms Look The Same .  I use this picture below as a comical way to helps to drive that point home. It important to stay alert to the current action as it unfolds.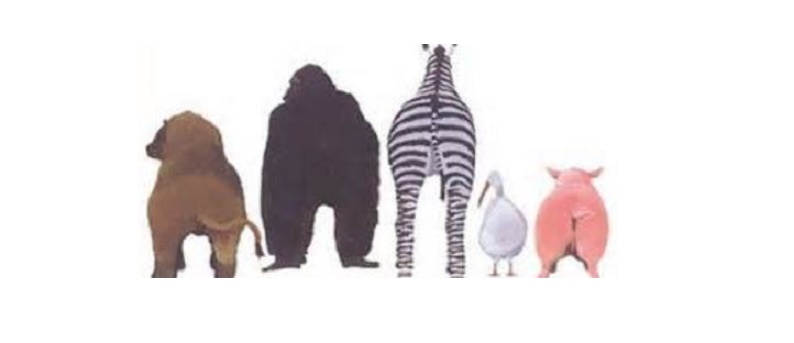 SO are we looking at a bottoming process in Metals right now, or a bear flag forming? So far  I've had a pretty good idea at what is going on in the near term and I've been able to help others understand it too.  If you've been reading here since NOV 7,  you recall that  I called the lows pre-market that day, some of those public posts are found under this 'Blog' tab.  There have been shake outs along the way, but those were all baked into the equation too, and now we will likely get a little more volatility until the Metals markets make clear its next directional move.  I have been posting premium reports under the 'exclusive strategies' tab  to cover that.
As we wait for a more definitive move, there are other trade set ups that may be worth taking a position in too.  For example, Friday I posted this set up … It is one of the various types of set ups that I look for.

I posted this chart of
ISNS

Friday morning at $3.06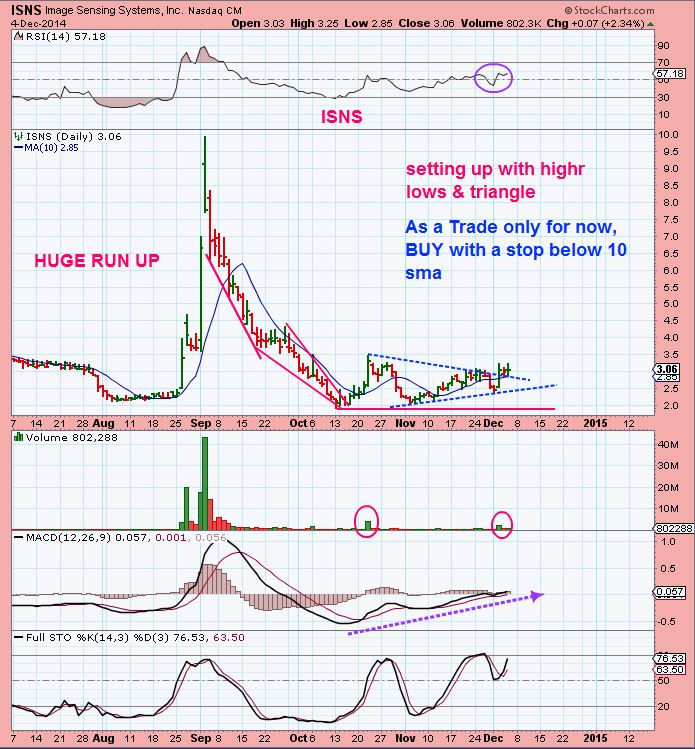 And later that day it was up 30% at $4.00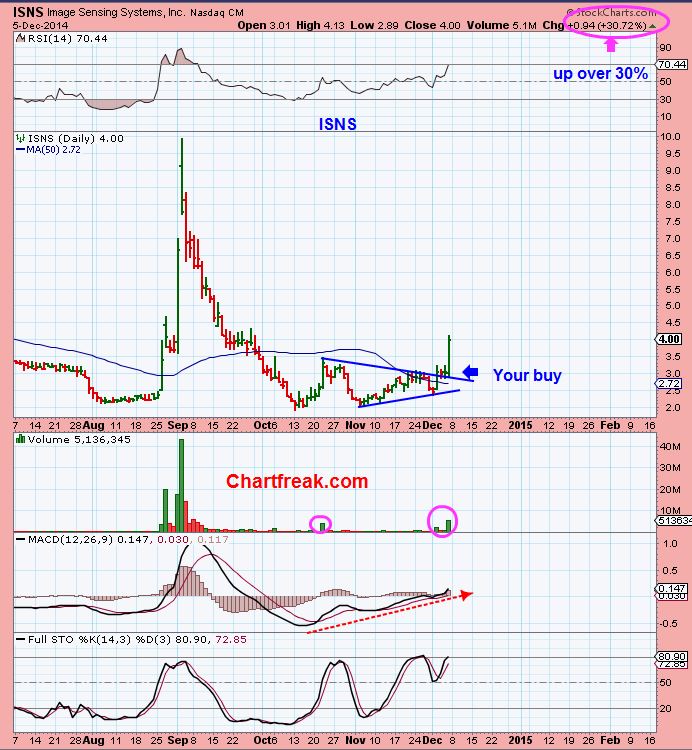 Other stocks had similar set ups and can be used to show you how they may play out going forward. 

DGLY

is one of those playing out now. Not straight up everyday, but you see the climb higher continues.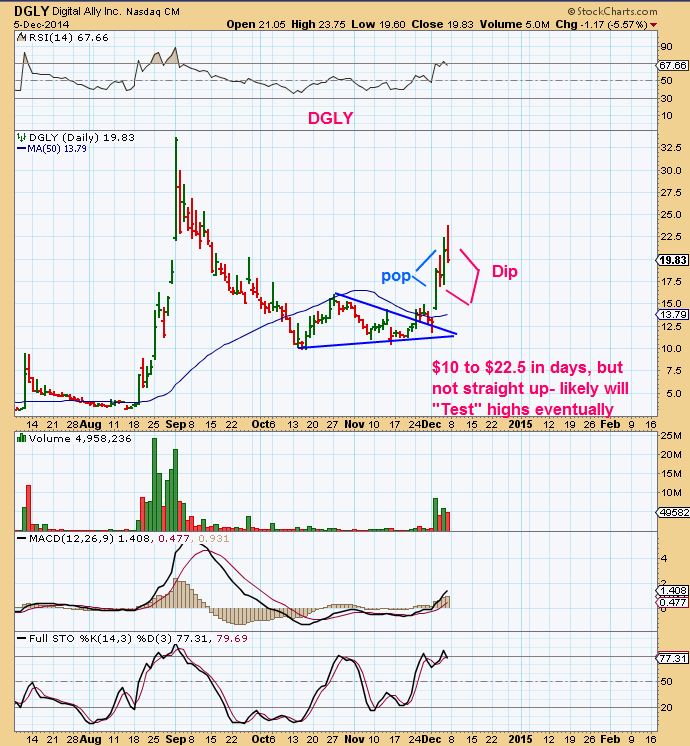 Thanks for reading along here at chartfreak , I do appreciate the opportunity to be able to share some of what I see with you.  
Stay tuned for what could prove to be some nice year end developments, and best wishes in your investments. Here is a sort of a "Chart Of The day"
JRJC

looks like more of a BUY & HOLD type investment at this point. It may not go straight up, but it looks set up to go higher.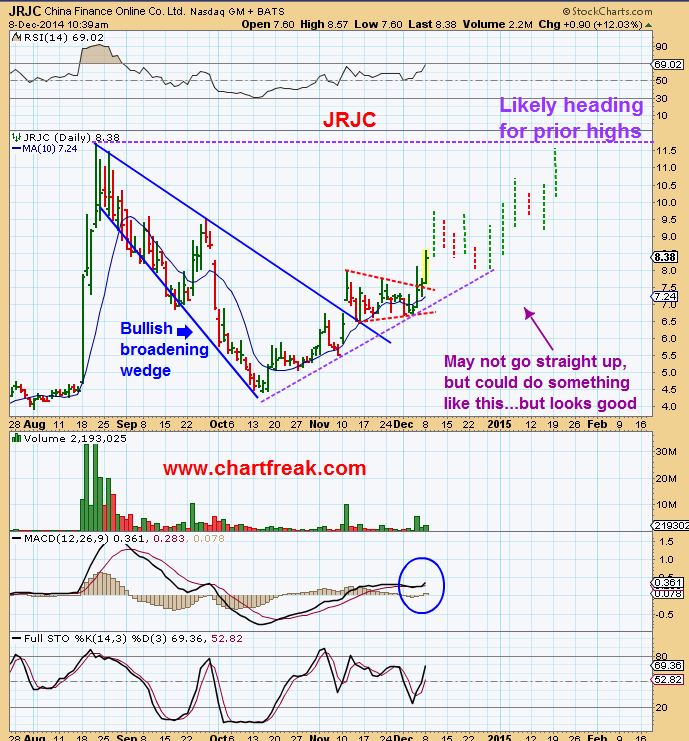 ~ALEX
https://chartfreak.com/wp-content/uploads/sites/18/2014/12/too-comfortable.jpg
750
966
Alex - Chart Freak
https://chartfreak.com/wp-content/uploads/sites/6/2013/04/black_logo.png
Alex - Chart Freak
2014-12-08 16:01:57
2014-12-08 16:01:57
Comfortable?