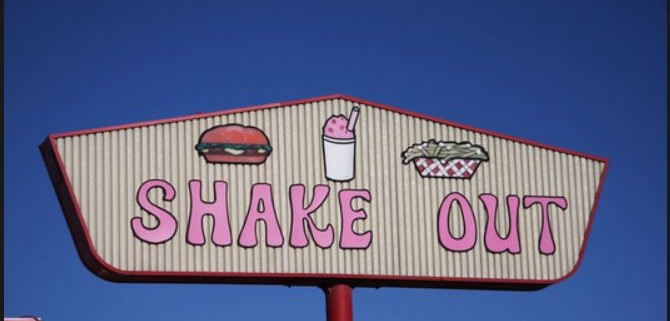 July 16, 2014      ARE WE SEEING A POSSIBLE SHAKE OUT FORMING & NOT THE START OF ANOTHER DEEP SELL OFF?  I am not a perma bull, so when market conditions change, one definitely needs to be able to react quickly, honor stops, and make the necessary adjustments  to save capital.  One thing that I do NOT advocate however, is flip long, then short , then long, then short whenever the markets change directions.  Some may do that successfully but most do not.  I have done that in the past  and have found that making money that way (Esp in whip-saw type conditions) is not easy.  Fear of "Missing the Move" can cause one to jump in & out like that, but In fact, It actually can rob you of good money in "whippy" markets – ESPECIALLY LEVERAGED POSITIONS. One doesnt ALWAYS need to be "In" and I have found that the best thing (For me) to do is examine possibilities and then watch for a trade-able trend to develop. With that in mind, lets examine the whippy Metals & Miners here-
THIS is GOLD
A bounce would be nice, because there are technical reasons to not like what we see if we are Bullish…
On that Gold chart, I dont like that the RSI dropped below 50, the MACD crossed down with the histogram going negative,  and the Stochastics can drop further before becoming oversold. All of these conditions can mean that Gold has further to drop, however it also could mean that we get a 'consolidation' .  So Look at APRIL 15 on that above chart.   From Mid April thru Mid May, that sideways move without a trend  was extremely difficult to make (& keep)  money.
Right now,  Many are 'conditioned' in Miners to expect a steep sell off when GDX/GDXJ turns down, they remember what happened for the past 2+ yrs & still fresh in our minds is the MARCH to MAY sell off.  The C.O.T. figures are the talk of the town too.  Many will flip & go short here immediately (Often leveraged) with the 2 day sell off looking like the "Start" of a deep sell off. That MIGHT prove to be true, but consider this chart- If MINERS have bottomed, buyers could still step in and ACCUMULATE.

This was the "BUY ON WEAKNESS"  for GDX  yesterday.  I have NEVER seen such a HUGE number for GDX.  And notice the BLOCK TRADES. I just wouldnt go SHORT LEVERAGED with that Buy On Weakness. It looks like Accumulation was taking place, which may halt the decline & turn it into a consolidation for now.
Here is the hard to believe part for many.   I have been saying that I am expecting a 2nd leg up in this run from the May lows.  June 2013 had a "Meaningful Low" known as an ICL in cycles.   It also had 2 legs up before failing.  Please note that In JUNE 2013, the first leg up lasted 1 1/2 months "ROUGHLY".  In Dec 2013 the first leg up lasted "ROUGHLY" 1 1/2 months.    So Using CYCLES, we were actually due for a low any day now  –  May to July .  Since It is a low from only the first run up,  one would expect another run up- even if it "Fails' it would hurt Shorts here.   See chart below-

On the above chart,  That first leg up of the ICL in the June 2013 dropped to its lows in  AUG (had a panic – steep drop fresh out of the bear mkt ), but then snapped back like a rocket to new highs.  Anyone who flipped short made money & lost it all if they held on . Thats why I again ask…
1.  IF we just had an ICL in MAY with the first leg up "Roughly" around1 1/2 months long-
2.  We are due for a Daily cycle low ANY DAY NOW-
3.  We had that Huge BUY ON WEAKNESS Number as many flipped short (seemingly indicating Big Boy Buyers accumulating)
was that a ________???
  Well, to be honest , I did NOT expect it to play out exactly this way with such a steep rise, and now a steep drop, so let me show you how I did expect it to look. 
I drew and Tweeted this on JULY 11-
  I got stopped out yesterday of my new positions.  I had drawn the following chart for GDXJ & JNUG to find LRE  (low Risk Entries) along the way. This broke down yesterday.   Chart 1 is GDXJ & Chart 2 Is JNUG buy areas.  (They're small, click to enlarge)
Here is the Break down yesterday .  On a 3x ETF…It looks like nothing, but hurts the wallet if you dont honor the stops.
In conclusion, all I am reporting here is what I am seeing and how I will play this moving forward. Please draw your own conclusions with your research  & maybe add this to your thought process.
My trend-lines broke down & selling was on heavy volume.  I was stopped out of new positions.   I should flip to short right?  Well for starters, the trend-lines usually do get broken as our climb up in the first leg gets tired and seeks out its low. 
Also The TIMING is NOW or very close for the 2nd leg up to start.  I do NOT think that the recent "Pop" in price was the start of the 2nd leg up failing—-I am sticking with this for now.   Questions remain:
1.  Will it Make new highs & fail after making new highs? 
2.  Will leg 2  actually Fail to make new highs & simply double top?  (Short that if so)

3.  Will a "Bounce" of a couple of days simply tag the trend-line breakdown & then continue down? (Short that if so)
For now I am moving forward 1 step at a time. The selling was strong and the 20sma was broken on GDX,  GDXJ…things look to be getting ugly and Many have flipped to 'short' .   I am not a perma bull,  HOWEVER  I expect a 2nd leg up & the JUNE 2013  2nd leg up was Spectacular even after a steep sell off to its daily cycle low.  Shorts got schooled.   Chart provided. 
So I will just wait and see how this plays out. It wont be long, since Cycle-wise we are due or almost overdue for a low and a 2nd leg up.
Best to all, and thx for reading!
~ALEX
https://chartfreak.com/wp-content/uploads/sites/18/2014/07/SHAKE-OUT-2.jpg
329
670
Alex - Chart Freak
https://www.chartfreak.com/wp-content/uploads/sites/18/2019/11/Chart-Freak-site-logo.png
Alex - Chart Freak
2014-07-16 08:47:59
2014-12-02 00:17:33
Break Down Again or Shake Out?