I have been watching the various markets intently , examining internals and how they've reacted under similar circumstances in the past  to try to get an idea of what to expect .  I think that I have done rather well with the general markets and Metals and miners,  but I must say...there are some extremes in some areas that I have just left alone until I get a clearer idea of how things may unfold going forward.   What am I referring to?  Well, specifically the  ENERGY  sector with OIL and NATGAS has been a little tricky, and of course the $USD has been very strong -  now even higher than I anticipated.   lets take a look at those areas.  They that have been difficult to call,  for Sure.
  I know what I "Guess" they could do, but when it comes to putting advice in my premium reports on these sectors,  I have decided to just wait until things clear up , and focus on some other very trade-able areas.
 I expected the $USD to stop in the $92 area.   ( Actually, I had that as a target, but I thought it may not  make it there, I mentioned that it could roll over near 91  because GOLD began completely ignoring the $USD strength. I assumed GOLD was sniffing out Dollar weakening).
I posted this chart Jan 2- $92 target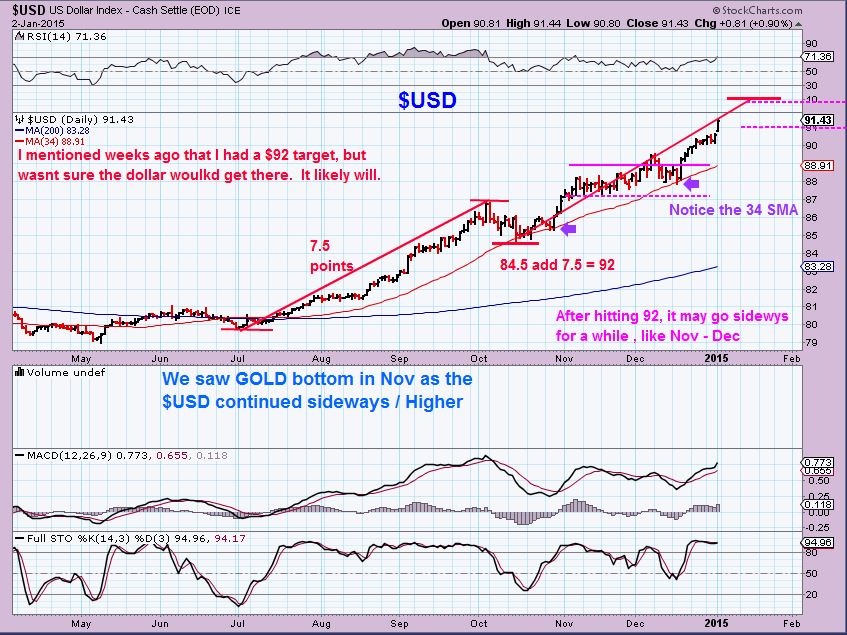 Then on JAN 5 , I noticed this ...