Gold has been on a run during this market correction.  There is more to the story and I'd like to show you.
Before we get started, lets look back at $GDX and $GDXJ how they closed out 2018…
THE MONTH OF DECEMBER HAS NOW CLOSED,  AND THERE IS NOTHING BEARISH ABOUT THIS MONTHLY CHART.  THIS IS A VERY BULLISH LOOKING CHART! 
THIS LOOKS VERY BULLISH FOR 2019!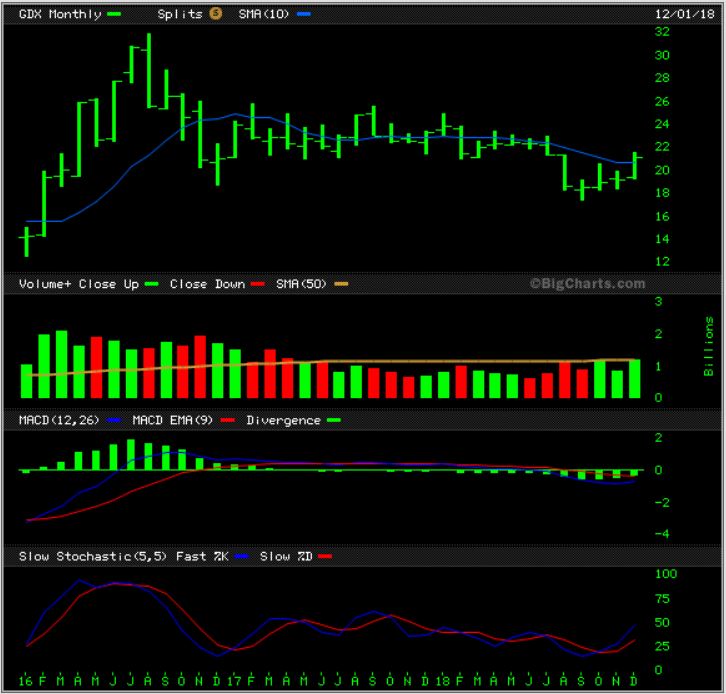 GDXJ MONTHLY –  December has ended and this is the first Positive Month since MAY!   I pointed out that down trend line last weekend,  and it has been broken!   Again,
I see NOTHING BEARISH about this chart.  2019 Could be a very profitable year !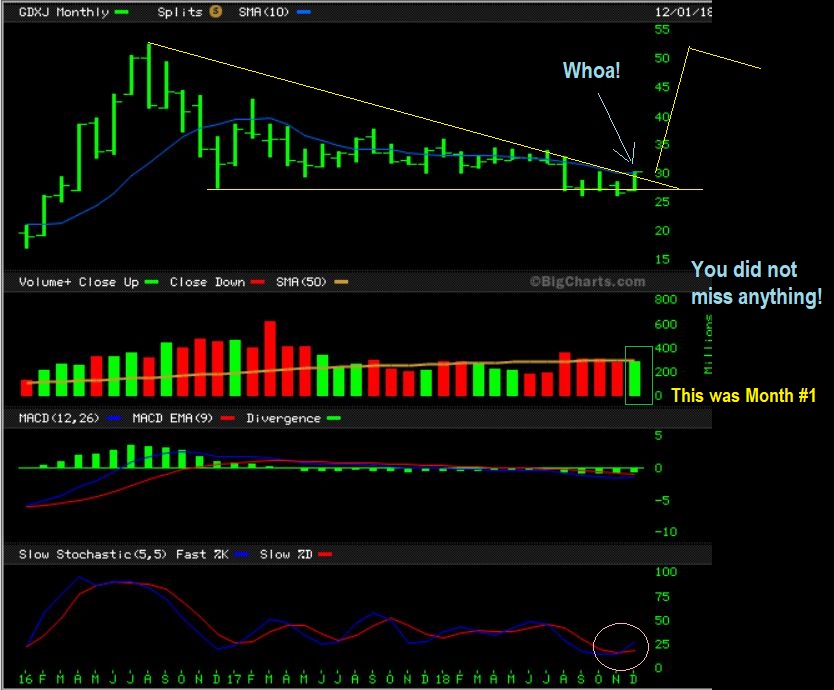 (The following is a sample of Alex's work from the past week)
(1/9/19)
GOLD LIVE WEDNESDAY JAN 9th- 

Gold has been dropping, but it is mild at this point.  I'd like to see more of a drop.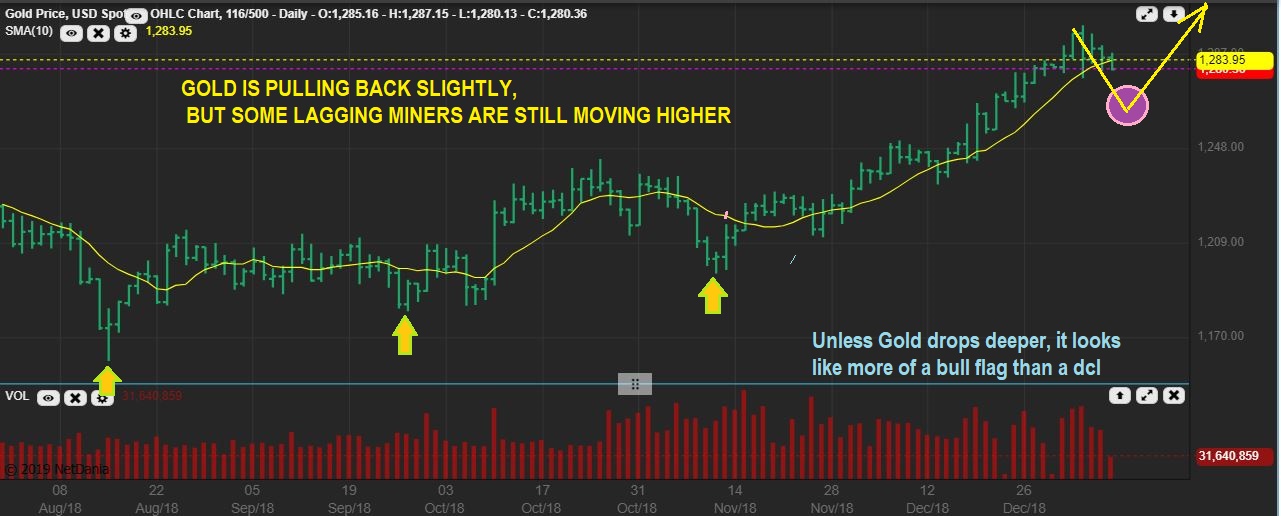 ALO

–  

In December I pointed this out as a lagger that Popped and was a buy. I pointed out that these bases can actually produce a nice run .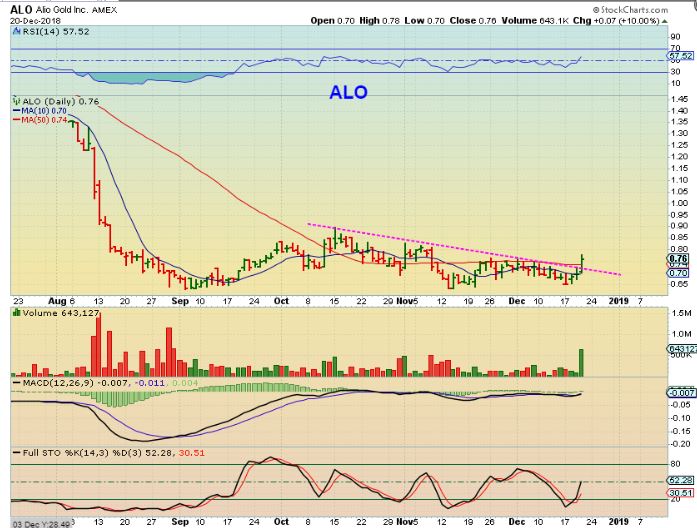 ALO

–

It ran and is now Bull Flagging.   I then pointed out other stocks that resemble this set up, and mentioned that they could be bought as those 'lagging stocks trying to play catch up'  ( Advice:  a small basket to avoid individual risk, and  you can also use a small position size).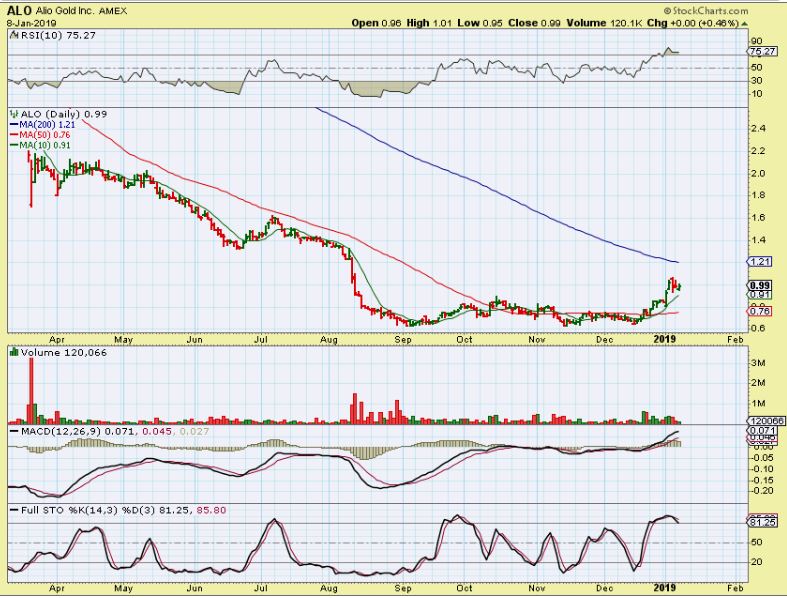 NGD

–

Here we go,  JAN 3rd, a similar base as ALO  was pointed out here and looking ready to go.  It popped 10 % here and I was looking for a nice run to the 200 sma as possible over time.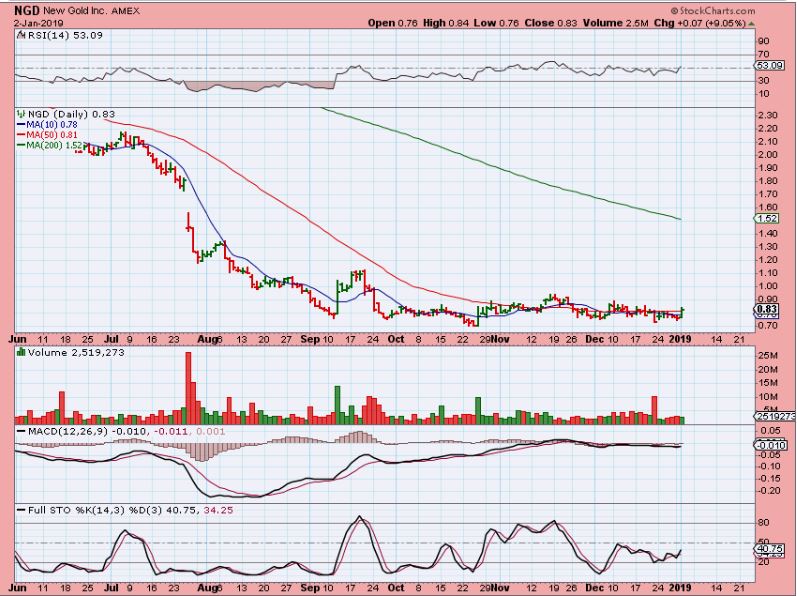 NGD

– 

Boom Boom Boom-  it is playing catch up, even on days when GDX & GDXJ were down.  So I see that as an indication that some of these will act on their own,  as buyers step in to accumulate.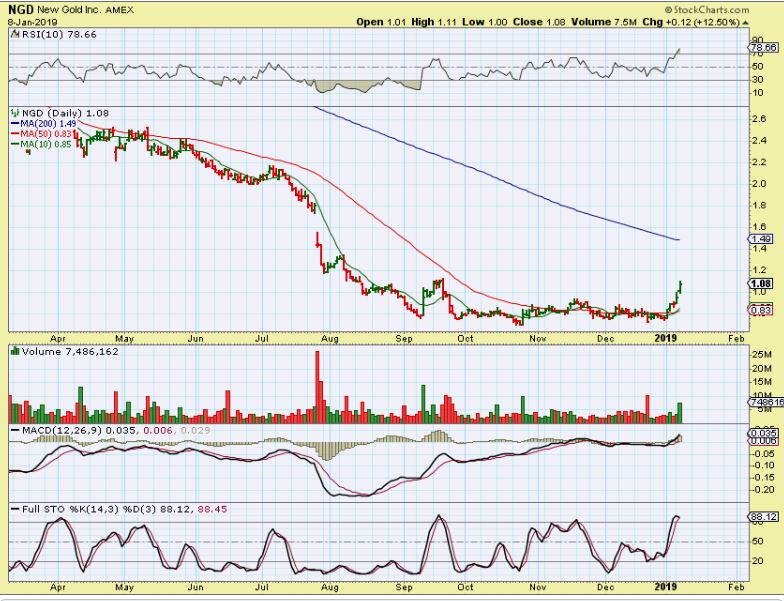 GORO DEC 31  – So I used this chart and said that it looks similar to ALO and NGD, but it needs a bit more sign of strength. I wouldn't just buy a 1 day reversal, but…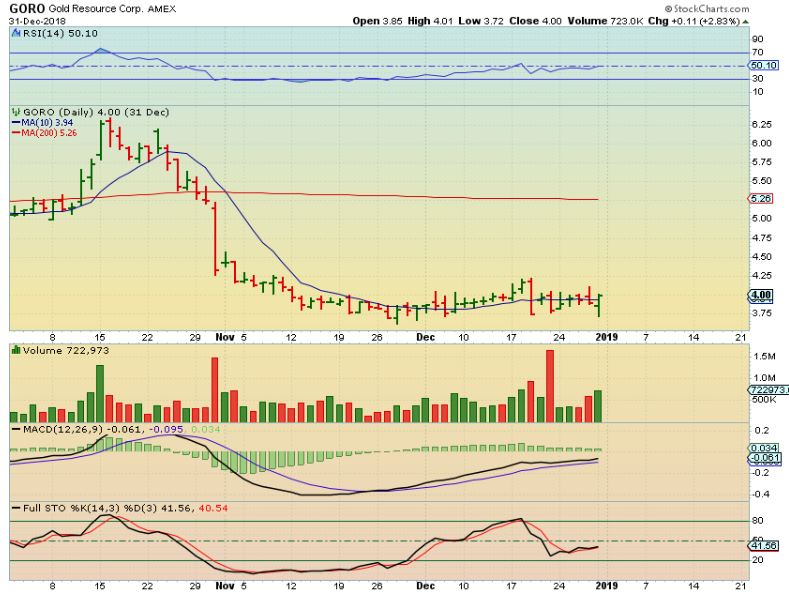 GORO

  –

It started pushing on that 50sma, and Tuesday it POPPED above it. THAT IS A BUY.  GDX & GDXJ were down at the time,  they were pulling back, but GORO was being bought up.  This  is a buy, but I did notice the DEEP RED CRASH DAY every 3 months before the base (red arrow).  That MIGHT be earnings, so be aware of the earnings date.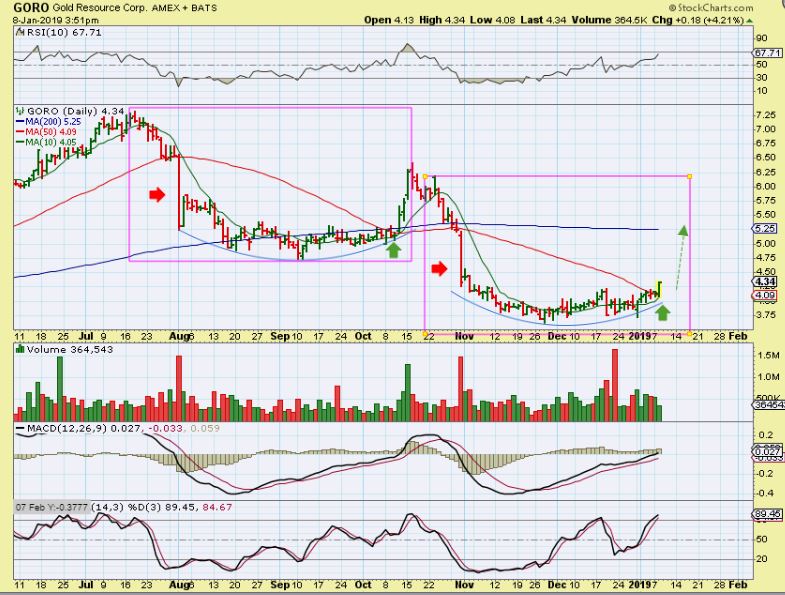 HL

– 

HL was a BUY on JAN 3 too.  It has lagged, and it was a Silver stock still at the very lows, MACD rising.  Low risk, with a stop at the lows.   $2.47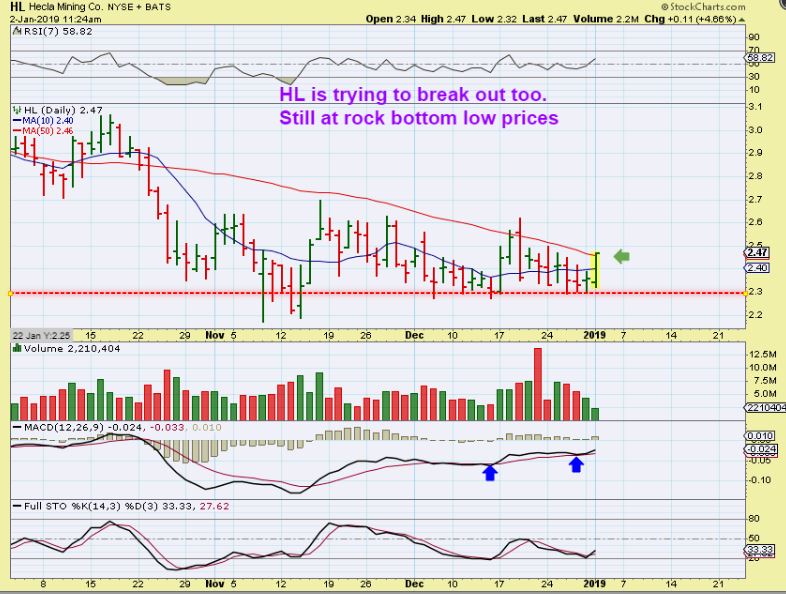 HL

– 

 It started flagging sideways and Tuesday HL has a 10 % POP.  Again,  this happened while GOLD, GDX, and GDXJ were down.  SO IF CYCLES SAY GOLD & GDX Need  a pull back,  maybe some of these that didn't join in on the run higher in December  (laggers or Base building) will still just do  their own thing in January?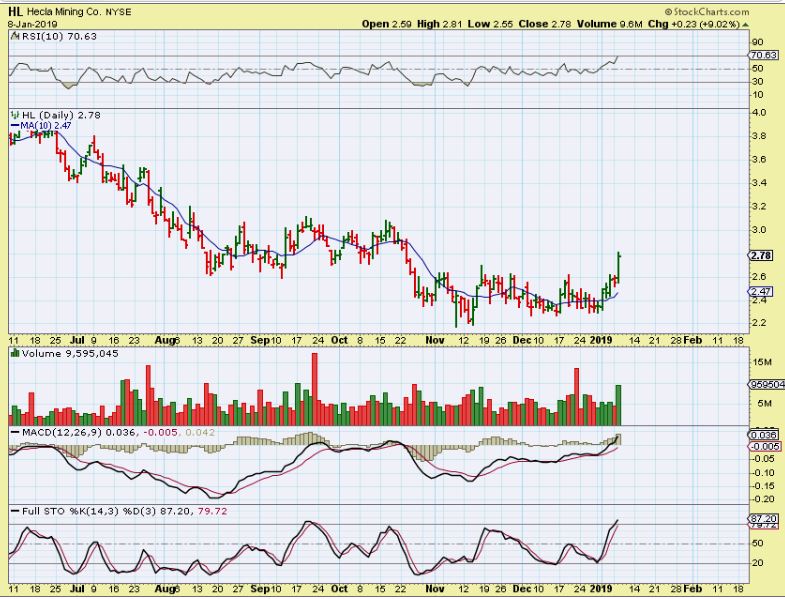 HL

– 

It could easily run, crawl along the 50sma, and break out as shown here.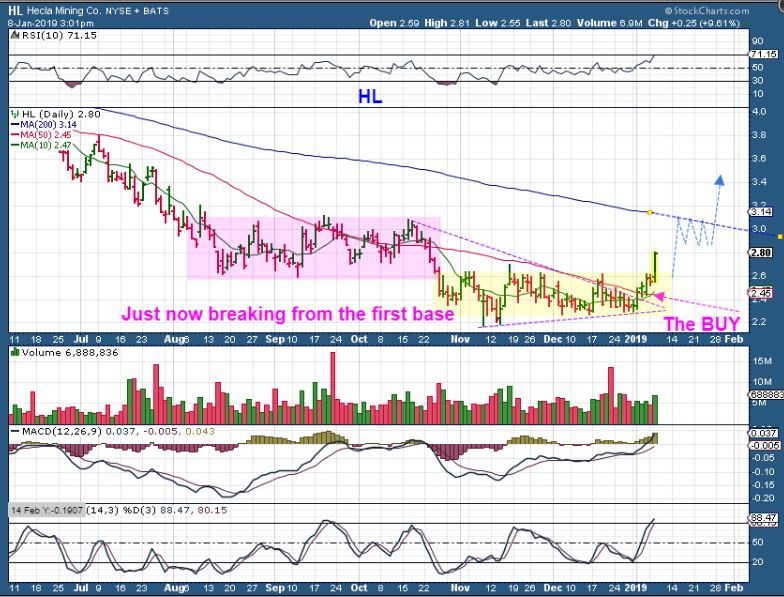 (1/11/19)
GDX 

 – If we can get a drop,  it might only look like this,  but so far GDX got choppy again.   Believe it or not, 

this is 3 weeks sideways

. It is simply going sideways along the 200 sma now, and that can be a Bullish Crawl.  IF GOLD BREAKS OUT HIGHER, THIS CRAWL ALONG THE 200 SMA MAY BE THE ONLY PULL BACK THAT WE SEE ALSO.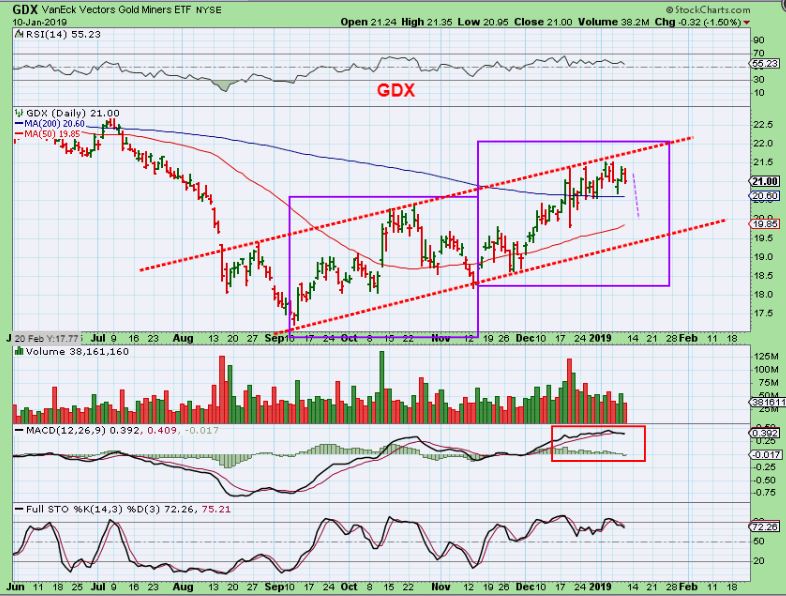 CDE

  

–  So some Miners do look like they could pull back for a buy opportunity.  CDE could tag that 50sma unless it just breaks this apex higher.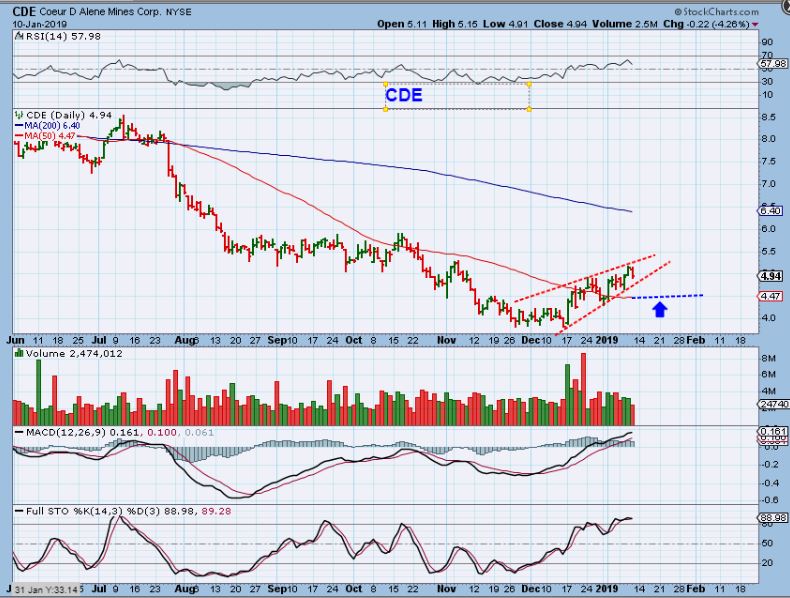 Chart Freak Membership
Alex has been successfully writing a daily newsletter service for nearly four years now and is considered one of the best traders of precious metals miners, energy/uranium stocks, and biotechs.   This is your opportunity to join his service as a member and follow along as we enter the next bullish gold Cycle higher.
If you would like to find out more about the service or sign up, please click the buy option for more details.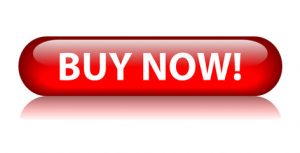 https://chartfreak.com/wp-content/uploads/sites/18/2019/01/gold.jpg
1068
1600
Alex - Chart Freak
https://www.chartfreak.com/wp-content/uploads/sites/18/2019/11/Chart-Freak-site-logo.png
Alex - Chart Freak
2019-01-11 18:18:59
2019-01-11 18:18:59
Let me tell you a story about gold.