LET ME SHOW YOU SOMETHING ABOUT GOLD
(Below is a sample of Alex's work from the week. )
.
1. GOLD

 

MONDAY

– Above the 50sma, it looked hopeful and Bullish on Monday, even though this was the start of the 3rd daily cycle.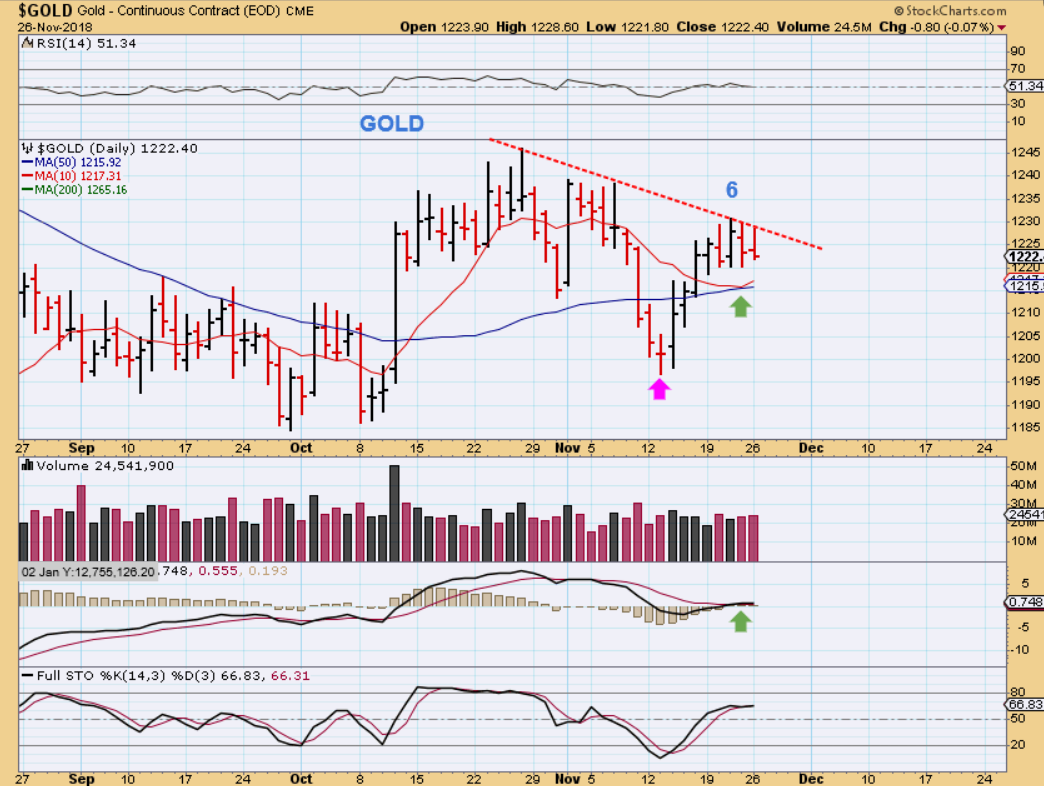 2. GOLD TUESDAY

  –  This was Gold closing under the 50sma during Golds 3rd daily cycle.  This now  looked QUITE Bearish breaking down Tuesday, since volume increased on the sell off and the RSI & MACD crossed down.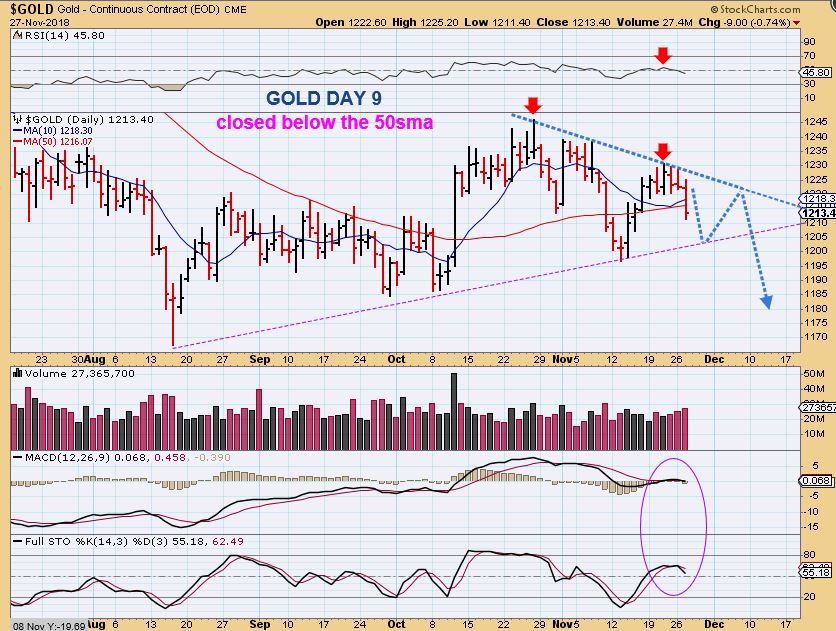 3. GOLD WEDNESDAY

  – After the close under the 50sma, Gold surged with the Fed Speech midday, putting in a strong reversal?  Yes,  this looks bullish, but it looked quite bearish just 1 day before.  Again, these choppy frustrating markets continue to give us a sideways ride.  What can be said about this reversal ? …
  GOLD

  – Many strong reversals or surges higher still just turned into sideways moves, as shown here. This still may not amount to very much in the bigger picture.  A break above this down trend line would definitely add to the bullishness and would threaten a run to the green 200 sma line. Read the chart.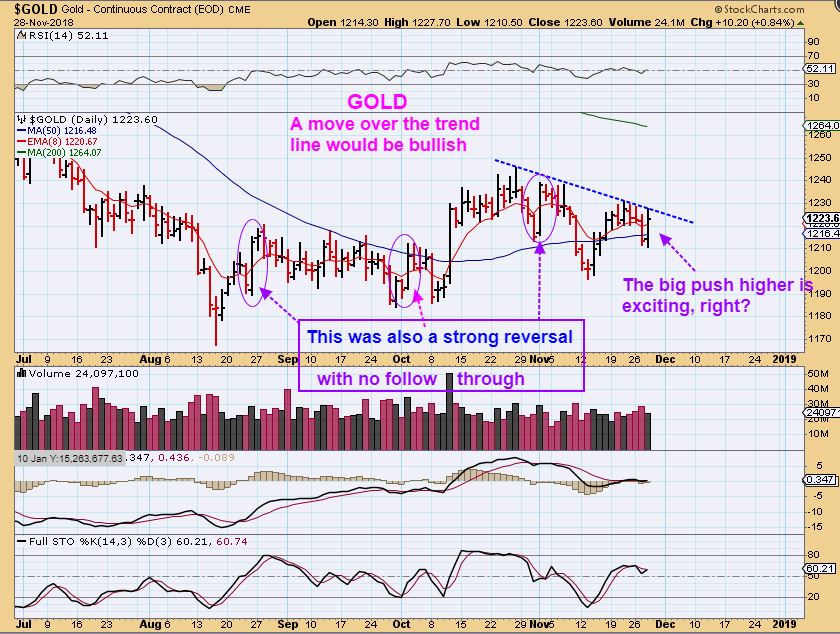 I don't want to burst anyone's hopes, but please just allow me to point something out with the G-20 Mtg ahead…
  GOLD

  – Gold has had a very big move higher recently on November 1st, but it rolled over too, right?  My emails are asking me, "Did this change everything?"  We cannot know from one strong day, since we have had that in the past and nothing more became of it.   We still need to use stops and be cautious if you went or remained long. 

These markets are choppy & devious

.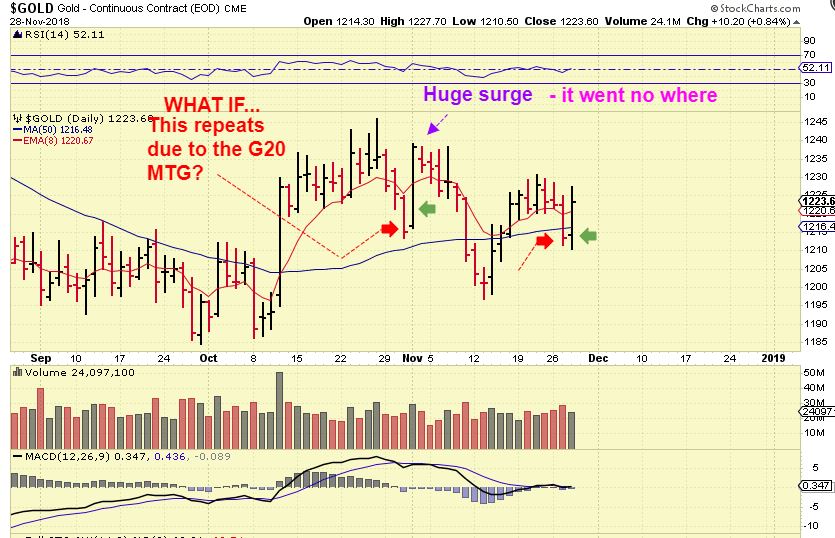 SILVER

  – Silver actually looks like a bullish base with a shake out, recovery, trend line break and back test. I honestly think that Silver looks bullish here, but this has gone absolutely no where for 3 months, it can continue to do that. 'Base'.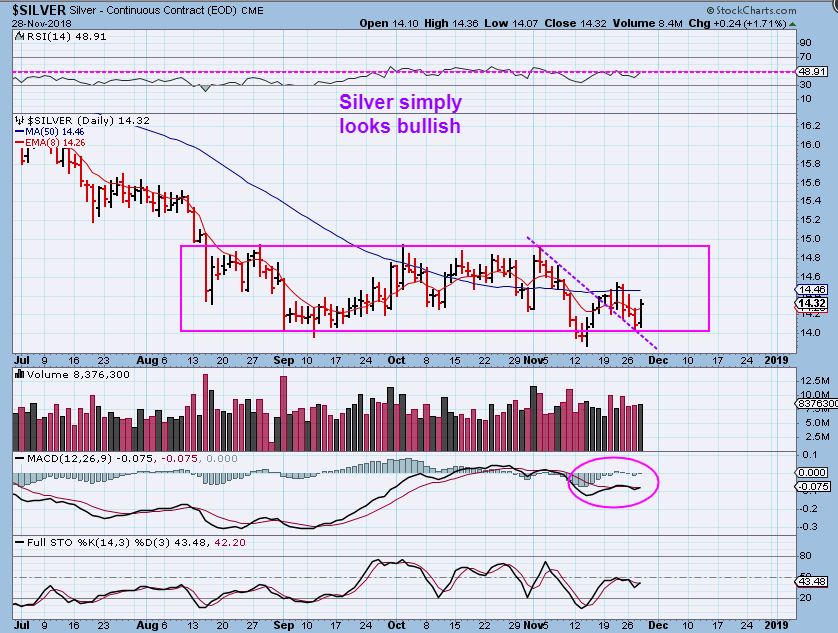 1. GDX YESTERDAY 

 – This definitely looked Bearish as it broke and closed below the 50sma.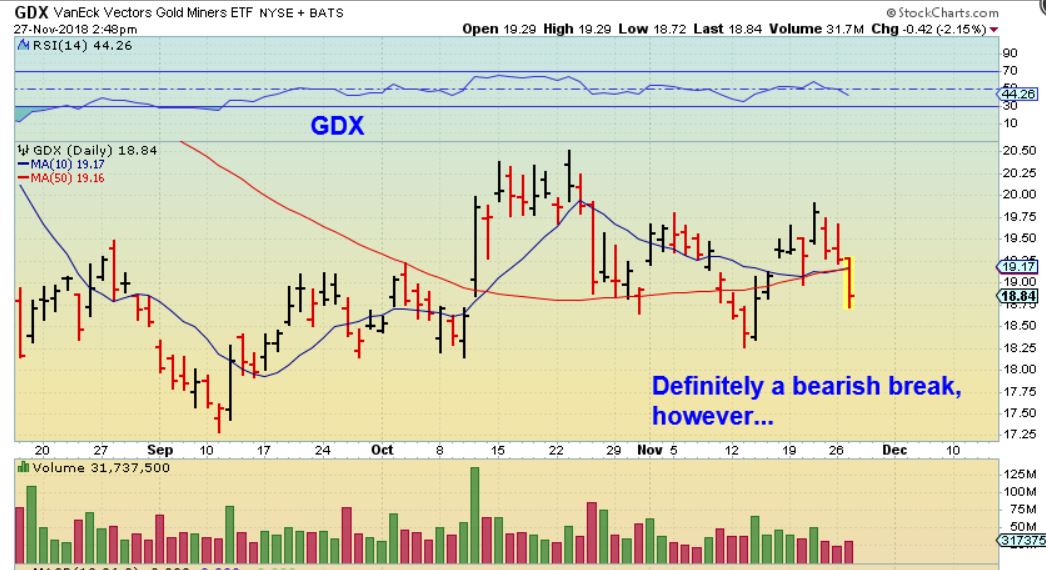 2.  GDX

   – Now GDX looks to have reversed at the lows?  Yes, this now looks bullish again, and so it can be bought with a tight stop, but

1.

G-20 is ahead and 

2.

this has really been a choppy frustrating set up.

3.

Day 6 can still remain the peak & this could break down next week, we just can't tell at this point.       For example: My stop was below the blue arrow DCL when I bought, but I moved it up under the 50 sma, and I got stopped out at the 50sma as a result.  I would have to re-buy & risk getting stopped out for another short gain or loss.  Choppy sideways action is difficult.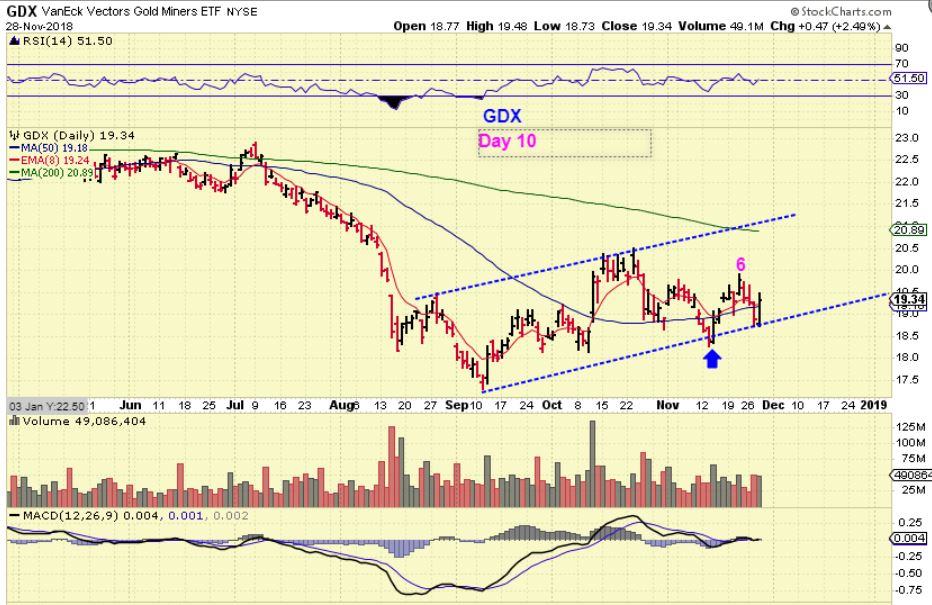 Note:

Choppy sideways action seen above is difficult, but after building a base like this, a  break out & run higher would probably begin to trend in that direction and buying pull backs would be easier & rewarding.  Nobody wants to 'miss the move' out of the lows, but this sideways chop has been causing paper-cuts for weeks now.  You must decide what is the best trade set up for you to pursue, meanwhile some individual Miners do continue to act bullishly.  Lets discuss this sector a little bit further.

.
GDXJ

   – We are looking for follow through.  We have seen large up days, but there is no guarantee that we will see higher price continue. Looking at the large day higher on September 14, the next 2 days were red.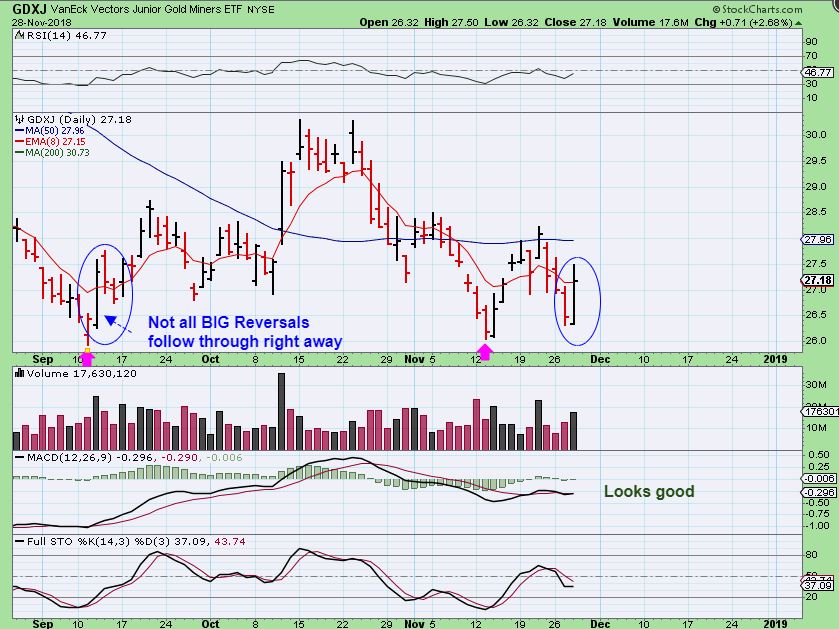 GDX

 – The current set up is that GDX has a day 6 'peak' and today is day 11.  If that peak does not get  taken out, this will be a left translated daily cycle.  If price beats day 6 Thursday or Friday,  it'll be a peak on day 11 or 12 so far ( Still can be L.T.)

And then we face G20

.   Do you feel lucky, kid? Do ya?   It is a very tough call here, because we have seen large up days and large down days often.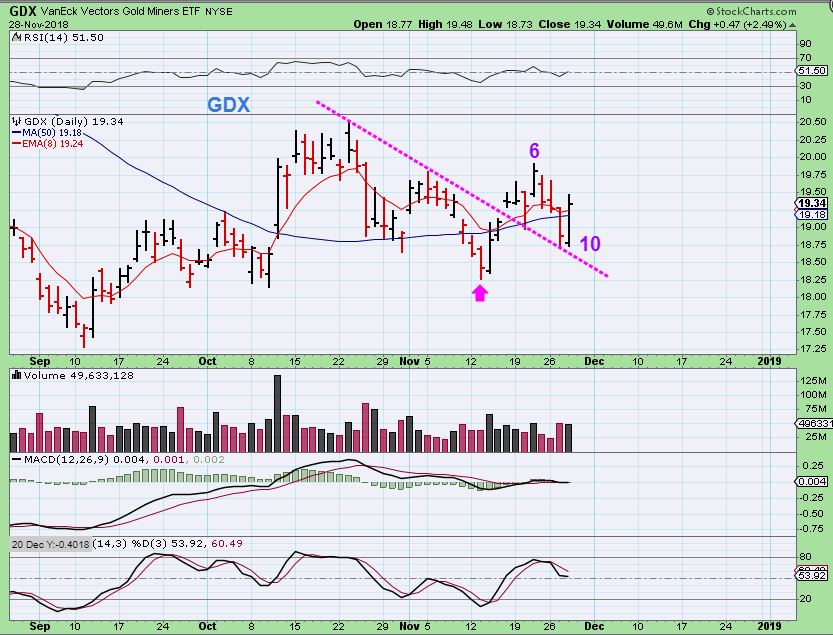 MINER THOUGHTS
.
Are you frustrated because you feel you may be missing a move in Miners with all of the false starts and shake outs? ABX , AEM, KL, and others have been shown as Miners that have been leaders, and they ran well?     Well,  SILVER STOCKS are still at the lows,  you haven't missed a thing, because Silver often roars higher when it gets going, when the time is right for it.  🙂  Notice…
.
AG 

 – This is actually a series of lower highs and lower lows, so several Silver Miners like AG are at their lows. IF A big run was going to start now with the FED SPEECH followed by the G20 Mtg,  this would be a shake out, but you'd still be getting bargain prices.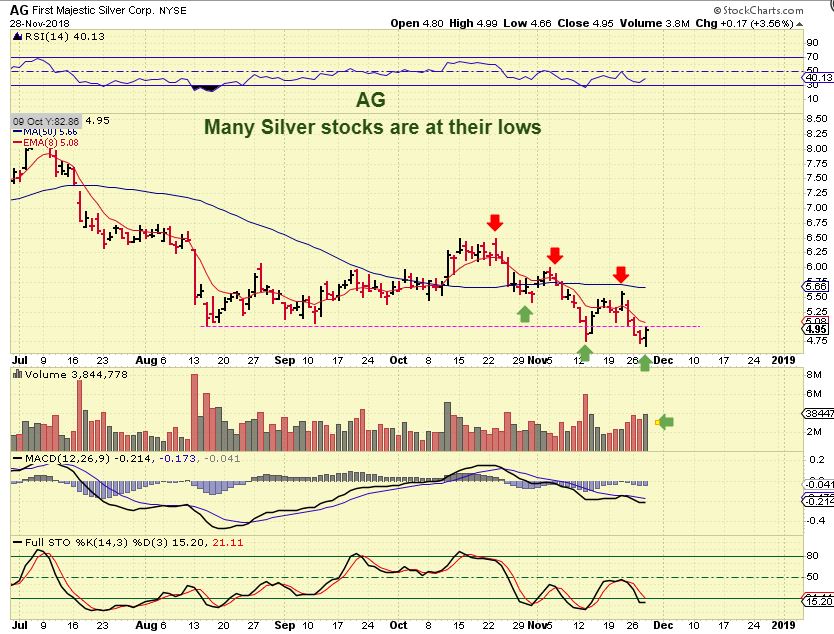 EXK

   –  EXK hit new lows, but suddenly looks like a bullish wedge. So we are getting more Mixed signals.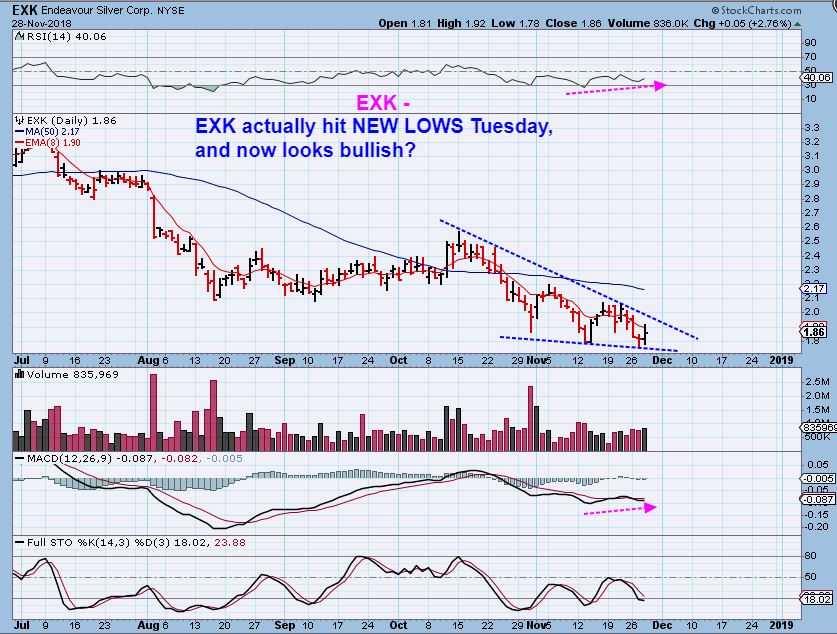 HL

  –  Inverse H&S with HL.   Hecla  is also still at THE LOWS, but the RSI is at 50%.  Silver stocks look like they want to move higher. Next weeks post G-20 results may be the answer.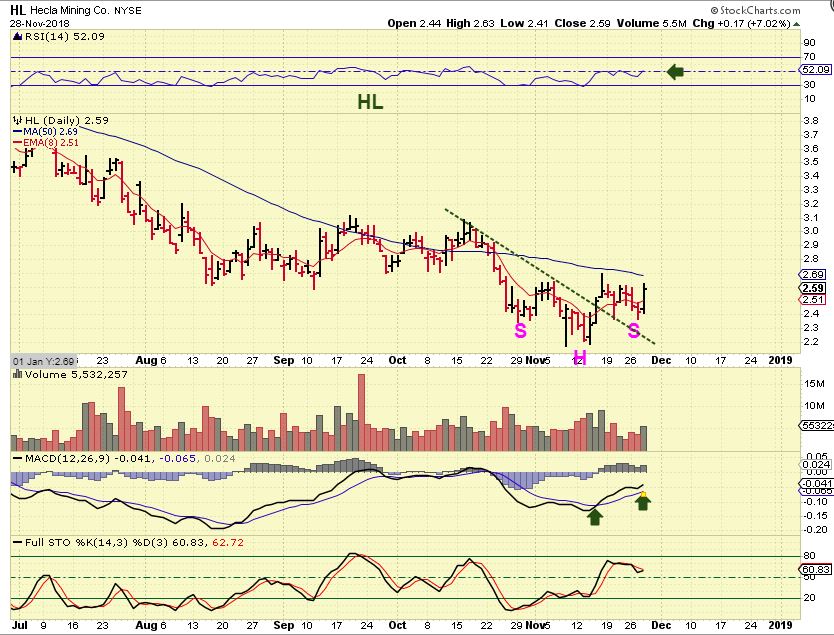 .
AU- 

And then we have bullish leaders pushing higher. Amazing.  These are choppy frustrating markets. so…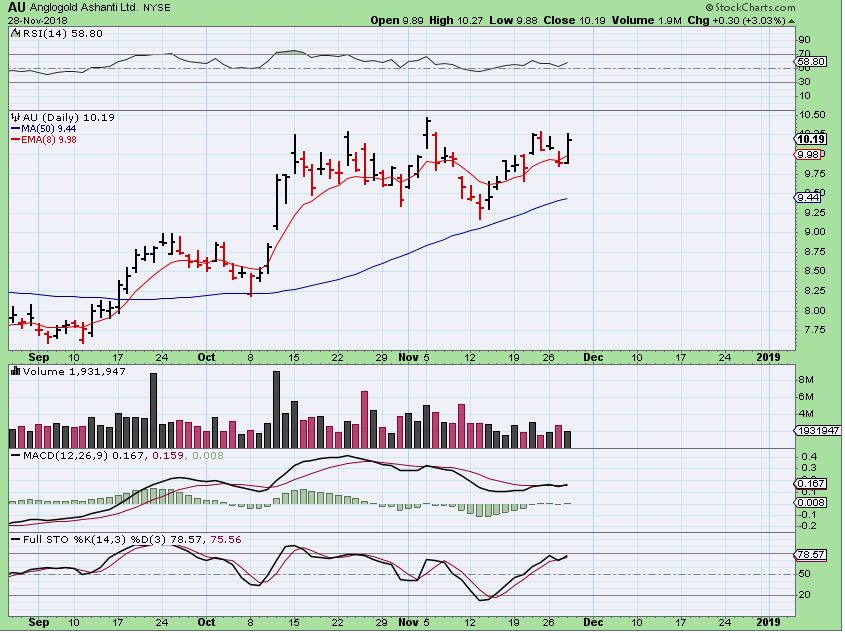 All I can say is that this is possibly the most mixed I have ever seen the Miners.  We have seen Many Silver stocks breaking to new lows right now, and yet several other Miners have been running higher and remaining bullishly at highs, like ABX, AU, etc.    We have GOLD & GDX breaking down below the 50 sma one day, and then sharp reversals that are news driven and often short lived. The USD is due for a drop, which is usually good for Gold, but GOLD is in a 3rd daily cycle, that is often when it weakens.  Throw in a FED discussion that sounded a bit more dovish and a G-20 meeting that may see Trump enforce greater tariffs on China or come to a trade agreement that is favorable, and you have more volatility, whip saw possibilities, and uncertainty.   I think Fridays action will be important when deciding how much of anything you want to hold going into this weekend.
.
Chart Freak Membership
Alex has been successfully writing a daily newsletter service for nearly four years now and is considered one of the best traders of precious metals miners, energy/uranium stocks, and biotechs.   This is your opportunity to join his service as a member and follow along as we enter the next bullish gold Cycle higher.
If you would like to find out more about the service or sign up, please click the buy option for more details.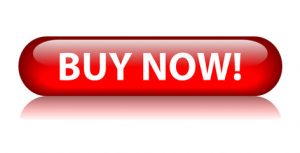 https://chartfreak.com/wp-content/uploads/sites/18/2018/11/gold.jpg
1067
1600
Alex - Chart Freak
https://www.chartfreak.com/wp-content/uploads/sites/18/2019/11/Chart-Freak-site-logo.png
Alex - Chart Freak
2018-11-30 15:43:32
2018-11-30 15:43:32
Let Me Show You Something about Gold (& the Miners)