I am opening up today's report to the public.  Enjoy.
.
Nothing has really changed since the weekend report. The markets have been choppy and difficult to record any gains over the past few days, but I do love the way the Precious Metals sector acted yesterday, so let's  take another  look at what we have.
.
SPX

– You can see that these types of sell offs into an ICL can lead to a double bottom, and Monday our General markets sold off further.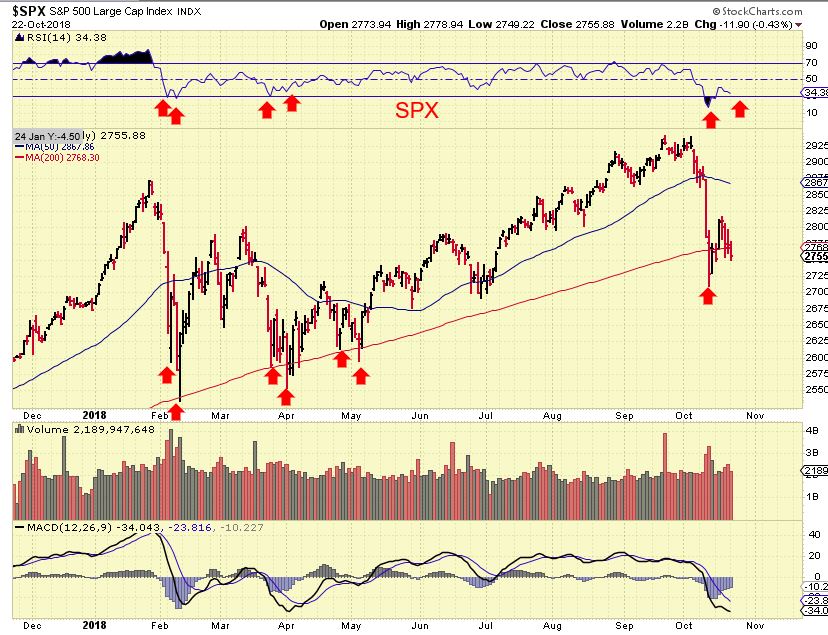 DJIA

–  You may want to look for something like this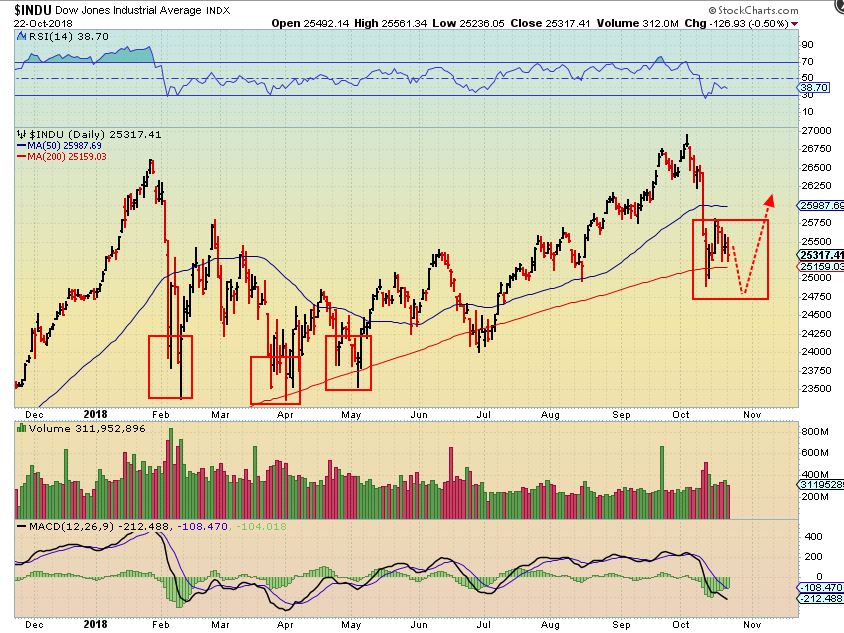 HOWEVER….
It needs to at least be mentioned that after we get the ICL, the next 2 daily cycles will be very important.  They can show us 1 of 2 things:
.
SPX

– The next 2 daily cycles will reveal if this bull continues after the ICL, with higher highs and higher lows,   or…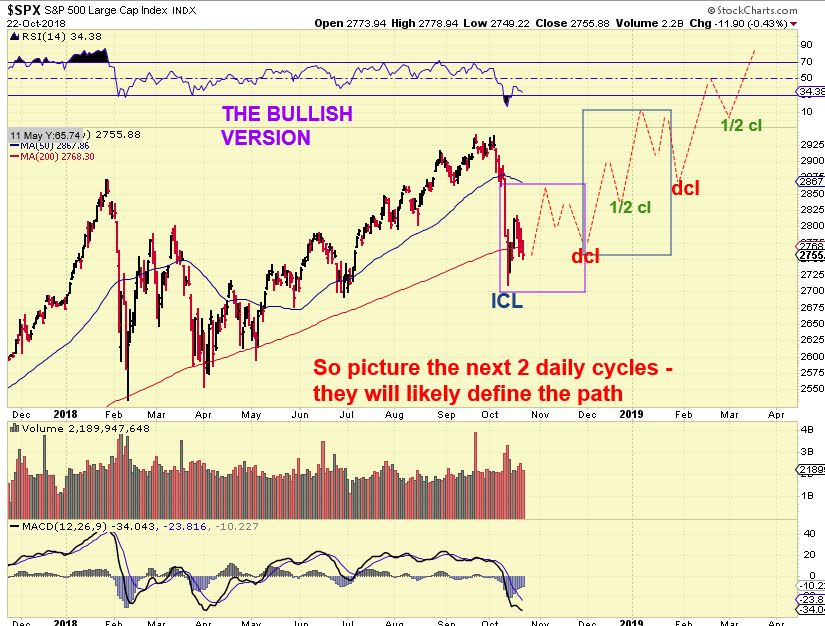 AT THIS POINT I LEAN TOWARD THIS VIEW, WITH GOLD BEGINNING A RUN HIGHER AND MARKETS CORRECTING:
SPX

–  The next 2 daily cycles could be a dead cat bounce, possibly even a double top here,  into what will now be a bearish type  correction as shown.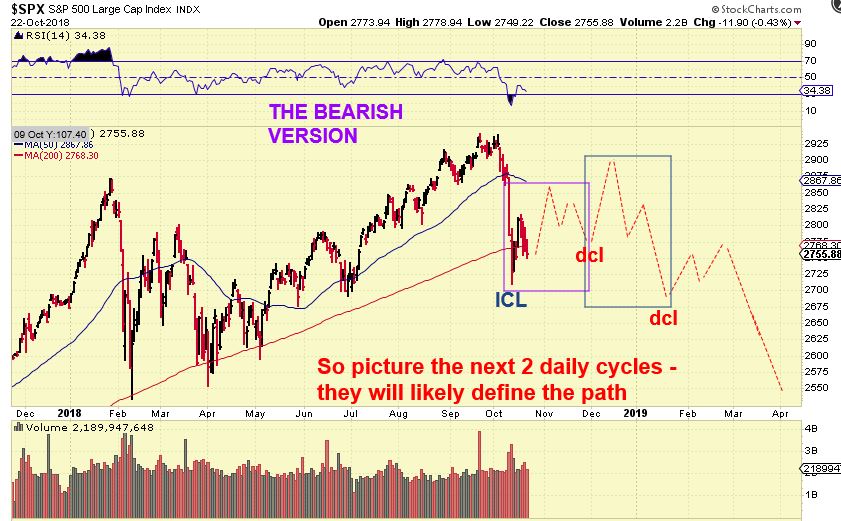 SPX

–  This is why, and it might now be Precious Metals and Commodities time to shine, while the markets correct.  "They" will blame it on elections or Interest rate increases.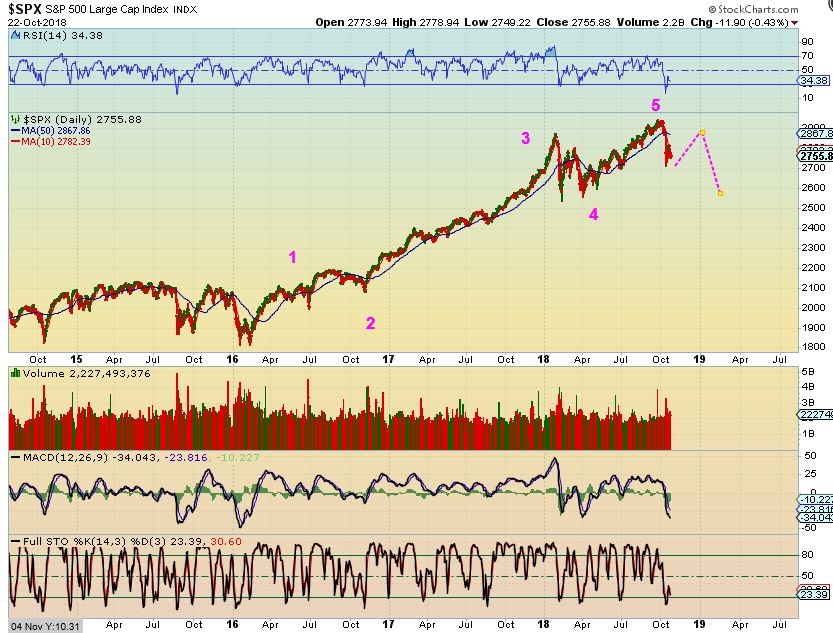 WTIC

– On day 46 of this current daily cycle,  nothing has changed with Oil.  I am expecting a dcl any day now. We need a swing low and a break above the 10sma.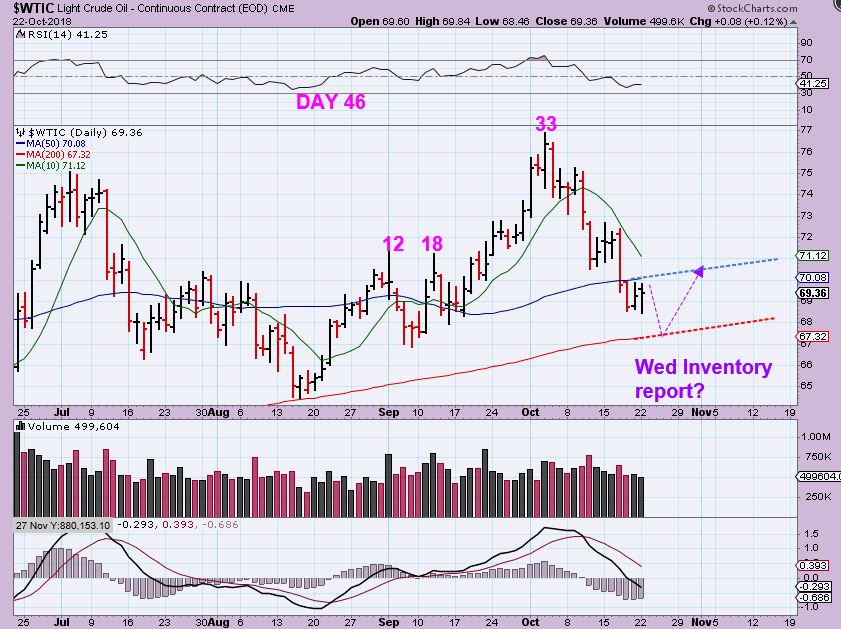 USD

–  The USD has been strong, but it is not affecting Gold greatly.  Gold is holding up well.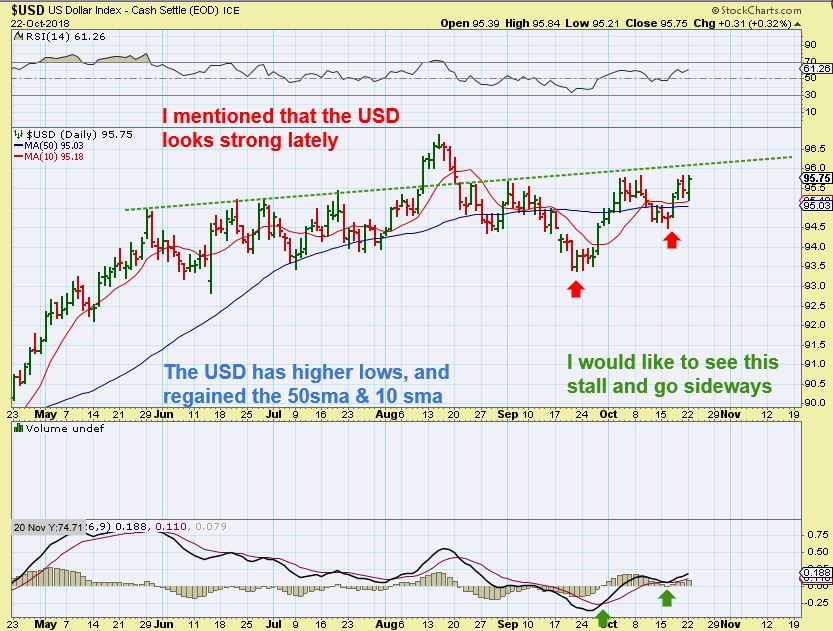 GOLD

– Gold dropped to the 10sma as support, this looks like a bull flag as mentioned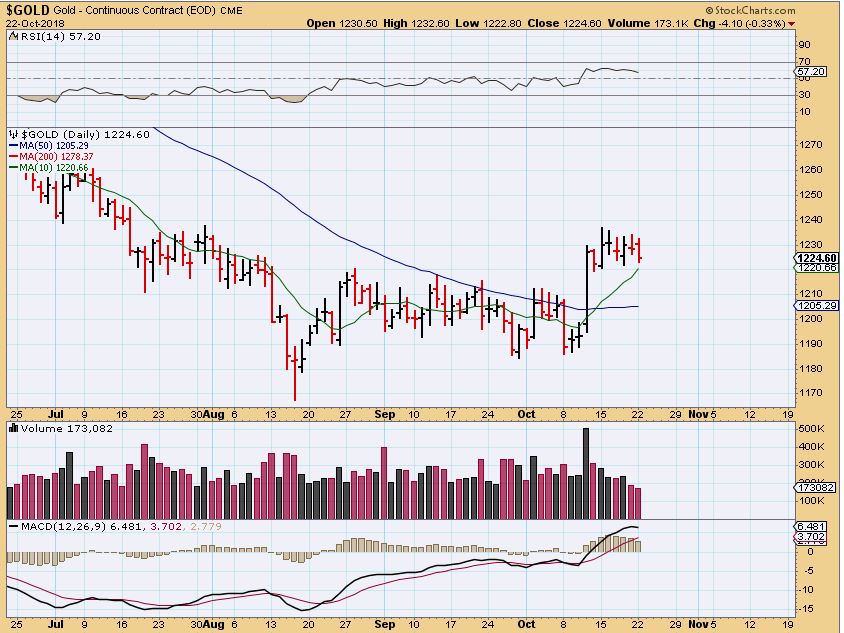 GOLD – 

 On October , I said that I would like to see this.  It would be  a little more sideways consolidation to the 10sma, and then a POP.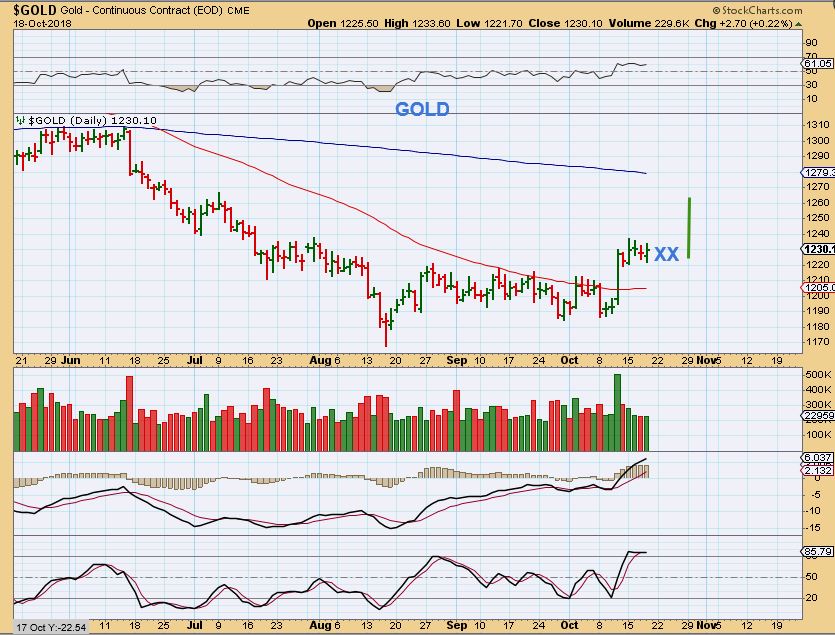 GDXJ 11 a.m.-

  I Captured this and posted it in the live chat area of the website, to show that GDX &  GDXJ drop yesterday was a normal one and the 10sma is being tagged.  We would look for a reversal.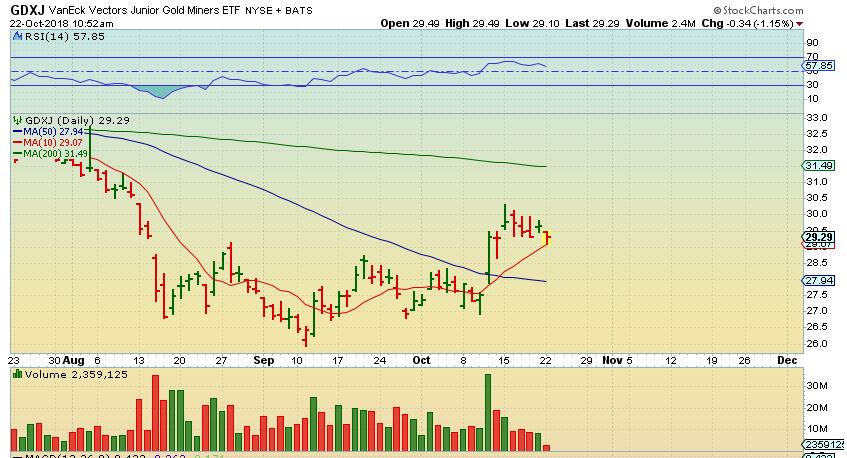 GDXJ MIDDAY

–   We were getting that reversal and this held into the close, so this is a low risk buy if you use the 10sma as a stop now.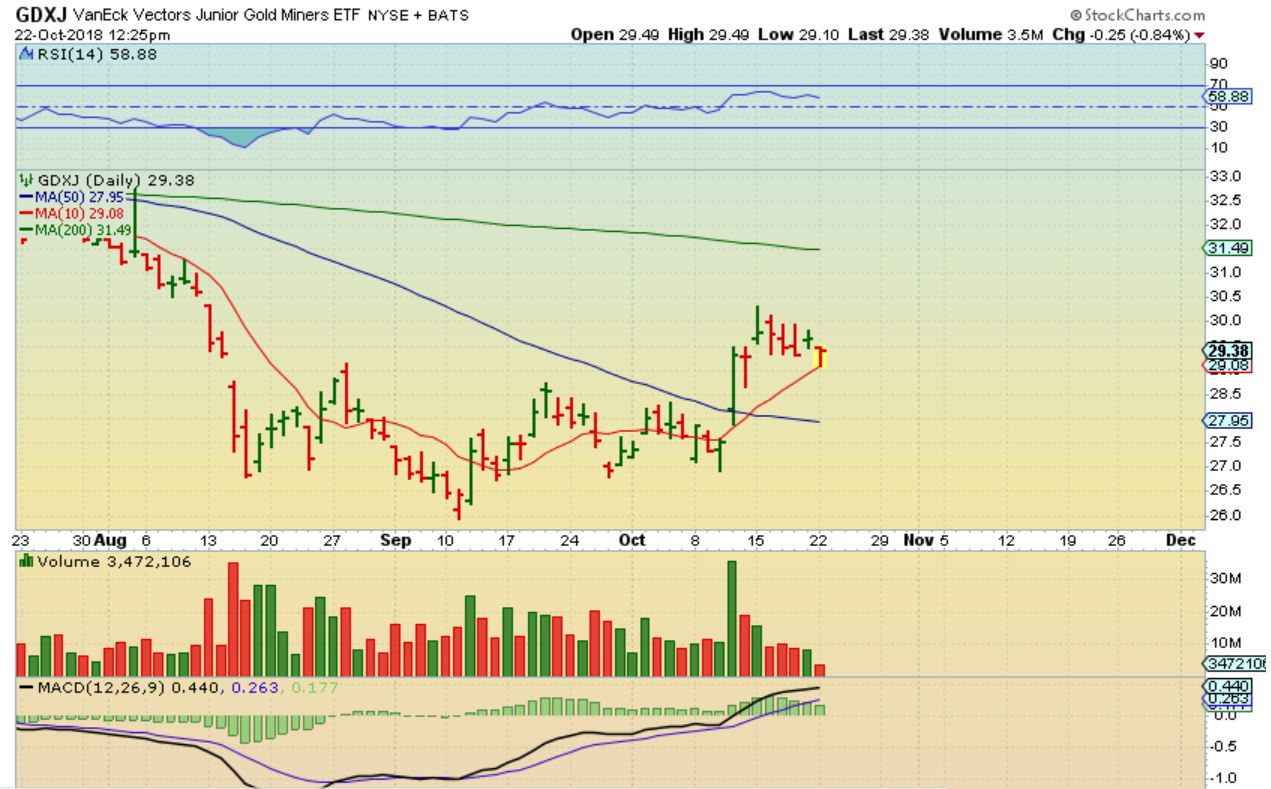 I HAVE BEEN POINTING OUT BULLISH ACTION IN THE MINERS. LET'S JUST TAKE A LOOK AT A FEW…
GORO #1

–  On Oct 18 – I pointed out that the 10sma is a target that Bull runs dip too.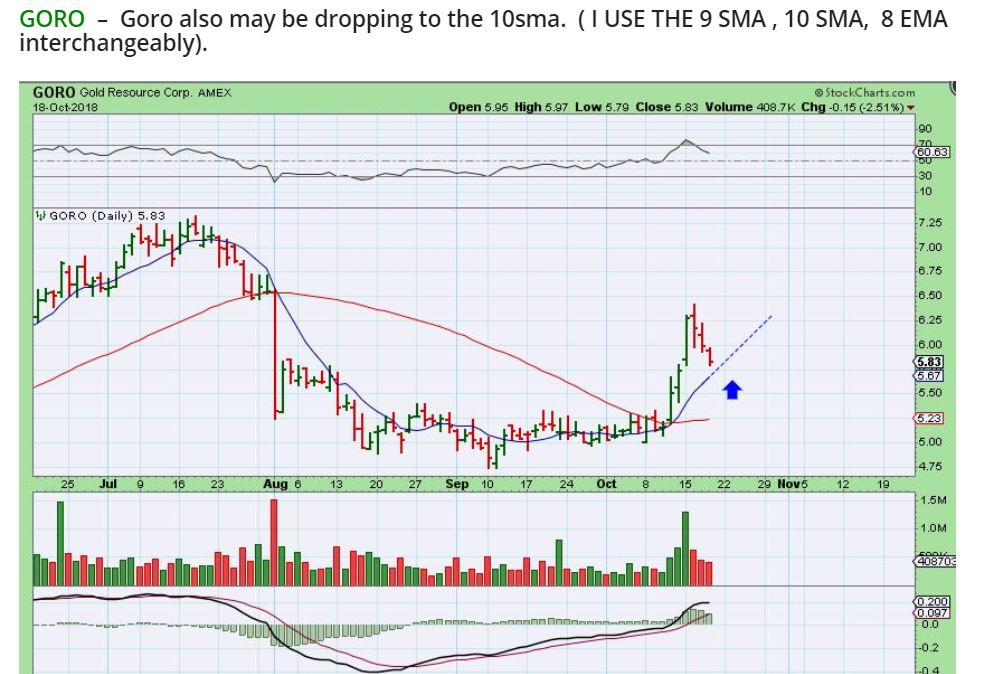 GORO #2

– I said to add at this area is normal and then we watch for the support reversal to hold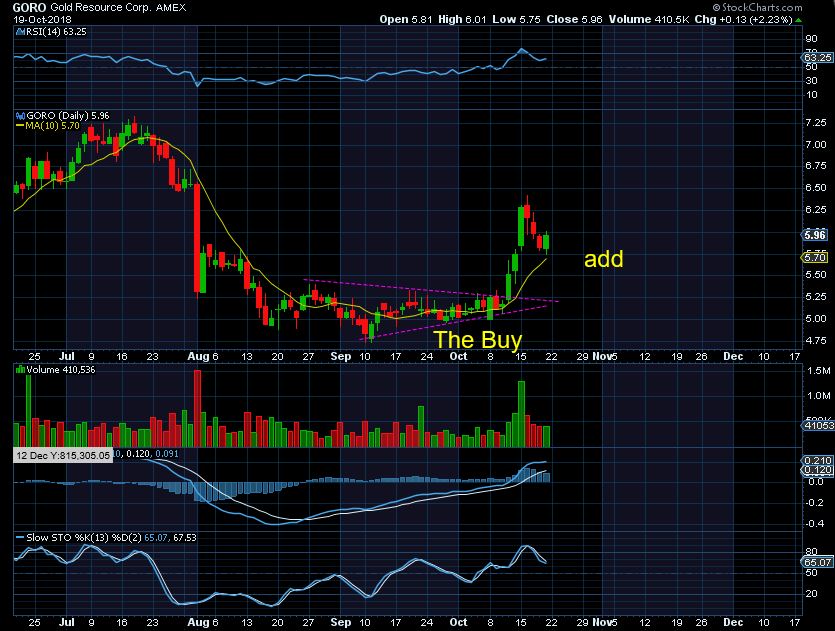 GORO #3 – Yesterday GORO dipped and recovered again,  this is bullish action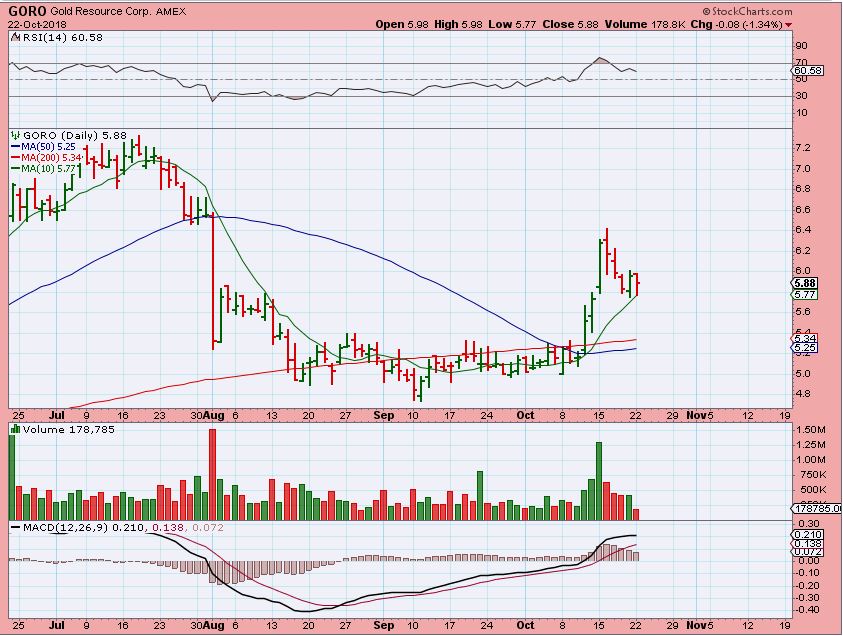 AG

– I pointed out AG as a buy in the weekend report.  It dropped and recovered the 10sma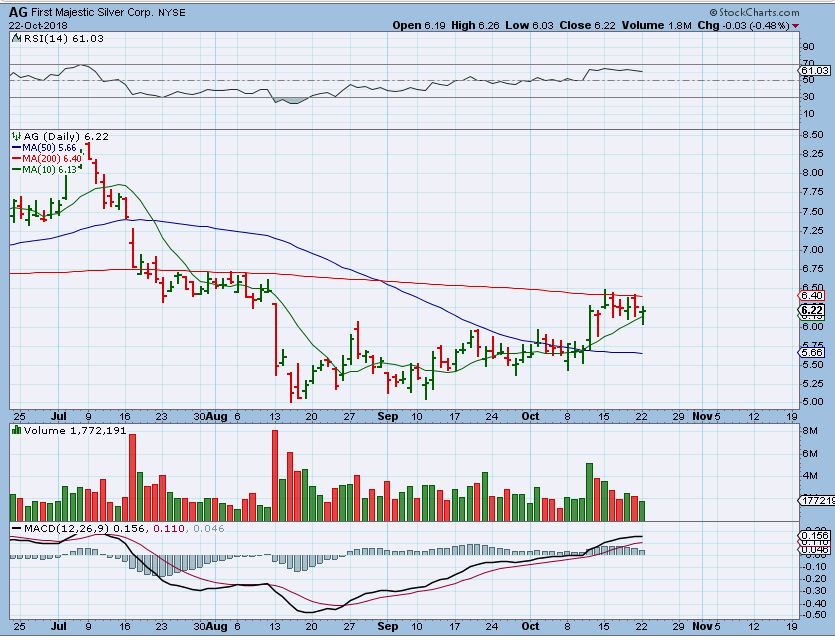 AU

–  10 sma Bull Flag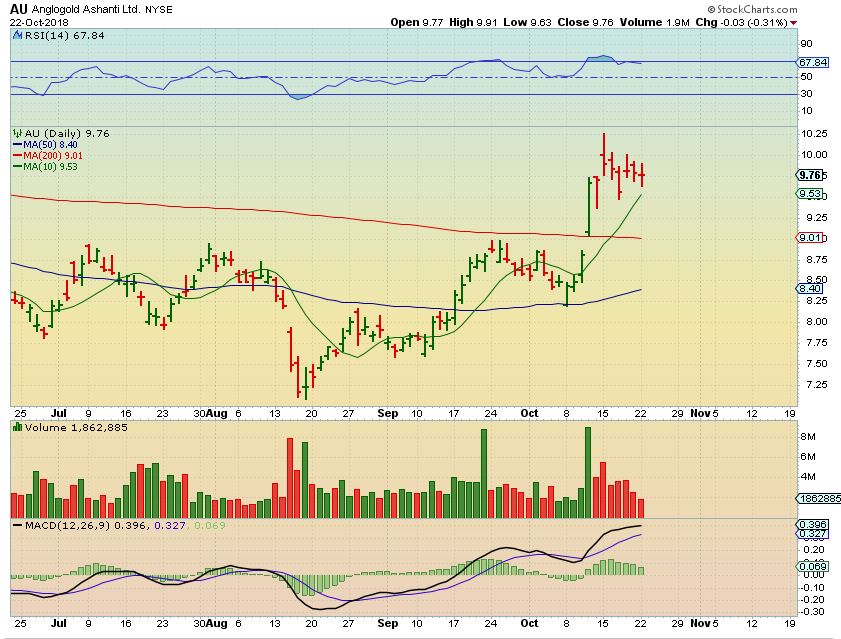 BTG

–  10 sma,  Bull Flag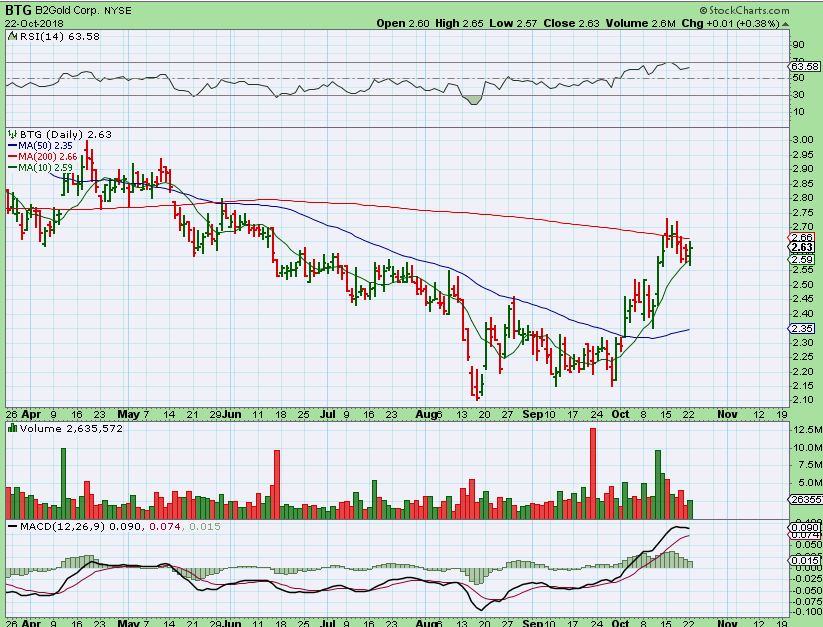 So Gold & The Miners continue to act correctly, we have been on a Buy & Hold for weeks, expecting that an ICL is in place. GOLD & MINERS are acting correctly.
.
EDIT: GOLD This morning – trying to break from the consolidation.  This is a 2 hr chart, it is the Bull Flag that you saw on the Gold charts, so…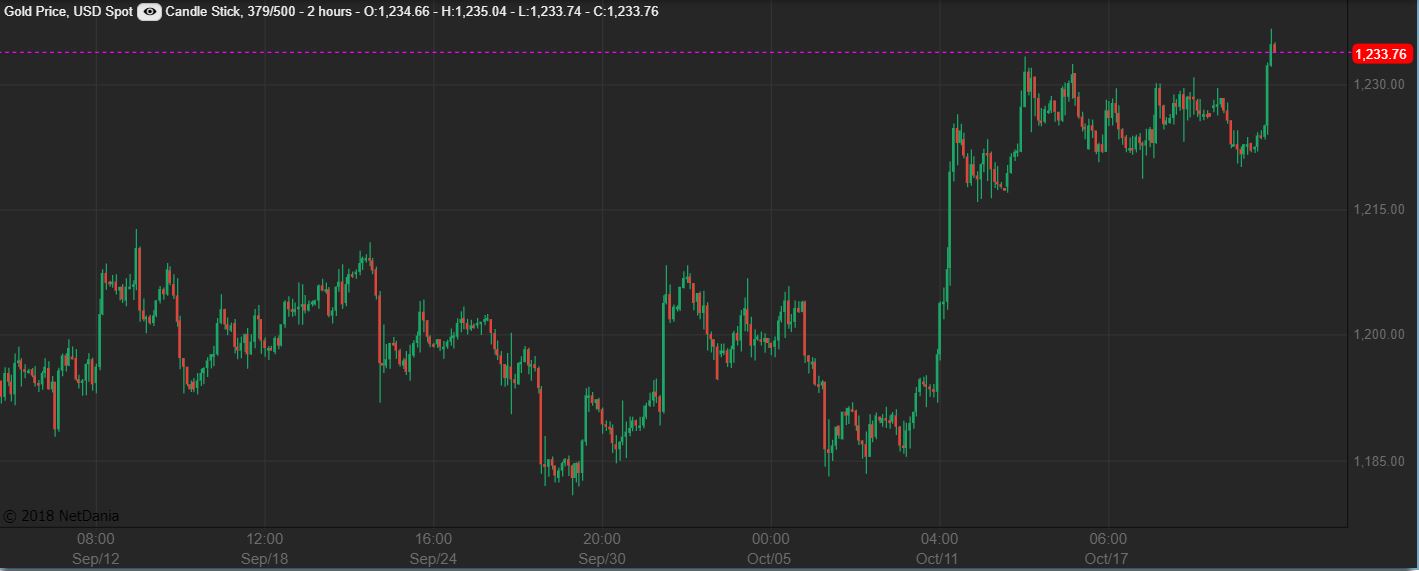 GOLD – 

 On October 18, I said that we could see this.  It would be  a little more sideways to the 10sma, and then a POP.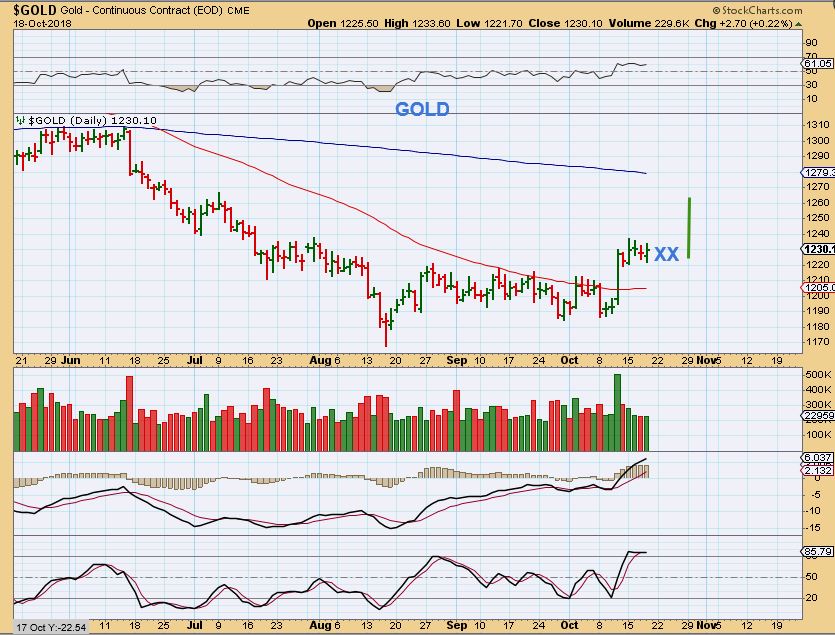 GOLD  IS DOING JUST THAT THIS MORNING

–  VERY NICE.  NOTICE THAT THE 50 SMA HAS CURLED UPWARD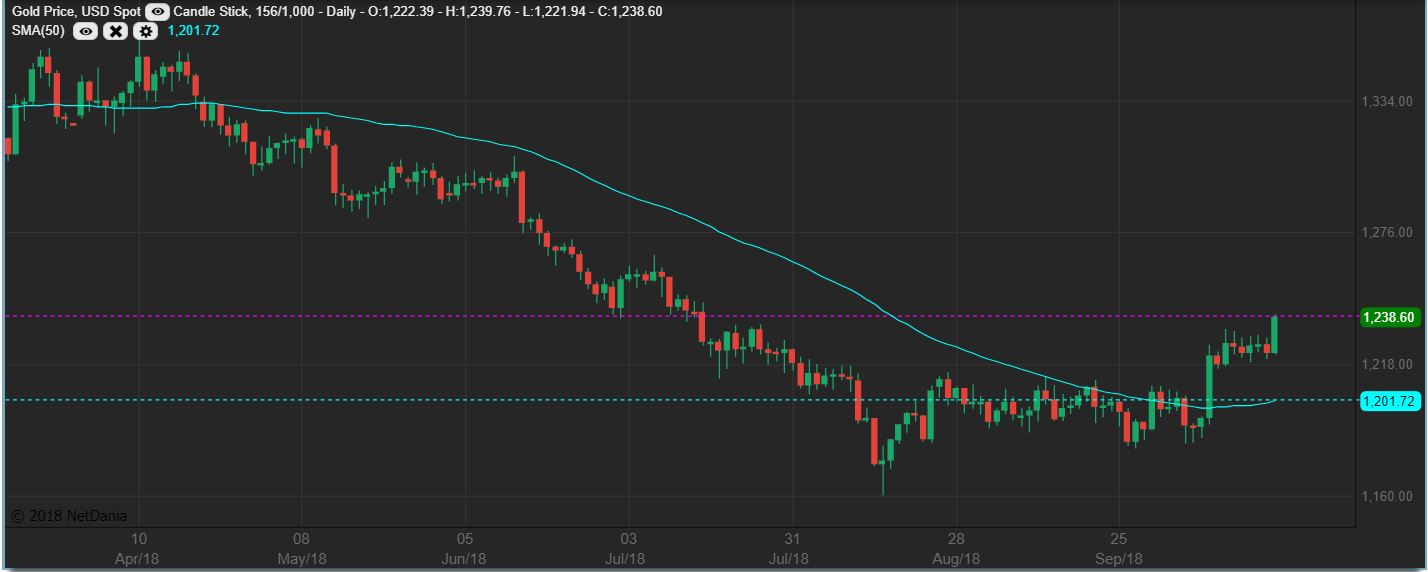 .
GOLD LOOKS GOOD THIS MORNING ,  AND THE MINERS HAVE BACK TESTED THEIR 10 SMA, ENJOY YOUR TUESDAY TRADING!
.
~ALEX
.
CLF-  I mentioned that this may be an earnings shake out, since it crashed and recovered at the 50sma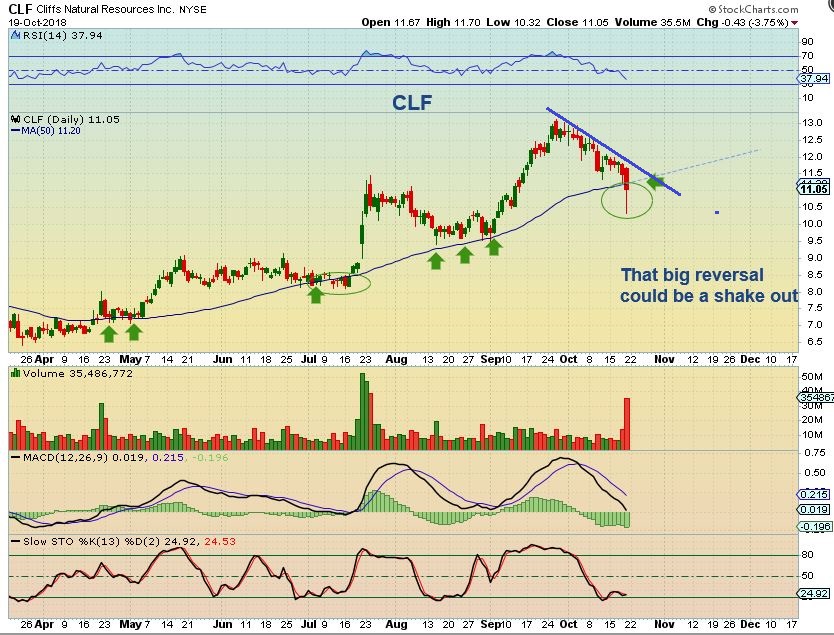 CLF-  It recovered the 50sma yesterday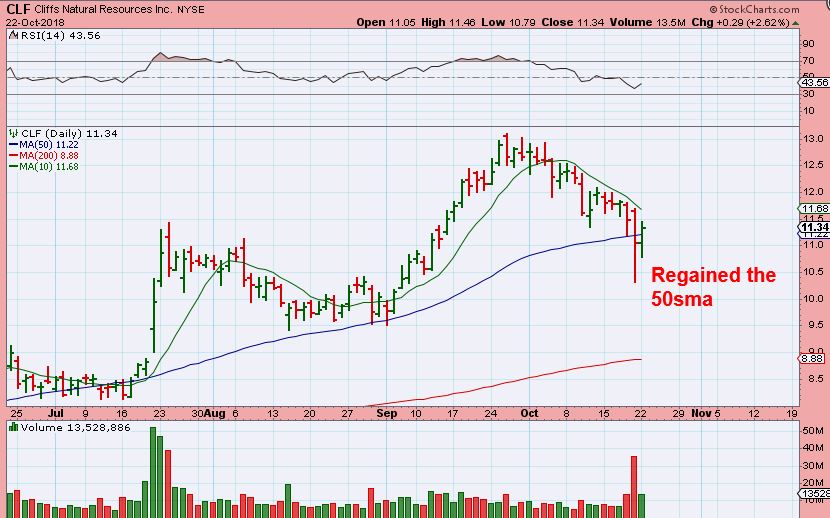 SBLK

  –  Shippers exploded yesterday with DCIX, SINO and others running up as much as 40%.  SBLK and DSX look like Buy opportunities that have not run up yet.  You could buy this on the 200sma and use that as a stop.   DSX is under the 50sma, you could buy if it breaks above it.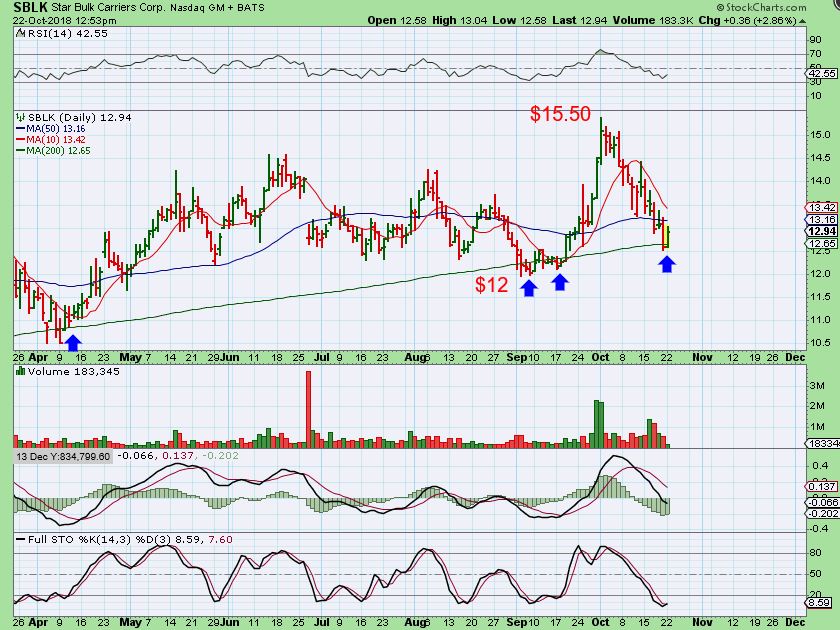 .
The Medical Marijuana Sector has been an excellent opportunity to make fast gains since August.  With Canada announcing a country wide legalization of marijuana sales in October, and some states in the US doing the same, Revenues have been growing rapidly in many of these companies.  That said,  I believe we may now be seeing "Buy the rumor, Sell the news".  I think this sector has been eagerly scooped up over the past several weeks and may now need to sell off and consolidate those gains.   Let's take a look at the MJ ETF as an example.
MJ

–  I am not in a hurry to buy the next bounce, because in the past I have seen consolidations last for months.  I try to view it in my head as daily cycles that will make new lows, not new highs.  If ( or when) that changes,  I will recognize it.  This is not 'Bearish', all Bulls need a consolidation type rest too. See 5 yr charts of AMZN or GOOG for proof of that.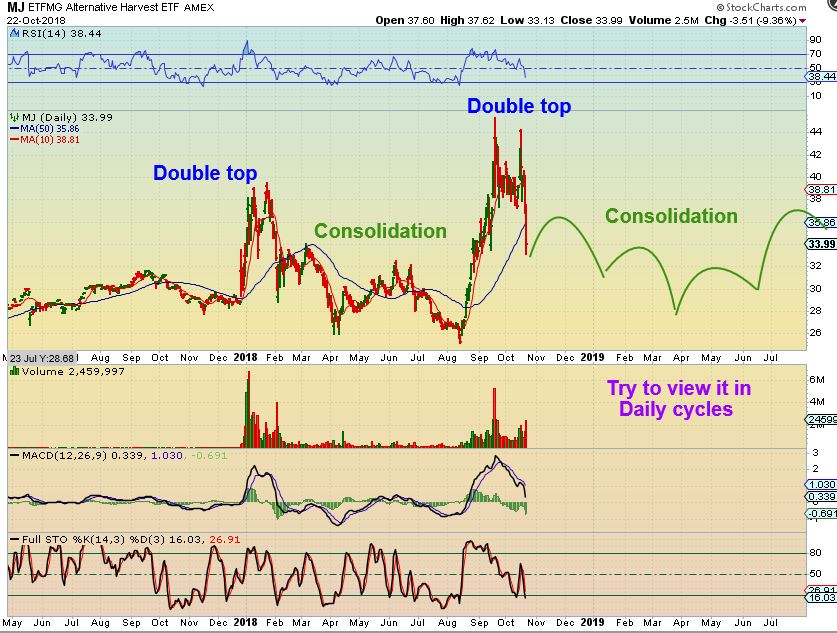 ACBFF #1

 

–  Last week I had this chart as a warning Oct 19.   ACBFF is going to be listed today on the NYSE Tuesday Oct 23.  IS THAT ALONE A REASON TO BUY?  Or has the Run higher exhausted buying & it becomes a sell the news too?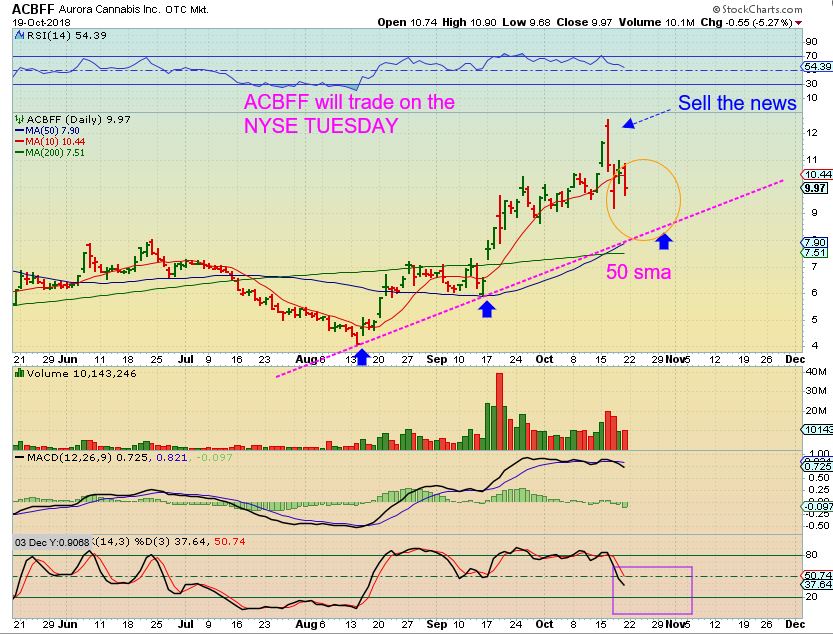 ACBFF #2

–  I want to view it like this to avoid getting sucked in eagerly on any bounce, only to find that it needs more time too.   I am personally going to be recommend patience with a focus  more on Miners – they are acting correctly.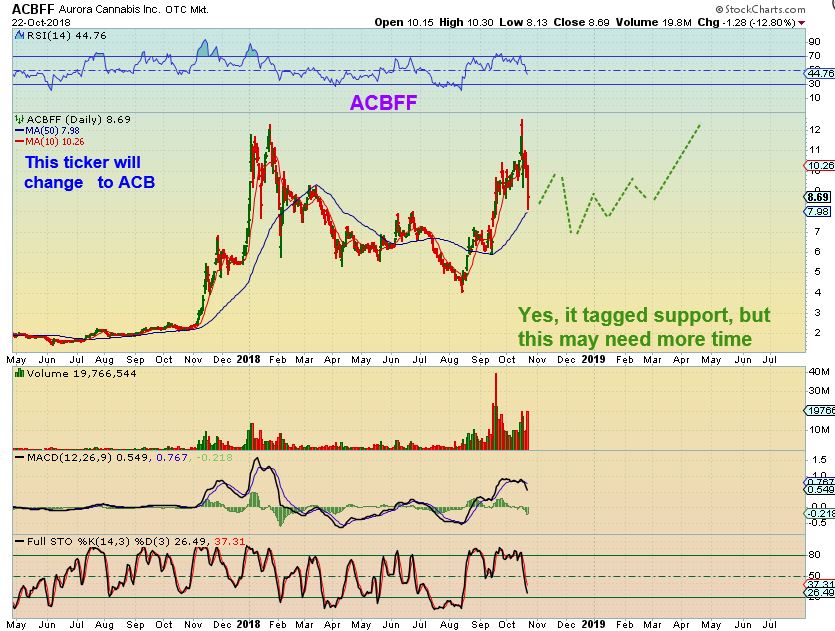 https://chartfreak.com/wp-content/uploads/sites/18/2018/10/WEEKEND.jpg
662
873
Alex - Chart Freak
https://www.chartfreak.com/wp-content/uploads/sites/18/2019/11/Chart-Freak-site-logo.png
Alex - Chart Freak
2018-10-23 12:56:26
2018-10-23 12:56:26
OCT 23rd – Public Market Review