NOTE: Please keep in mind that this report was written last week as a premium report, while Bitcoin was between $7000 & $8000.   Bitcoin almost hit 10,000 this weekend, and a follow up premium report was posted on Monday.  The following report gives you an idea of how we were viewing the blockchain charts. It also briefly discussed OIL, the XLE, Gold & Miners.
.
While waiting patiently for the Gold market to set up properly, we have been trading other areas, and one of those areas recently has been the Blockchain trades. I mentioned that I had been trading these on the side, watching how they play out, seeing if they act as expected, before including them in the reports.  Well, they are quite volatile, but I was having success trading them, so I came to the conclusion that they were trade-able and that maybe I should put them in the reports with a small warning about risk last week. So we started trading Blockchain last week.
I'm not sure who decided to take these trades with me, and who watched from the sidelines, but I want to review some of these explosive moves (and gains) and point out a couple more set ups that may be ready to follow the leaders.
RIOT

– This chart showed a consolidation that I had been trading with BIG SWINGS. After a series of lower lows, we see

a higher low Nov 13

and it looked ready to break out, so I Used this chart as a buy and…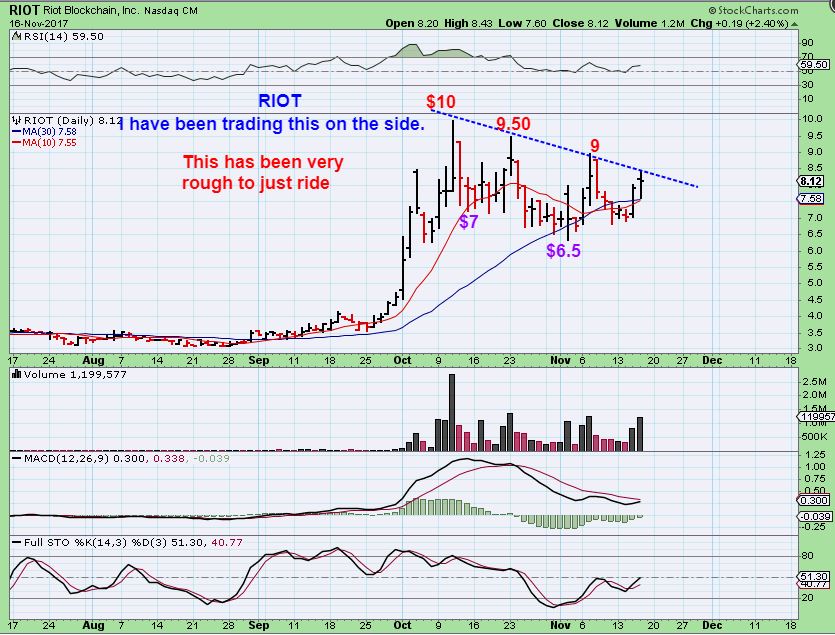 RIOT

– This chart to show the bigger picture potential. I named a couple of upside targets that sounded kind of ridiculous, like $14 & $16, even in the $20's.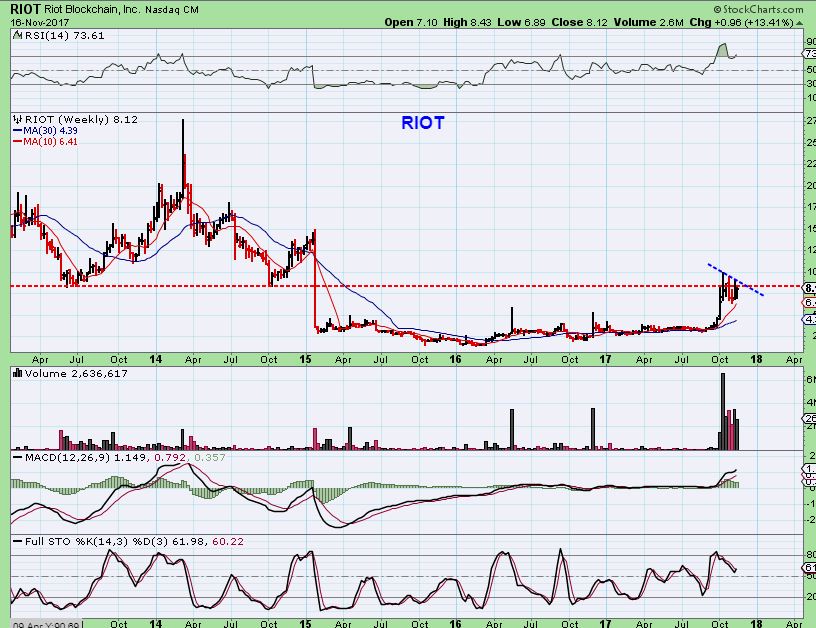 RIOT

–  I sold 1/4 of my position at $16 & posted that in the comments section. Then it after hrs, it continued to ramp up and was at $18.35, so I placed a sell for 1/4 at $18.30 & it sold immediately.  I mentioned this in the comments too, so that others could follow if they wish.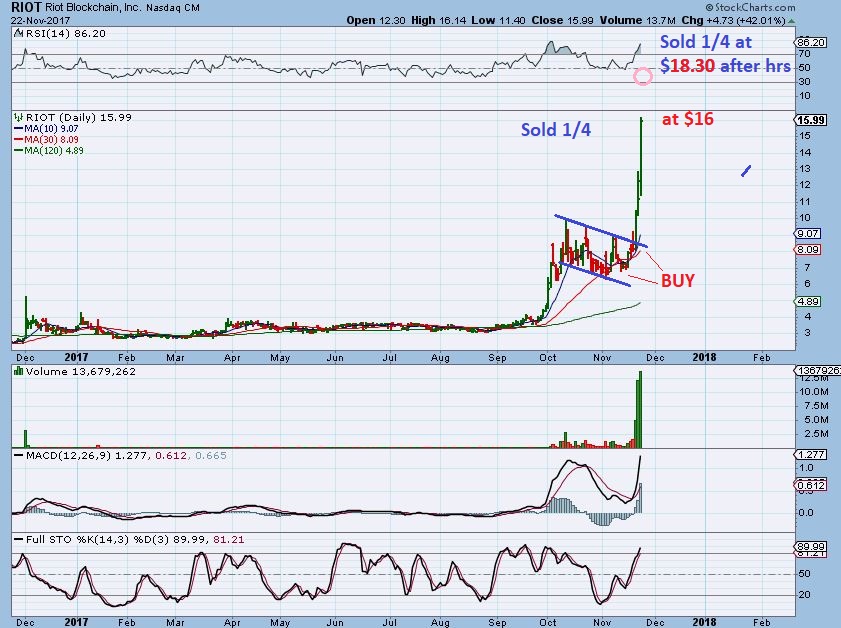 GLNNF

– 

GLNNF

,

RIOT

, and

PRELF

  were the main ones that I traded as an experiment. GLNNF has been very quick mover too, but they are also getting very exuberant and parabolic when they take off  ( Bit coin is breaking new highs too). I sold this one a bit early every time, but with solid double digit gains.  I mentioned this one near $1.20 I believe, and

I sold it at $1.80 

(

Red Arrow = early again

) 🙂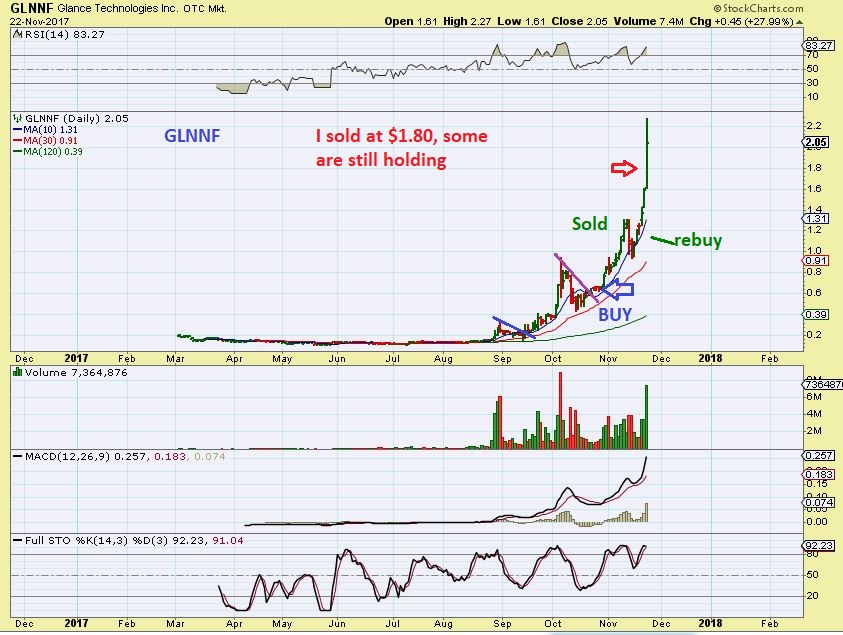 So let's take a look at some other trade ideas in this sector…
 Before we get into Blockchain again, I repeat my original healthy warning.  These are fast trades, fast moves in both directions. Some could just be getting caught up in the hype, but the charts look set up to move higher. I have not done deep research on all of these, but have done some reading on most. 

They may not be for everyone.

   I expect that RIOT, when it peaks, could drop back to $12 or so in mere days. 

Please look at a 3 month chart of HMNY Now

.  That is why I mentioned in the comments that I rode RIOT now for a week or so  ( $7 to $16)  and sold 1/4,  then sold again in after hours at $18.  Why? I have price targets, but you can't tell for sure where the top will be on a parabolic run, but when it comes?  See chart of  HMNY, MNKD, MTBC.  These are FAST TRADES that can go boom to the moon in days, but they DO exhaust and pull back too.  Let's continue…
.
GROW

–  I will start here because I own it, I mentioned it Tuesday, and it dropped back on Wednesday after first gapping open higher. When I traded RIOT, GLNNF, and PRELF, they did this too, they were volatile.  I think it is fine, honestly it has gone from $1.25 to $4.25 in 2 months, it is a big mover!!  It is no longer overbought and volume spiked, I think we have more upside, but unfortunately these DO have very big swings & are volatile.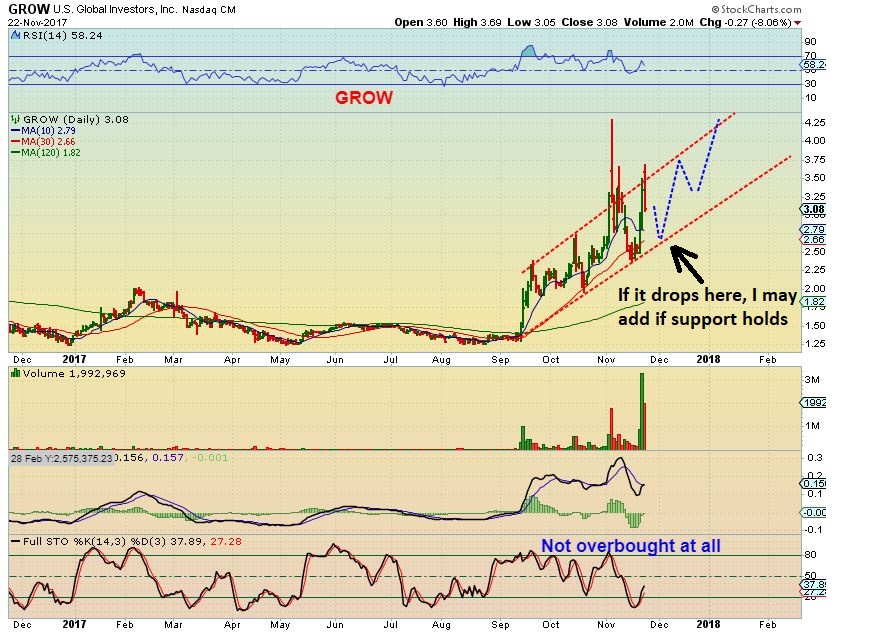 SRAX-

I also had this in the report and I said that I own this one too, it had broken the down trend and recovered the 10sma. Volume was swelling and it looked ready to go…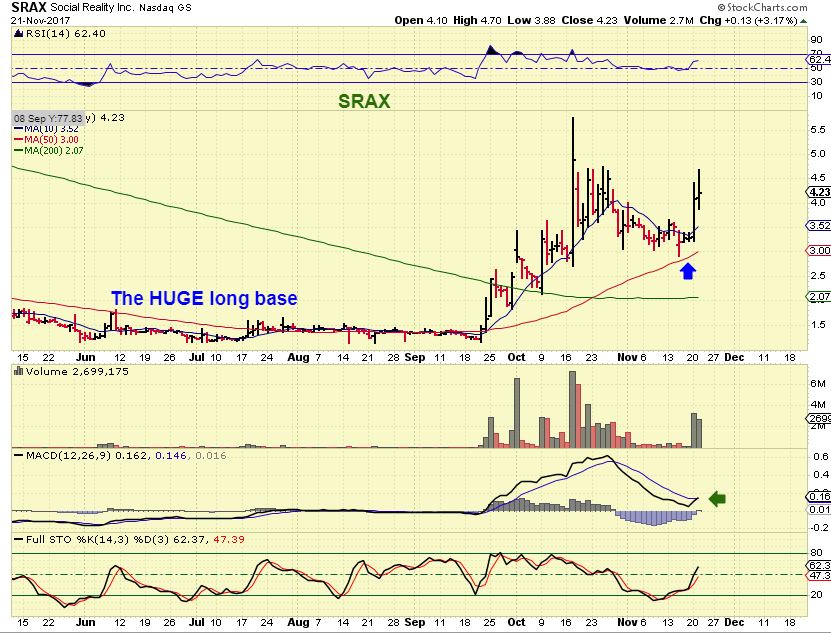 SRAX

–  And Go it did. Volume was very strong in the a.m., so I added to my position.   It was not only up 40% the Wednesday, but in after hrs I saw this trading around the $6.20's. I think that this is about to run the way RIOT & GLNNF did, so I am just holding on. Note: In October, each large POP was followed by a consolidation to the 10sma, so dont be surprised if that happens instead- see the chart.
SRAX

–  The reason that I said above , 

"I think that this is about to run the way RIOT & GLNNF did, so I am just holding on"

  is due to the bigger picture downtrend, break out, & back test.  If Wednesdays move alone was 40%, then you can see the overall potential if this gets running. Time will tell.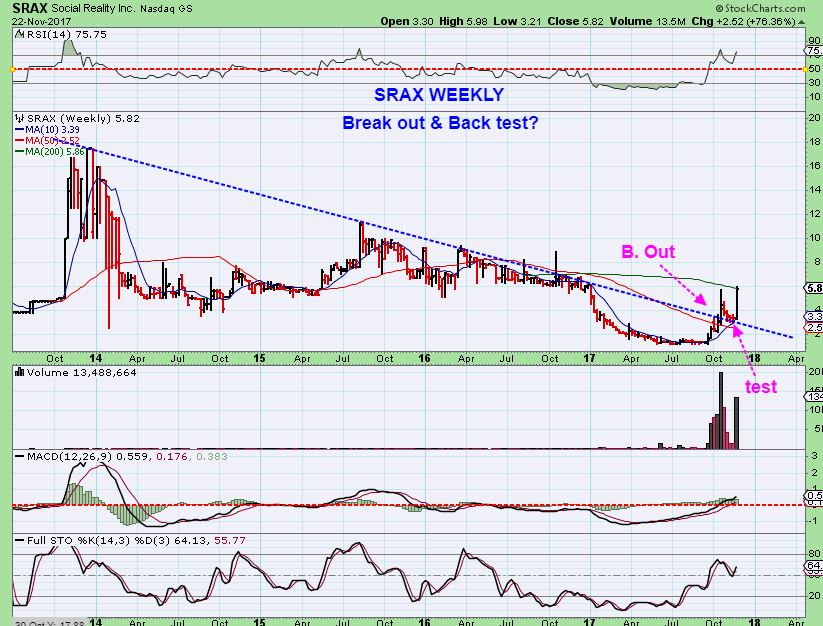 SSC

-I really like this set up. Do you know why?  Take note of the 3 large drives to the trend line in Just Sept – Nov.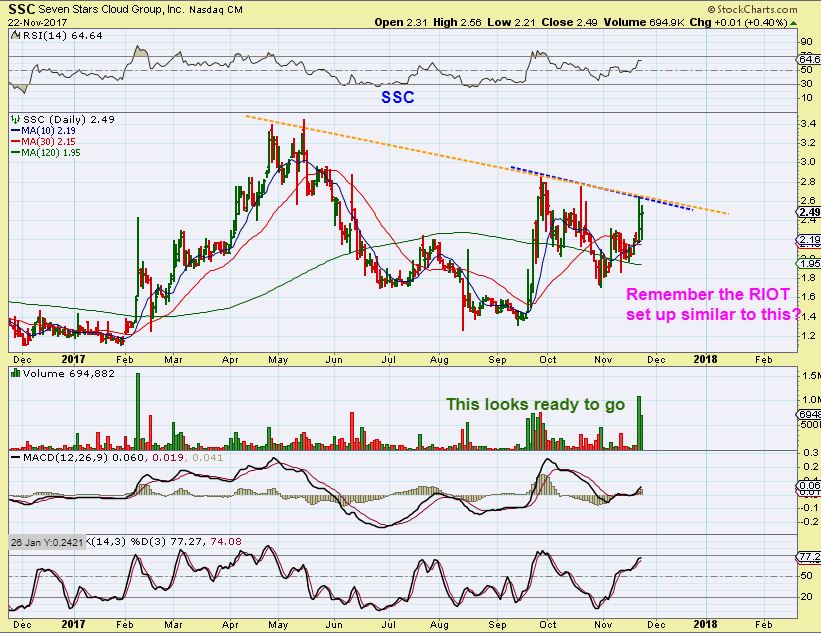 RIOT

–  SSC is very similar in the way it is consolidating those gains.   This had 4 drives to the top, but the point is, when it broke out upside, RIOT took off over 100% higher.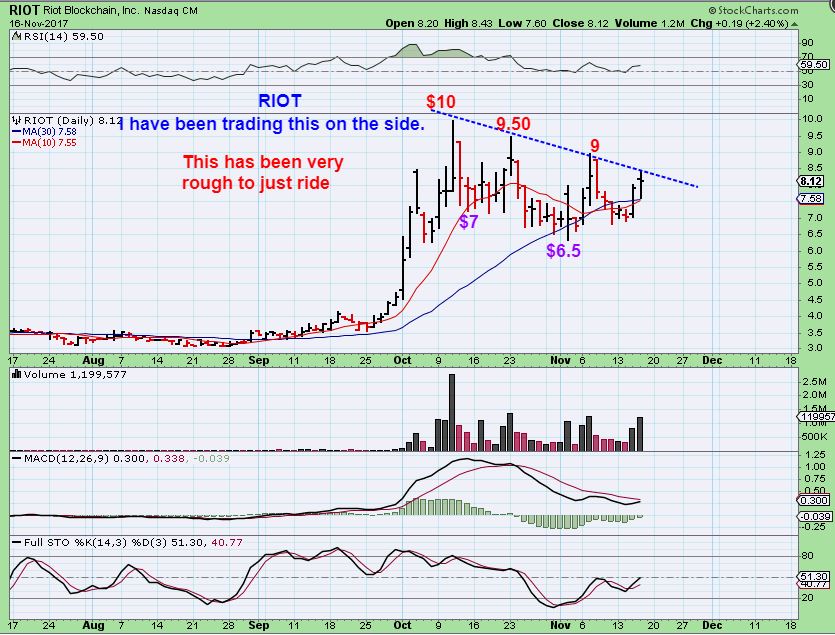 SSC – I own this as of Wednesday.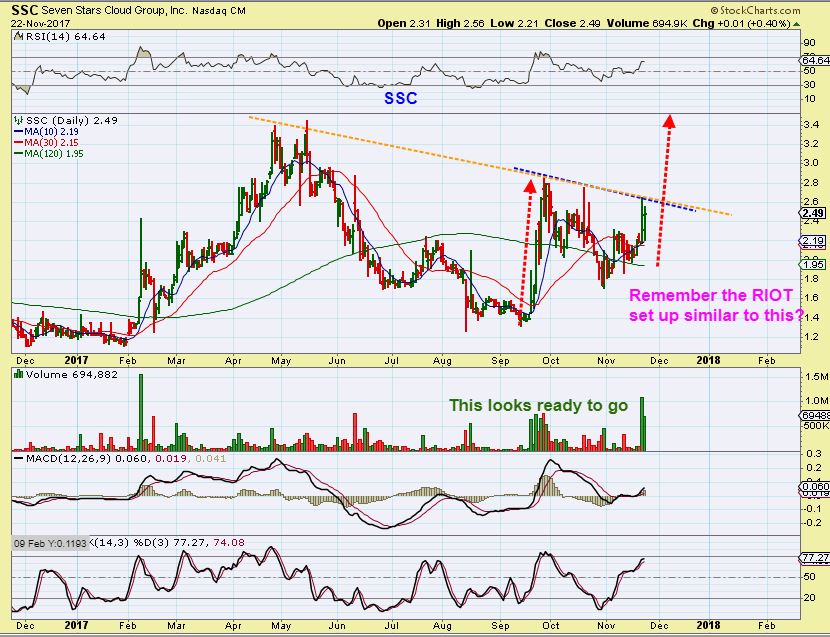 ALSO, do you recall
RIOTS

long term chart and how much I said I liked that type of set up before it broke out?

SSC

–  This is a very similar set up with similar upside potential. OBVIOUSLY we need to take into consideration Riots fundamentals, woks already in place vs future plans and execution, etc etc vs SSC,  but the charts are saying that accumulation, consolidation, and buying interest are very similar. THAT Works for a chartfreak. This reached $2.75 in after hrs too, so it also was being bought up. Hopefully it drops back on Friday to allow some buying here.
RIOT & SSC TOGETHER –  I wanted to put them side by side & I do still see a very similar pattern of buying & Selling before RIOT launched.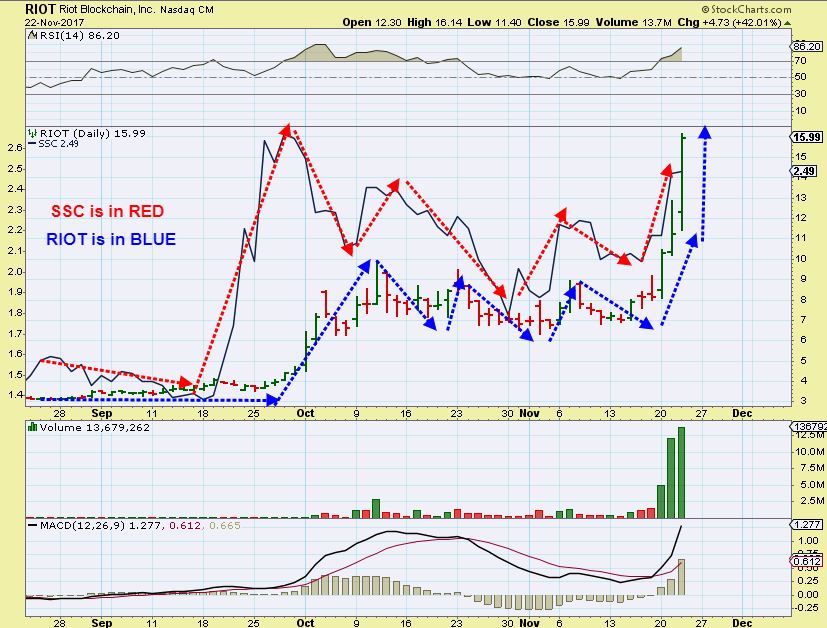 BTSC

–  I had been watching this one for months actually, but I never traded it.  This and BITCF were 2 that I noticed this summer, when I started to watch BITCOIN, RIPPLE, ETHEREUM, etc.  I'm not showing this as a "Buy" right now, though it may continue higher, but just to point out that even this smaller penny OTC stock is reacting bullishly. So…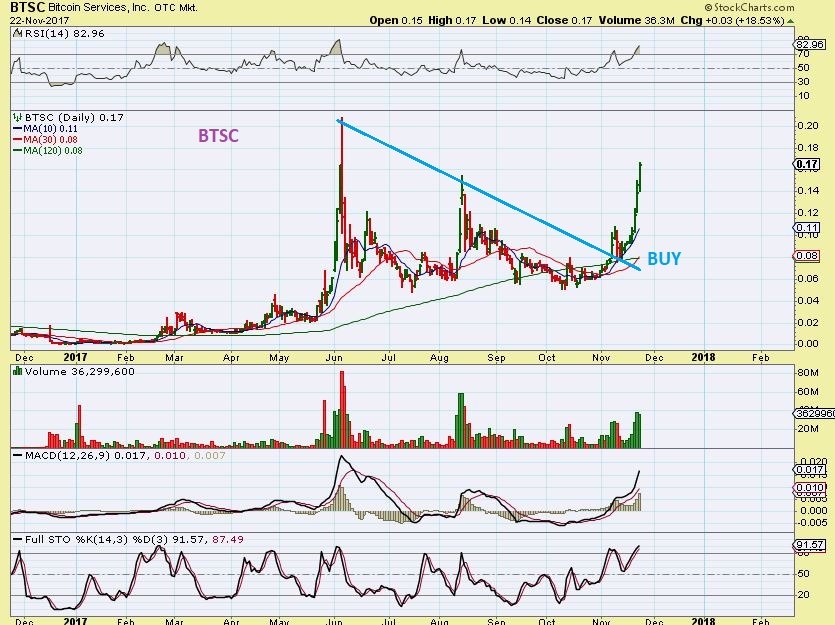 GAHC

– I hesitate to mention this one, but it did run up 700% and then 400% and has a similar pattern as the above BTSC chart, which just ran from 6 cents to 16cents. I AM NOT TRADING THIS ONE PERSONALLY YET.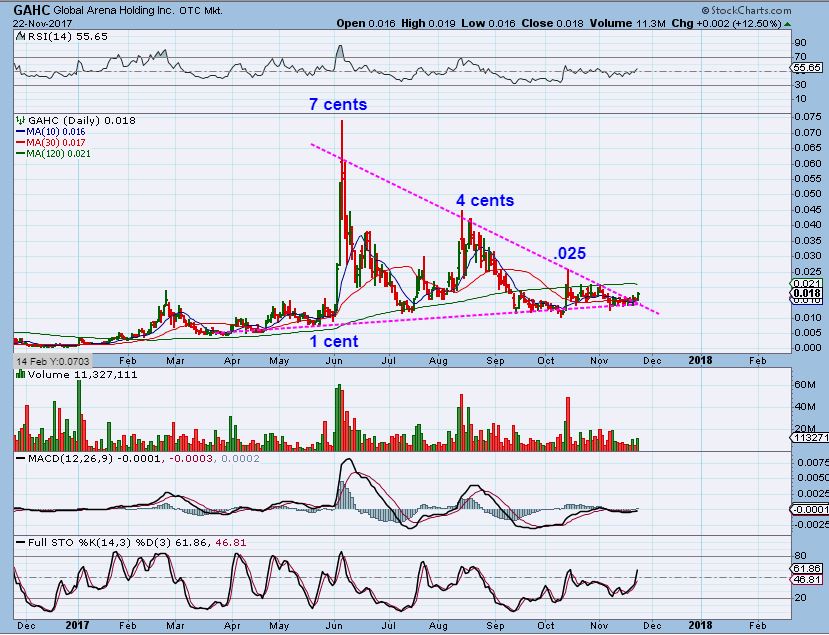 MARA

– Last buy certainly not least for this list  ( I have others, but they are not ready yet), we have MARA. This tiny POP on Wednesday was almost 100% from the opening price to the highs at one point, and then it dropped back to 2.18 ( still up 54%).  I dont know what I can say about this crazy stock, it closed  up to $2.75 in after hrs, above the days highs and 100% above the opening price!  Potential is monstrous, but how dangerous is it to try to buy a stock that is already up 100% in 1 day, right?  That said, …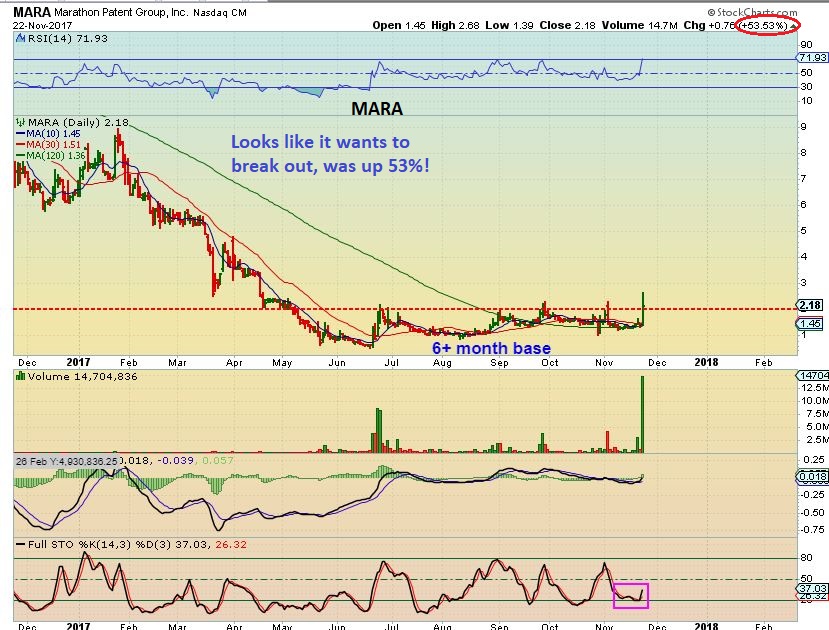 …. That said, I cannot recommend MARA knowing that it could pull back 40% Friday or next Monday and still look fine, but that doesn't mean that I wont take a small portion of my Riot Gains and start a small position here soon.
NOW LETS REVIEW OIL & THE XLE,  GOLD & MINERS
WTIC –

  Oil is breaking out to new highs again.  I mentioned in prior reports that I do not believe that we have a dcl in place on the 14th, because it did not drop deep enough for the trend line to break ( and the XLE was not believing this move).  So what do I make of this new break out on Wednesday?
1. It could tag $60 , but…
2. I still think that it could then roll over into a dcl
3. See the break out on Sept 25th – read the chart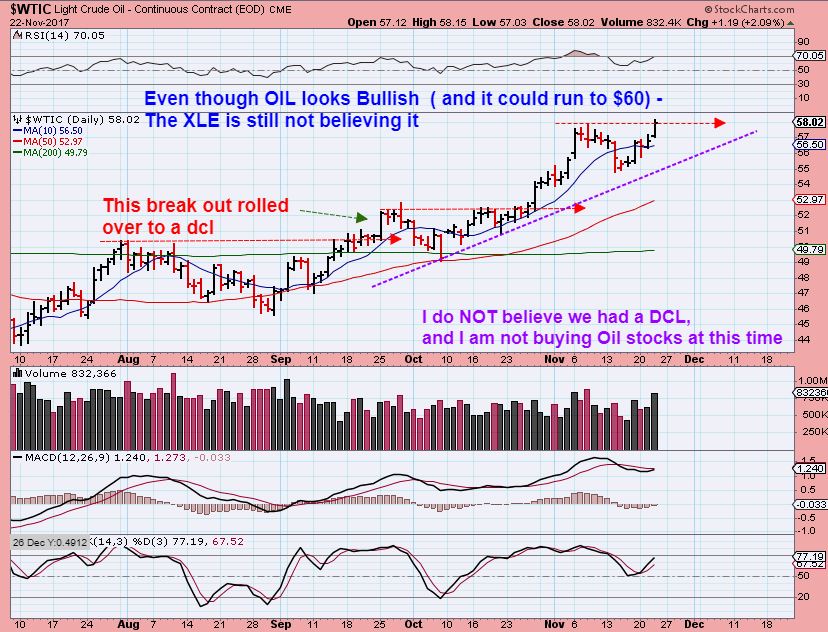 XLE

–  As OIL hits new highs,  the XLE is not even close, it is trapped under the 50sma. I think that the XLE is telling me to be cautious and patient, and that is what I have been doing.  I am not buying Oil stocks again yet.  There is always another trade  (Biotrech, Medical marijuana, Blockchain, SOXS, TQQQ, PXLW, GRPN, MU, CY, etc etc ).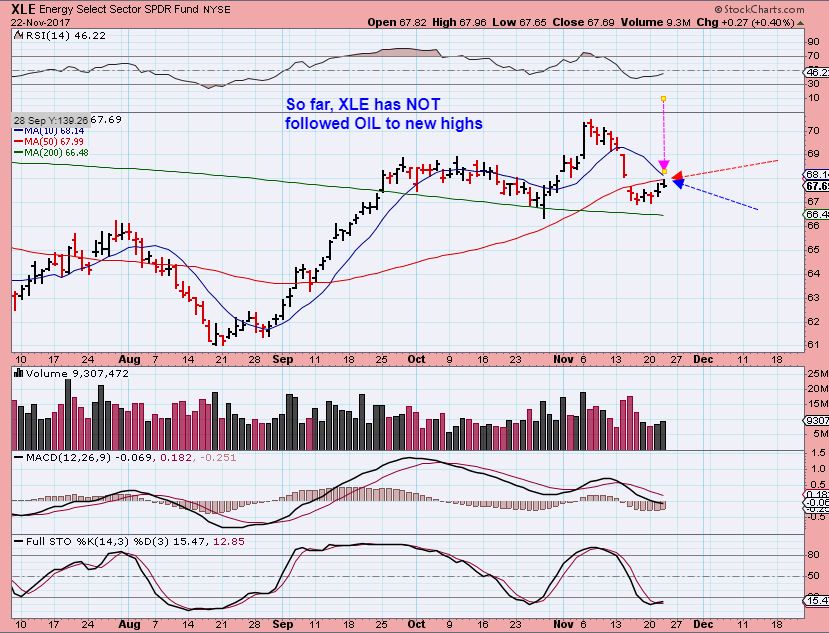 GOLD #1

– I have to admit, Gold looks like a bullish consolidation and a bullish set up.   It has closed above the 50sma again.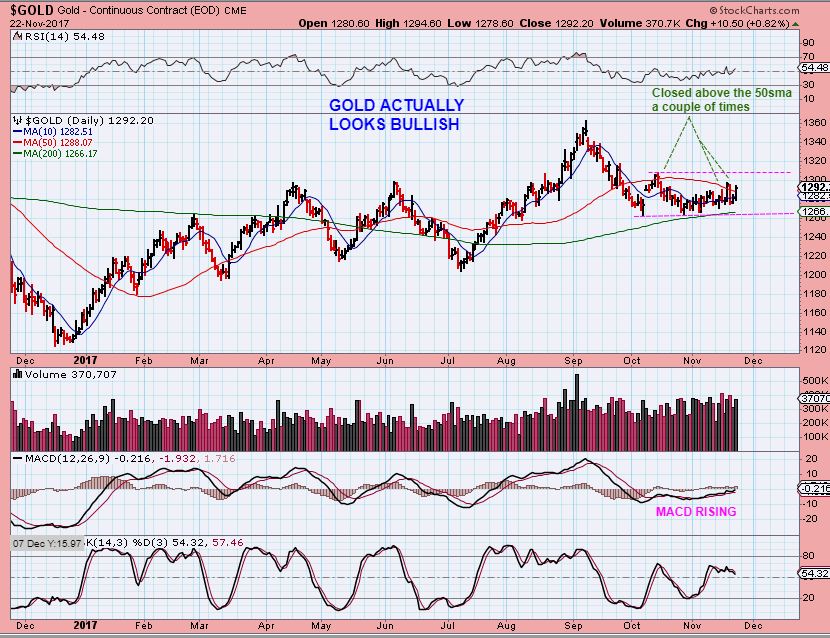 GOLD #2

– I expected a drop in the form of an

a-b-c

as shown in July. So far, we have 

a-b-

and a sideways consolidation.  Gold has held up (So far). Let me show you something that I found while studying Gold & Miners…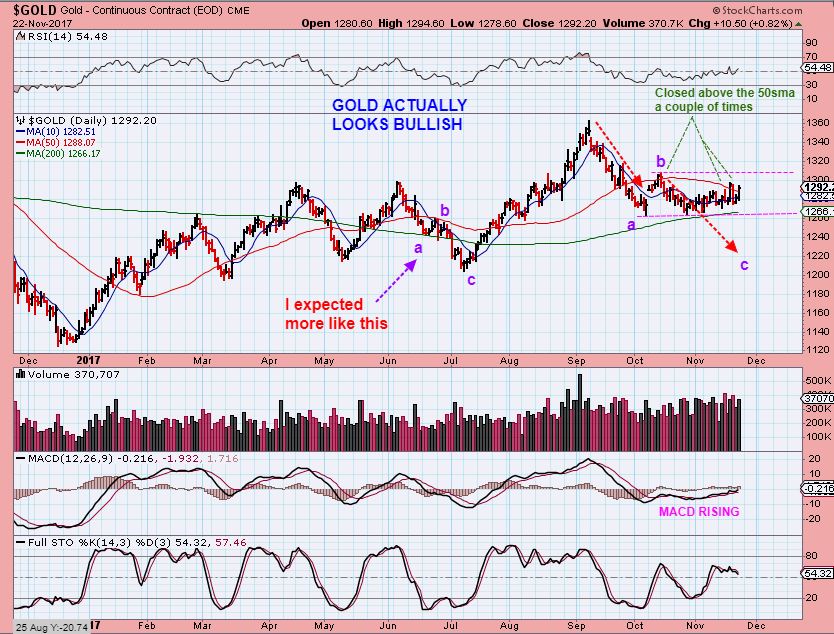 GOLD #3

–

Miners

peaked in Feb and made a series of

lower highs

( like Miners now) Yet

Gold

kept breaking to bullish looking

higher highs for 5 months

, and THEN rolled over to an ICL .
So the fact that Gold is holding up again might just be that the 'timing' for Gold to drop to an ICL, which was 6 months last time, has not arrived yet. We may get the drop to 'c' in December ( Fed Mtg).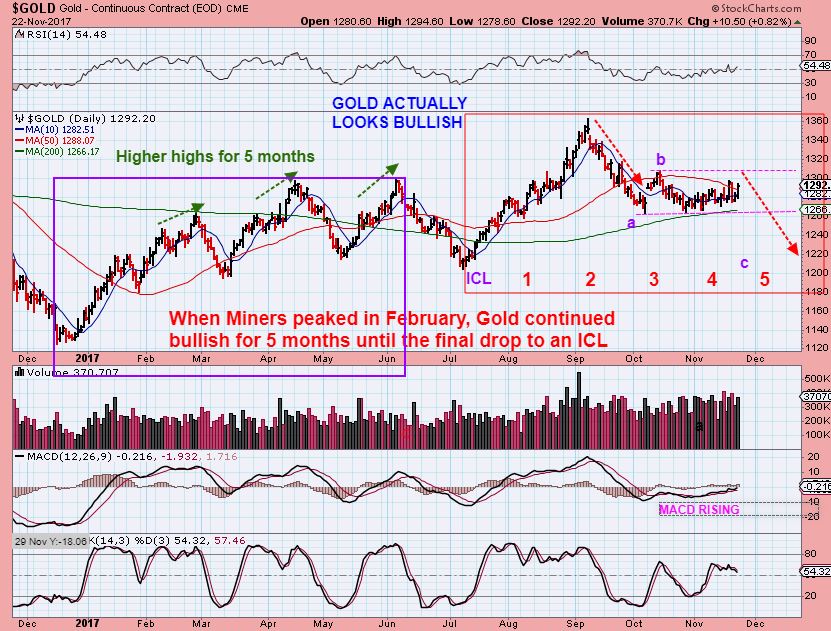 By NOT trading this area, I have saved time and also have been able to use funds on other trades while Gold went sideways through October & November. We have not missed anything at this point  (except that maybe some individual Miners have bucked the sideways move & jumped higher.
GDX#1

– I just wanted to note that we saw a dat 22 POP to a new high, yet it rolled over into the July ICL. That type of POP can suck in all the bullish 'longs', hoping not to miss the move. As you can see, a stop would save them some pain.  Why is that important.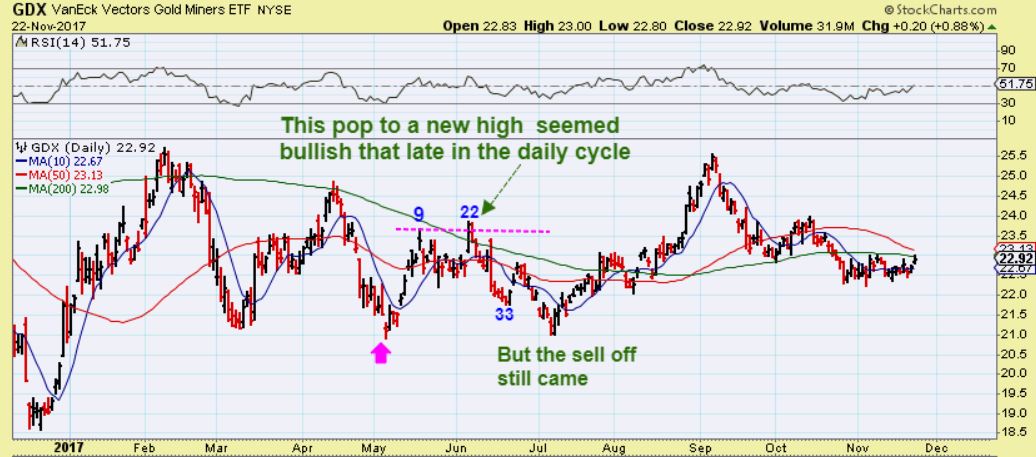 GDX#2

– If we got a POP now, it MIGHT be ok to try a 'buy', but also it may mimic that June false break out and roll over too. If it POPS and you choose to take that trade, Please remember this July ICL drop in Gold and use a stop.  Deep down inside, my GUT says that we have an ICL ahead of us.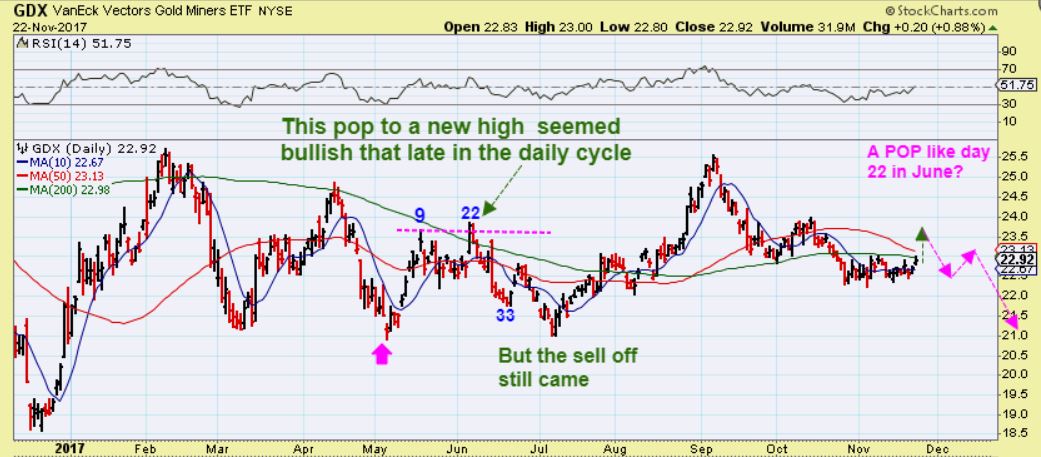 .
We only have 1/2 day of trading in the U.S. on Friday, so enjoy your trading or take the day off as a long weekend and enjoy the rest of your weekend!
.
~ALEX
.
https://chartfreak.com/wp-content/uploads/sites/18/2017/11/BLOCKCHAIN.jpg
580
929
Alex - Chart Freak
https://www.chartfreak.com/wp-content/uploads/sites/18/2019/11/Chart-Freak-site-logo.png
Alex - Chart Freak
2017-11-27 14:15:49
2017-11-27 14:18:00
Nov 24th – The Blockchain Explosion!