What have the readers at Chartfreak been looking at as the best near term investment?  Since the lows were put in in December, we have been buying and focused on Miners.  I did expect a pause or pullback in January, but I also wrote a special report telling my readers "Not to get too cute"  and over trade this sector, because more upside was on the horizon.  On the blog, last week I wrote specifically about GDX, see post: https://chartfreak.com/2017/01/market-vectors-gold-miners-gdx/
I've decided to give you a portion of the member report sent before Fed Wednesday.  The report covered all of the markets, but the main focus has been on the Precious Metals sector. So the following is a part of Wednesday's precious metals section.
USD

– The dollar continues to weaken, it is close to breaking the last dcl. That would be a failed daily cycle.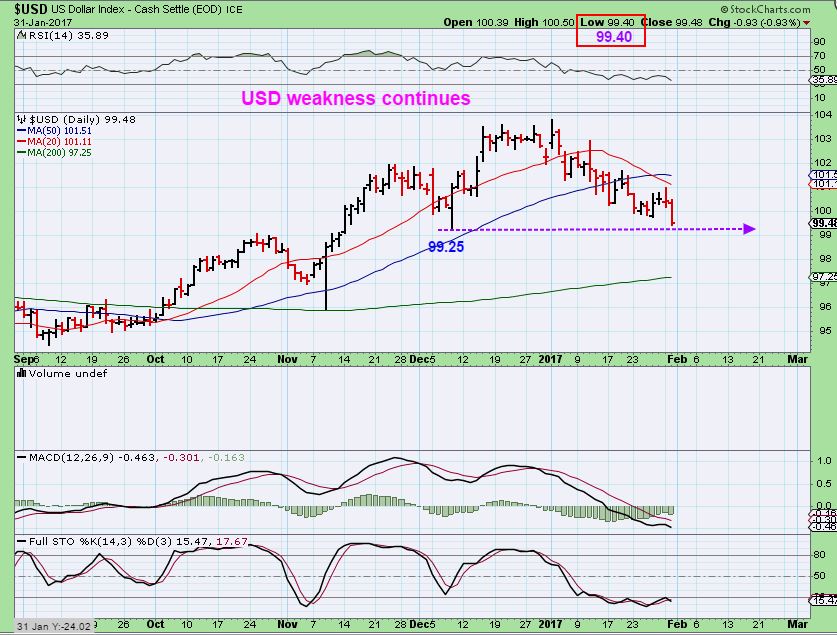 GOLD, SILVER, & MINERS
GOLD

– This move looks real,and we saw follow through after a test of the 50sma. It also regained the 10sma.

JAN 27th – Last week one of my Gold scenarios showed exactly what we are seeing in Gold right now, with that bounce off of the 50sma. I showed the possibility of a small post Fed drop. HOWEVER…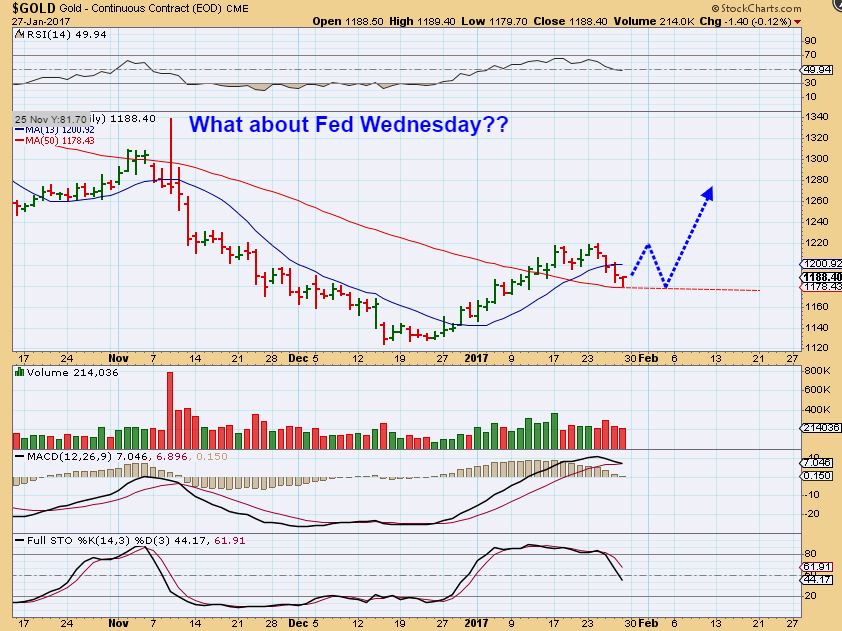 GOLD

– ICHI CLOUDS with a special setting.  I have found them to be quite reliable.   This ICHI cloud indicates that we had a dcl on the 27th ( Daily Cycle low)  and now we have started a new daily cycle.  It says that GOLD is Bullish.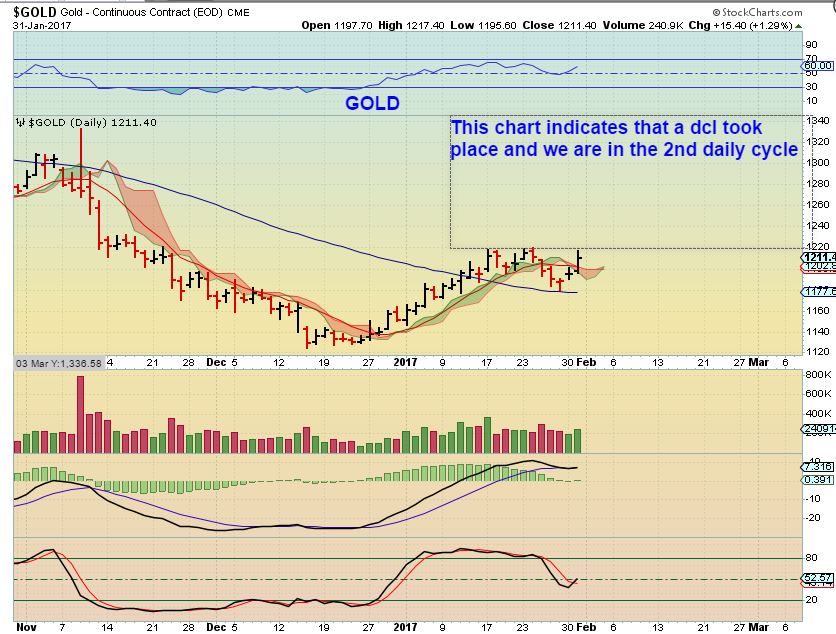 The Timing bands also indicate that we have broken down to a dcl on the 27th and started another daily cycle. This says that GOLD is bullish too.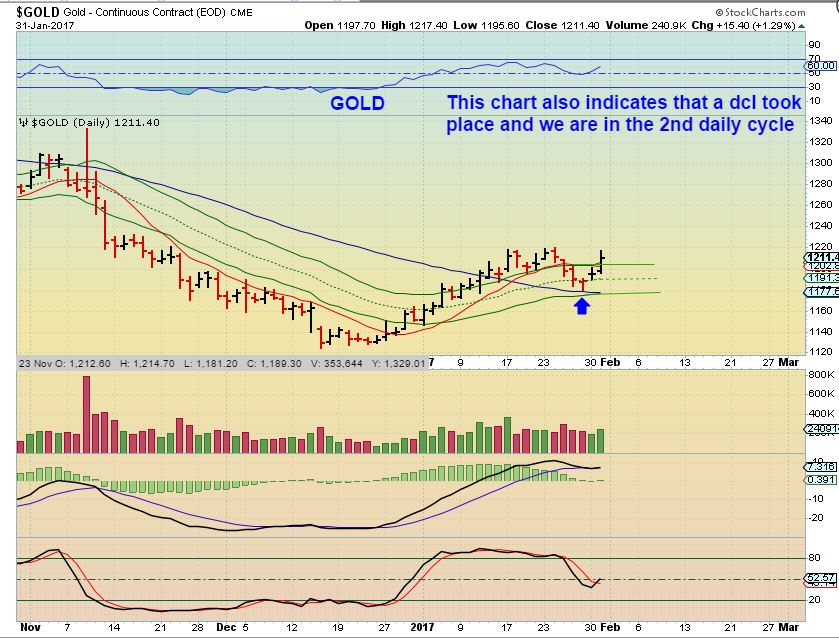 GDX

– This looks like a bullish rising consolidation that builds up energy for a break above resistance.
GDXJ

–  This is the same as GDX, but GDXJ is pushing bullishly against the 200sma.  It wants to break out sooner than later.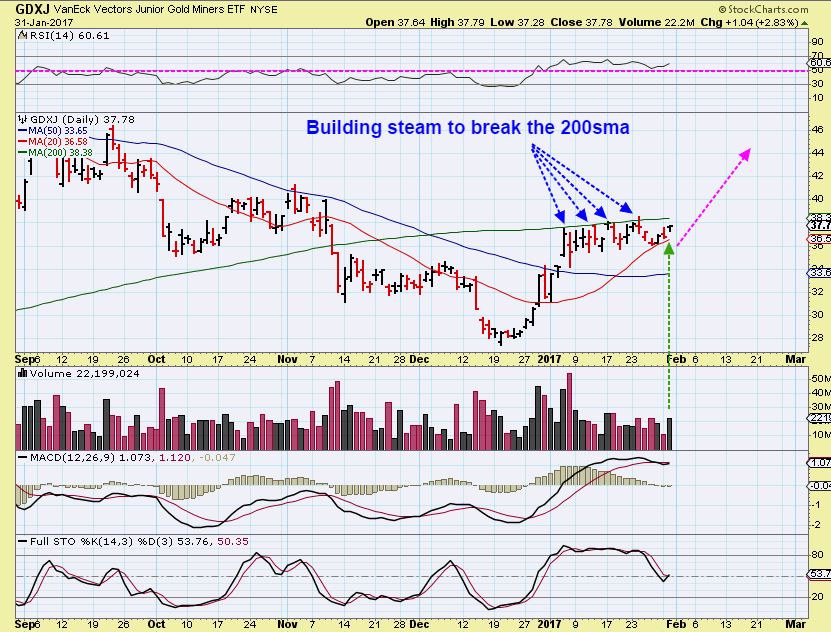 The FED Decision is ahead of us, but as seen above, Gold , Silver, and Miners charts are bullish.
SO let's take a look at some individual miners.  Are some leaders acting bullishly?
RIC

– Ric made a 10% move Tuesday and looks set to break out above the 200sma.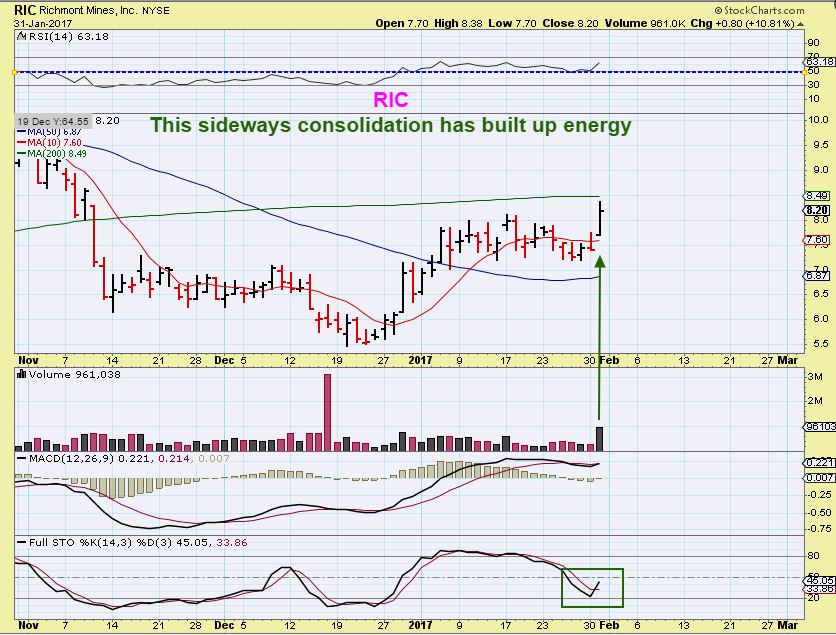 PAAS

–  This one is well ahead of the pack.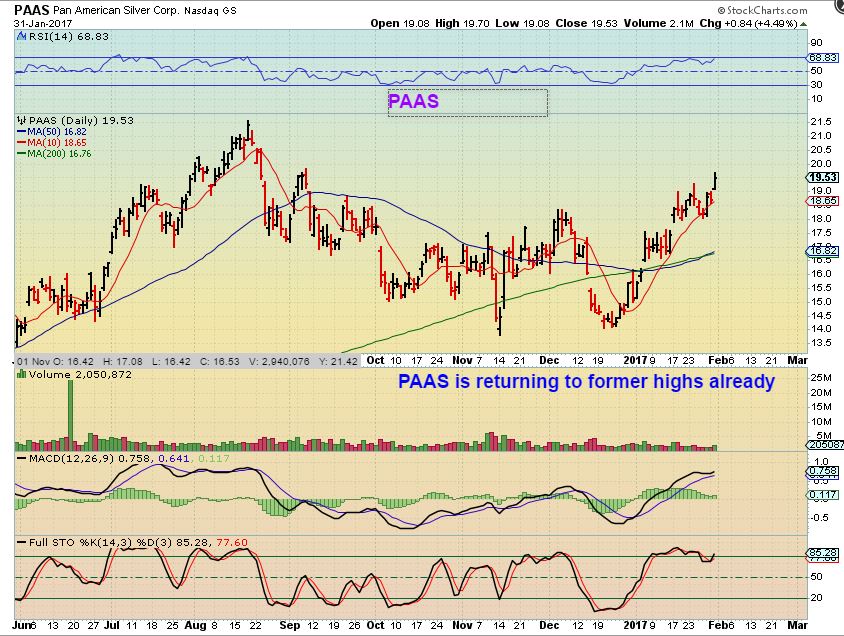 TGD

– TGD is pushing against the 200sma and had a nice surge in volume Tuesday too.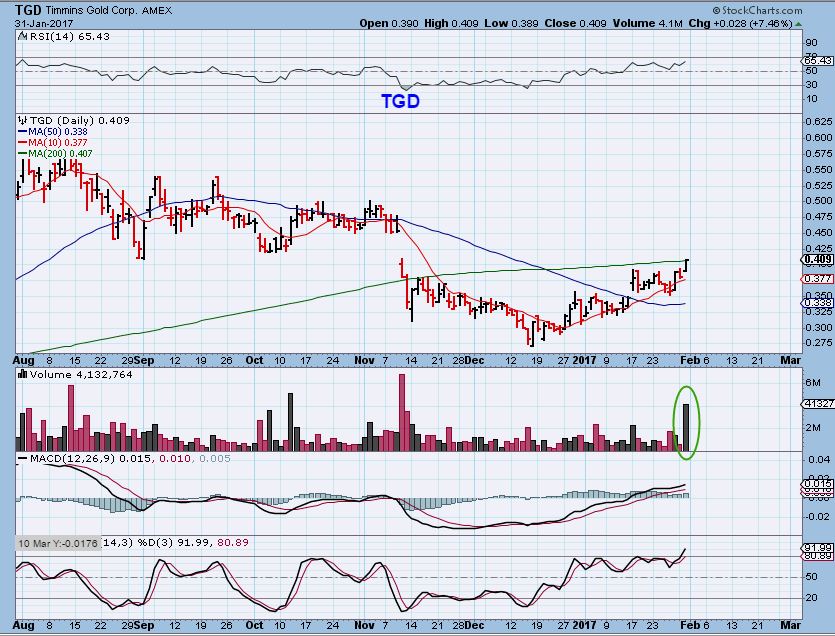 AXU

– Breaking out, this is a buy  ( or add to your position from Dec lows if you didnt on the break of the 50sma).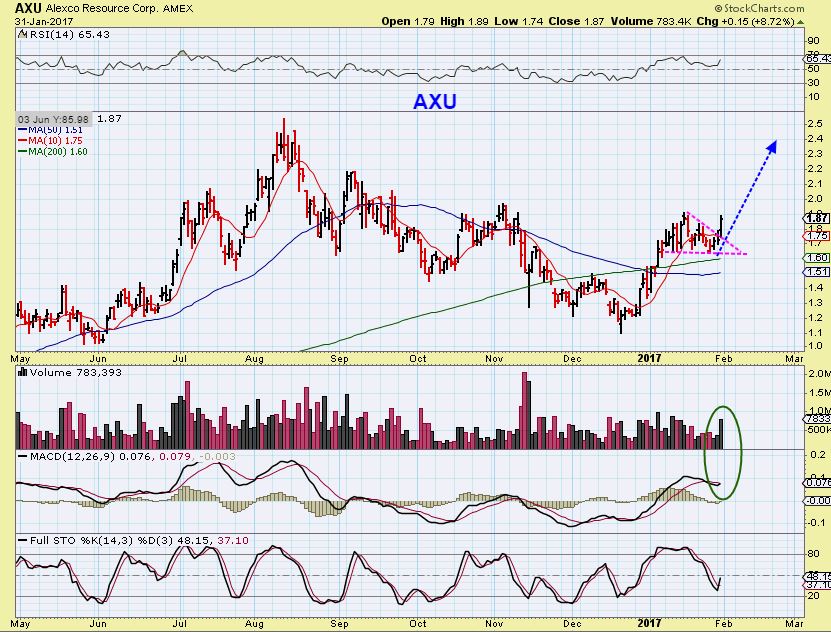 ASM

– They had released earnings and gave a favorable 2017 outlook too. It was back testing that break out here on Jan 26th.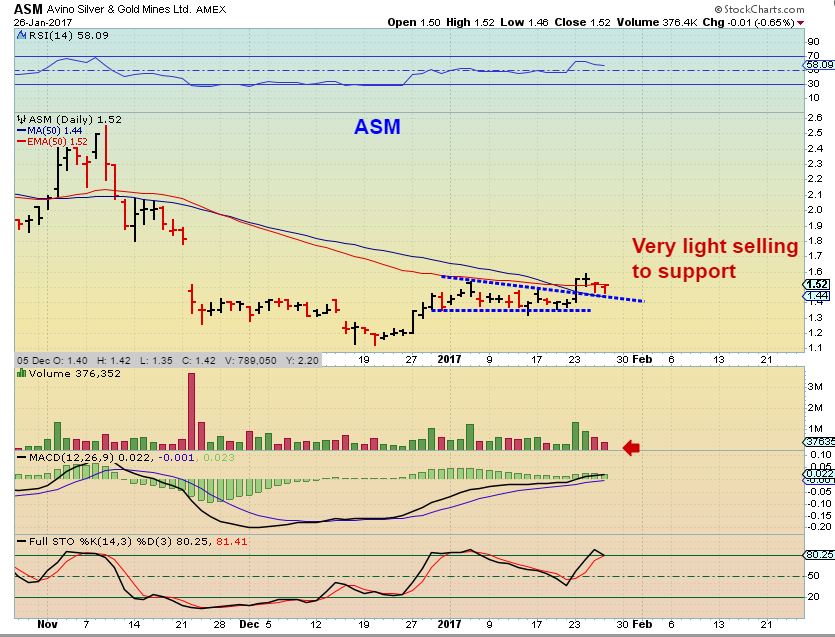 ASM

–  Follow through over the last 3 days and up over 9% Tuesday.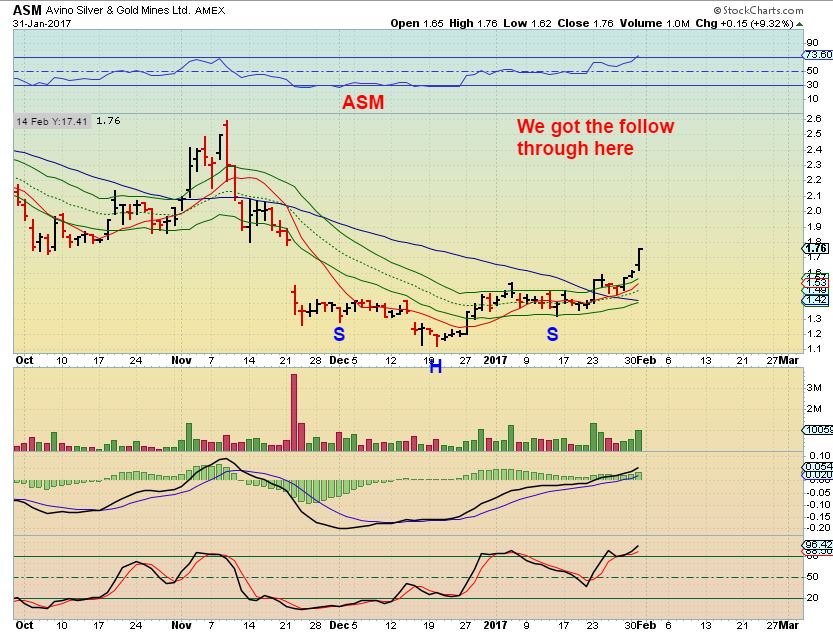 I wanted to point out some JUNIORS that I have always had on my watch-list, but I never discuss them because the volume is low.  AT times some of these were only trading 20,000 in volume per day, but they have been recovering very well. This could indicate what other miners will do soon.
BCEKF

–  up 16% Tuesday, almost back to summer highs.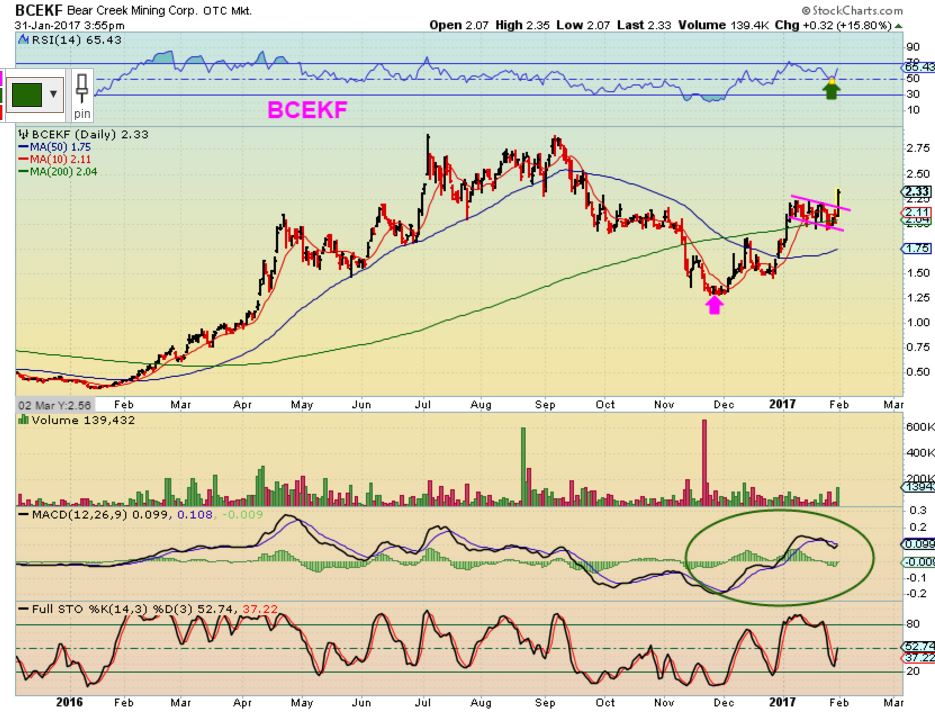 CALVF

– This one is an old favorite, but it still lacks sufficient volume for me to trade it. What a nice run it made in 2016 though  ( see a 1 year chart).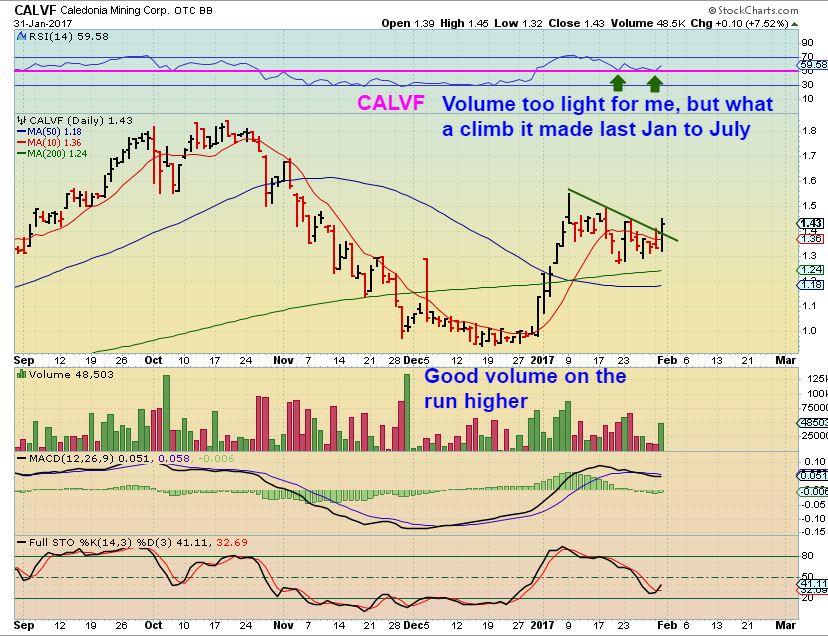 MXLGF

–  This one hurts, because I like the company. I almost bought it and recommended it here in December when it broke from the Base and wedge.  Again, Volume was  WAY TOO LIGHT.  There were days when it only traded 10,000 shares.  At 10 cents a share, $1000.00 was all that was traded in a day? I cant buy that, but off it went. Now it occasionally puts out 500,000 in volume, like Tuesday, and has doubled. I might be looking into it when the average volume is over 300,000.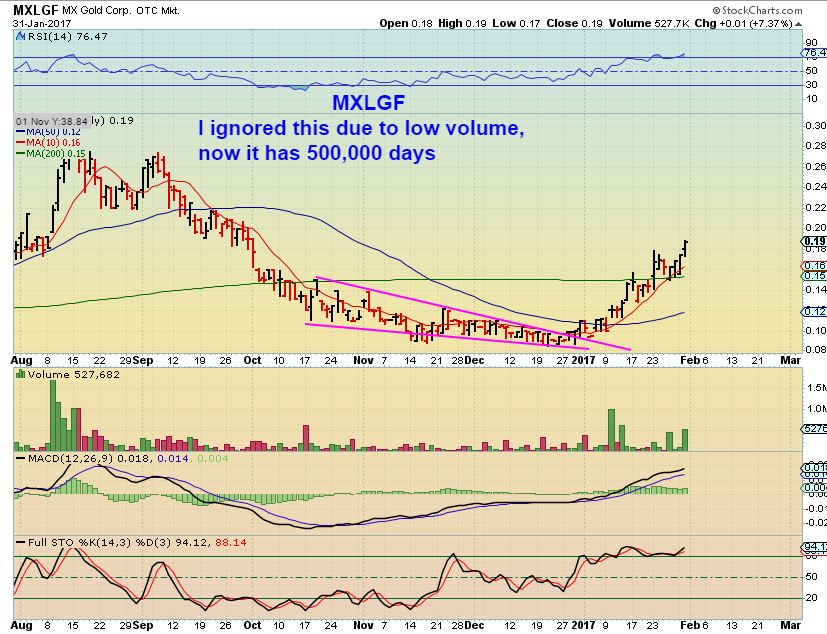 VITFF

– ANN mentioned this one Tuesday, it was not on my list. It looks good.  It has broken the down trend, consolidated, and is also moving higher.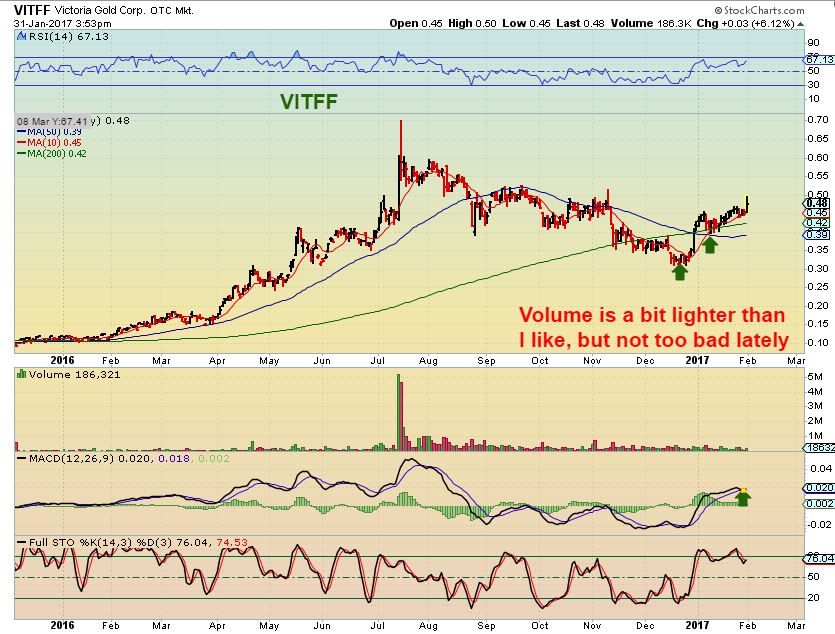 So in conclusion:  It is a Fed Wednesday and by now, you know how this goes. There can be a crazy reaction following that 2 p.m. decision (Volatility).   Let's just see what we get, because this is a bullish looking sector.  The charts for Gold, Silver, and Miners are set up bullishly as shown. We should be still riding Miners from the DEC lows (Not getting too cute and selling everything), so we have a little wiggle room if Miners get a little shaky post Fed.
.
~ALEX
.
FEB 2 – So that was a good part of Wednesdays report, and we were ready for the Bullish set up in Miners.  There are other set ups mentioned in todays report, and I even repeatedly discuss how some consolidations now forming in the junior Miners ( consolidations like NAK shown below) can be very bullish over time.
NAK

–  See August to October.  Why were we still in this piece of garbage? They make no money and this stock is going nowhere!
See AUGUST to OCTOBER-  that is a consolidation period. Consolidations can be very rewarding when they finally break higher, and we caught this entire move!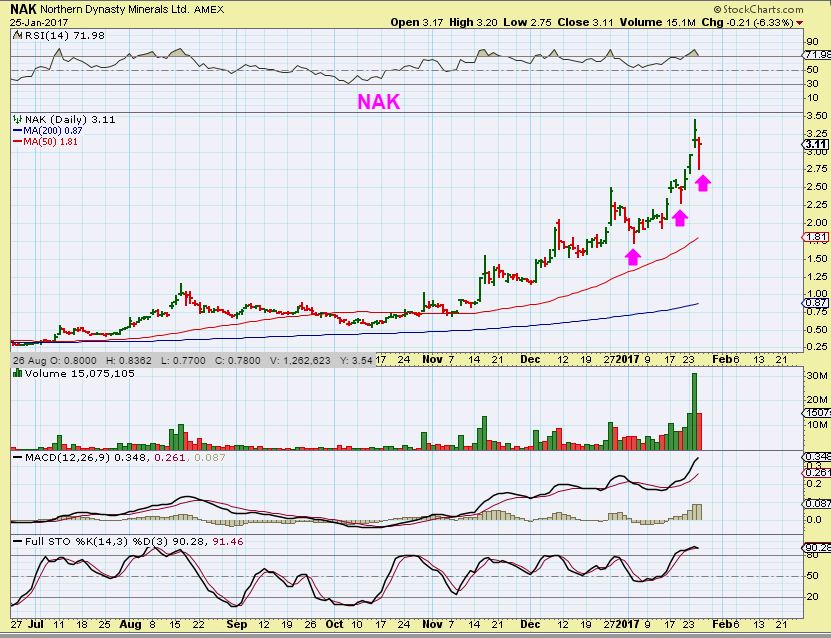 If you think this type of report can help you to stay focused and add to your trading style, why not sign up for a Month or  quarter and give us a try. I usually write 4 reports mid-week with 10 – 15 charts, followed by a large weekend report, usually with 30 plus charts.   Thanks for being here in the the public section of Chartfreak!
~ALEX
.
Chart Freak Premium

Chart Freak members receive up to 5 premium reports per week covering a wide array of markets, as this public post illustrates.  Come and join the ChartFreak community as we trade the new Gold Bull Market and various trending sectors.

https://chartfreak.com/wp-content/uploads/sites/18/2017/02/GOLD-Bars.jpg
732
1180
Alex - Chart Freak
https://chartfreak.com/wp-content/uploads/sites/6/2013/04/black_logo.png
Alex - Chart Freak
2017-02-02 15:32:03
2017-02-02 15:35:51
What's In Your Wallet?