In several of my last public reports, I presented the Precious Metals markets as bullish.  Have you been able to take advantage of that?  At Chartfreak, we have been confident and able to make great gains in this sector since the December lows.  I want to again share with the public some of our weekend report.  This weekend we  just kept it simple.  This is some of what we have discussed recently in the premium side of Chartfreak.
I am going to skip the general markets , Oil, Natgas, etc. and just go right to…
.
GOLD, SILVER, & MINERS
.
THIS SECTOR REMAINS RIGHT ON TRACK WITH MY EXPECTATIONS FROM THE DECEMBER LOWS. I repeatedly cautioned against over trading or getting too cute and losing position.  If you are new here, please read my report on what it means to '
Get too cute'

during a Bull run, click the link below to go there.

.
I'm going to keep this really really simple this weekend.
GOLD DAILY

– This is a bullish chart and suffered no damage after FED WEDNESDAY. The dip at the end of January has recovered and I have us on day 5.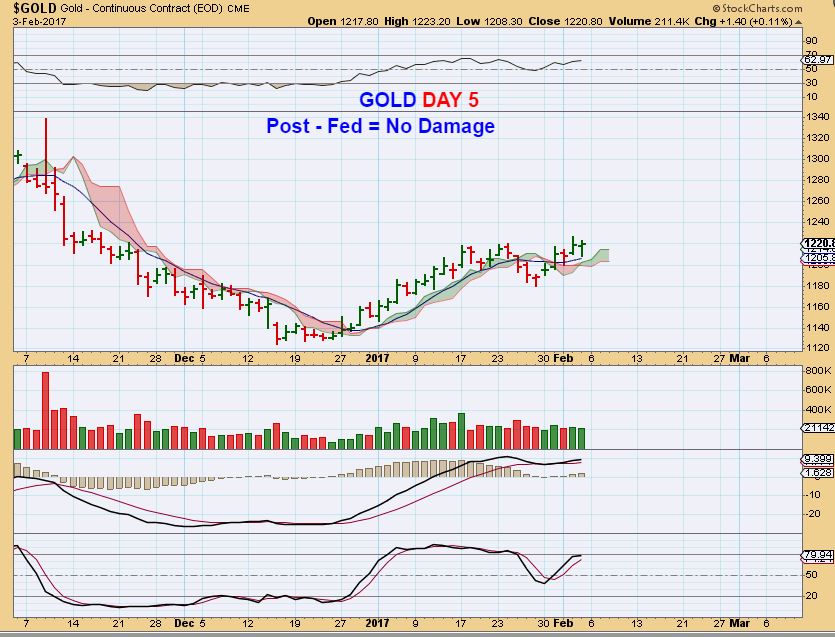 GOLD WEEKLY

– GOLD has now recovered the drop below Mays ICL.   I still see a Bullish big picture, the Weekly MACD is turning higher.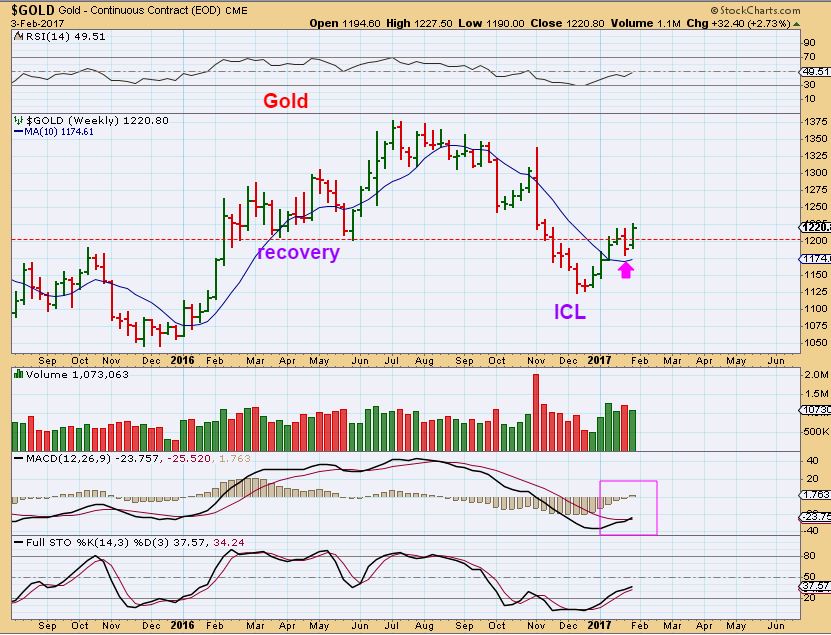 SILVER

– SILVER dropped on Friday, but it tagged the 10sma and recovered. That drop to the Thicker

RED ARROW

  was also the 50sma. Silver is on the Bullish Track too.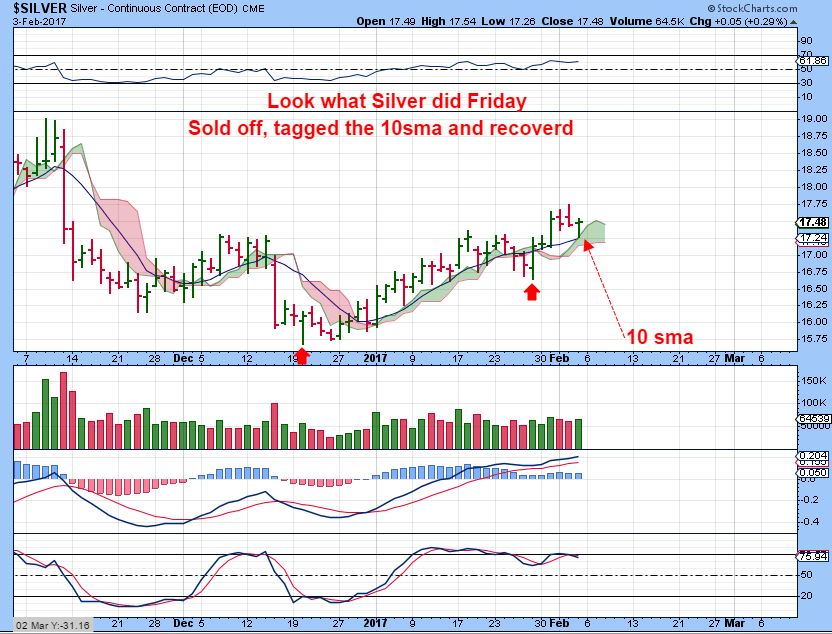 GDX

– Miners  MIGHT want to dip down a bit inside of this rising channel, but it remains an upward sloping bullish channel. GDX has danced around the rising 10 sma and remains bullish.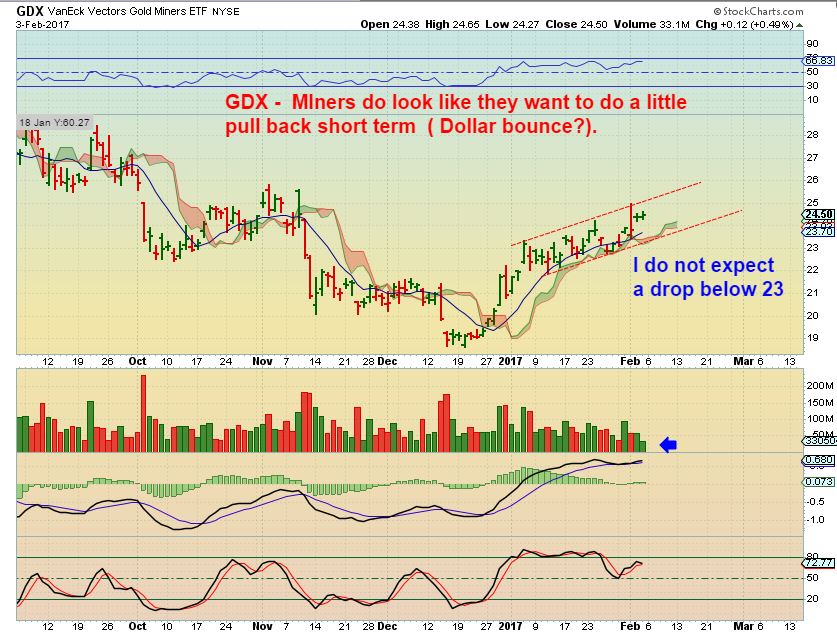 GDXJ

– This finally got above the 200sma .  Let's keep it simple, it remains bullish at this point.  See the weekly chart below, even a drop to  $37.50 would be great.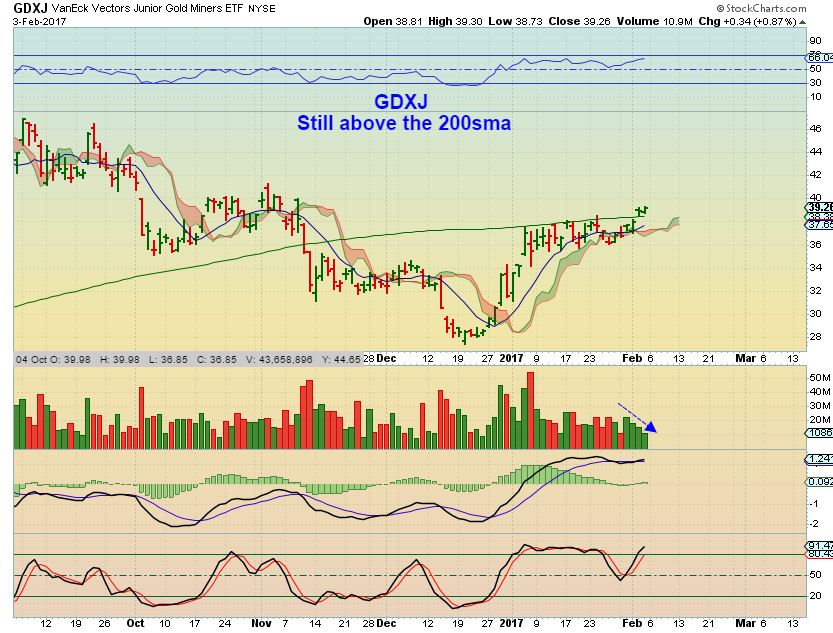 GDXJ WKLY

–  I cannot tell you enough how bullish this set up can be.   Wait – Yes I can, It is VERY BULLISH from what I have seen in the past.  GDXJ has run from $27 ish to $40 ish and looks like it wants to go back to 2016 highs eventually.  That's a BIG MOVE higher after that long drop at the end of 2016. Can this drop to $37.50, the lower trend line?  Yes, and it would still remain very bullish.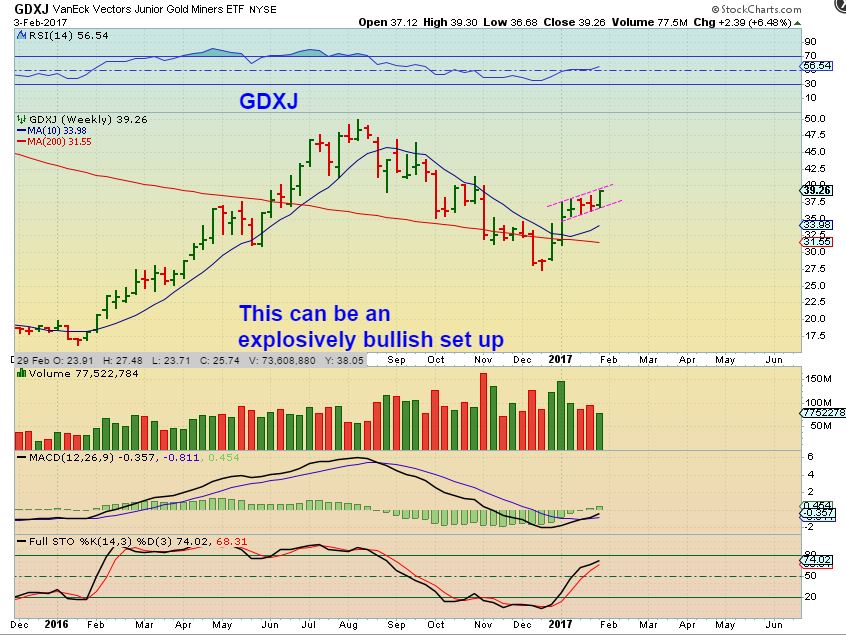 To keep it simple, this precious metals sector remained Bullishly aligned, even after the Fed Week Meeting. The daily reports will monitor the activity as it unfolds going forward.  Newer subscribers, if you have time, why not go back and read some of the recent report from the past couple of weeks to see what we have been discussing & anticipating.  Again, enjoy your weekend!
.
~ALEX
.
So that was excerpts from the weekend report. For this Pubic report, let me share just a few more charts of the Miners from the Tuesday report, to add confidence to the bullishness of this sector thus far.
GDXJ WKLY

–  Do you remember the Bullish chart that I posted of GDXJ above? This is the same wkly chart after Mondays trading. I told my readers that this was a bullish set up and no we see why I said that.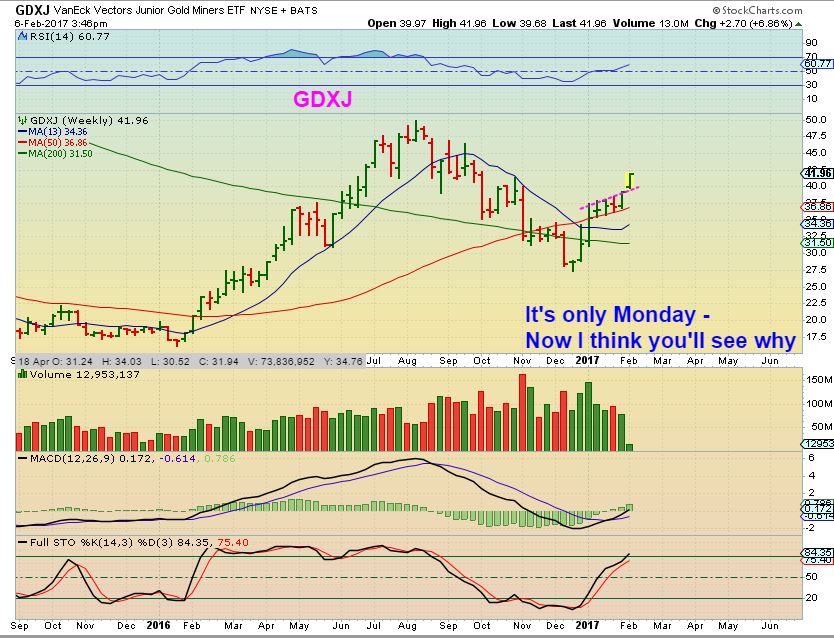 We bought the lows in December and I have repeatedly discussed with my readers why they did NOT want to over trade these positions.  I repeatedly mentioned that in this bullish set up, the selling could be minimal and difficult to buy back at a lower price.   Now, after a January consolidation, we see that that has been the case.  Many Miners began breaking out over resistance areas on Monday too. Let's take a look…
NG

– This did not have a big pullback, it consolidated December gains and started breaking out mid day Monday.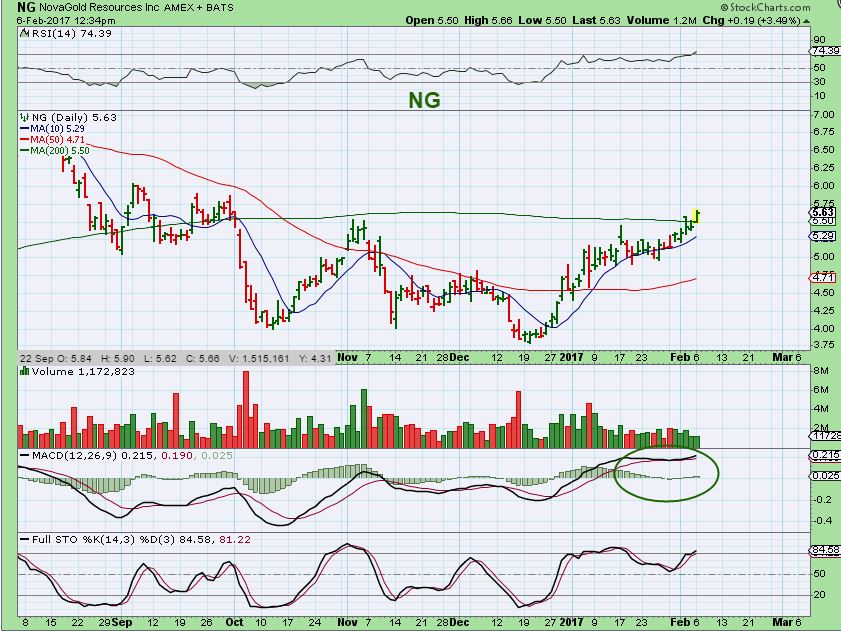 NG 

– BY the close it was a lot higher. We are glad that we were not scared out of our positions.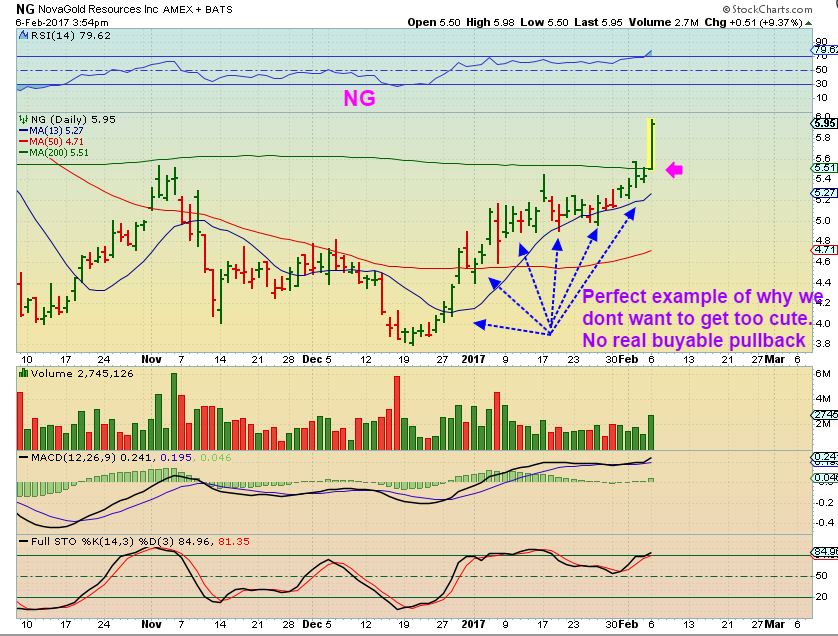 PVG

– Breaking out midday Monday, hardly a pull back here  during January too.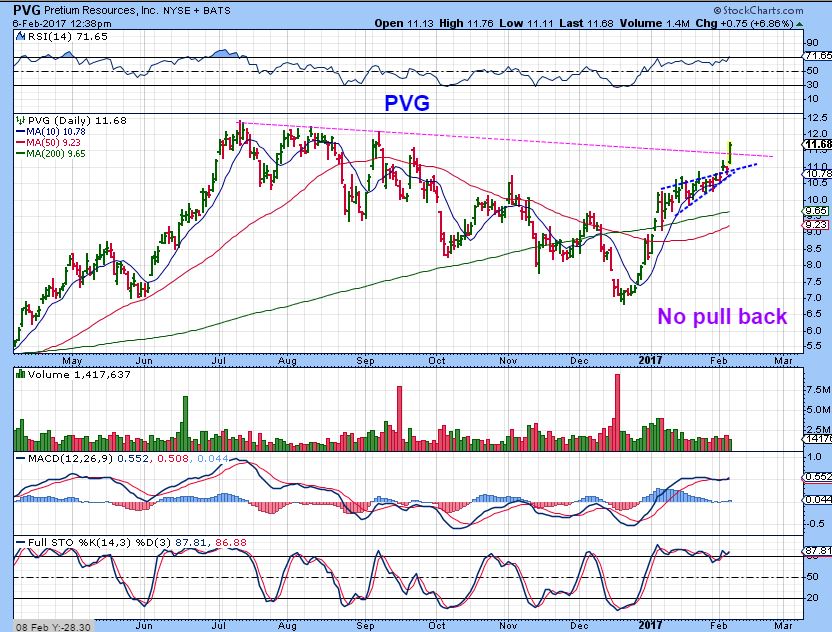 PVG

was up over 13% by the close!  Again, at Chartfreak I reminded investors repeatedly not to get nervous and sell, losing positions.  We are not over-trading our positions since buying the Dec lows.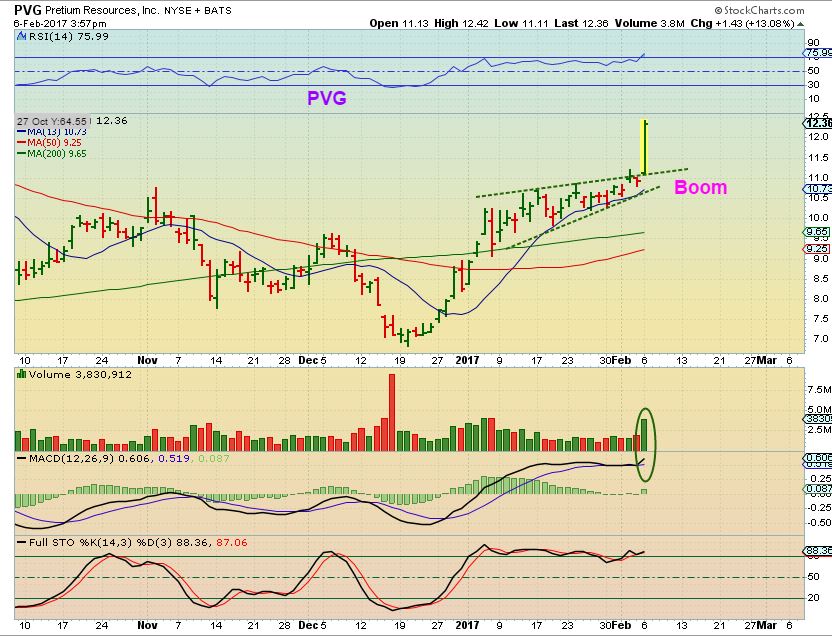 GORO

– Breaking out Midday on Monday.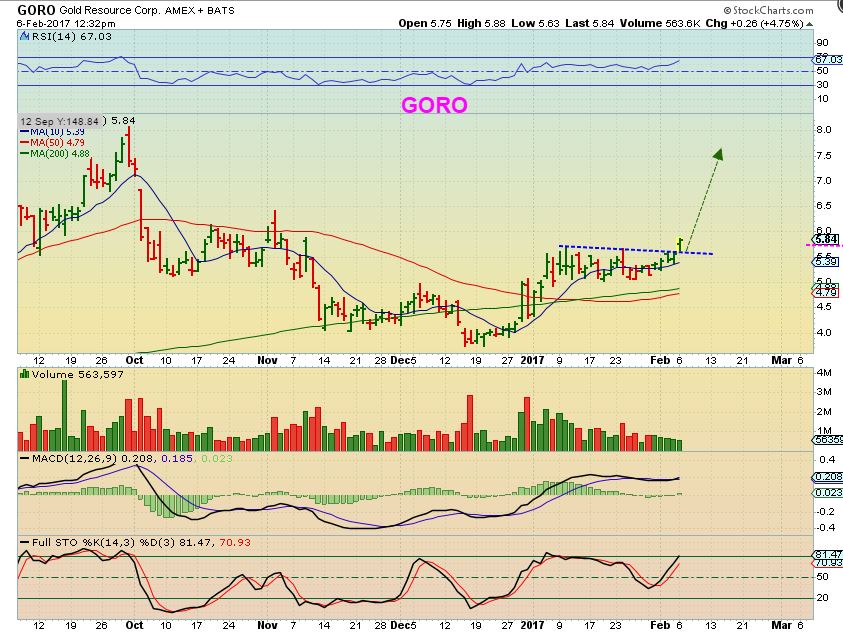 GORO

followed through into the close.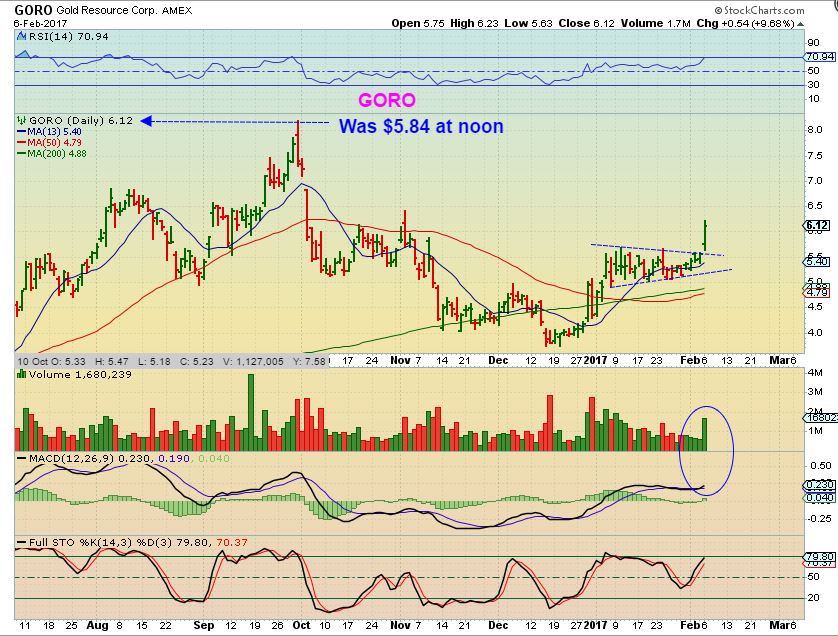 PAAS WKLY –  You cannot deny that PAAS is a champion. It has returned to the 2016 highs already and others are not too far behind. This is a real confidence builder, isn't it?


So using  Cycle analyses, technical analyses, and other methods that I have developed over the years, we have been doing very well with out positions in the miners.  For my readers, the reports have built confidence in the sector and various set ups that present themselves over time.  I will continue to monitor the move going forward and then there will be a time that it will be advantageous to gather some profits.   We then will see if we are presented with another opportunity to buy the dip.  This will be covered in future reports.  If you think that this type of analyses would help you with your style of trading, why not give us a try with a 1 month or quarterly membership? We also have a 'chat' section below each daily report where experienced traders gather and discuss their trades.  With your experience and another set of eyes, these reports could very well pay for themselves. Thanks for being here in the Public Section too!
.
~ALEX
Chart Freak Premium

Chart Freak members receive up to 5 premium reports per week covering a wide array of markets, as this public post illustrates.  Come and join the ChartFreak community as we trade the new Gold Bull Market and various trending sectors.

https://chartfreak.com/wp-content/uploads/sites/18/2017/02/Break.jpg
643
1053
Alex - Chart Freak
https://chartfreak.com/wp-content/uploads/sites/6/2013/04/black_logo.png
Alex - Chart Freak
2017-02-07 15:19:29
2017-02-07 15:19:29
PUBLIC REPORT - Breaking Out