Energy Sector Review – It's all a matter of perspective. If you fell asleep Sunday night and didn't wake up until after the market closed on Monday, you may have thought that not a lot had happened.  If, however, you read my report Monday morning , you saw that Oil had dropped 4% overnight.   CNBC and many other sources of information where lit up.  Was 'Oil dropping to the 20's again'? Was it 'a great time to go short'?  No, Cycle timing and the charts were pointing to possibly just a small pull back.  We are invested in Oil & Energy, so this was important.   This was our Oil chart in the report.
.
WTIC

– Oil was early in the 2nd daily cycle, and the first one was Right Translated.  So I expected more than just a day 6th high in this run.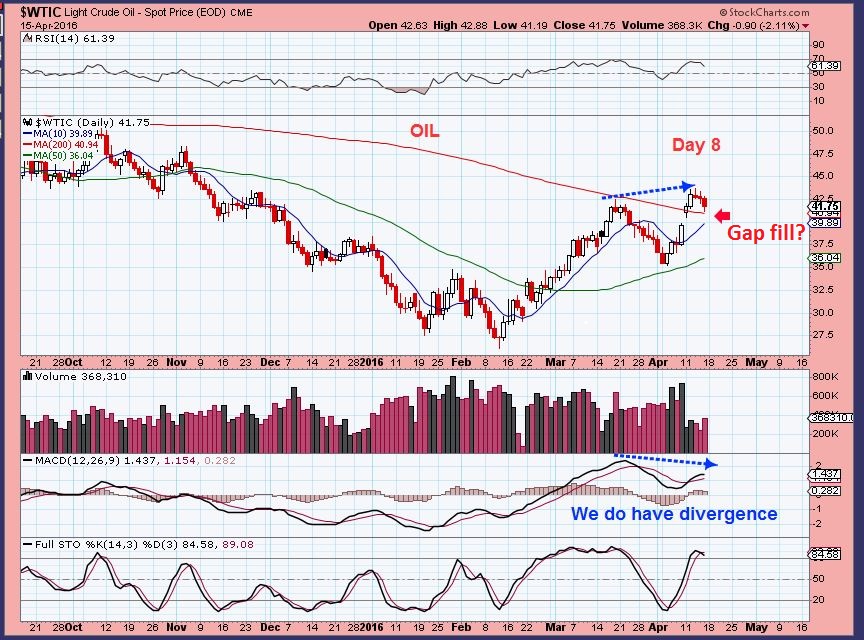 WTIC MONDAY

–  Many ( Not here at Chartfreak) likely jumped in on the short side pre-market, but the shorts got overwhelmed.  This reversal did fill the gap and it did something else too…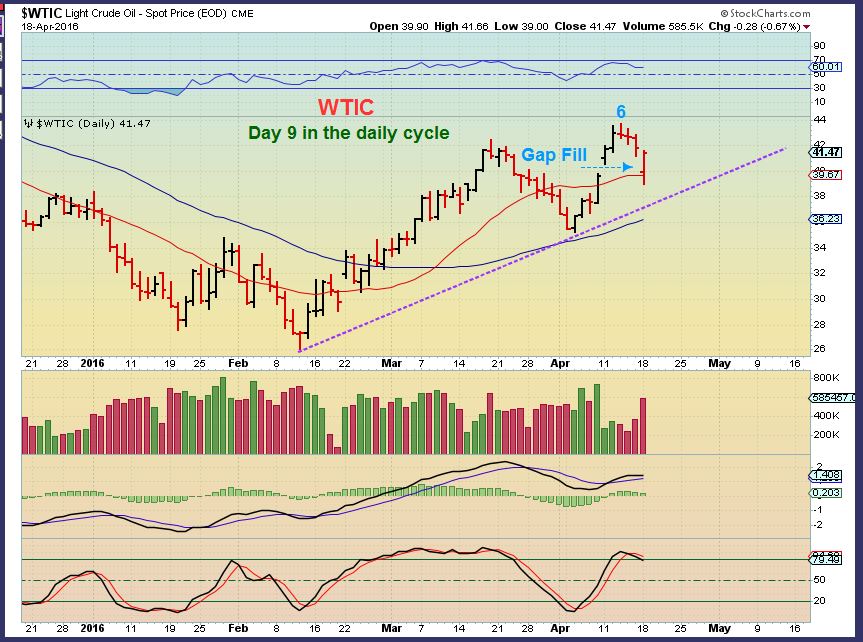 Notice this important observation
WTIC –

  Oil had recaptured the 200sma for the first time in over a year after repeatedly being rejected. It also CLOSED over the 200sma for 5 straight days!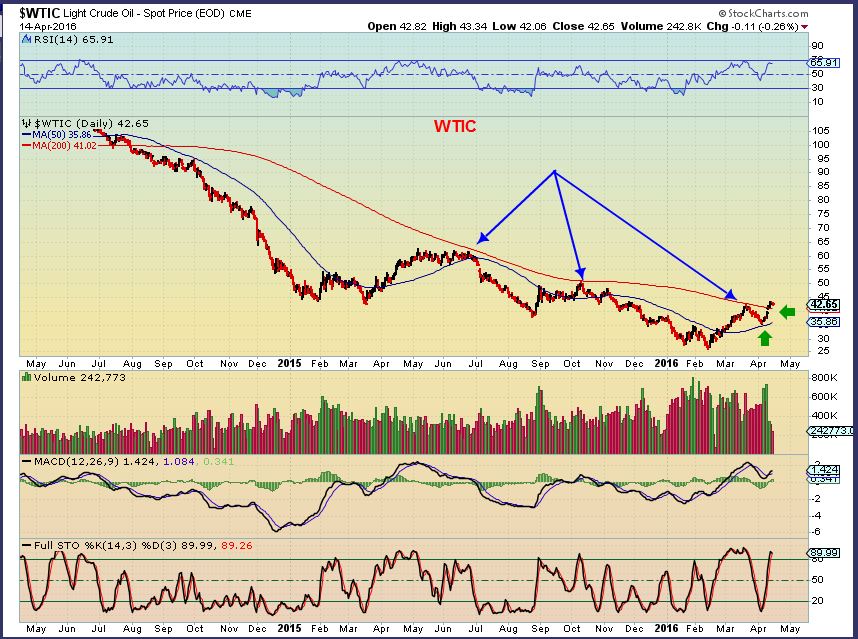 Today when Oil dropped and filled that gap, it actually also got back over the 200sma by the close.  I felt that Oil 'Could' drop to the 50sma and still be fine, but

holding that 200sma for 6 straight closes

is impressive in my opinion. Oil remains bullish.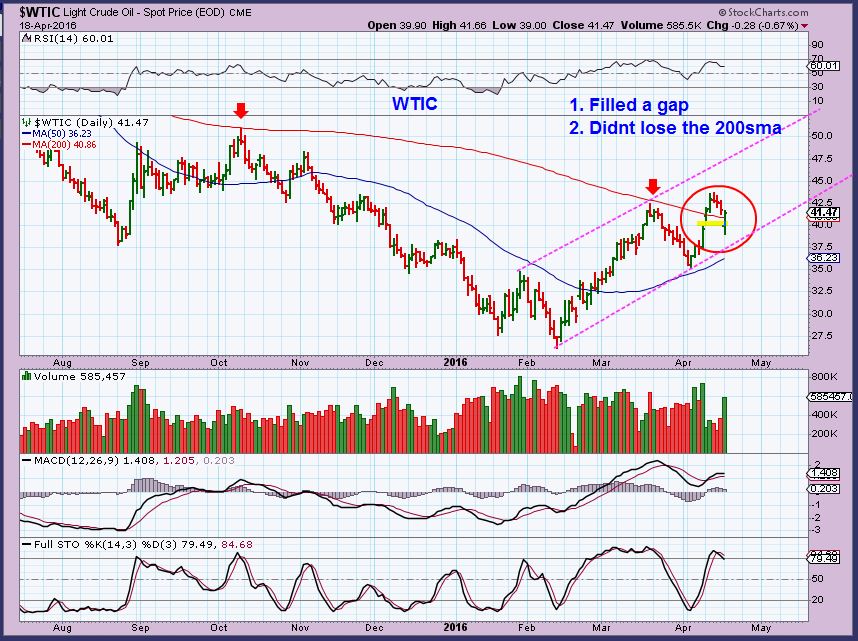 .
Oil reversed , but it still closed slightly down.
The

XLE

dropped right to the 20sma and reversed higher to close

green

. This also 'could' have dropped to the 50sma and lower channel, but it remained strong.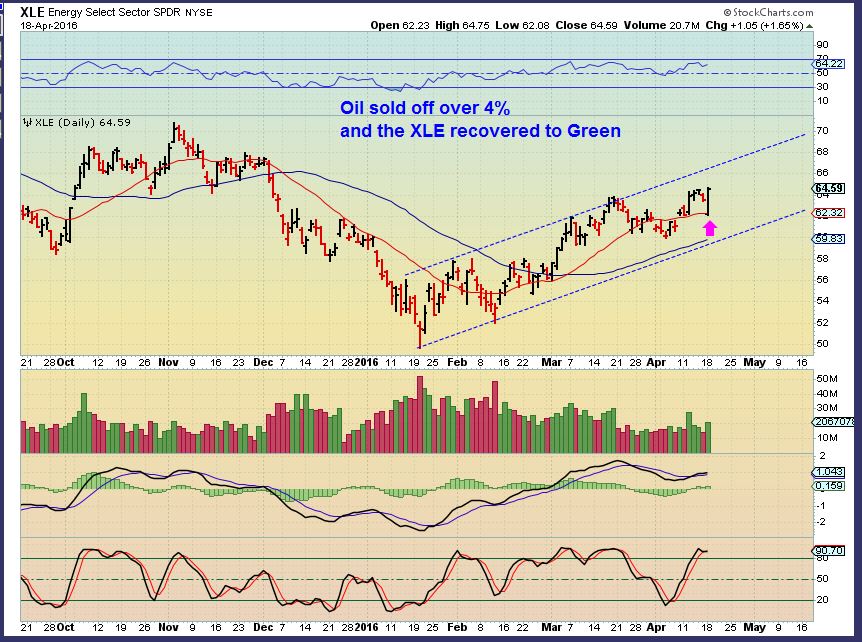 SO this was actually a bullish show of strength for Oil & Energy, I will discuss Energy a bit more at the end of the report.  Lets review the markets.
ENERGY STOCKS
So the ENERGY STOCKS mentioned in last Fridays report ( And the Friday before) Still remain valid.  They went on sale today, but most recovered.  I did get some feedback that some readers here were buying.  I also got feedback that after reading scary things in other trading forums Monday morning, a few sold at the open, basically at the lows of the day.   Not knowing whether to buy the recovery as the day went on, I'm asked are they still bullish set ups or did the drop ruin things?  Lets look at a few and see why they look and remain bullish to me.  In some I'm going to go over the whole big picture for them – it may help.

.
CPG

– Breaking out from a long term trend line. 

It ran $7.50-  $11.86

. I show this to show the progress that they are making since being mentioned in the report. This was at the end of Feb.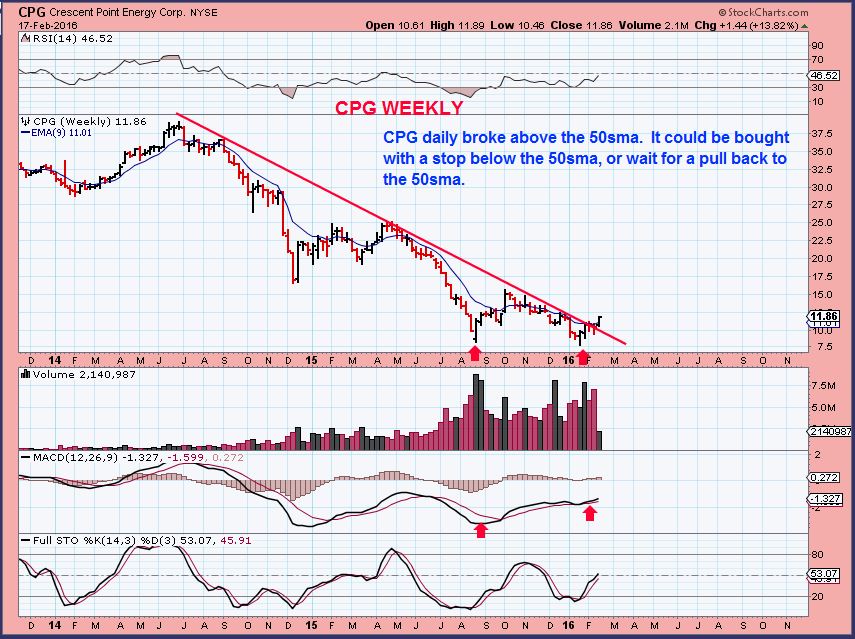 CPG WKLY – 

Now $15

– It gapped down Monday  morning to support, recovered and looks ready to run from an inverse H&S base. This also did not sell off when OIL sold off for 9 straight days.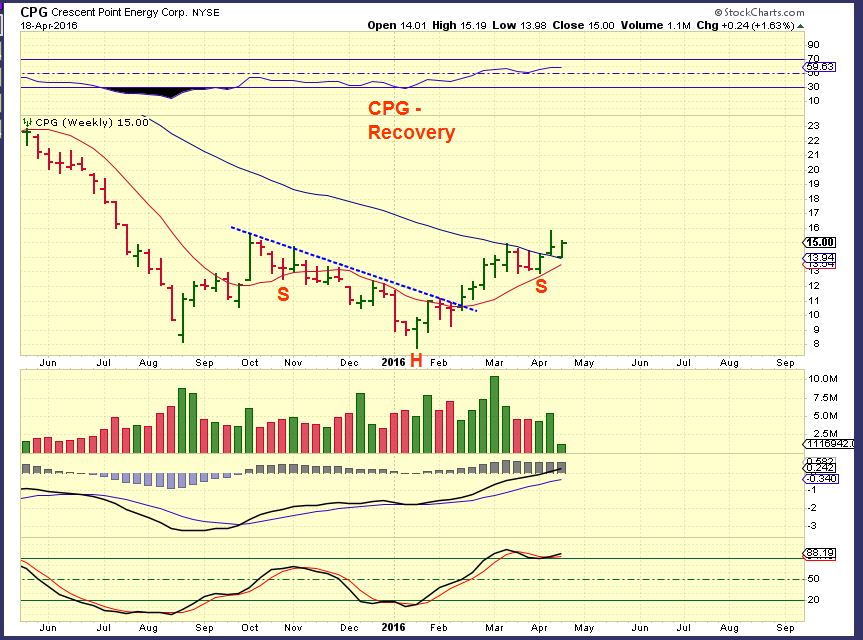 CNX- Breaking out from $4.53 to $8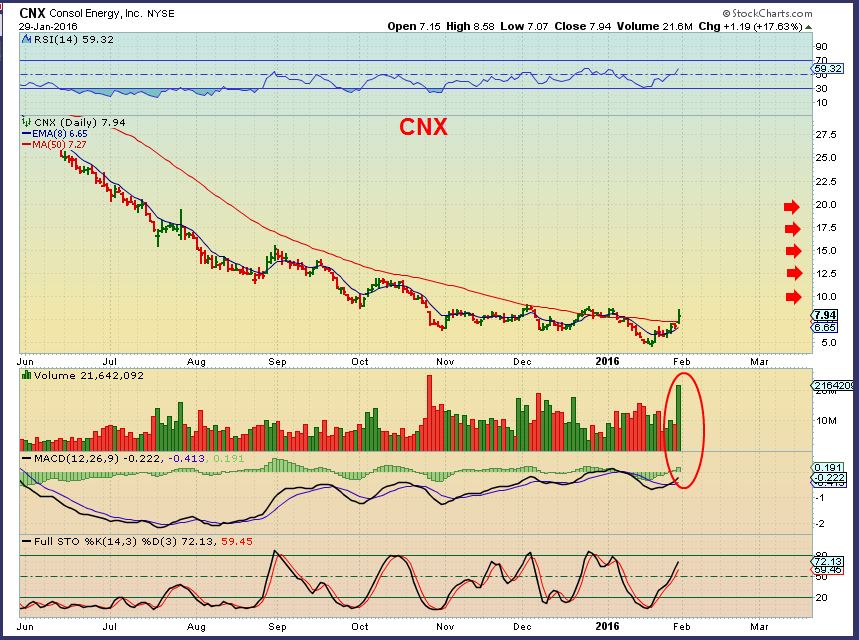 CNX WKLY NOW – When you look at a chart like this (weekly) it looks like we would say,  " I could have easily just Bought and hold that from $4.53 and tripled my money soon."

So I wanted to show you something very familiar to us now.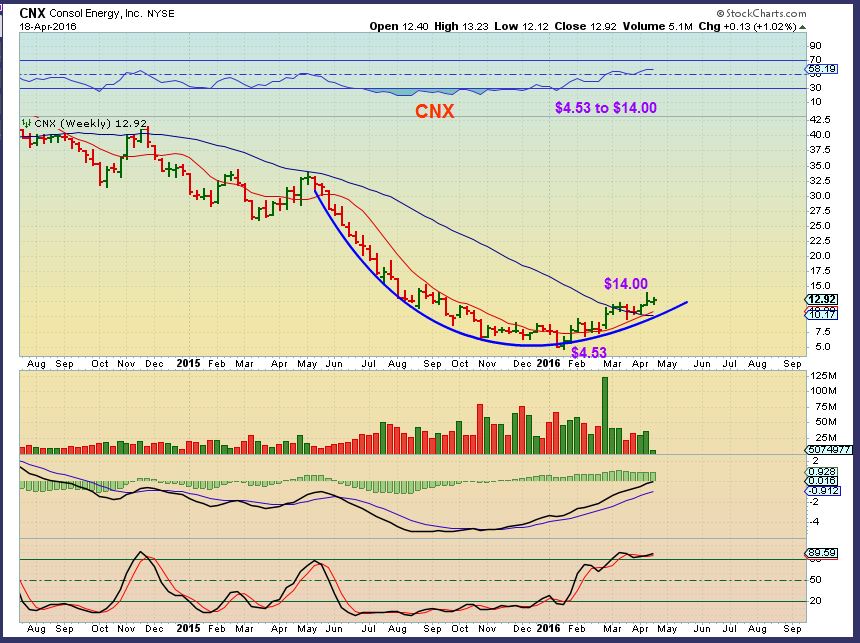 CNX DAILY

– This was not just an easy ride. Patience in the consolidation phases was needed,   sound familiar? I am showing you this to give you the visual of the day to day volatility in those consolidations.  We rode consolidations in CLF, VALE, AKS, SID,  and now AA.  Also some energy stocks are jumping around and bucking us up & down, but longer term the recovery can be quite rewarding. Just use stops and remain alert. Look at the weekly chart above again  🙂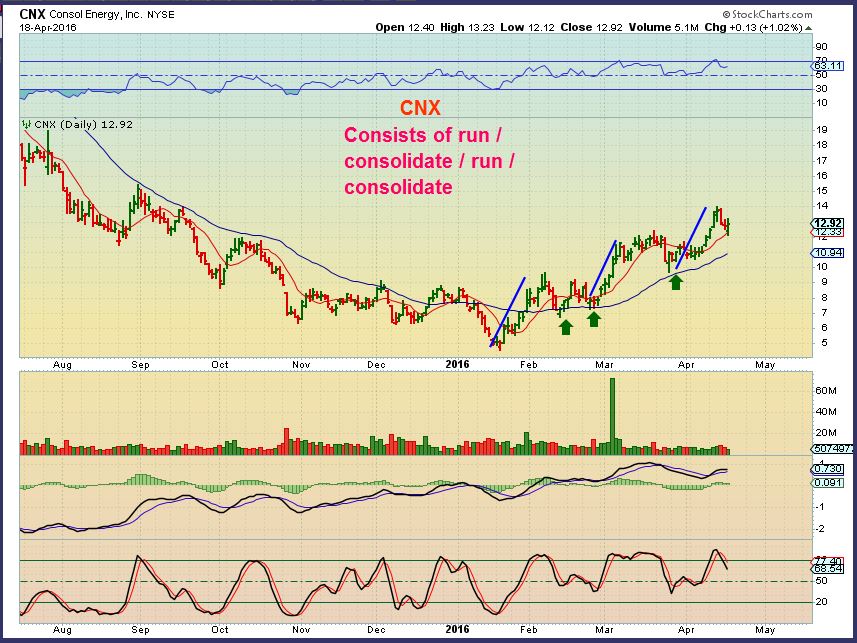 CLF – Do you recall this chart 1 month ago at $2.60?  We probably all wish we could just go back, load up heavy, and ride out that consolidation phase knowing what we know now about  CLF. It wouldn't matter if it dropped 35 cents and then recovered, knowing what was ahead when it recovered.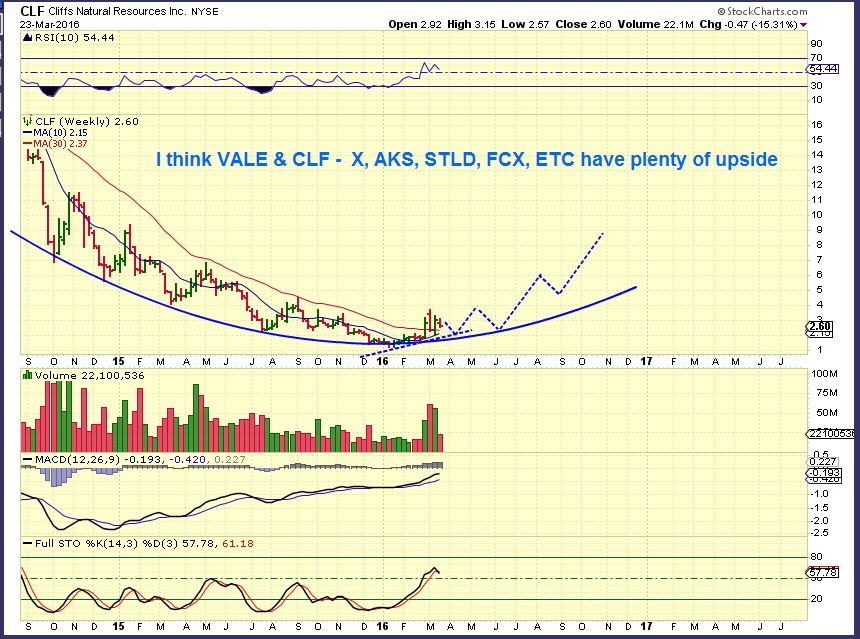 .
SO again, ENERGY .  Many stocks are recovering and OIL is early in the daily count for the 2nd daily cycle.  Sometimes it takes a little sideways consolidation before the brek higher comes along.

.
OAS

– Roughly $4.20 to $9  since recommended.    This chart was from the weekend report.  Did it get crushed when OIL dropped 4% today?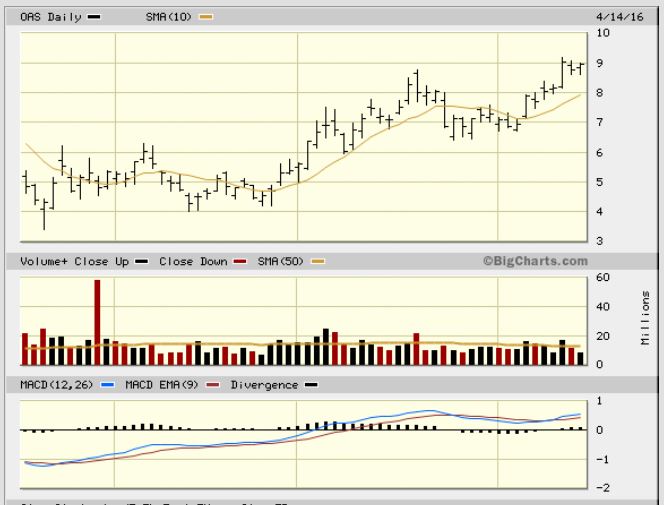 OAS

–  It did drop quite a bit, but it's still a good looking set up.  It went on sale today, but it would have been a scary buy until it moved a bit higher as the day went on.  Even if someone didn't buy it yet, it can still be bought here.  Reminder:

IT MIGHT

continue to consolidate.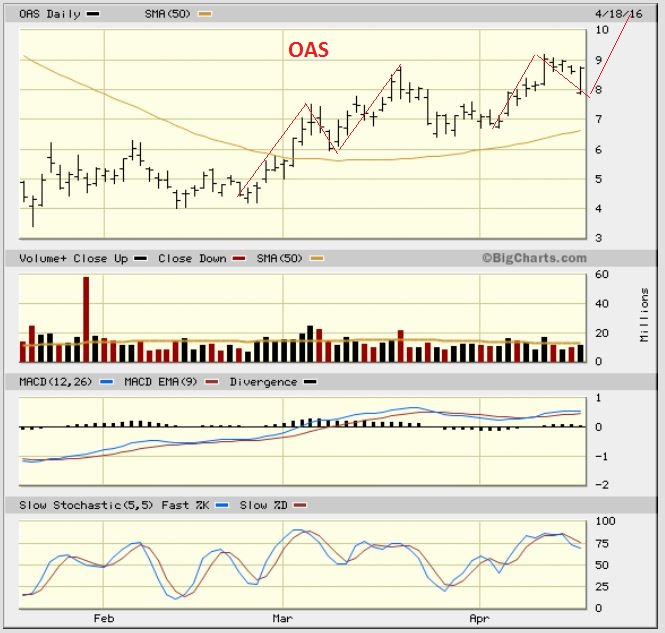 .
MRO

– When first mentioned $14 was a resistance zone ( Keep that in mind).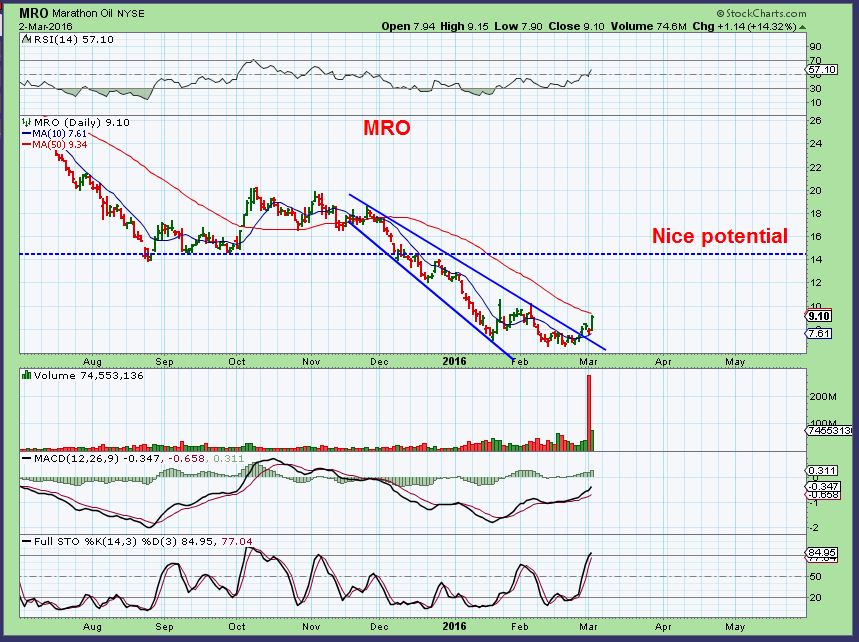 This was in last Fridays  report, has anything changed?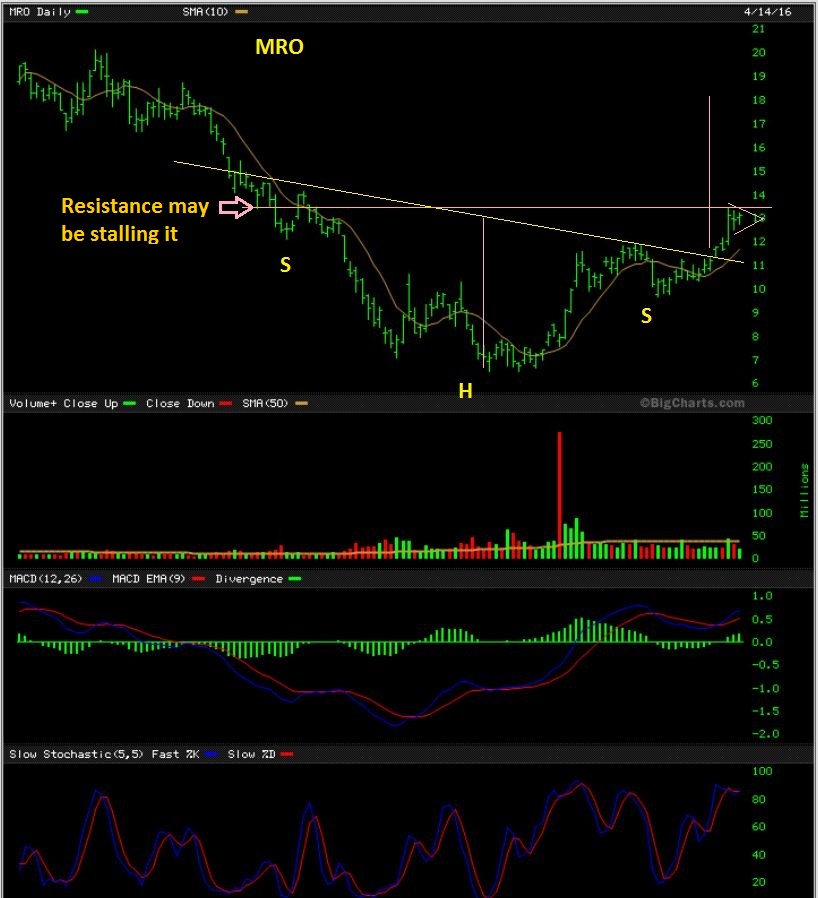 MRO Monday

– Went on sale and recovered quickly. Volume was rather light, but that also means that it sold off on light volume when Oil was down 4%.  Since resistance was at $14, it may be building energy to break higher.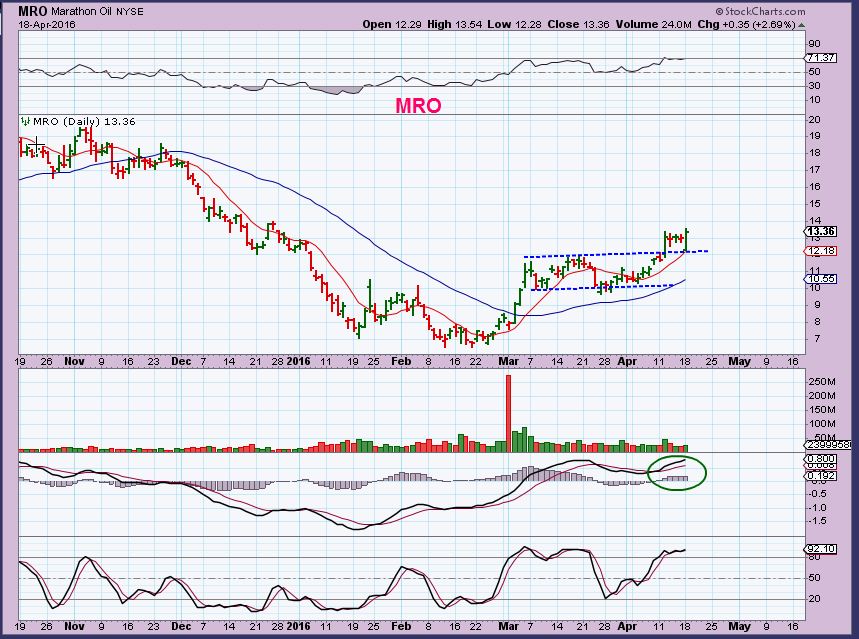 .
  ERF  March 1st-  Notice the measured move to $4.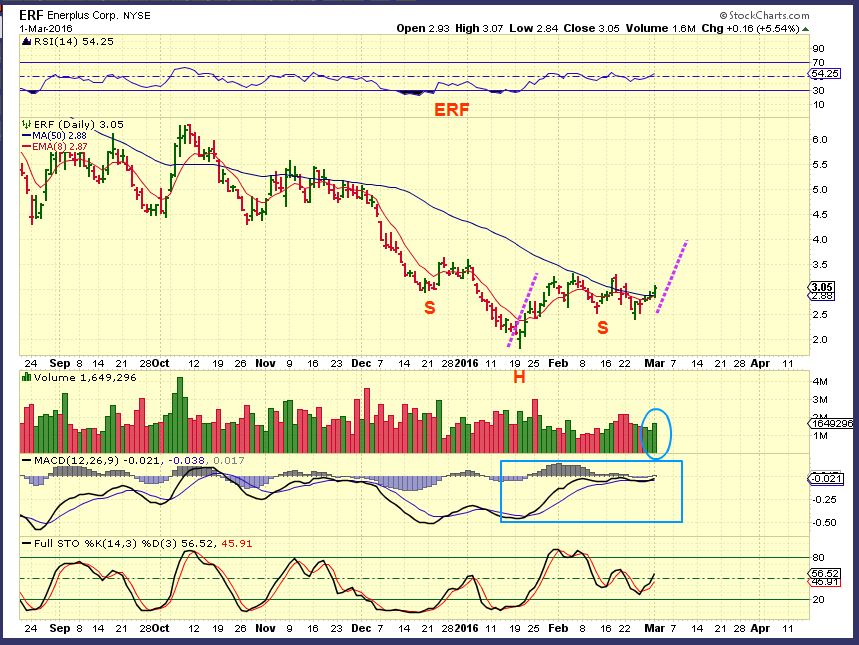 ERF

– It ran to $4 and consolidated into a Bullish pattern. I recommended buying this consolidation, because OIL sold off for 9 straight days and this did not.


ERF

Monday –  After completing another measured move, it dropped today with Oil and reversed higher, actually closing up 6.5%.  This has now moved from $1.84 to $5. Great gains.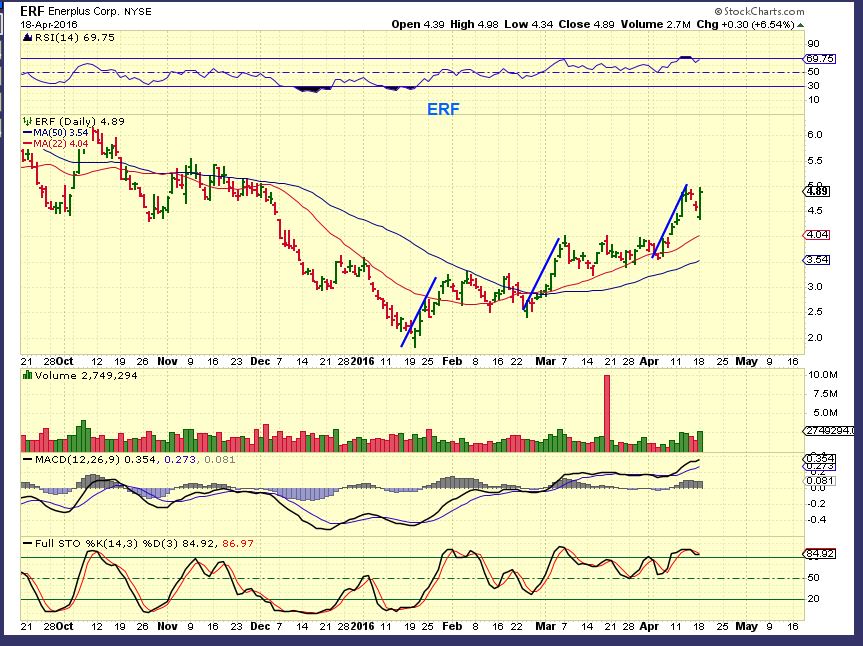 Finally
LGCY

–  This energy stock moves in huge swings.  It is scary at times, but this big picture is helpful if this is going to recover too. It was actually over $30 in 2014.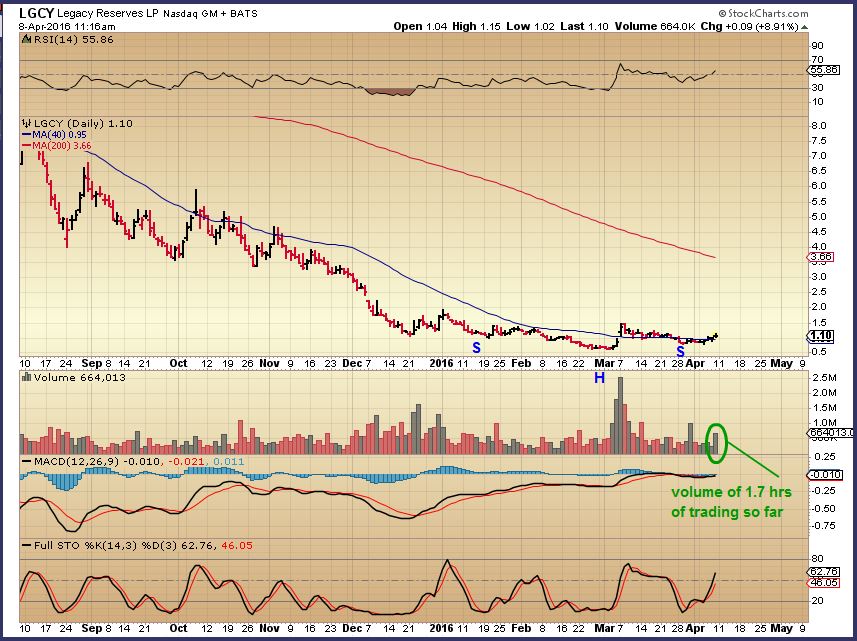 LGCY

dropped to the 50sma and started moving higher Monday morning. It also ended up green for the day. Still a bullish looking base.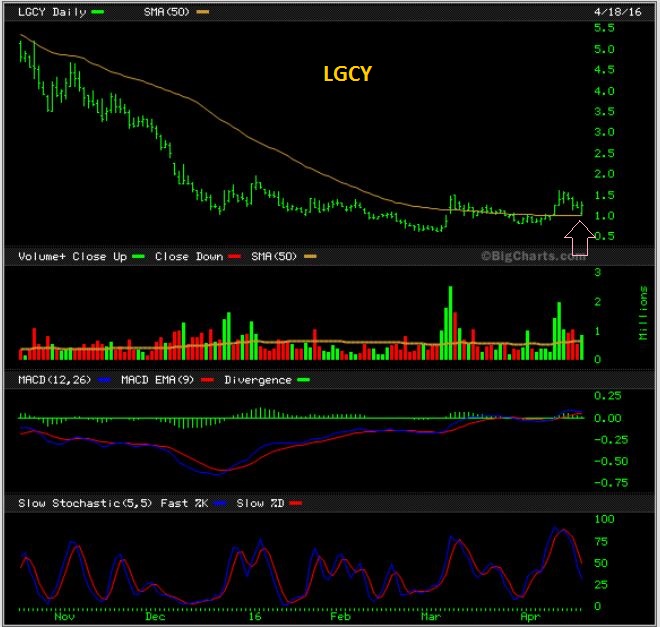 So please note that in every chart of a stock that recovered,  it was NOT straight up.  There were many boring consolidations. Mondays drop could be considered part of that process.
.
As a part of this lesson, I also wanted to show

TCK

.  What a great looking run, but it too got a bit scary at one point in the consolidation. 
Jan to Feb –  $2.56 to $7.25 – NOT straight up. Notice the sideways boring moves and volatility.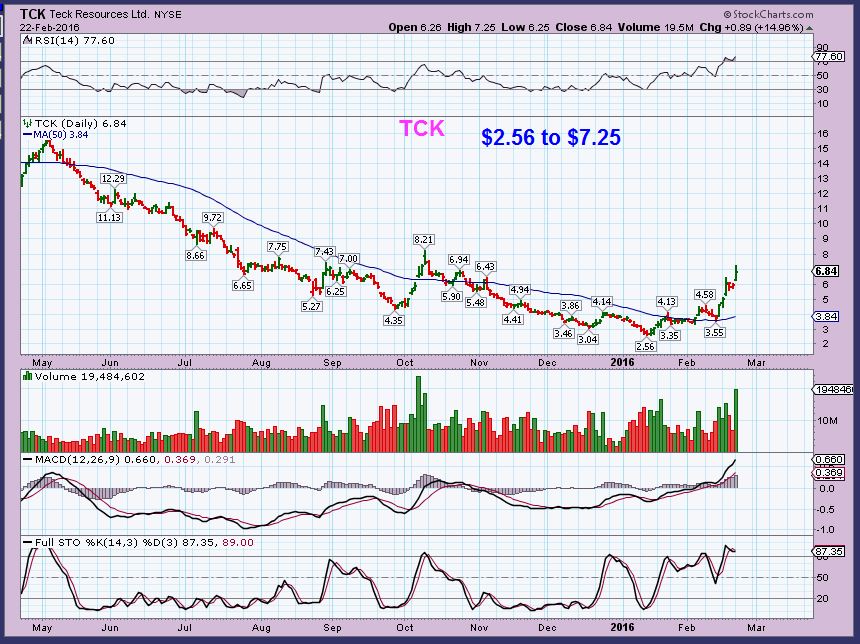 Then it got stuck under resistance and went sideways from $6-$7.  That's about 10 days or 2 weeks of trading.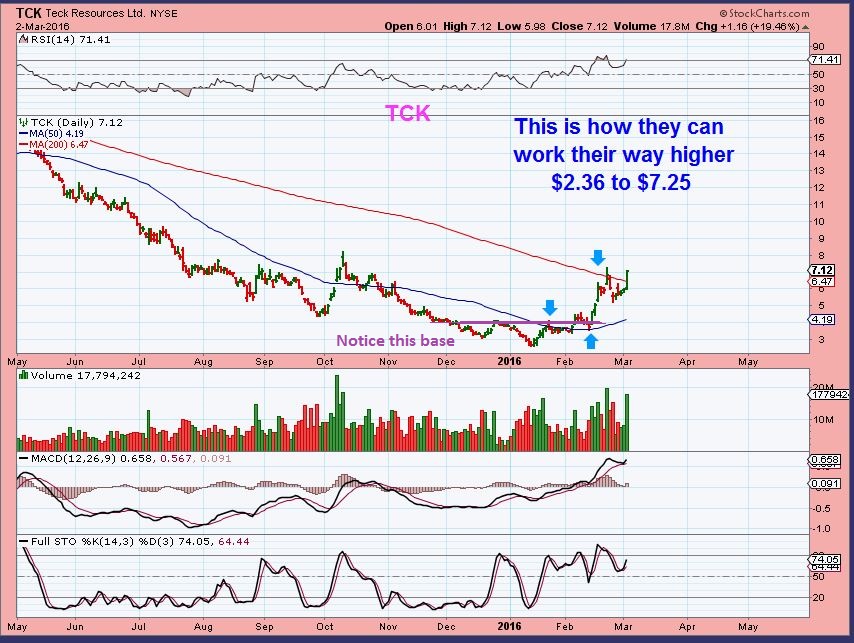 TCK Monday – Sideways for over a month now and I even warned about a possible H&S , but it never played out. TCK is now breaking out, possibly for a strong run out of this consolidation.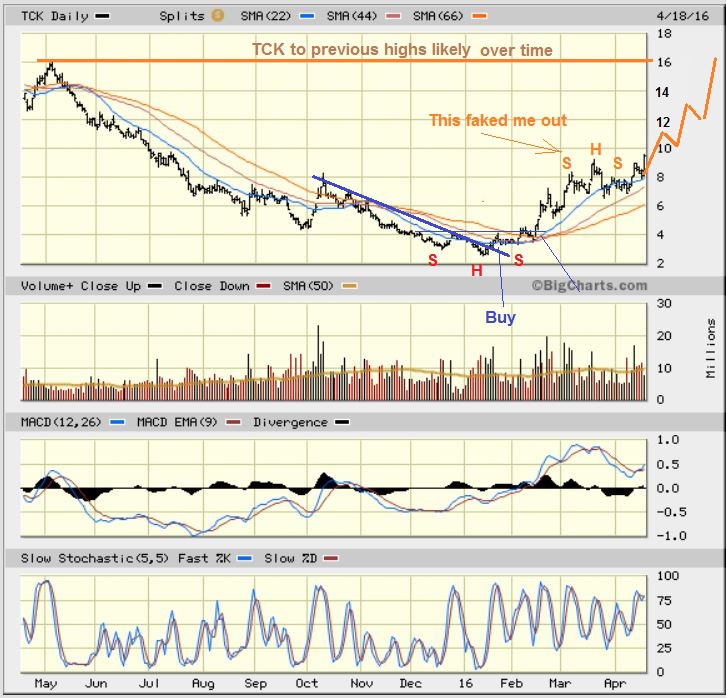 .
Finally – I found a new stock ( New to me, I have never heard of this company). Hudbay Minerals.  They released earnings on Feb 24th , and the stock went higher. Their next earnings release is April 29th. They are mainly Copper Mining. Gold & silver also.

.
HBM

– ( HUDBAY MINERALS) – I bought it as a trade since it bounced off of its 50sma and it just kept climbing.  It has a long consolidation and a possible inverse H&S , so

I will hold on to it until it tells me to let go.

  I see TGD, VGZ, AUMN, GSS, etc still running strong, so I will try this one until it lets me know that it doesn't want to run.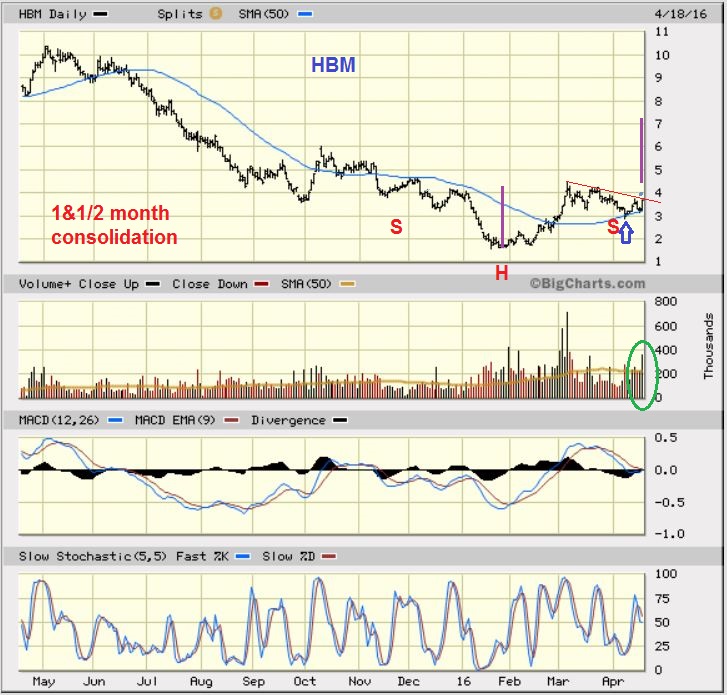 HBM close up

– I think it may be ready to break out, so someone here also may want to trade it also? Just remember that it is a Copper / Gold Miner and could get caught in a pullback if Gold drops.  You could use a stop under the 50sma, or just sell a quick POP if we get one.  So far, trading in certain Miners has worked out well.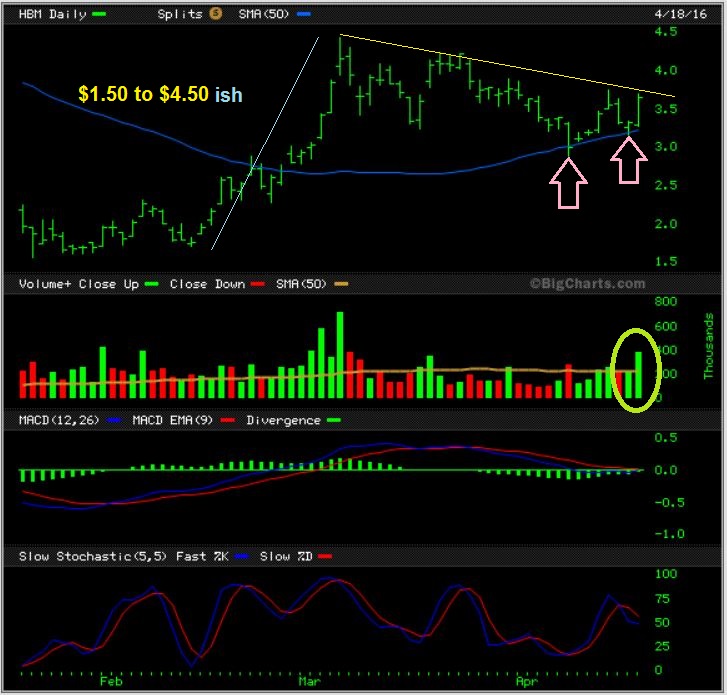 Like GSS in this chart from the weekend report. It continued higher Monday too.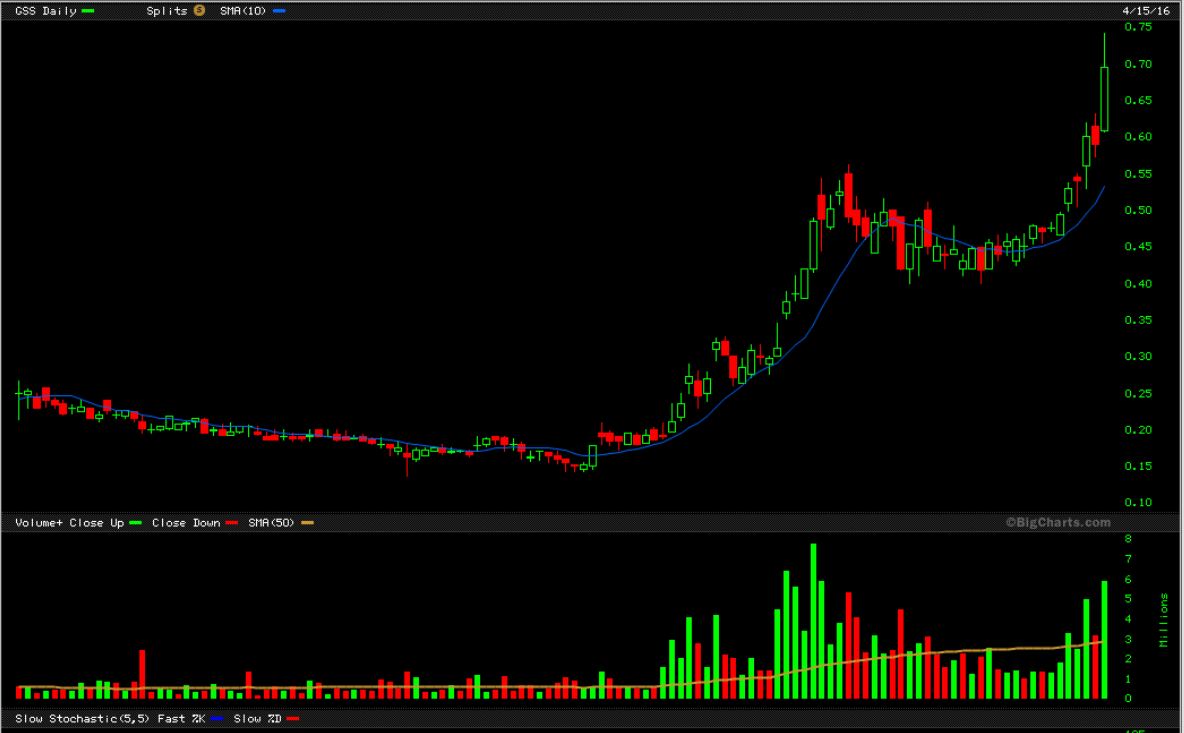 .
I hope you enjoyed this Energy Sector Review.  Best wishes and thanks for being here!
NOTE:  It's just $95 for a full 3 months of membership, a fraction of what one stopped out trade is likely to cost you.  Consider joining ChartFreak and receive hundreds of chart setups and ideas.    See >> CHART FREAK – QUARTERLY

~ALEX
https://chartfreak.com/wp-content/uploads/sites/18/2016/04/Energy-Sector-Review-Chart-Freak.jpg
778
1444
Alex - Chart Freak
https://chartfreak.com/wp-content/uploads/sites/6/2013/04/black_logo.png
Alex - Chart Freak
2016-04-19 14:55:32
2016-04-19 15:02:16
Public - Energy Sector Review