BELOW are clips from my premium weekend report
Seems that lately we've been hearing a lot about "Drops" in the markets. Remember when CNBC was reporting that Shanghais drop  may never end until it hits the lows around 2000 again?   "Its collapsing!"  Well, all drops,  no matter how steep, end when selling exhausts.  I posted this support for my readers.  Would it be a trade-able low?-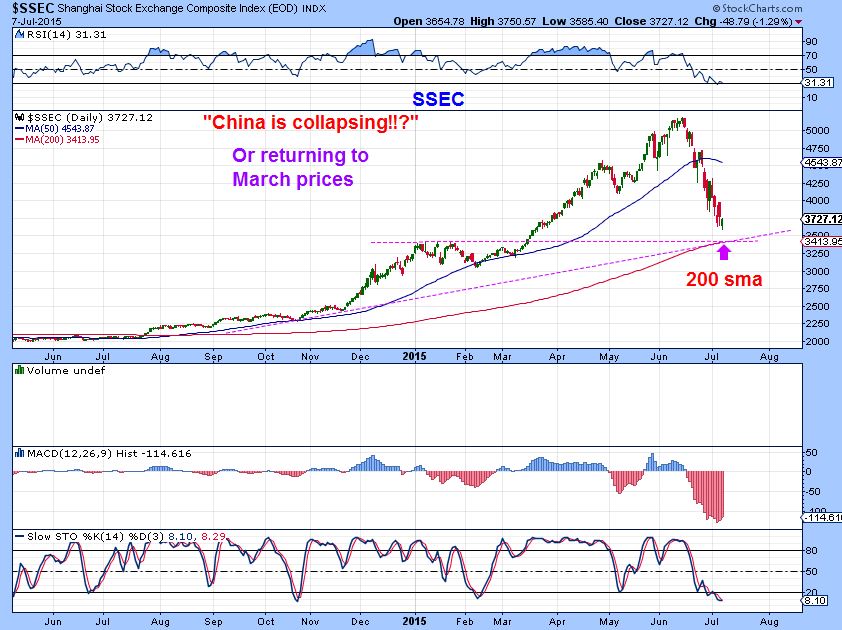 It did end there, so far.  THAT was a trade-able low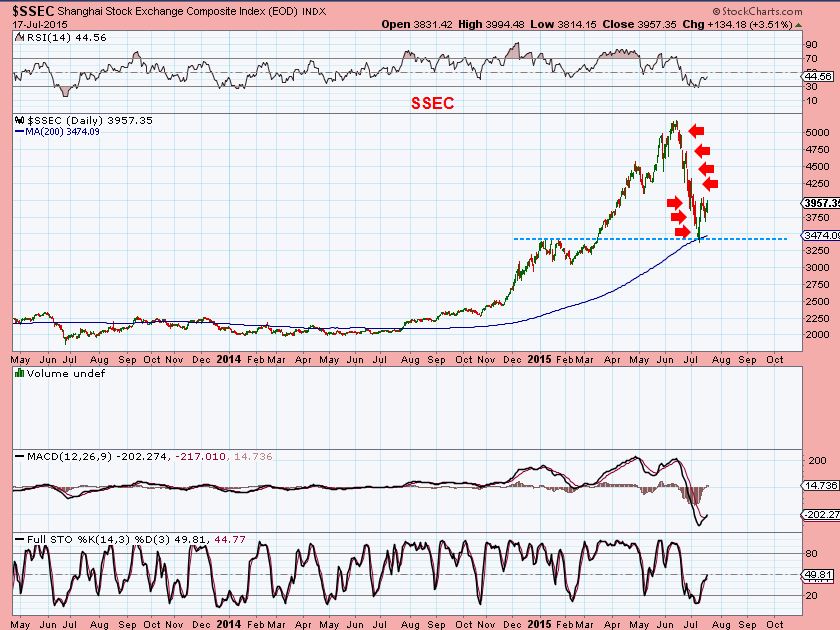 GOLD , SILVER, And the MINERS

are dropping, but it too will end.  It may become a very profitable trade.  It may be not 

THE LOWS

of the bear market, but rallies that come out of these exhaustion sell off s can be very profitable . Lets take a look…

 As of Late Sunday night ,  was this support enough for a trade-able low??  Maybe, maybe not. Many are calling for Sub $1000, even $800. Lets look closer.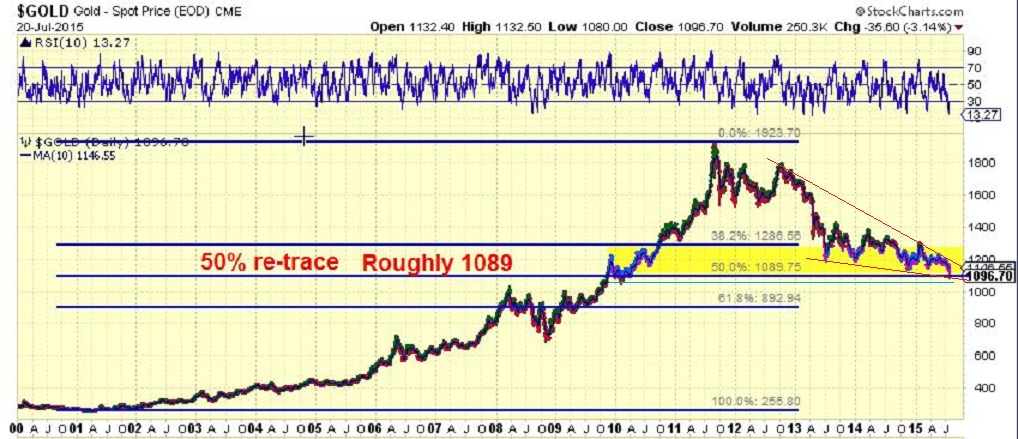 To begin, this is 1 of my charts  (July 13) expecting $98 to be a temporary top in the $USD. That could help Gold to bottom.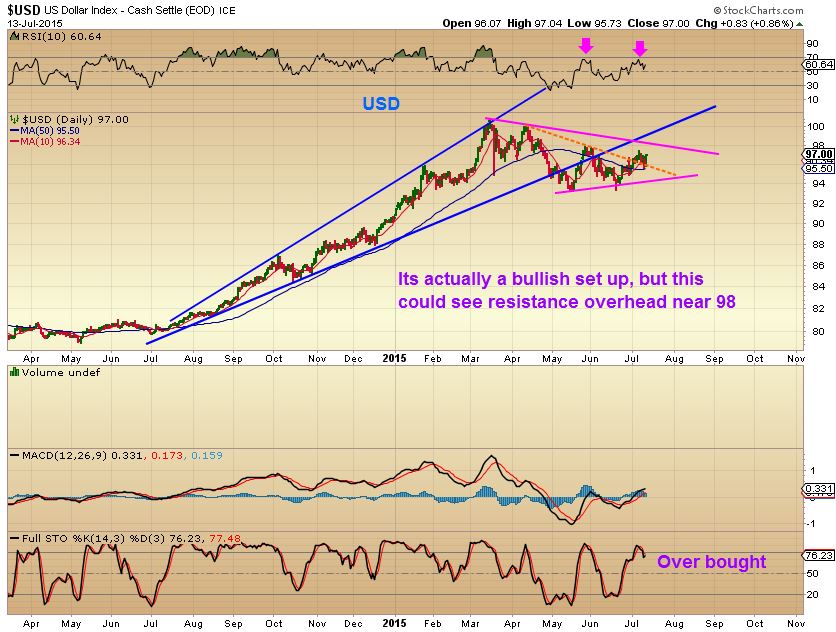 USD

–  JULY 17 , we were in that area . This does remain a bullish looking chart, but…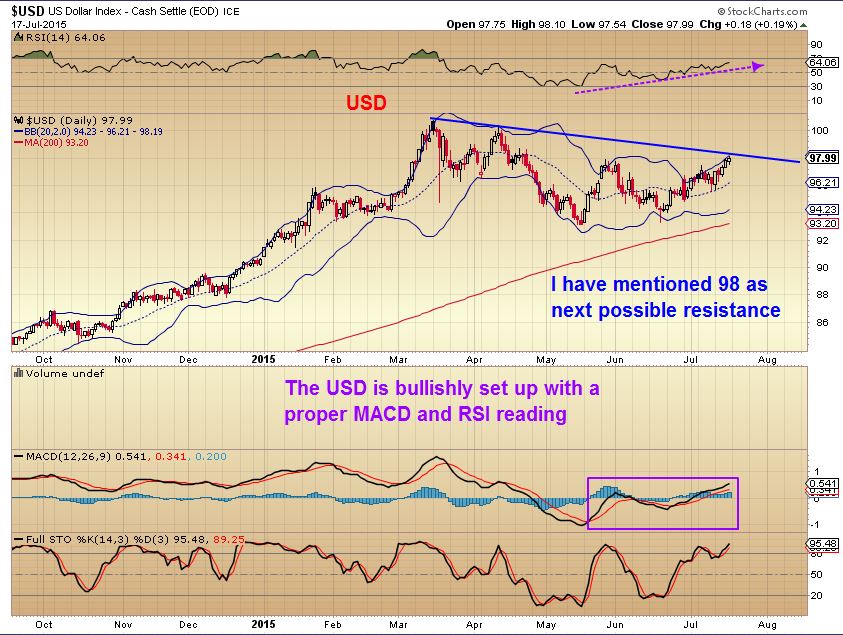 -Deleted  Oil charts-
-Deleted NATGAS chart-


GOLD SILVER, MINERS
Using Cycle counts ,  Gold was on day 29 last Friday
GOLD  July 17

–  we broke down below November lows of  $1130.49 & reversed higher.  I said that I would like to see More selling, to really run the stops.


-Delete-
C.O.T.

– this was as of last Tuesday and it already reads at levels where prior ICL's took place  (ICL's are deep trade-able Lows) . This  shows that SMART MONEY are closing their "short" positions.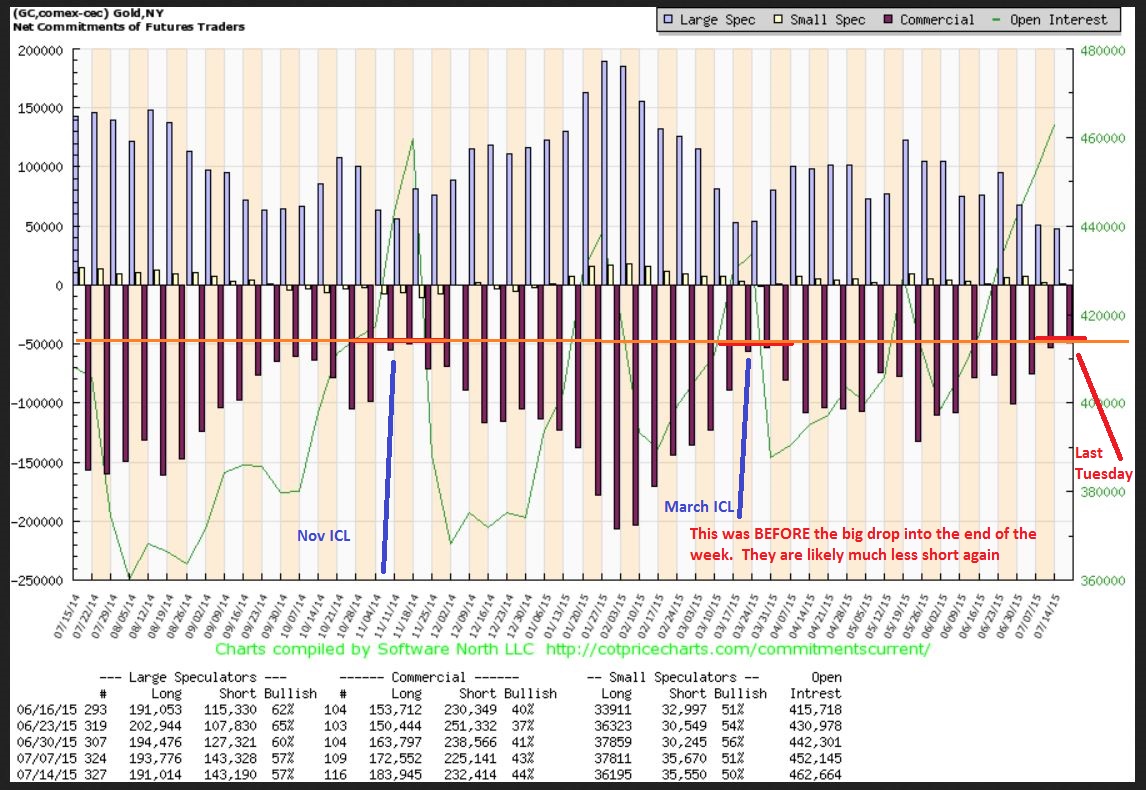 Miners –
GDX WKLY

–  look at

Last Oct

. We had a similar set up  ( double bottom).  As it broke down everyone screamed that support was broken, we would cascade from there. Did we?   Will this current break down  fall forever? 🙂  You will hear that 'support is gone,  GDX will be single didits this summer' and so on…we will discuss this further in our daily reports .

   Again,  That Break down was 1 strong week down, and the next week went lower and reversed.  We are breaking lower below support again as of Friday.  Will we Crash?  Trade-able Lows?  My observations are in my weekend report and Tuesdays.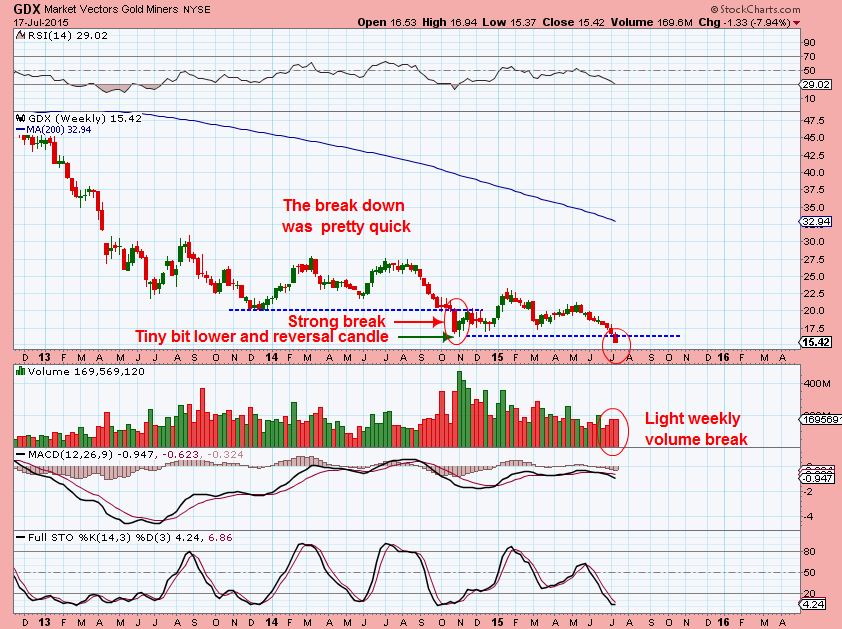 -Delete-
  (I also  posted Silver & a few daily GDX  GDXJ charts  today and explained what it indicated to me) .
 SO
GOLD , SILVER , and MINERS

have been selling off sharply.  How does one navigate the sell off? How does one recognize possible trade-able lows? Do we buy DUST/  JDST now  on any bounce? Go long?
   And what about when the lows do come?   Lows can be complex too, look at the lows in MAY 2014.  Many called that a bear flag and shorted it. 

They missed the rally

when I called the May 28 lows here at chartfreak.

The lows in the summer of 2012 were just as difficult to manage.  The rally was great,  but a week of up & down action at the lows  had many thinking 'bear flag' and were shorting it.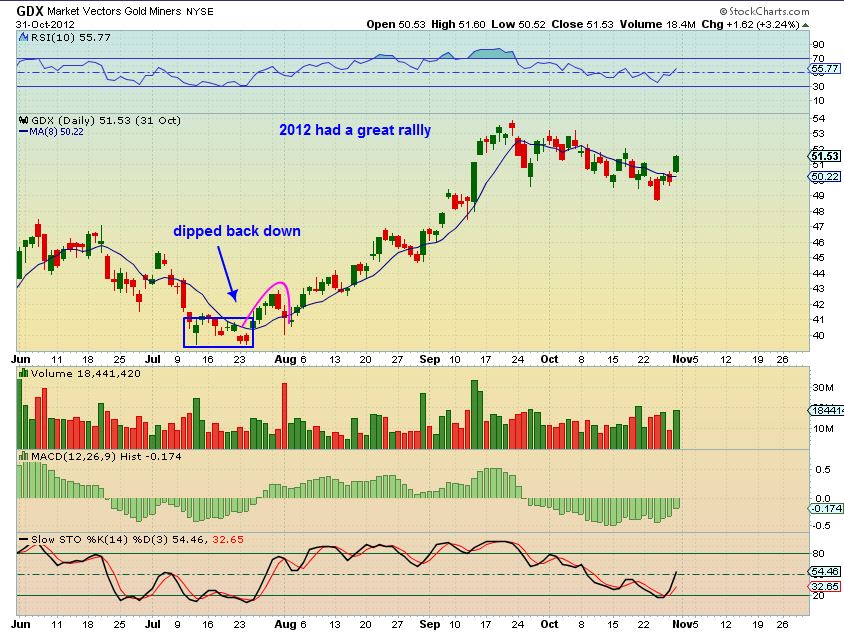 This was only a small portion of my weekend report.   In its entirety  (and in  todays premium report)   I offers guidance in this area,  if that would help you.  I will likely be discussing

Gold , Silver , & The Miners

  for the next few weeks too.       You can sign up for a month if you like what you've seen in the public area , and learn more about a possible rally in the near future in this area.   Last weekends report had over 20 charts , and todays had another 21.  I usually  cover the General Mkts,  $USD, OIL, Natgas, Precious metals and more.

    If you are unable to sign up at this time,  you can at least check back  under this public blog tab for occasional free updates on what I am looking at.  Thank you for your interest in Chartfreak.com

~ALEX
https://chartfreak.com/wp-content/uploads/sites/18/2015/07/DOG.jpg
519
823
Alex - Chart Freak
https://www.chartfreak.com/wp-content/uploads/sites/18/2019/11/Chart-Freak-site-logo.png
Alex - Chart Freak
2015-07-21 18:03:03
2015-07-21 18:03:03
TRADE-ABLE GOLD BOTTOMS