** This report contains excerpts from the GOLD & SILVER section of my premium report this weekend. 

After doing a lot of research last week and this weekend, I am thinking that we could see a very trade-able low in Gold & Silver, and very soon.  Almost all of the letter writers and gold reports that were out there were saying that Gold would crash to $800-$1000 this spring.  My readers know that  I maintained all along that I did not see that happening (yet).    🙂
Lets look at The

USD

, 

GOLD & SILVER
 

USD WKLY CHART

  –  This is a bullish set up, but I wouldnt be surprised to see the Dollar run to the purple dotted line at 98  and then drop.   It may line up with what I am seeing for a summer Rally in Gold.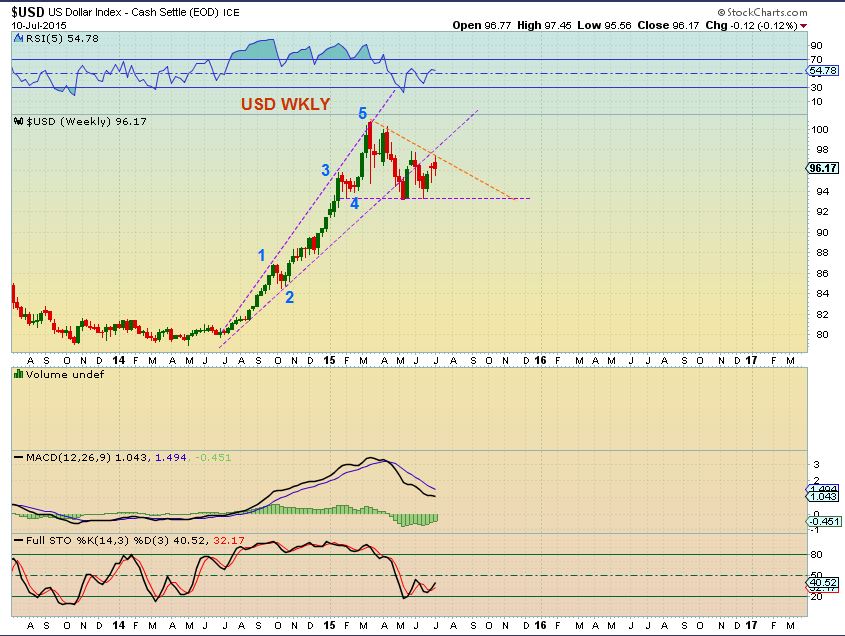 GOLD SILVER & MINERS
  C.O.T. levels are Bullish right now.   I believe we are close to an important low / rally in Gold & Silver here.  With  No reversal in Miners yet , I recommend that we remain Cautious and Patient  until we get one .   Note: The COT report is NOT an exact timing tool, but it shows how smart money is positioning.

  Why do I feel that we are due for a Low / a Summer Rally soon?  Let me explain:
  You can see that the current C.O.T  readings for GOLD & SILVER are at prior ICL levels already.   This is SMART MONEY closing their short positions as  Dumb money goes short.  The break of the Silver lows recently had many calling for their readers to

go short

.   Apparently 'Smart money' closed their shorts.

GOLD COT

–  Commercial shorts are at prior lows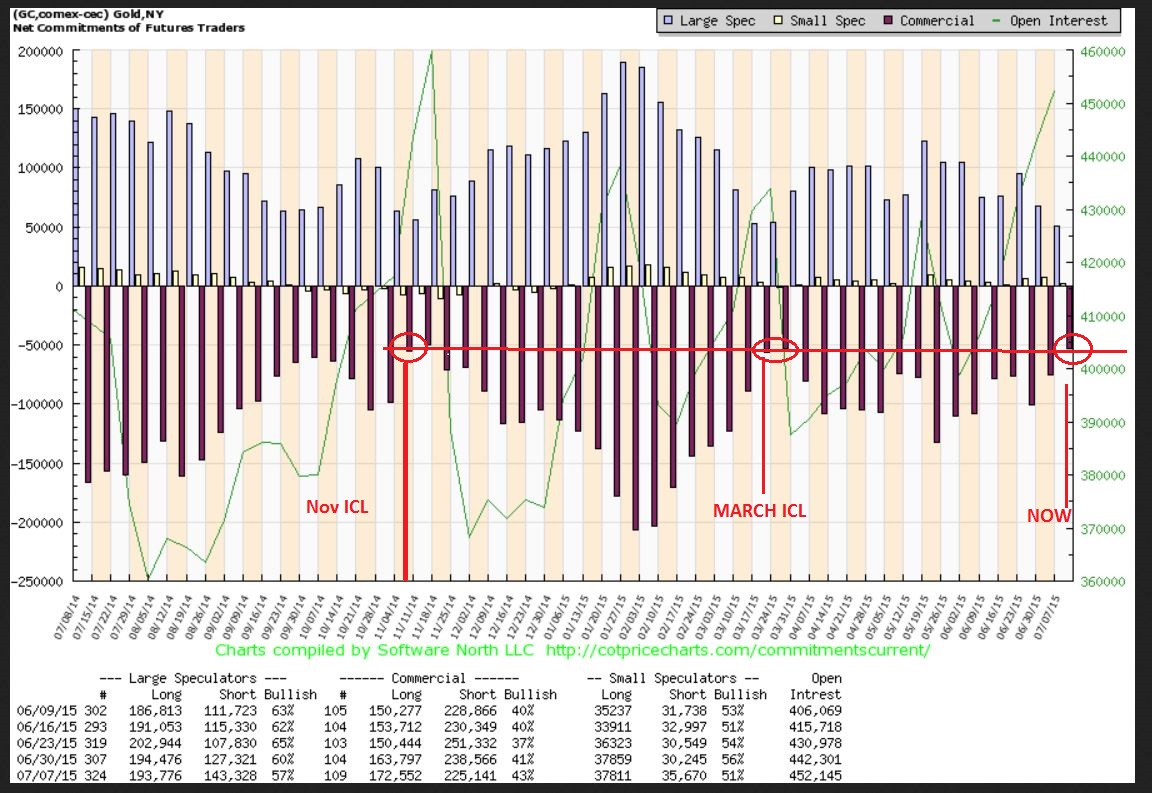 SILVER COT

– Silver broke down, and smart money closed their short positions.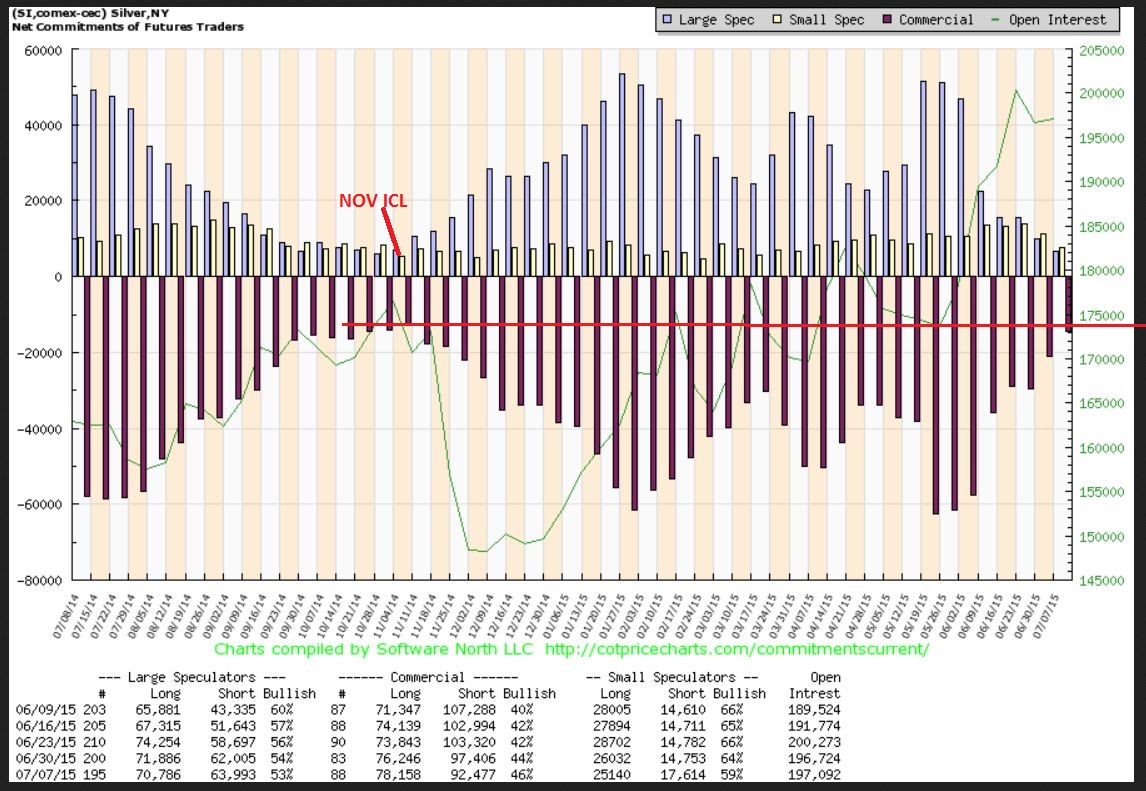 SILVER WEEKLY REVERSAL  as of Friday.    Many who listened to the cry that  "Silver has broken down , Go Short!" Are likely stuck.  Smart money is going long.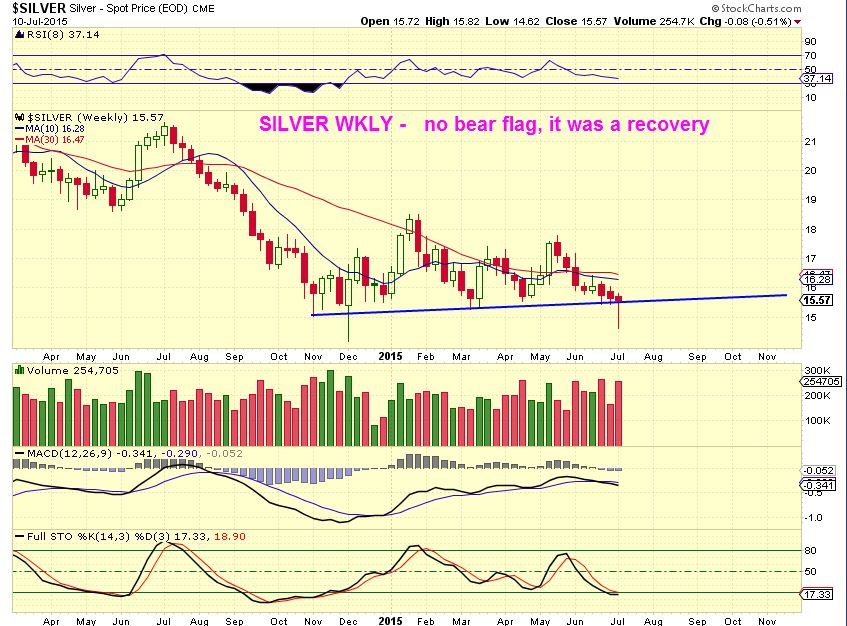 -Delete-



-Delete-

Can I reconcile a Summer Rally  with the current set up of the USD?  Yes.
This is just an idea, one possibility,  of how it could play out:

  1.  If Gold is putting in an ICL ( Meaningful Low)  this summer, we'd get 2 daily cycles higher in Gold.  The dollar would drop from here (

Magenta lines

).   (That's 2 months rally in Gold)

  2.   Then the dollar bottoms as shown and rallies to a double top.  This would allow  GOLD to drop to $1000 finally  into yr end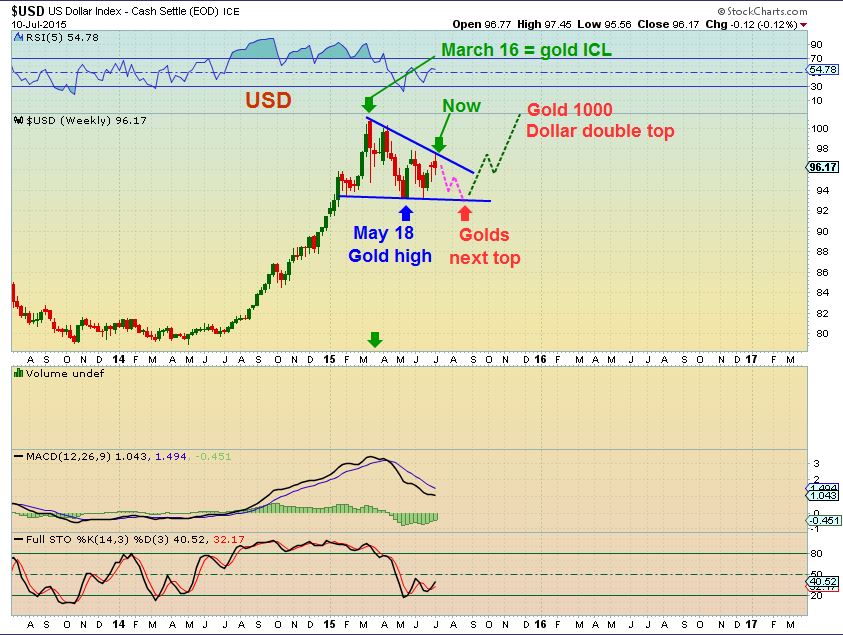 GOLD would look like this, which is very plausible.
A rally first & then we drop to the $1000 area.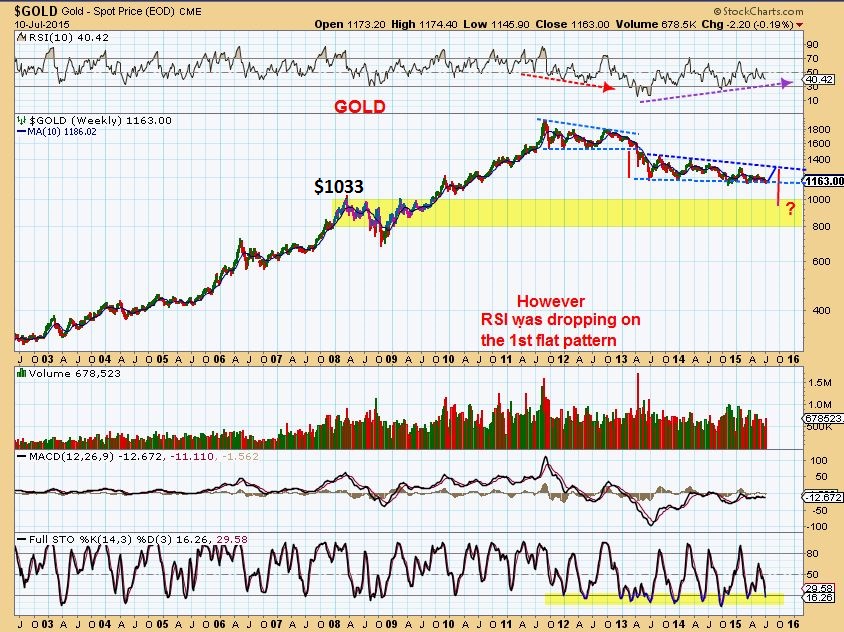 -DELETE-
-DELETE-
This is my least likely scenario, but it is possible so it should be mentioned –   An immediate drop to the $1000 area gives us  the Meaningful Lows , and a Summer rally would begin.    You'd  get the Test of the 1033 area and RSI tag of the trend line. It would have this look.  (Again, I think this is least likely)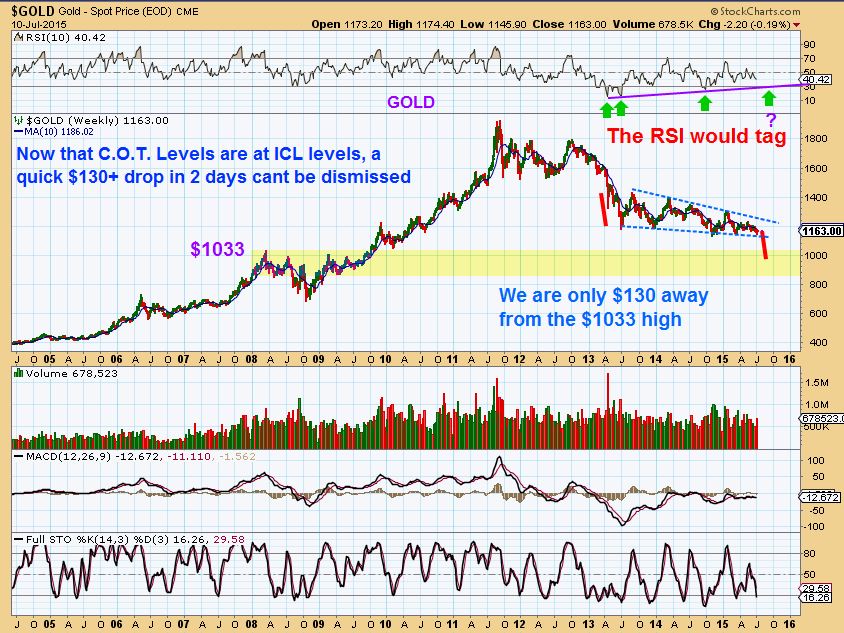 Summary :  I think that the smart money is telling us that GOLDS lows are very near and the weekly Silver reversal is saying the same.  Again, this is not an exact  'timing tool', but it shows that smart money has drastically reduced their short positions .   Confirmation will be in future action, possibly this week.   Since Miners usually lead the way and we saw GDX / GDXJ close near  their  lows Friday,  GOLD/SILVER  may have more downside.   I think we'll know very soon.   


~ALEX
https://chartfreak.com/wp-content/uploads/sites/18/2015/07/G-S.jpg
503
873
Alex - Chart Freak
https://www.chartfreak.com/wp-content/uploads/sites/18/2019/11/Chart-Freak-site-logo.png
Alex - Chart Freak
2015-07-13 18:15:44
2015-07-13 18:15:44
SUMMER RALLY FOR GOLD & SILVER?