Many people read my public posts but have missed out on my private reports. 
  Is it possible that you are missing out on something that could add insight to your trading by adding my reports to your trading style? Could you possibly even make that money back  ( $37.95 / month) on your next trade?
To answer that, I am going to show you  what we at CHARTFREAK focused on over the past few months.  AMONG other set ups-

1.  Many were afraid during the oil sell off Aug through Jan.  I was reading everywhere in Jan that you should be SHORTING OIL to the low $30's.   I am a contrarian during certain times and I found Many reasons to be one then.  This is what I was telling my readers in late JAN.  
  "BUY OIL / ENERGY STOCKS ABOVE the 20sma. It has NOT been there in a while."   I was buying certain Energy stocks at the end of Jan while   Most others  shorted these lows.


I recommended these energy stocks on  JAN 23 , knowing they were crushed to ridiculous levels and could explode higher.   Reasons were pointed out in my reports.  Many  have since moved up 50 -100 + % or more.  (Its not easy buying at lows, but my reports detailed the many reasons why)
REXX JAN 23 –  1 of 3 REXX charts I posted then.


REXX NOW-  that was the lows.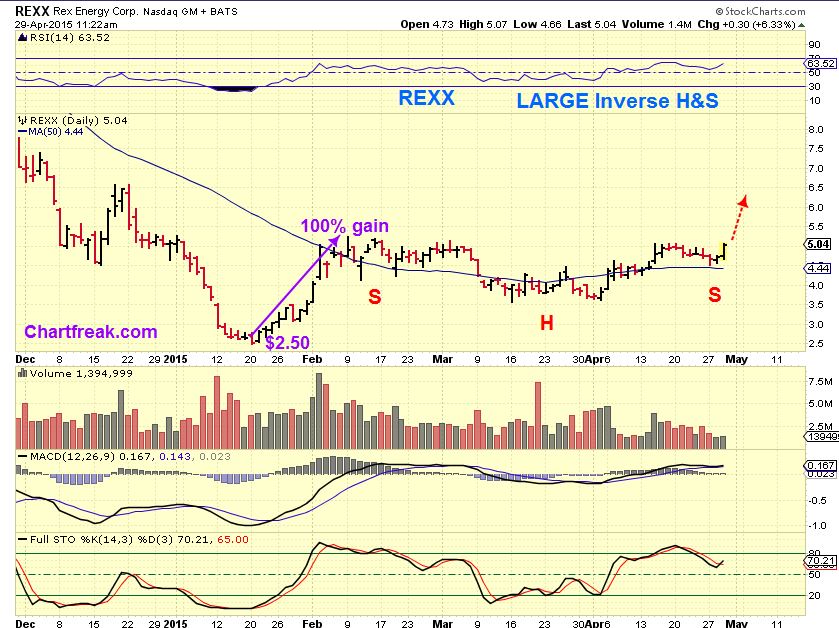 EXXI

–   Jan 26,  at $2.60 .  Double bottom lows .   1 of 3 charts that I posted on EXXI –  I thought we were looking at a great opportunity if one could be brave and then be patient. 100%  300%  Gains over time?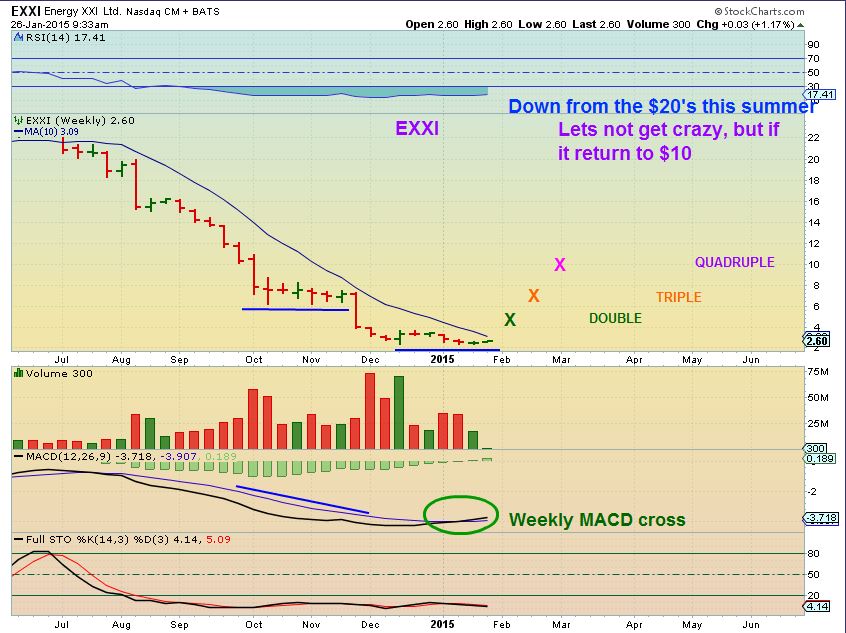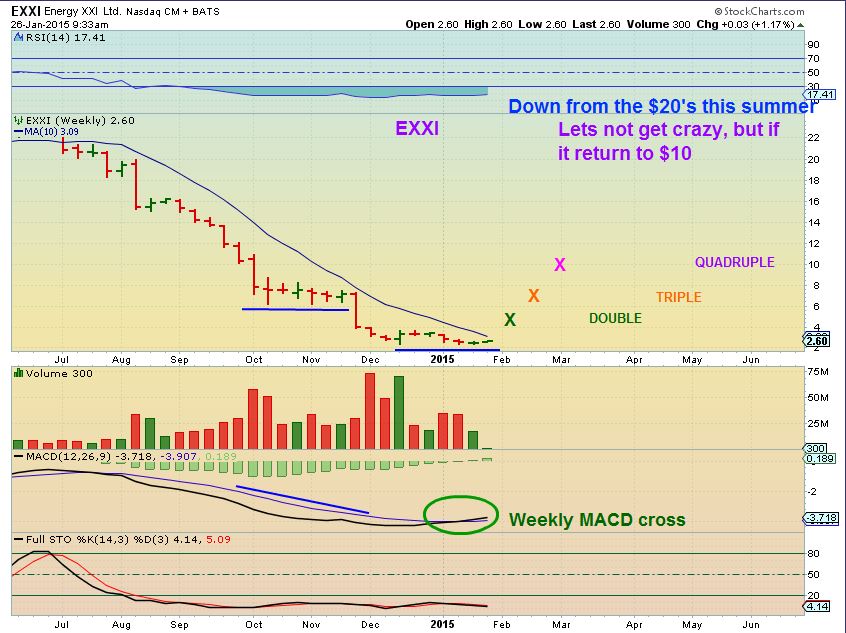 EXXI –

ran to $5  ( 100%) and dropped in March.  This week was back well above $4, almost hitting $5 again so far , on April 15.   I think there is more upside for the patient investor.  I personally traded this one in & out  with stops.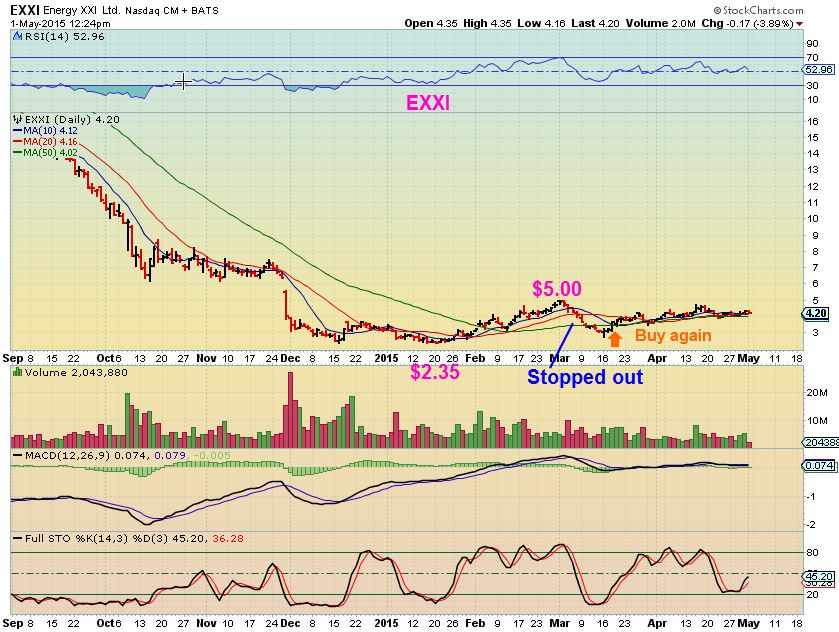 Again, many called to go short OIL on the MARCH DIP.   There was fear of that break down to $30's or $20's everywhere.  I declared it a shake out in real time and  BUY!  I pointed out the many reasons why and what I was looking at .  This chart days later was to encourage readers that what we saw was indeed that shake out,   NOT a break down.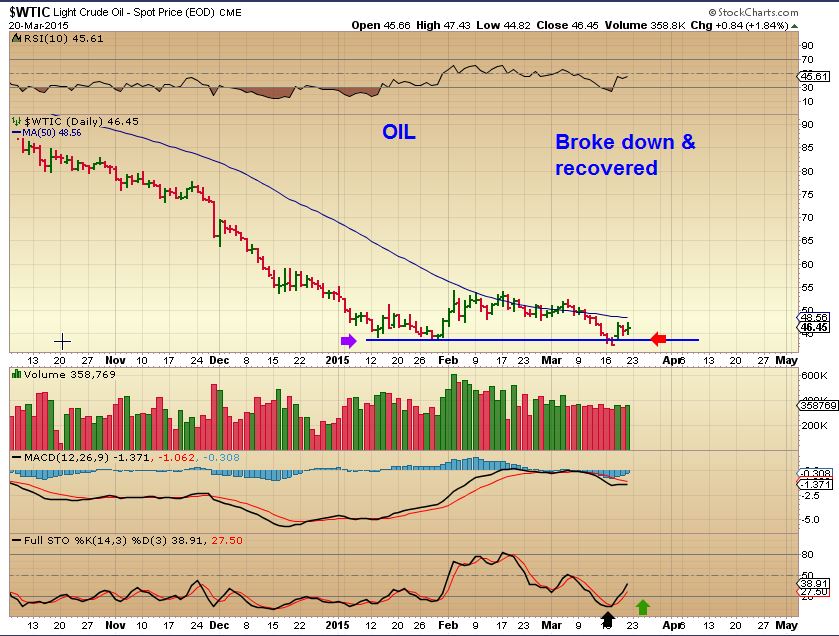 2.   Recently I was focused on NATGAS,  also looking for a Double bottom low  (Not a break down as I've been hearing .  Many are in fear of the surplus , etc,  but my charts called for a low).
I mentioned  CHK, XCO and a few other stocks to take advantage of this ahead of time.  As NATGAS broke down below recent lows, I was more bullish and I was looking for this break out too.
NATGAS Posted APRIL 27 – 

double low in place.  Buy or wait for this break out to be safe/ conservative .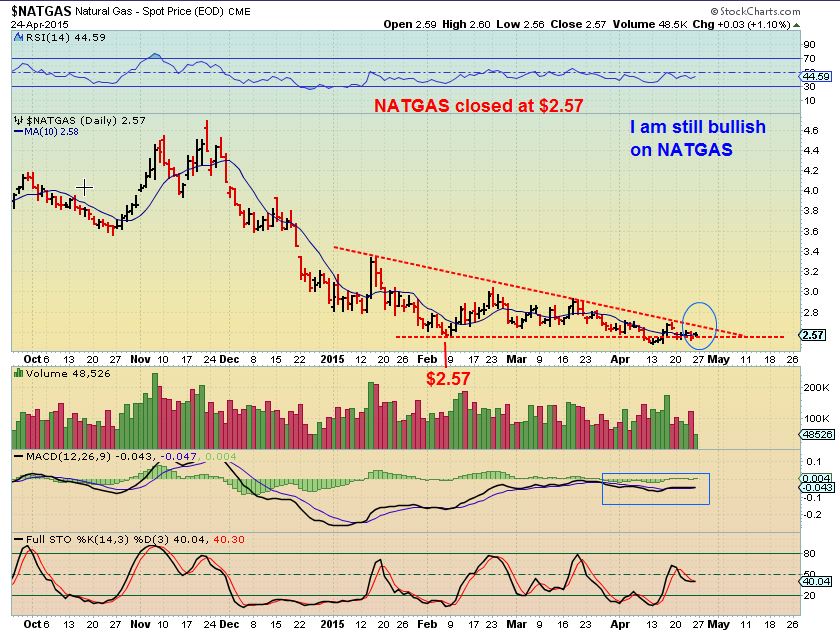 NATGAS 4-30

  (2 days later)   Some trader took UGAZ @ $1.80.  It is now $2.43 , up 35% in 2 days.  ( See also CHK)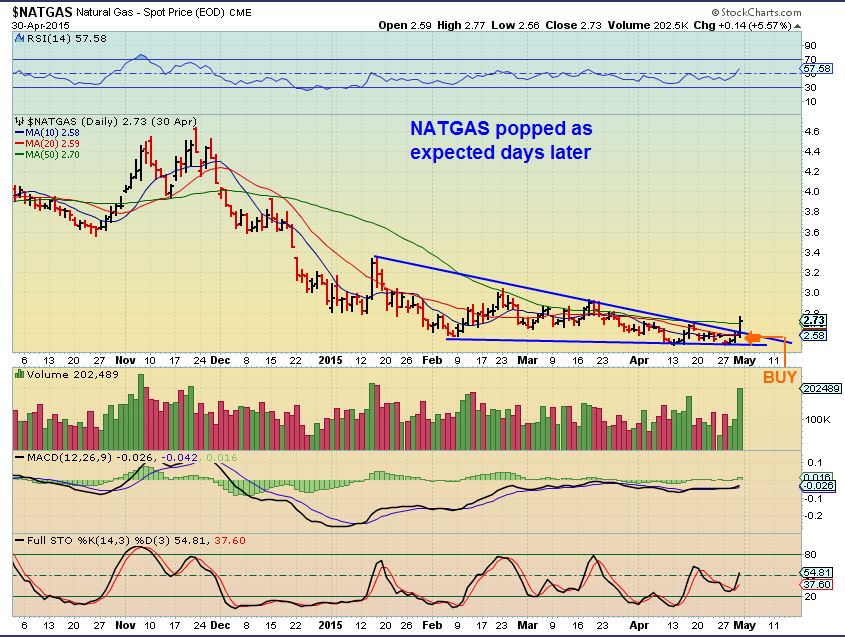 We've  also looked at trades in the equity markets , Commodities like STEEL, Uranium  ( Honestly, I didnt want to chase & I missed most of that first move up in Uraniums and Rare Earth),  SOLARS, etc  VALE, CLF, FCX, were mentioned.  The markets have been quite volatile lately , so some work out and some havent in the equity markets.  The commodities, Energy , and Solars  have been a bit more reliable.
.
3.  What are we focused on at CHARTFREAK NOW?    The moves in the GOLD/SILVER / MINERS Sector have had my attention again since March.
Today I hear many say ,  "GOLD is breaking April support, thus  it will break March lows soon.  The plunge in GOLD yesterday & Today is just the start, and todays follow through will plunge us down to $1000."   Yes, that could happen,  it could look like this …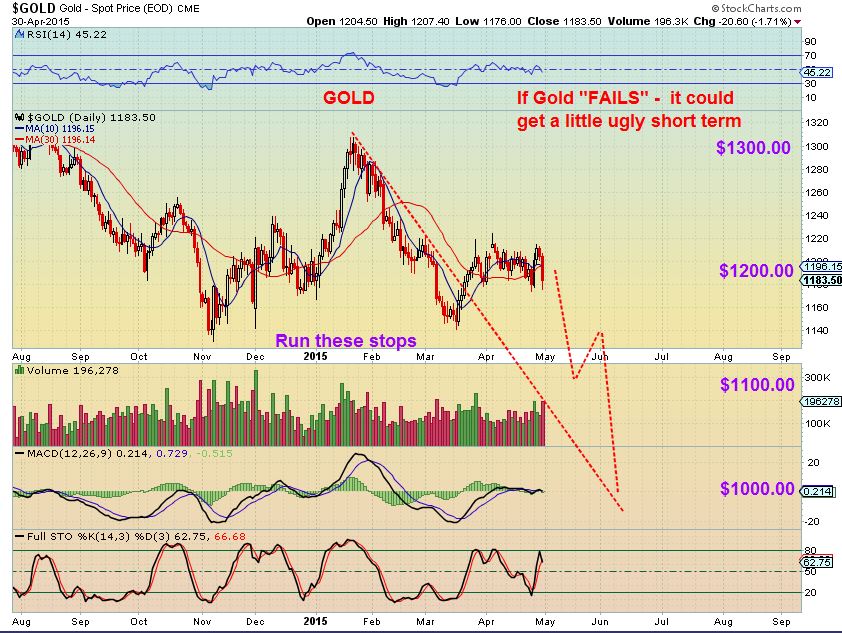 At this point I am looking at things differently again.  ANYTHING is possible, but what am I seeing?  I had reports this week discussing Precious Metals, and I posted an important update this morning too.  My weekend report will likely be very much devoted to trying to see through the hazy guess work and find a solid understanding  of where we are in this GOLD/SILVER sector.
 So for

less than the cost of a cup of coffee per day at Starbux or Dunkin's

      you can read any past report, including my thinking in this mornings important Gold/SILVER/MINERS update. Your next trade may make that money back for you quickly.

  You can cancel anytime ( no refund for the 1st month)  if you aren't satisfied.    I will elaborate on my thinking about the precious metals in this weekends report that comes out by Monday morning.  If you cannot join us at this time, please feel free to sign up for the email alerts to these public posts, which I send out from time to time.
Happy Trading and have a great weekend!
~ALEX
EDIT: I just finished my weekend report Sunday evening , it has  about 40 Charts . Mostly focused on GOLD/SILVER/MINERS.
https://chartfreak.com/wp-content/uploads/sites/18/2015/05/NEXT.jpg
649
998
Alex - Chart Freak
https://www.chartfreak.com/wp-content/uploads/sites/18/2019/11/Chart-Freak-site-logo.png
Alex - Chart Freak
2015-05-01 20:34:05
2015-05-04 13:26:33
PUBLIC POST …WHAT IS NEXT?