In this past weekends premium report & again o

n Monday March 16th,  I  posted developments that we had been watching In OIL/ENERGY /METALS. 

I am going to share a small part of those reports here with you , and let you draw your own conclusions.



MANY went short OIL this week .  The Wall Street Journal , CNBC, and several other letter writers warned of  an imminent breaking down of OIL to the low $30's.  So when People saw OIL break to new lows- they got very bearish & shorted it.  I like to check the charts and see if they can tell me something about what I am seeing.  I noticed that in 2008 when OIL was attempting to bottom, something similar happened, so I posted this chart for my readers.
$WTIC 2008  –  Notice how OIL s

truggle under the 50sma

, then made a false break down to new lows. How many went short then?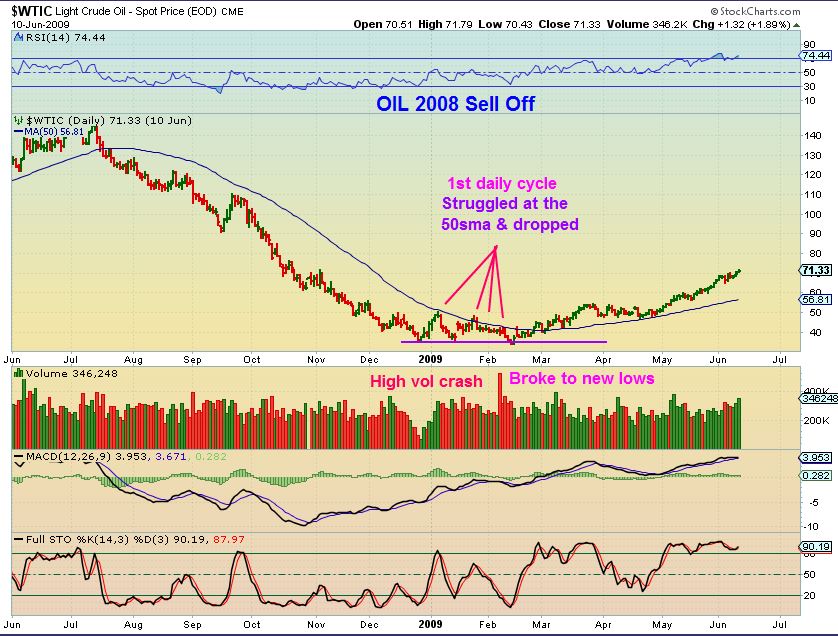 $WTIC  Friday March 13-

Struggled under the 50sma and then it gave up. ( It now has  dropped to new lows this week). Many went short.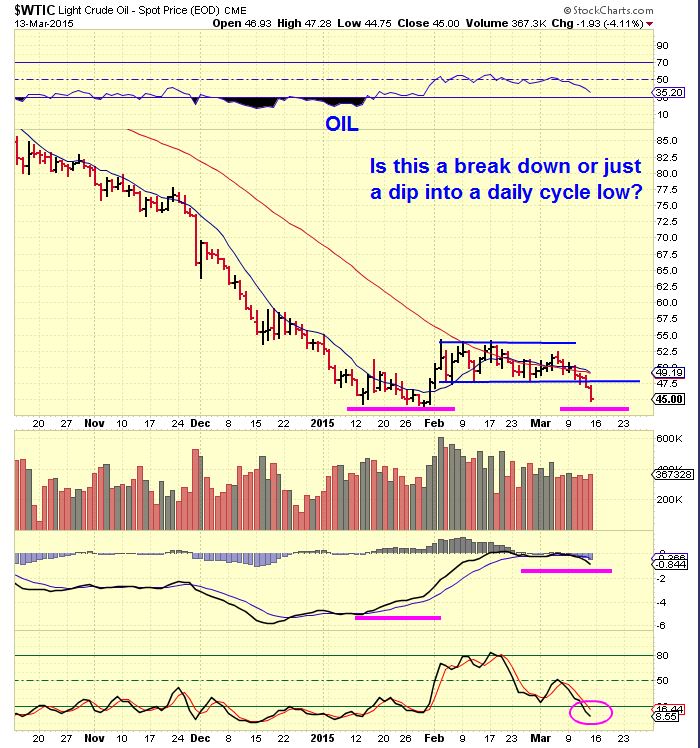 .
.
 Going one step further I asked myself, 
"Are ENERGY stocks breaking down to new lows too?  Do you see any reversals in ENERGY STOCKS?" 
 Check out  SM –  no new lows, it just ran from $30 to $50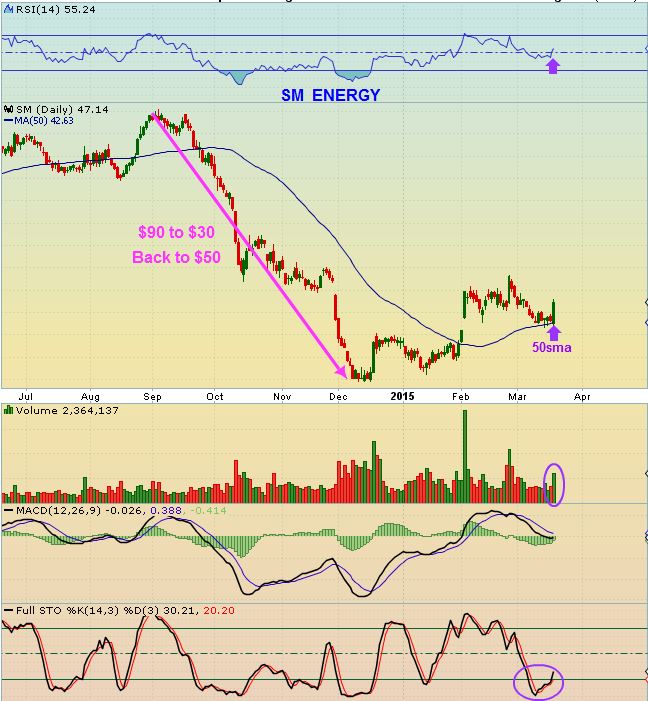 From Mondays Update: Look at

REXX, EXXI,  ( And I pointed out others) I wrote…
  I may be early, but  I took a couple smaller positions in EXXI, REXX , because I can place a stop below todays lows and they are bullish engulfing with OIL at new lows.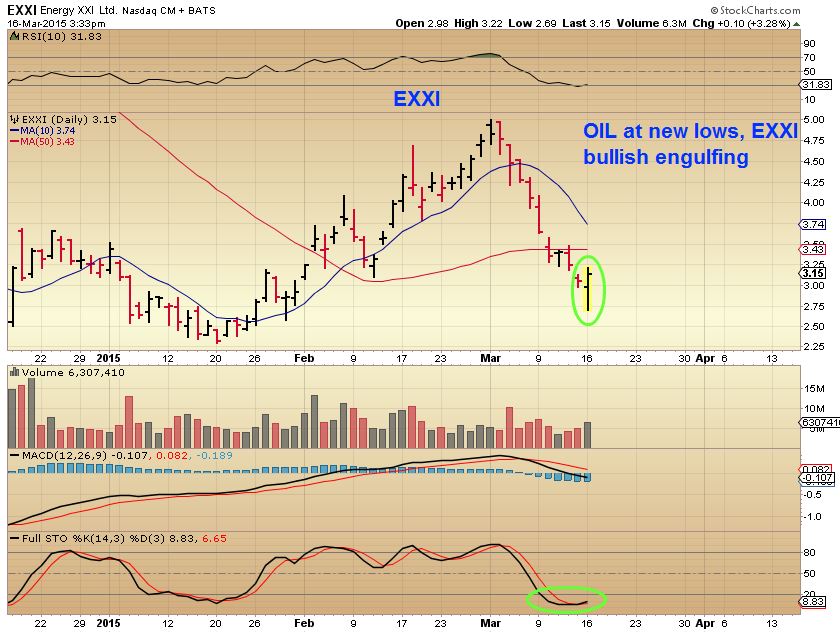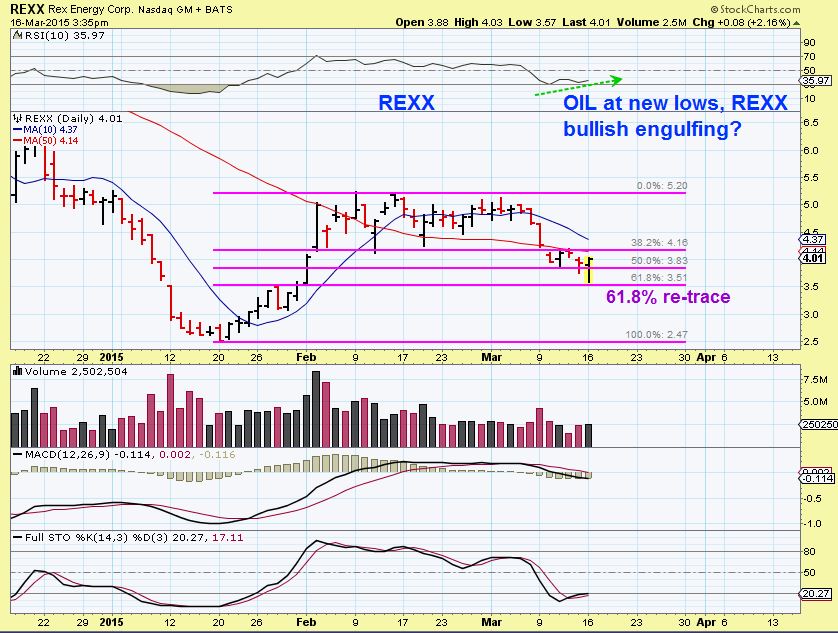 I concluded by also mentioning that with OIL at new lows, the XLE was looking rather bullish.
 Reversing while OIL is at lows is also the 

XLE.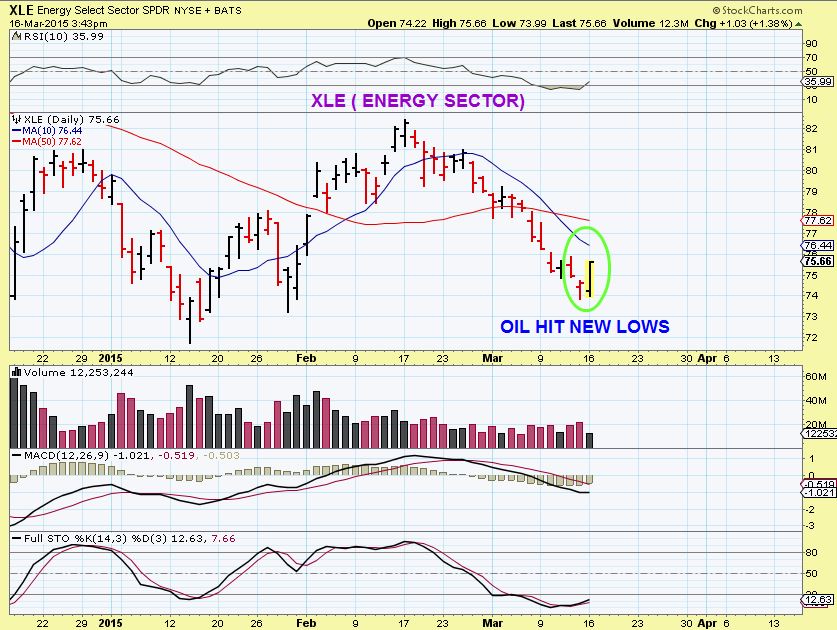 This is the XLE today as I write this  (March 19)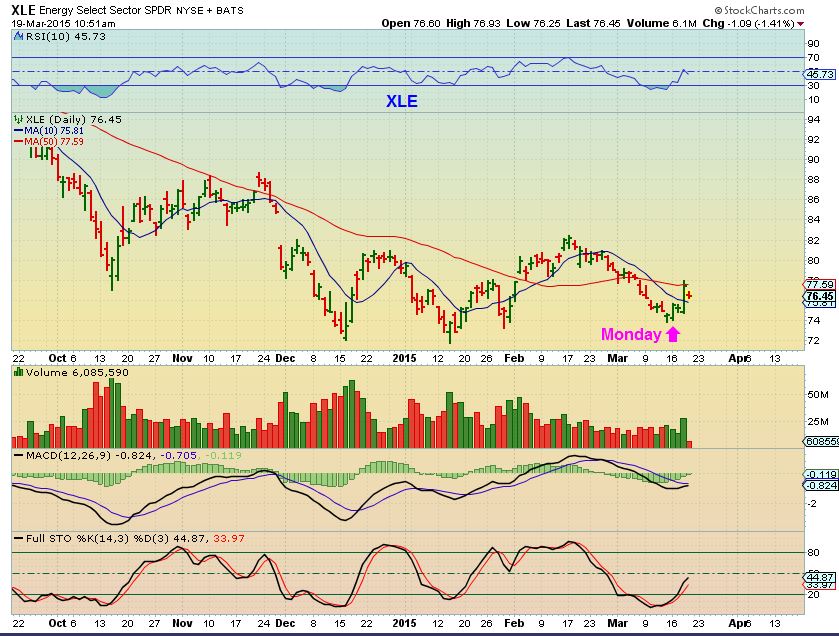 But wait. In that above XLE chart, I see ENERGY bouncing , and then dropping, bouncing and then dropping.  Is there any safe way to trade this?  Will this be a lasting type rally this time, or will it roll over again and again as it has in the past?   I will be covering that in this weekends premium report.
GOLD/SILVER and the MINERS

were also due to bottom. It was a tough one to read. They also  Popped with the FED WED release.   I had posted this bullish set up March 11 in Silver ,  but again will it pop, run , and last? Or roll over?
$Silver

– Ran the stops and this was the low.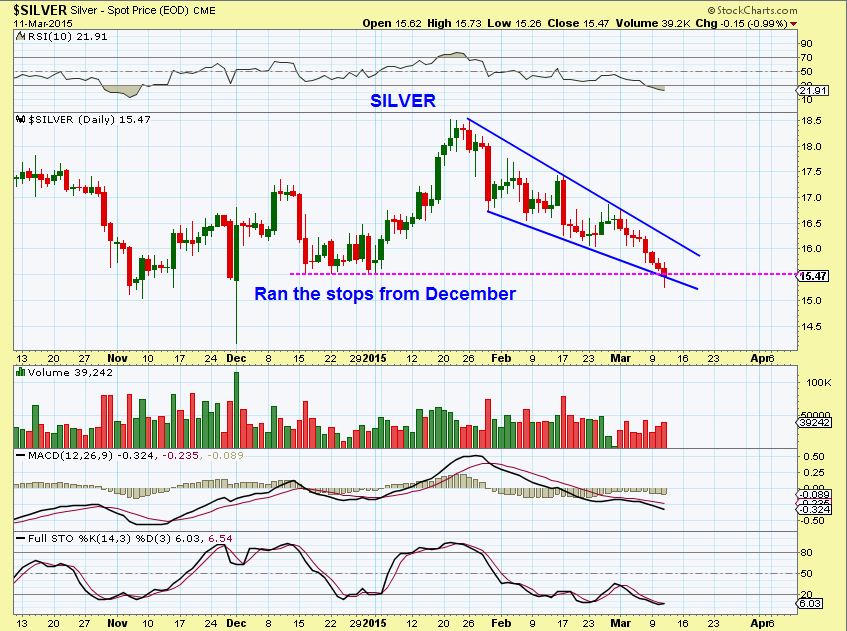 I'm watching a variety of sectors and seeing what looks to be an  interesting development taking place right now.  Stay tuned for more information as these developments unfold.   Thank you for reading along, I hope this article gives you a few new ideas to think about,  and best wishes in all of your future trades!
~ALEX
https://chartfreak.com/wp-content/uploads/sites/18/2015/03/ENERGY.jpg
540
890
Alex - Chart Freak
https://chartfreak.com/wp-content/uploads/sites/6/2013/04/black_logo.png
Alex - Chart Freak
2015-03-19 15:37:08
2015-03-19 15:37:08
Could Energy Still Be In A Bottoming Process?