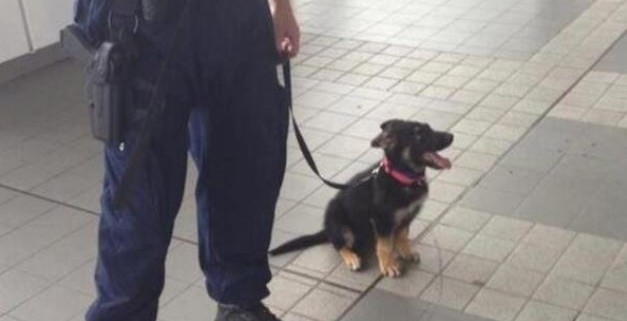 MAY 30  
  I've been watching the Precious Metals sector again. As a short term Trader , it may be possible to trade here and there, but with the recent sideways moves and triangle formation, longer term Investors waiting for a TREND have likely been forced to learn patience.  Like our little trooper in training above, self discipline will gain the bigger reward in the long run for most.  The TREND.
This weekend, I hope to do less writing & More charts , so lets see whats new !!!
Does EVERYBODY that you know say that  they cant wait for GOLDS seasonal Summer Lows? A "TEST" of last summers lows? I've heard it A LOT, And the C.O.T. levels this Tuesday would seem to imply the same, but I still want to look at ALL possibilities. Here are a couple of charts to start us off…
However, Lets just imagine what would happen if this occurred
 I too have expected more downside. Price targets below, etc …BUT the Markets don't ALWAYS do what  they should , thats how they leave people behind.  Look at these "SUMMER" lows for example  (Notice they came in Early May in both years, and think of those  "waiting for the pullback" or worse, "shorting the bounce" in May).
Right now, GOLD is getting very oversold on certain indicators (See RSI 5), and I had a price target of $1220 area.  Will we capitulate here and now & turn up?
Well, I DO expect the selling to exhaust soon. A BOUNCE(?)  or RALLY (?)  remains to be seen, but if its not the 2nd chart scenario that I placed in this post (that leaves everyone behind) and Summer lows ARE still ahead – maybe we "Test" the recent breakdown on a relief bounce.
What about MINERS?  Well while GOLD continued down, I got a buy signal Thursday & a separate one on Friday.  AND DID YOU SEE GG, AUY, BVN, NGD , for example? I love what GG did…let me show you. During GOLDS sell off-  Stop run Reversal
For my CYCLE followers – Maybe just a bounce- or a higher high bottom could be forming. let me show you a rough chart for Timing of lows in Miners . It shows Mid June lows are likely too, HOWEVER if miners rallied from here (Say GDX the 50SMA) and dropped Mid June, they could Double Bottom with current lows . Nothing says they have to make new all time lows, Bottoming can be a process. Still, we stay alert.
GDX would look like this under THAT scenario, with a 6th Daily Cycle giving us our FINAL LOWS.
1. It sucks some longs in now- tag the 50sma
2. Runs the stops on them later
3. Shorts add on the breakdown & get stopped out too on a strong rally out of the ICL (Final lows)
Break thru the 50sma, tag it, & off to the races
SO These are just ideas based on past experience. They are  Possibilities , things to look for as things play out. An oversold rally , a bounce off of the 50sma , a stop run…you see? I dont expect things to be exactly this way, but again , it gives us something to anticipate . (when it doesnt go as stated thats what UPDATES are for!)
We are currently late in the 5th Daily cycle , it either just ended or has only  couple of days left & maybe we dont get a 6th?  If so, this bounce could be REAL SHORT, tag the 10sma ,and slam quickly to an ICL (final lows) this week.  Like this … (this was 2 days ago I still expected a low or bounce)
GDX FRIDAY – the reversal. Tag that breakdown here & drop to ICL (final lows)  or re-gain & lows are in = rally
Lastly I give you this… – Friday I was in a forum & on Stocktwits and I mentioned that MAYBE that was it?  I saw those Miners GG, AUY, NGD, BVN , and more reversing & I have a few indicators that I developed and use that went on a BUY at 1:30 Friday for at least a reversal.   Again maybe just a quick oversold bounce & then a SLAM DOWN to shake out any new long entries? Very Possible! I had a couple of friends say to me  (And rightly so)  "THAT wasnt a FINAL CAPITULATION LOW.  I'm not afraid enough , and I didnt see HIGH VOLUME PUKE OUT. It isnt OVERSOLD enough really"     Good point  I.M.H.O.
  SO I thought to myself that it usually DOES feel PAINFULLY SCARY at THE LOWS.  Right? You know that 'wash out' terror. Like I said earlier though , EVERYONE is waiting for the SUMMER LOWS. Also This Bear in Gold has us conditioned for PUKE OUT BOTTOMS. SCARY SCARY SELL OFF, so …
Consider this : WHAT IF JUNE 2013 was THE LOWS  end of the Bear. What if DEC 2013 LOWS were THE TEST & for Miners THE FINAL SHAKE OUT LOWS? Then this would be a pullback to an ICL in a new bull market…what do ICL's look like in the BULL MARKET?  (ICL's are the deeper lows that come Roughly every 6 months or so to re-set sentiment and are followed by a nice rall)y.
THESE ICL'S were the post 2008 Bear in Gold.  For 1 1/2 Yrs Notice No HEAVY CAPITULATION – HIGH VOLUME Horror.  Not OVERSOLD (RSI) in a big way, so maybe some characteristics do change in a Bull MKT   vs  BEAR MKT sell off?  Just something to Note depending on where we are. Still Bear Mkt, or did that change last summer?
I apologize , I said less talking , more charts. I got carried away as I wrote this.  I still have more charts (SPX, USD, CRB, etc), but this is a lot for now.  There are also many in the Deflation camp seeing GOLD at $1000 soon.  I remain alert & flexible .  I can see their side, but I also see Food prices soaring as quantities diminish (that doesnt count, I know) .  Charts look bullish for inflation  SO FAR. I will remain alert.
So one step at a time . Deflation?  Inflation?    –  Lets remain alert to future changes , be ready to adapt and remember to STAY FROSTY  my friends!!!  Thanks for reading, please  retweet to any you think may enjoy a different set of eyes!
  ~ ALEX
https://chartfreak.com/wp-content/uploads/sites/18/2014/05/Trooper.jpg
698
627
Alex - Chart Freak
https://www.chartfreak.com/wp-content/uploads/sites/18/2019/11/Chart-Freak-site-logo.png
Alex - Chart Freak
2014-05-31 18:36:14
2014-12-02 00:18:40
Learning To be Patient