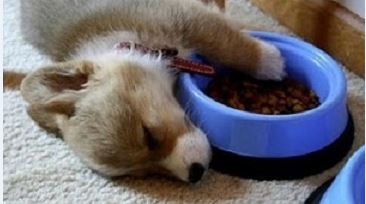 I dont want to overload anyone, but I look at so many charts and when I see what I think are  "Good probability set ups" or other "Interesting Ideas" & things to take note of, I'd rather give a variety of info and let the reader take what they want from it.
Let me start with simply something to take Note of…and then cover some  trade ideas past & possibly future.
$NDX Weekly–  Is this a sign of "Sell in May and go away"?   With each "higher High" (Colored arrows) the MACD momentum matched it.   Recently,however,  we see Momentum waning. Since this is a weekly chart , we could rise for a few more weeks (into May) , but THIS CHART causes me to take note and keep an eye on the strength of the next rise.

I wanted to point out the URANIUM Sector . Since Feb 2011, when JAPAN had a major earthquake & Nuclear reactors melted down, URANIUM has been sold off as a useless element. I think it has BOTTOMED.
Notice the weekly URA chart , an ETF for URANIUM . The downtrend was broken with GREAT VOLUME!
Uranium Stocks are forming Bullish set ups ( I have been tweeting these set ups recently , Please feel free to follow me on Twitter for such Tweets in the future)
DNN – First Re-entry
URZ –  Another Uranium stock , Updated another buy at 50sma
URZ breaks through, April 1 .  Today it dropped & now is resting back on that line  =  OK to add here, stop below 50sma  I.M.O.
FOR FUTURE REFERENCE-  I think COAL STOCKS may be bottoming. They bottomed last JUNE , so take a look at  ETF  KOL  Weekly & Daily below for ex:   Rising MACD, rising RSI , double bottom in place.

KOL DAILY – after two sever drops in 2013 , double bottoms seem to be holding . Upside % Gains could be strong- IT is worth watching I.M.H.O.
COAL STOCKS WLT, BTU, ACI, ANR, JRCC etc may still need work, but here are a few charts with interesting set ups possibly forming. Put on a watch-list and let them prove themselves, I will likely be posting buys later .
For "LONGER TERM" investors I wanted to show a stock that has gained momentum in an uptrend and has had relatively safe BUY & SELL areas .  I bought MHR is DEC here on a break out from a consolidation, above the 50sma…
MHR has trended upward for a year now, and can be invested as follows for BUY & HOLD investors.
LASTLY- A trade HK , in my last report (ENERGY) looks to have broken out and I tweeted that it may be BACK TESTING that break out with this chart
In my opinion,  HK  is still a BUY – one could use this break out line as their stop, I think it goes sideways here before breaking higher
There are many like this and I can put them in a future report . This is getting long and as I said in the beginning, I dont want to overwhelm readers here.  Please feel free to leave feedback like "I'd like to see more BUY & HOLD set ups"  or "I like quicker trades, I seldom hold more than a week"  or even  "Can you cover sector ETF's too…I only trade  GDX, KOL, URA, JO, SPY, QQQ, etc etc "
It would help me to hit the target when trying to post quality to you the reader.  And as always,  Thanks for reading!

https://chartfreak.com/wp-content/uploads/sites/18/2014/04/puppy.jpg
204
366
Alex - Chart Freak
https://www.chartfreak.com/wp-content/uploads/sites/18/2019/11/Chart-Freak-site-logo.png
Alex - Chart Freak
2014-04-03 11:09:32
2014-12-02 00:20:10
APRIL 3 – Too Much Of A Good Thing…